Earlier in the week I shared that while on my spring cleaning mission,  I would follow a week-by-week plan set out by Simple Mom to help get me motivated. This week's hot spot challenge was kid's stuff. I chose our basement art space and play area.
The basement is a blessing and a curse in this old house. When I stay on top of it, it's a great place for the kids to stretch out and play. It's even a pleasant place to do laundry. Lately that has not been the case and it's been the catch all for things to deal with later, which has become now.
Most of my hot spot challenges through the four week clean up will be in my rustic basement. Therefore, you won't see pretty Pottery Barn looking spaces. This spring cleaning session is all about reusing what we have and making spaces function better, in a more minimalist fashion.
Here's the before shot I posted of our art space, as part of week one of Project: Simplify.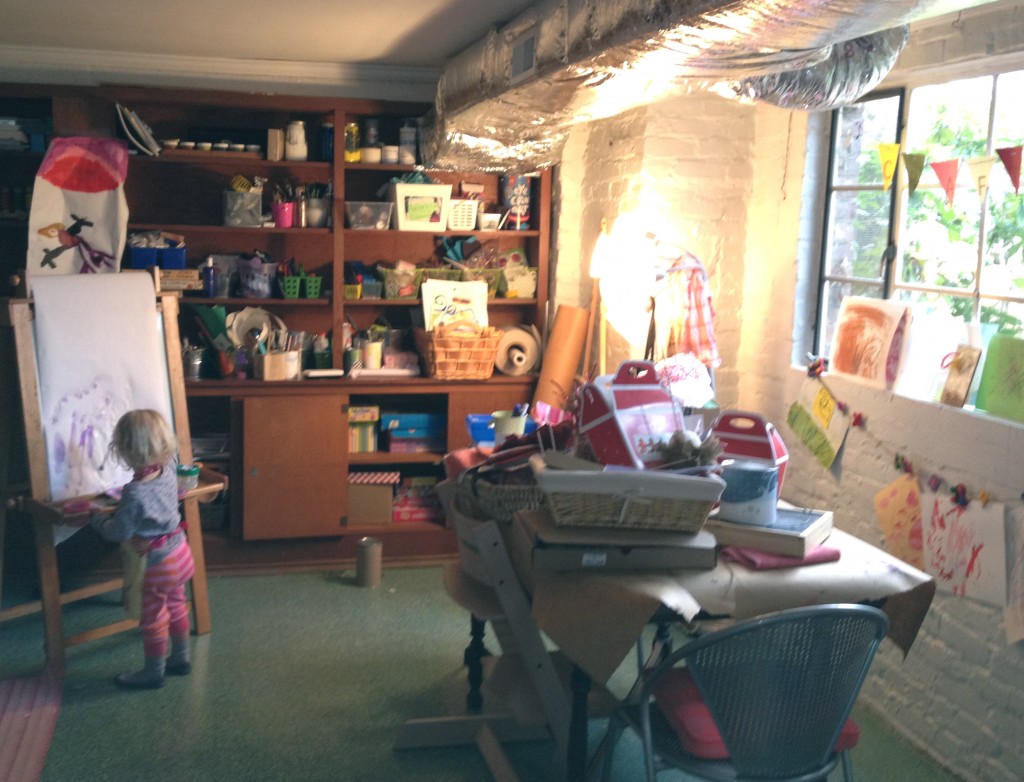 Here is a few after shots of the space once it was simplified, and it was the recipient of some swapped out furniture from other places in the house. Supplies were placed in individual baskets and bins by type. The cardboard boxes in the bottom of the cabinets hold reusable things I think the kids could use as art – such as empty toilet paper rolls, old cans and containers to make drums.
Yesterday I took – literally – a van full of toys, kid's furniture, baby paraphernalia, puzzles and games out of my house. Most of it went to my friend who is going to help me consign all if it. Some of it went to friends in my neighborhood. I feel good about letting go of things when I know it can get reused.
As a result of my major purging, the following is what the space opposite of the art space looks like now. Before, it was mounds of stuffed animals and dress up clothes that landed there after it was decided we didn't want them living upstairs any more. Musical instruments monopolized the shelf where now the stuffed animals live neatly confined in bins. The musical instruments were moved into baskets on top of a radiator cover, that was removed from the girls room a few months back (along with the radiator).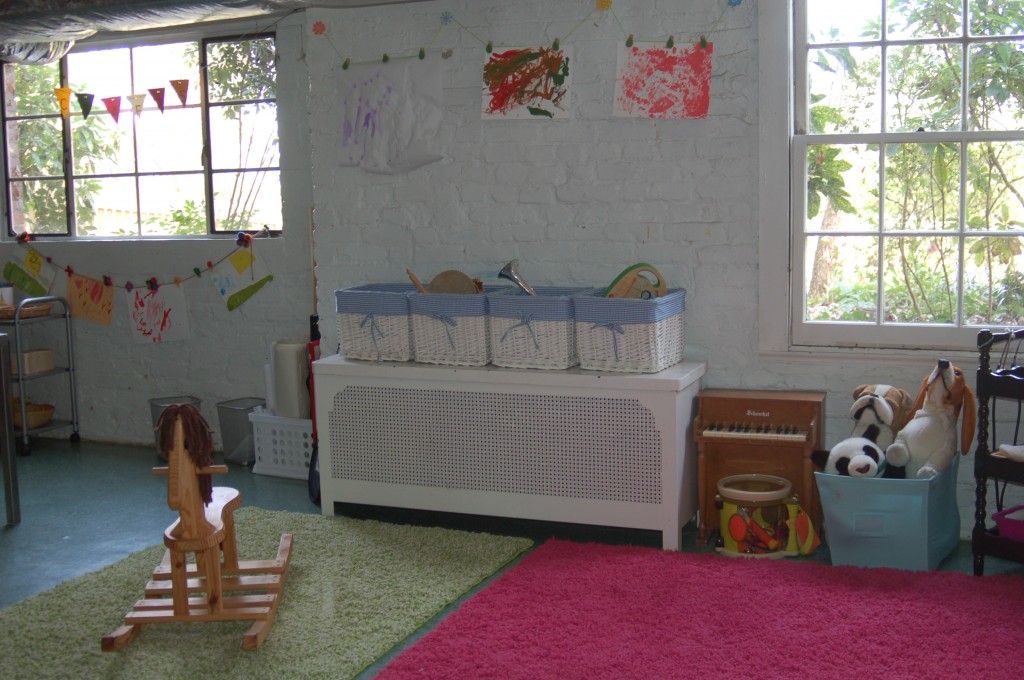 All the dress up clothes now residing in this house – amazingly enough – are in that one big basket with the pink fabric sticking out of it and the swing top lid. The girls did a great job of purging these items. This once again is a tribute to the fact that I really believe kids want to live with less stuff.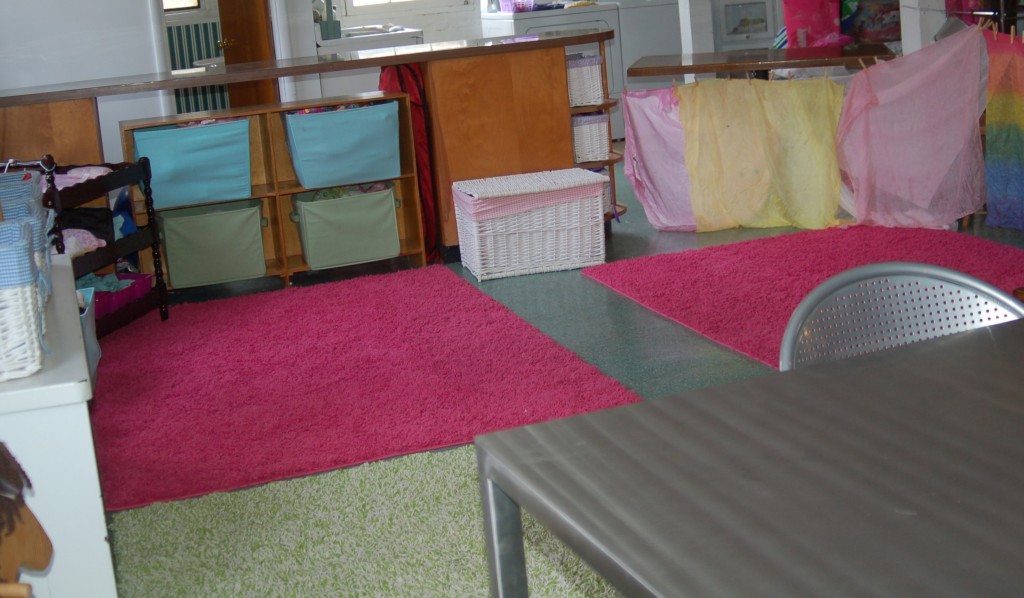 The cart you see below is our vet cart, stocked with all our vet/doctor supplies.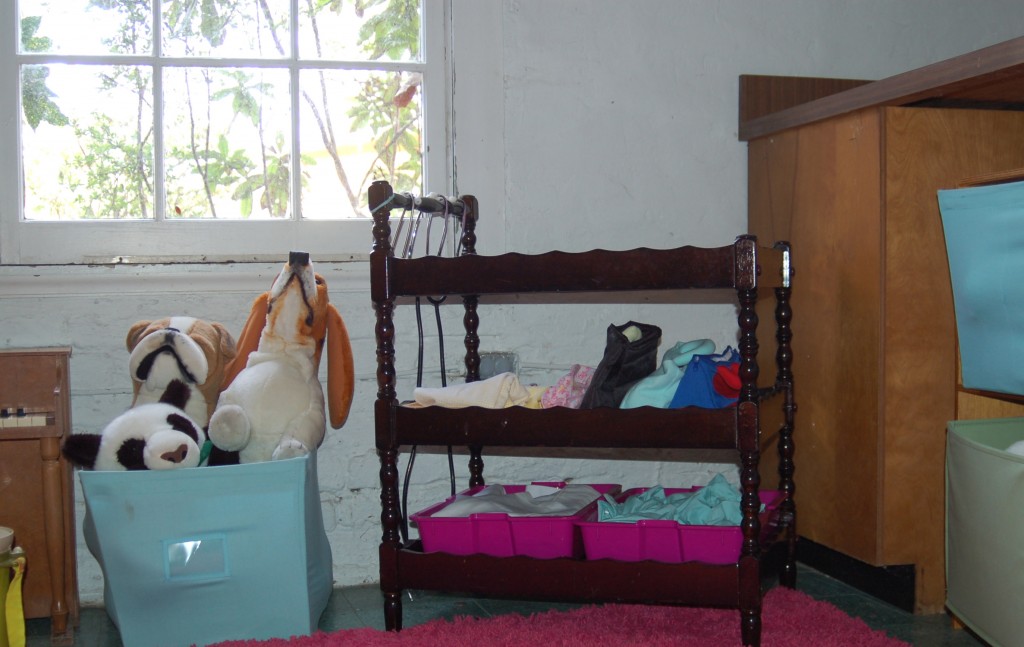 Then I emptied the shelves that held games and toddler toys that usually get rotated throughout the house, scaled them back in numbers, and relocated them to a permeant place in the basement. Now there is a manageable amount of them. Even my two-year-old can put things back when she's done with them, because there is one toy per shelf (for the most part). This idea is adapted from the concept of Montessori "lessons."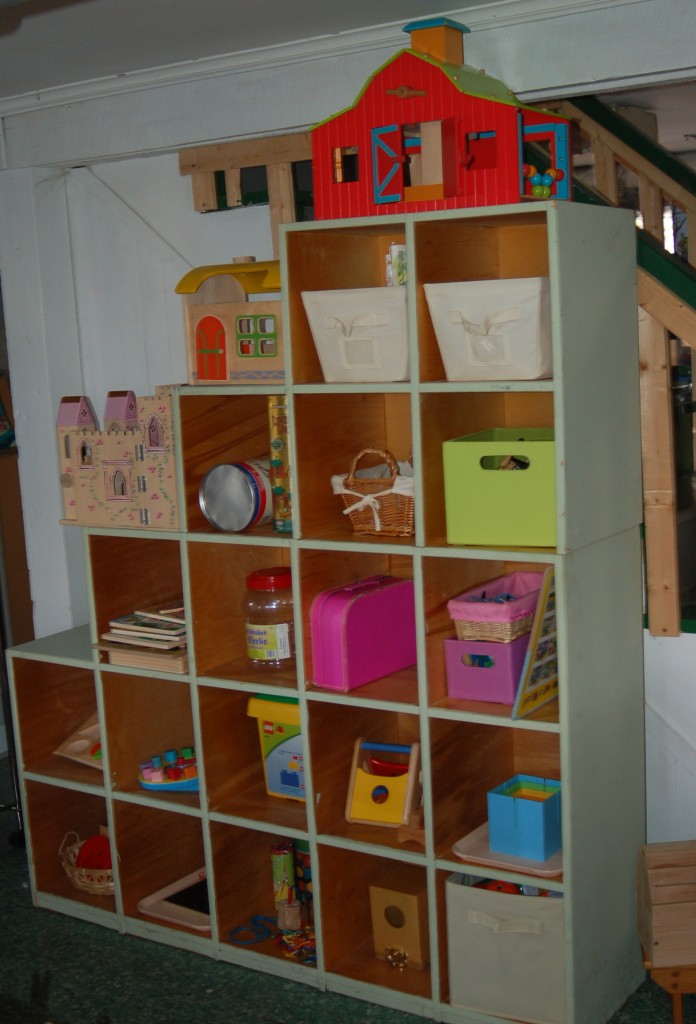 Now we have empty shelves waiting for my sewing room supplies to come down from the third level, to the basement, prepping for renovations that will begin up there later this spring.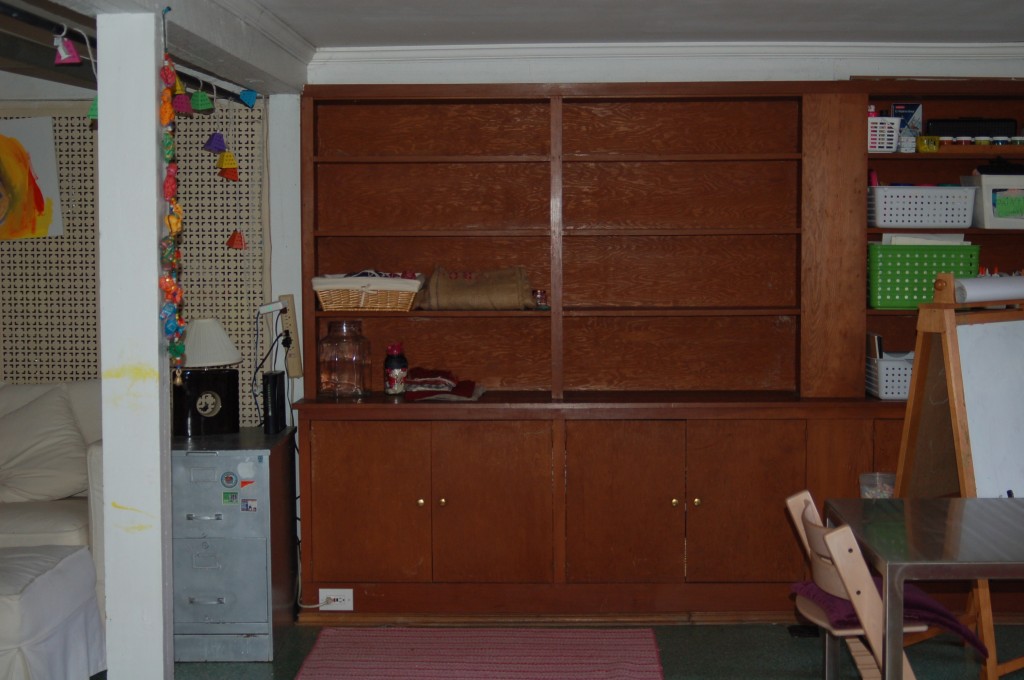 All the things that were removed from what now is the new toy shelf, is part of my hot spot challenge for next week – pantry and kitchen stuff. Those shelves held seldomly used kitchen supplies, cookbooks and seasonal stuff. Part of my basement is a makeshift space for things that don't fit in my kitchen because I have no pantry and limited cabinetry.
I took a before shot. But I decided it might scare you (or you might call 1-800-hoarders on me). So I'm holding off to share it when I have some good results to share along with it.
I hope this gets you motived to simplify at your house too. Yes it's a lot of work and one night I stayed up doing it until 3 AM. But it feels great after it's done. And it feels good for my kids too. They were thrilled to run through the open space, playing with nothing but a fairy silk and a doctor's outfit – which they put away when they were done because they clearly knew exactly where they went.
So week two of Project: Simplify – here I come!