We have been a fan of Todd Oldham since I found his book Kid Made Modern last year.  When my girls need some inspiration I throw out the book and something always comes to us – like the box houses we made last June to kick off our TV Free Summer.
That is why I was so thrilled to see his new line of art supplies in Target, which became available May 20! It's the perfect thing to stock up on for summer.
Shopping for a birthday gift for an eight-year-old, I knew we could find something in that isle.
My daughter immediately chose the Diary Kit. At the party, the gift was a hit.
"I have been wanting to make my own diary forever," said the birthday girl when she opened the gift. As the party was dying down she told my daughter her gift was her favorite. They soon found a tree to cop a squat under and wasted no time getting to work on that diary, using the hardback book, wooden stamps and markers provided in the kit.
As a mom of girls who can NEVER have too much tape on hand, I grabbed a set of the Printed Tape. The eight colorful rolls of tape are proving to be just as much fun as I thought they would, and full of open ended creativity.
First my toddler sorted the tapes, then stacked the tapes, and cut pieces of tape to stick all over the table. It comes off easily, adding to why this tape is one of my new favorite things.
Once the big girls saw what was happening they swopped in. My oldest girl used the cardboard tube the tape came on to make the telescope shown at the top of this post. My middle girl covered an old cardboard can to make a drum.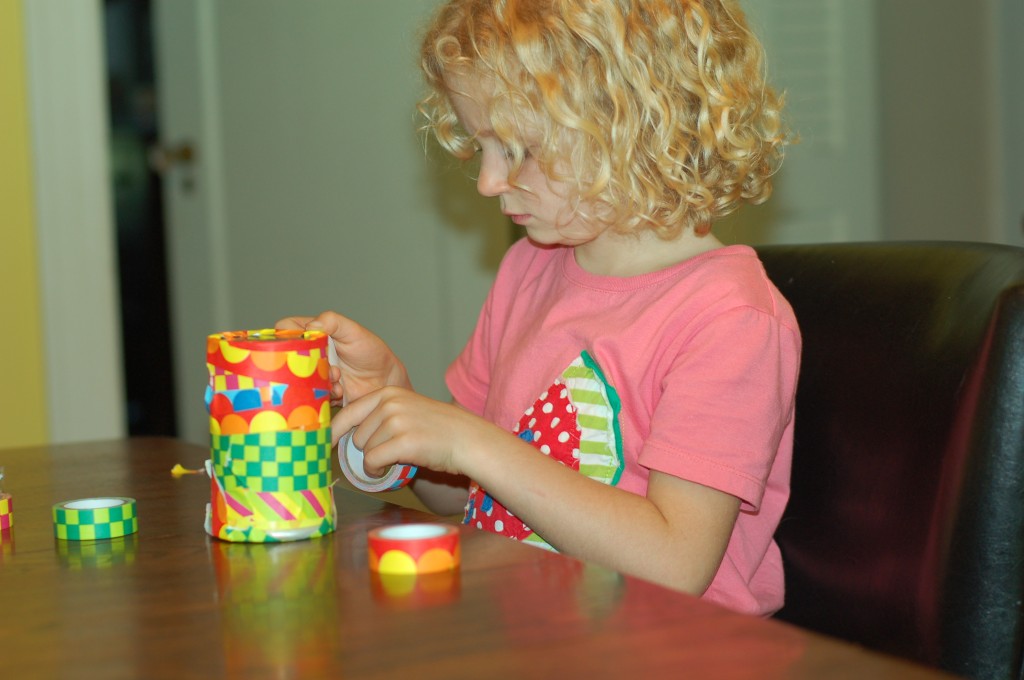 Not bad for an art supply that costs under $7!
The rest of the tape went into a basket and was placed on a shelf with paper, for the girls to choose at any time. Now the signs and paper art made from tape are in abundance too!
The Duck Tape Kit is next on my list. Because what girl wouldn't want to make a purse out of funky patterned duck tape? Or maybe I should just make it for myself. Either way, my girls will be impressed.
I have thought about buying fun rolls of duck tape many times before for a project like this. But to buy a good variety would have been too pricy.
Usually I am not a big fan of pre made art kits because I believe they cost more money than necessary, seeing you could just buy the supplies and do it yourself for less money. That is not the case here. I think these kits are worth it. They are really good ideas, that kids really want to make. They are packaged  in a way that is earth friendly versus glossy boxes that can't be recycled, and contain quality made, reusable art materials.
Everything I saw, I knew my kids of varying ages would love – bead stringing with pipe cleaners, glitter glue galore, shimmery acrylic paints, necklace kits with real beads, basic paint brushes, canvases for painting, felt kits, paper flower making kits, comic book making kits. Can you tell I'm sold?
Here is a link to all the Kid Made Modern art supplies available at Target, so you can look and see what would be a favorite at your house.
This isn't any kind of sponsored post and I'm getting nothing in return for this. I just wanted to spread the word to all the mamas out there looking for simple ways to keep your creative kids entertained this summer at home.
I know I'll be buying more of these supplies for summer, and stashing them away for a raining day. Because when it comes to summer, a mom has to be prepared!