Back to school time has snuck up on me. I realized this when a friend called me, remembering the post I wrote about ways to avoid plastic cups, asking me about my take on non-plastic lunch containers.
At the end of the school year last year I researched and bought several different stainless steel and glass lunch containers. I took the last few weeks of school to have my kids test the products.
Since my girls started school at age two, they have carried Laptop Lunch Boxes. Generally, we were very happy with them. But when the girls started requesting to heat lunch items using the child freindly microwaves in their classrooms, I had to try something different. I didn't want them putting plastic in the microwave.
The big girls were ready for a change of system anyway. Something new. Something that would bring excitement surrounding food and welcome new choices – I was hoping.
My children got stuck in a bento box rut. They got used to everything being neatly separated out, and expected to see fruit in one compartment, veggies in one, protien in one and carbohydrates in the other. Not bad, but within that, I was getting tired of packing the same things. I was in a rut too. Bringing new containers to the scene opened new opportunities to pack new things.
The other thing I like about using containers versus a bento box now, is I have a drawer full of small various containers and cloth snack bags to rotate through while packing lunch items. Which means I'm not hand washing little plastic boxes (12 of them!) because I need them for repacking lunches the night before, when the dishwasher is still running from after dinner.
My girls are on a kick where they prefer a few containers over a bento box, so they don't mind opening a few different things. At the end of the school year, my two oldest girls started taking cloth placemats from home to lay out under their containers while eating lunch. My oldest daughter started the idea and then it spread, to her middle sister. And it became a daily thing.
If you don't like dealing with multiple tops and lids you might not like all these containers. I don't mind keeping up with them at home. All of them are labeled with our last name, using label stickers from Stuck on You. We have never had a problem with lunch items not returning home from school.
This is our lunch packing drawer (along with a few other essentials in the white box and our old Laptop Lunches as back ups) organized just for this photo! Because I promise, it's not always this neat.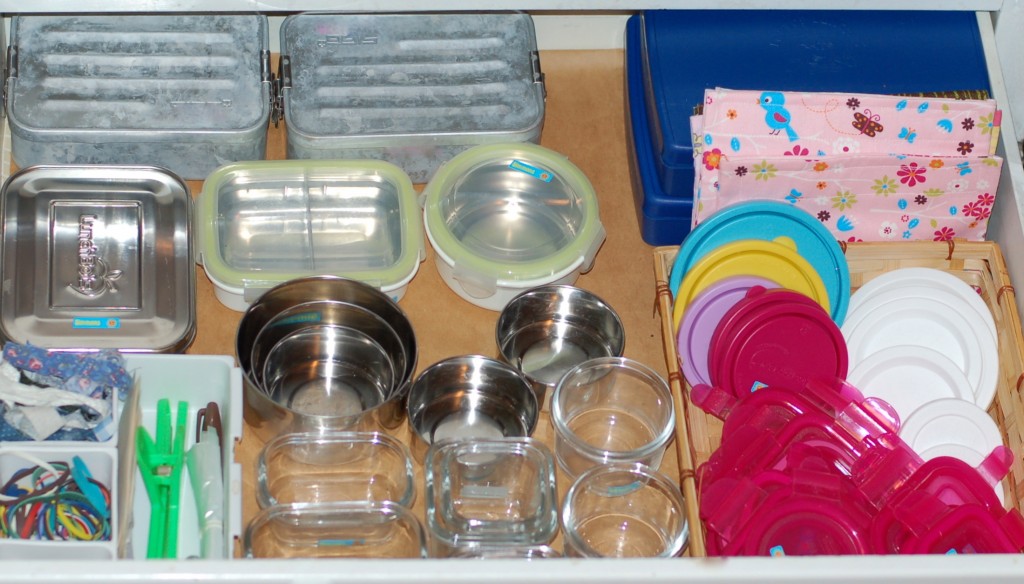 Overall, the ease of opening lunch containers is an important factor for my children. Their Montessori school requests lunch boxes and containers that foster independence, with young children being able to open them. And as you might remember, my toddler is Little Miss Independent, wanting to do everything herself. Including opening her own lunch – without spilling the food all over the floor. Therefore, our picks pass the toddler test too.
My girls found most all the stainless steel lids too difficult to open, even for my oldest daughter. And while the popular stainless steel Planet Box looks cool, it's a bento box and we are looking for more open ended packing options. And, I don't like the idea of lunch systems where you have to buy the carrying system that fits the box. I'm picky about being able to wash reusable lunch bags, and not having plastic insulated liners in them. Plus the popular Planet Box is super expensive and has only one useful purpose – lunch.
The containers we bought can be used in various ways around my kitchen and for transporting smaller car snacks. Unfortunately the ones that my girls voted their favorites, do have plastic lids – but at least they are BPA, PVC, and Phthalates free.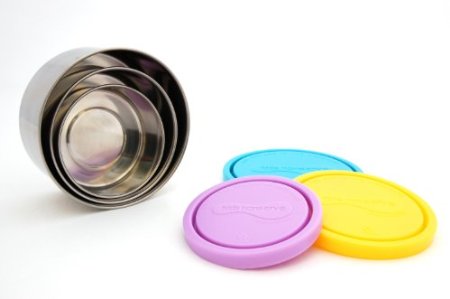 Kids Konserve stainless steel containers, with easy to open and close lids in bright colors, tops the list for the big girls. The two small sizes were the ones most used, for fruit, salsa and dips such as peanut butter or humus. They also make a U Konserve in a 33 ounce, 7″x 5″ container, which would be nice for a sandwich or items for older children. There are several options for colors and sizes, to please both girls and boys. And the smallest size can be ordered as pairs.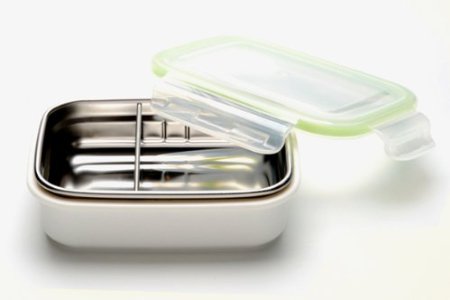 These Steeltainer containers are the most toddler friendly and the easiest to open. Actually, it was the most requested container by all my girls because it is so easy to open and close. It is small, but big enough to hold some lunch staples like bread, crackers, cheese, grapes, apples, humus wraps or some veggies on one side of the divider. The interchangeable divider does not prevent liquid from getting from one side to the other, which is a complaint some reviews had. Since the girls want to bring more than one container for lunch, I don't mind packing around that.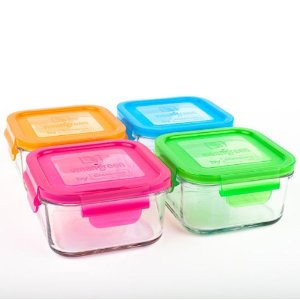 For glass, the small containers by Wean Green passed our kid test.  My oldest daughter loves these containers. My middle girl says they are difficult to open, even though she can do it. There is no way my toddler could open them by herself. But for a glass lunch container option, I can't think of a better one than this. I will say, they do not leak! This summer they have found their way into daily use in our kitchen, and we have not broken one yet, when dropped on our kitchen's hardwood floors. If the girls are taking pasta or soup that needs to be reheated, these are the containers I send. The lids come in four fun colors and there are five sizes, ranging from 4 oz. to 16.5 oz. They are offering a back to school set here.
The New Wave Enviro Stainless Steel Food Container, purchased locally, never even made it's way to school. The design is flimsy, and the lid has to be angled just right to fit on the base. And while it has nice clips to hold the lid on, it still takes a tug to get the lid off and all my girls were afraid their food would spill while getting the lid off.
The same issues can be said for the Lunch Bots stainless steel containers when it came to opening them. There is no clamp on this one and the design is sturdy – so sturdy that even a grown up has to give it a good pull to get the top off. I can see how a hungry child (my oldest child) would worry about spilling their lunch while opening the box. I got an immediate, No way I'm not taking that," from my testers.
I do however, use them both for packing after school snacks. My girls have staggered pick up times, which means we have wait times sitting on picnic benches or in in the car during the winter, and snacking until the next girl gets dismissed.
I was glad I skipped other styles with hard looking stainless steel lids to open – like these, and the ones that come with the Planet Box. All the reviews on Amazon warn about it. And I believe it.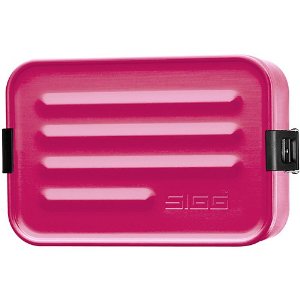 Minus that our two grey aluminum Sigg boxes were not meant to go in the dishwasher and appear a little beat up now, the girls still love them. I included them in a post last fall on Waste Free lunches. You can do a lot with these little boxes and they are tall enough to hold small glass Pyrex containers. Even my toddler can open and close them with ease.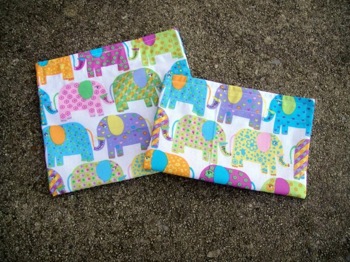 For snack bags, ours are sewn by the local mom behind by Livin' Sew Green. Cloth snack bags are handy for corn chips, sliced apples, and crackers that are packed from home, versus buying the more expensive (yet convenient) lunch size bags at stores. The girls' school promotes waste free lunches, so the girls prefer these cloth bags, verses having to put anything in the dreaded trash can labled "landfill."
Abe's Market was so kind to send me a complementary Semilla Snack Circle, that is perfect for a sandwich – so much better than a square wrap because you have less bulk. I really like the fabric texture, very functional. It is sold in sets with snack bags. I recommend those too, if you don't have a local sewing connection.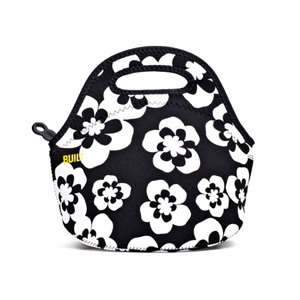 As for a lunch bag to put it all in – we continue to love bags by Built. It holds what we need and whole thing goes in the washing machine every Friday. If it needs cleaning during the week due to spills, it air dries quickly.
For drink container ideas, we pack glass water bottles from Life Factory and Kleen Kanteens. I did a run down of plastic free drink cup options, from babies to adults in a separate post here.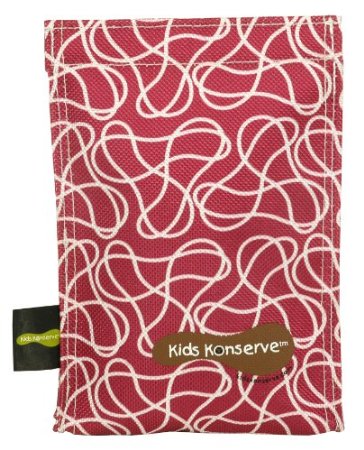 Keeping things cold, I have long worried about the safety of the gel stuff inside lunchtime ice packs if they were to leak. Especially when I catch my toddler getting them out of the freezer to play with and squish in her hands. At the end of last year I found these ice packs from Kids Konsserve that comes with a sturdy sweat-free pouch for the ice pack and keeps the gel pack away from the food. They stay cold for hours, and come in fun colors for kids.
With lunch boxes and containers options are hitting the shelves now for back to school. I hope this helps sort through some of the ways to pack a lunch, and gives you ideas of what you can do a little differently this year.