Crafts are keeping my pre-school aged daughter the most busy right now on cold winter days. And with a constant crowd of girls at home (mine and others), more are always sure to join her.
What was our Montessori shelf of lessons, has become our winter craft shelf. First it was decked out with Christmas crafts, wrapping materials, hole punches, card making supplies and snowman stickers. When that got old it became the place for all the new craft kits that were Christmas gifts.
But for now, we're just having a free for all. A pom pom kit and pipe cleaners was a hit. It was designed to make detailed pom pom animals. But when it comes to crafting with small children, I'm a throw it out there and let them make something mom versus trying to have them make a Pinterest perfect craft. They have a good time this way, and course I'm there to help. We found sewing the pom poms works better than glueing.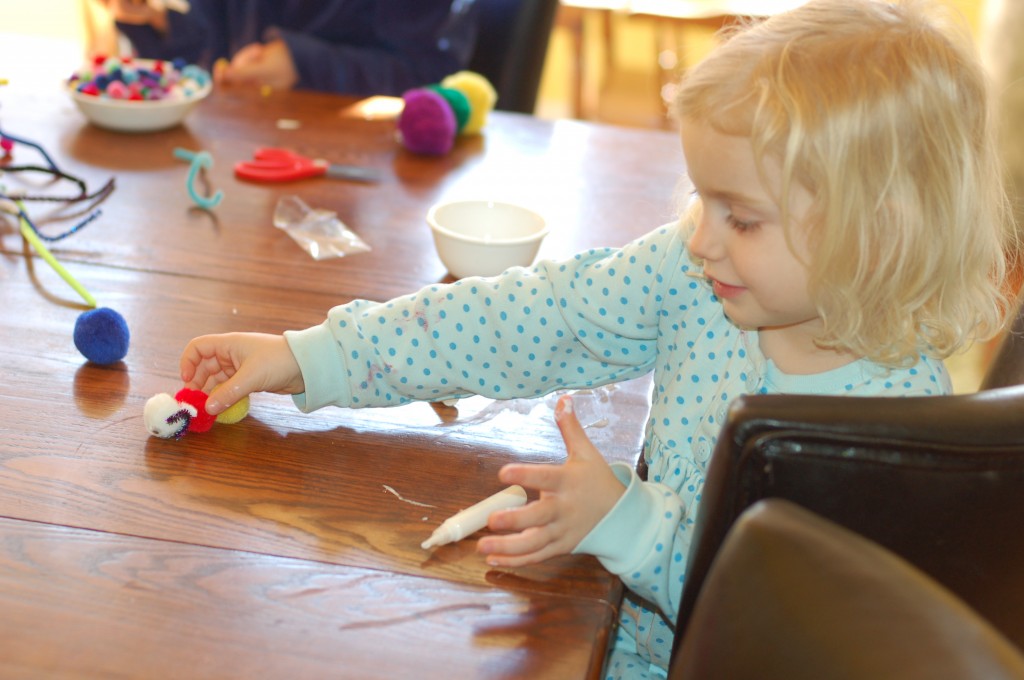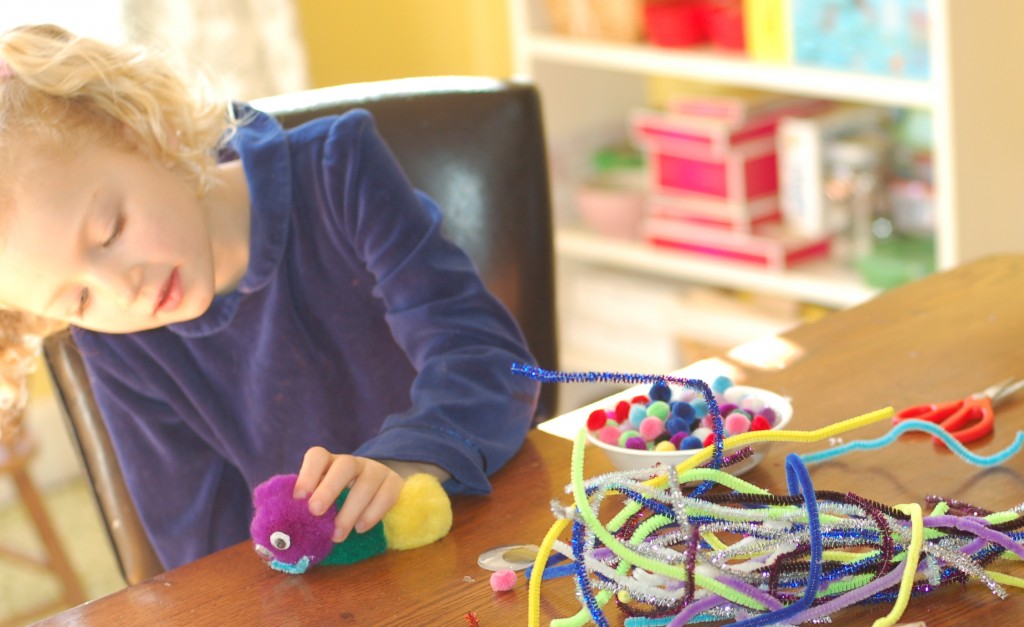 Then that led to sewing the pom poms together to make a string of pom poms – that was used to decorate her doll's treehouse.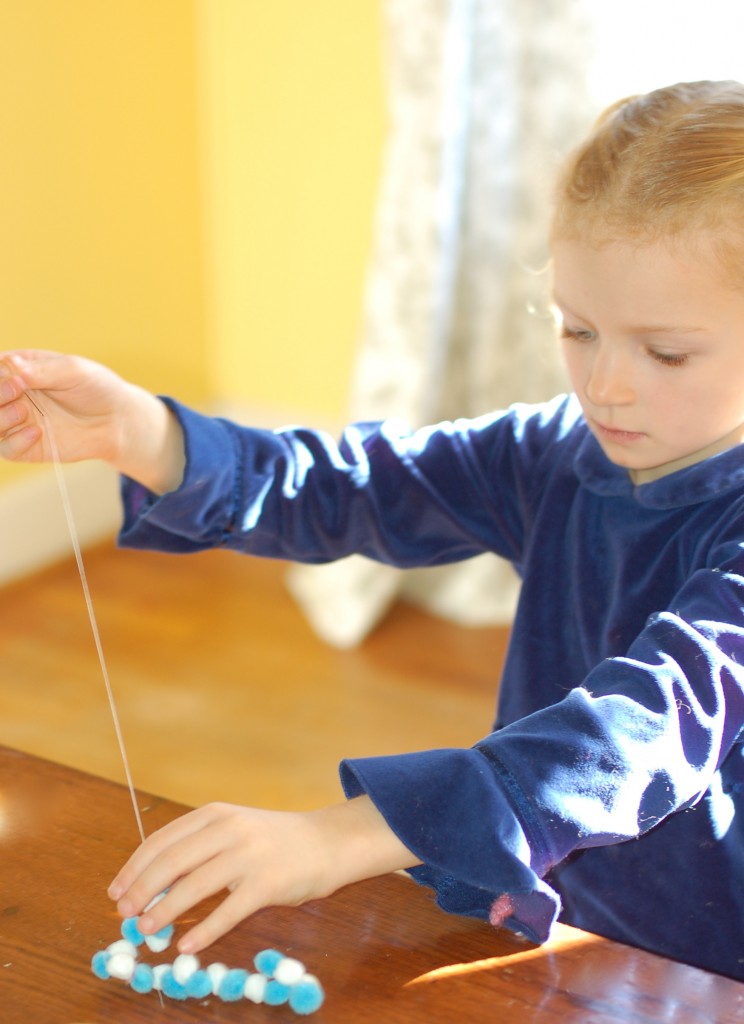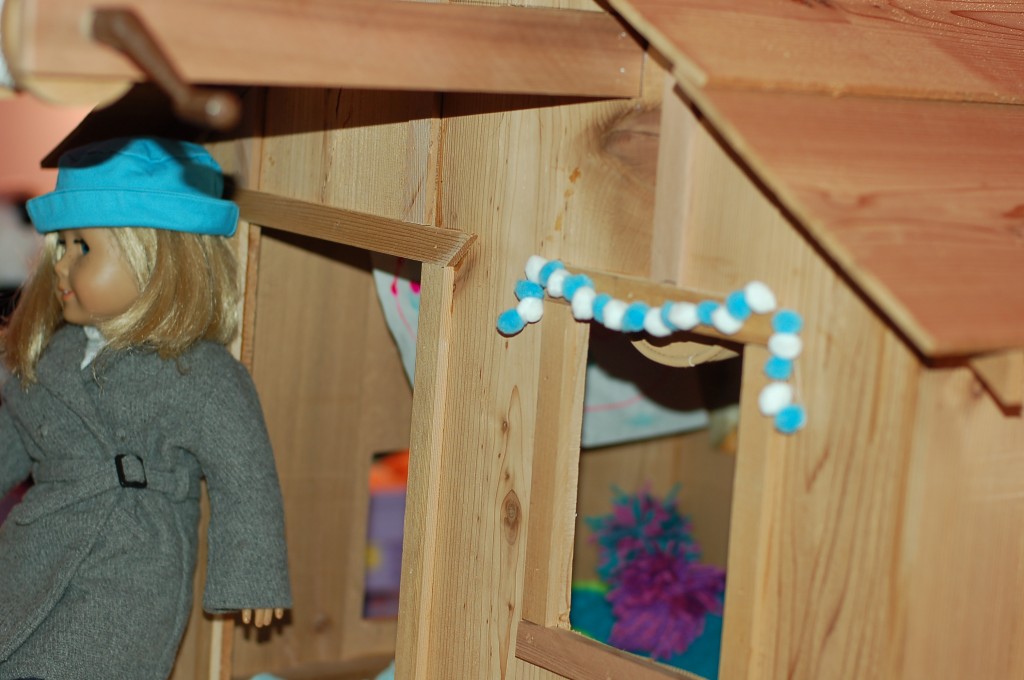 There is a lot of crafting, cutting, and taping of things that happens for those dolls in this house! They have a mailbox, they received letters, games are made for them, zip lines, bucket delivery systems on kid-made pulley systems. It goes on and on, and I continue to be amazed how much creativity and the hours of imagination that goes into playing with dolls here, mostly led by my oldest daughter. She enjoys many various craft kits by American Girl, but still comes up with the majority of her creations on her own.
Making old fashioned snowflakes and paper chains are always enjoyed in the winter. Cutting snowflakes from coffee filters, like these from Heart of Wisdom, has been a long time fun winter activity here. My oldest daughter has made 3D snowflakes at school. The directions the art teacher sent home are  from WikiHiow.
The snowflakes below are from a kit at Hearthsong, which is no longer available. It's meant to be something different and more complicating with stain glass paper between the holes. But my kids just pop out all the little card pieces in the flakes and enjoy them as decorations. Then, I gave the girls a bowl of glue, a paint brush and glitter to paint sparkles on the snowflakes. At the time there were five girls at my house for the day. They all loved that activity!
Last year we had fun making these snowman out of clay, when we didn't get quite enough snow to make a real snowman. As well as ice danglers using collected things from nature, when we had some colder temperatures but no snow.  We are hoping for some real snow this year – and it's in the forecast for tonight! 
My youngest daughter received a My Giant Busy Box for Christmas and it really has kept her busy. She likes making the puppets in it, with lots of help from me. But her favorite is the play dough. It's so simple and such a treat for them to have store bought play dough versus plain bread dough. I'm savoring the days when cranky moments turn to instant glee with the offer to do play dough! One evening it kept the two younger girls independently busy long enough for me to help my oldest daughter make dinner.
It looked like this, with my middle girl wearing a headband she crafted from a Fashion Headbands kit, another Christmas gift put to good use during winter break.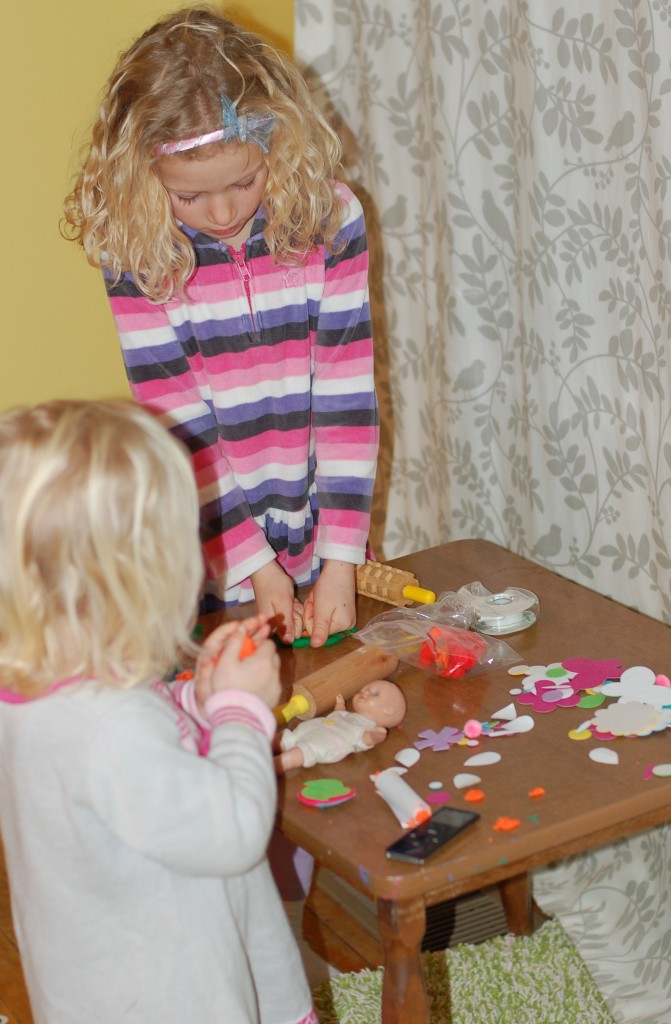 The iPod did get some sticker embellishments during this (somewhat) unsupervised play dough process. And, the baby got her mouth taped shut – weird I know. I'm still strangley pondering the secret message involved in that from a third child who is always trying to be heard more often and more loudly.
Then they served us play dough soup and hot dogs for dinner (which is strange because we rarely eat hot dogs, even veggie ones). But still. I loved this little addition to my oldest daughter's night to make dinner.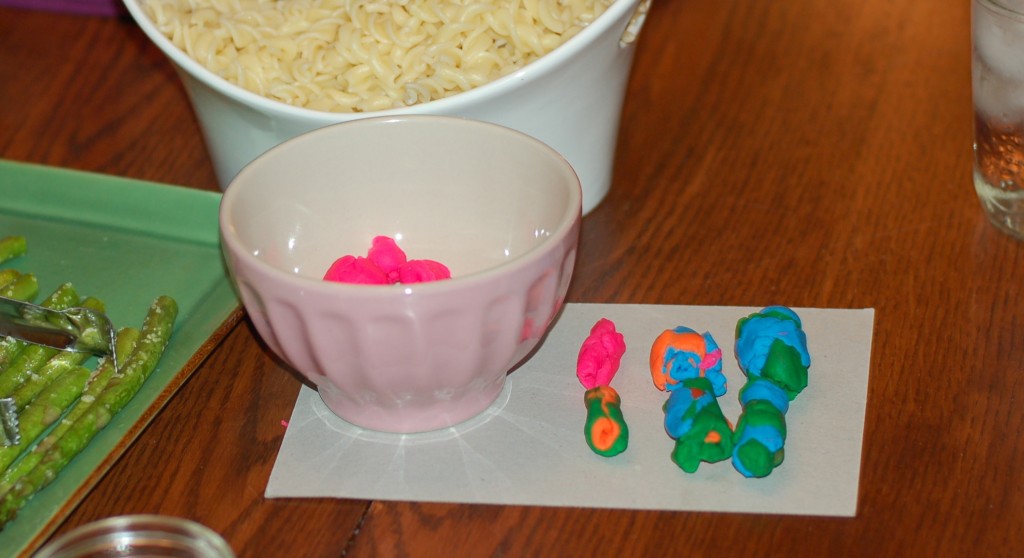 Next up, the craft shelf will become a Valentine shelf stocked with inexpenive crafts placed on Montessori style trays for "lessons." Here's a snapshot preview of valentine crafting with kids around here – a card being held too close to the camera by my little girl, who enlisted the help of my oldest girl "to draw a picture of my teacher Chrissy." She drew a photo of her doing a disco dance, with a disco ball that said, "Disco Chrissy." Then my little one decorated it with stickers and proudly put in her bag to give to her teacher today at school.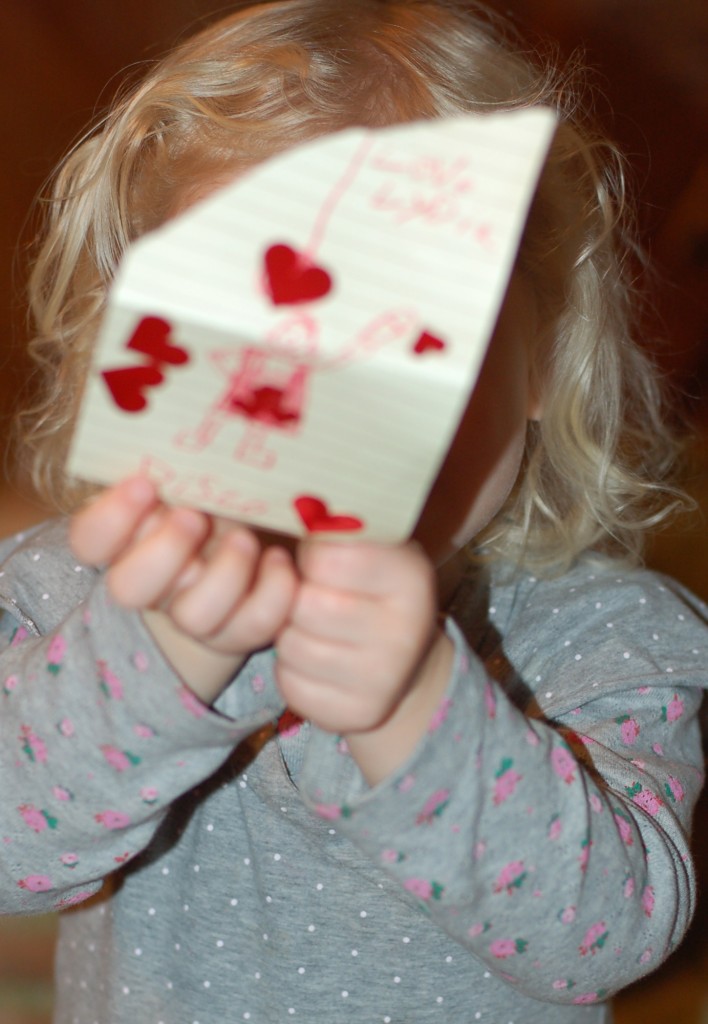 The response from Chrissy at pick up time today should be fun, because I'm sure she loved the card. Man I love these quirky kids!