I've been eavesdropping a bit on folks about their summer plans. I hear a lot about camps, vacations and relief by moms who have their whole summers scheduled, week-by-week.
When I hear this I feel liberated. We have no plans. Zero! No camps, no trips, and not even a single piano lesson.
Today I finally flipped the calendar to May and started filling it in for this month. When I got to June, this is it and this is how it will stay. And I love that!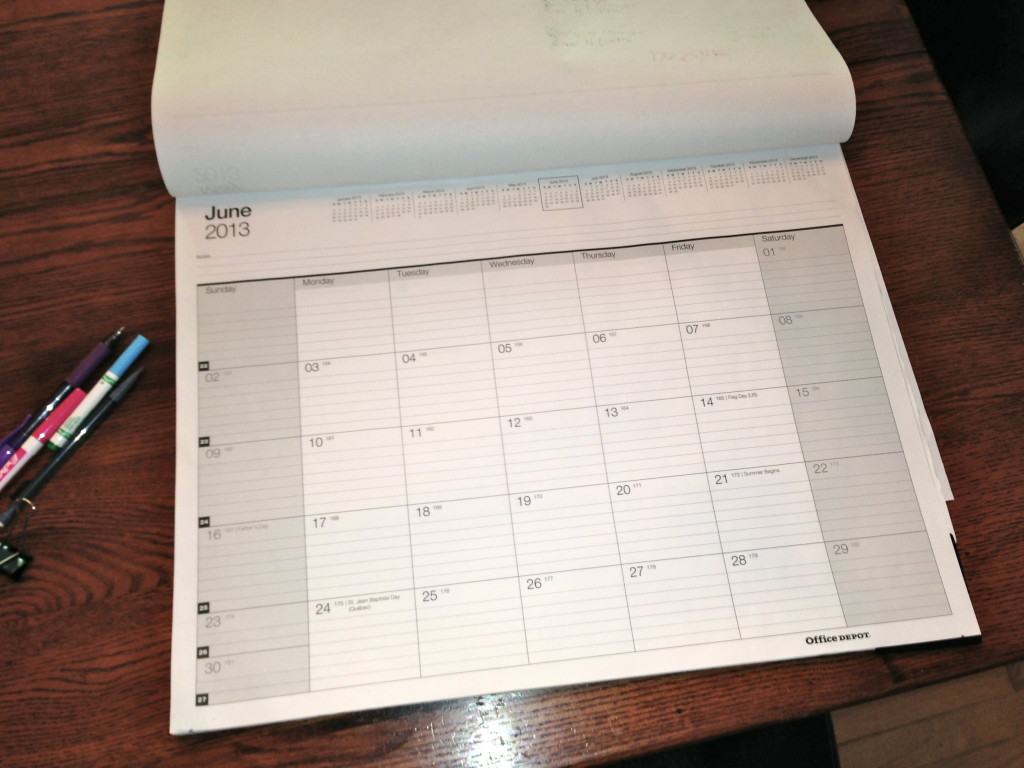 I can't wait for lazy mornings with nowhere to go, when every day can be a fly by the seat of our pants day. We'll pick up some from last summer, playing in the backyard with our Fairyland, Mud Pie Cafe and tending to our Berry Patch and Backdoor garden. And I have some new ideas for some new spaces I'll be setting up, preparing for the hours and hours we'll spend together at home. And once again, we'll have a TV Free Summer. Because the nagging of when to watch it and the crying when it gets turned off drives me insane.
You know how I feel about  to-do lists. However I am going to start a summer to-do check list as we come up with fun things we like to do – so we don't forget.
So far we are talking about things like this:
1) Baking day with the Easy Bake Oven.
2) Rainy Day at the Arcade.
3) Take all the stuff animals to the vet (in our basement).
4)Let them play with my old Southern Belle dresses and prom dresses – finally! They beg to do this all the time.  
5)Go to the zoo (lame I know but I HATE the zoo and my 3-year-old has never been).
6)Be a tourist in our own town by visiting places like the Tic Tac Toe Ice Cream Parlor in Loudon – about 30 minutes away.
7)A girls only bike ride from our house to Ijams Nature Center for a picnic lunch. My middle girl has been REALLY working at getting confident with her biking skills. This will be a special reward treat!
8)Pool days! This will be the first year I think I can realistically take the girls to the pool by myself. Swimming skills have reached a safe level for me to feel okay about the deep end, the diving board and leaving one kid in the water while I take the little one to the bathroom. And the lifeguard director at our pool lives down the street and babysits the girls. BONUS!
And the list will keep going…and the girls will keep adding… and we'll do it all when there comes a day when that's what we felling like doing. Because in my book, that's what summertime is for.