Beginning of summer we took out about a dozen bushes that were old, constantly over grown and hogging the best sun our yard receives. They lined the space just steps from our kitchen back door, an old, lovely brick retaining wall and our garage that sits within our fenced yard. I was hesitant, because removing the shrubs held the same guilt as cutting down an old tree. But the only time of they year they were enjoyed were at Christmas to cut a few holly berries. And even those were dwindling, as they aged.
In the space I wanted to plant only things we could eat or flowers that would make us happy to look at. It's a little space. But it doesn't take a lot of garden to have fun. And the smaller the space, the less overwhelming for amateurs like myself. The things we planted are things my girls like to eat, pick and even prepare themselves.
A month ago, the view looked like this (that's the neighbor's dog incase you are wondering if we added a furry member to our family).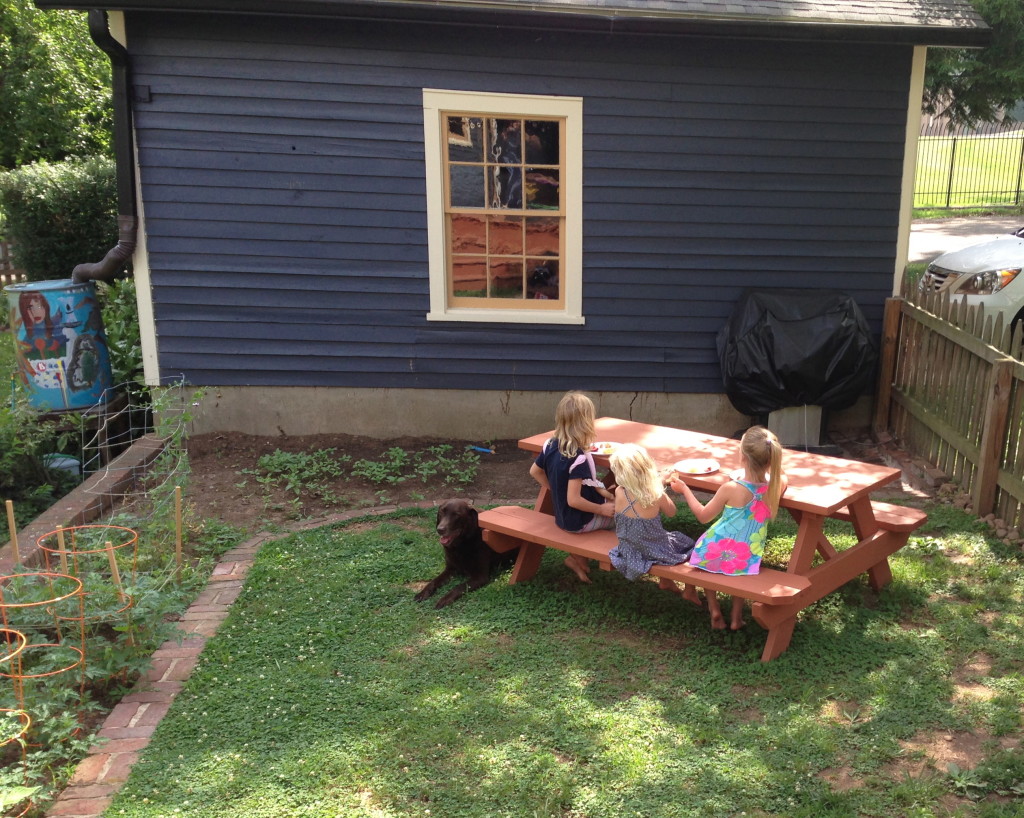 With all the rain we have had – nearly every day for a solid month – things took off. We had green beans that were harvested, enjoyed and NOW – guess what – my kids actually ask for green beans. Whereas before they requested them from a can, as they have enjoyed when served elsewhere.  But now they are gone.
What is growing is cherry tomatoes, okra and watermelons. The cherry tomatoes will never see my kitchen before they get eaten. I'm certain of that.
My youngest daughter loves going outside everyday to sees how much things are growing.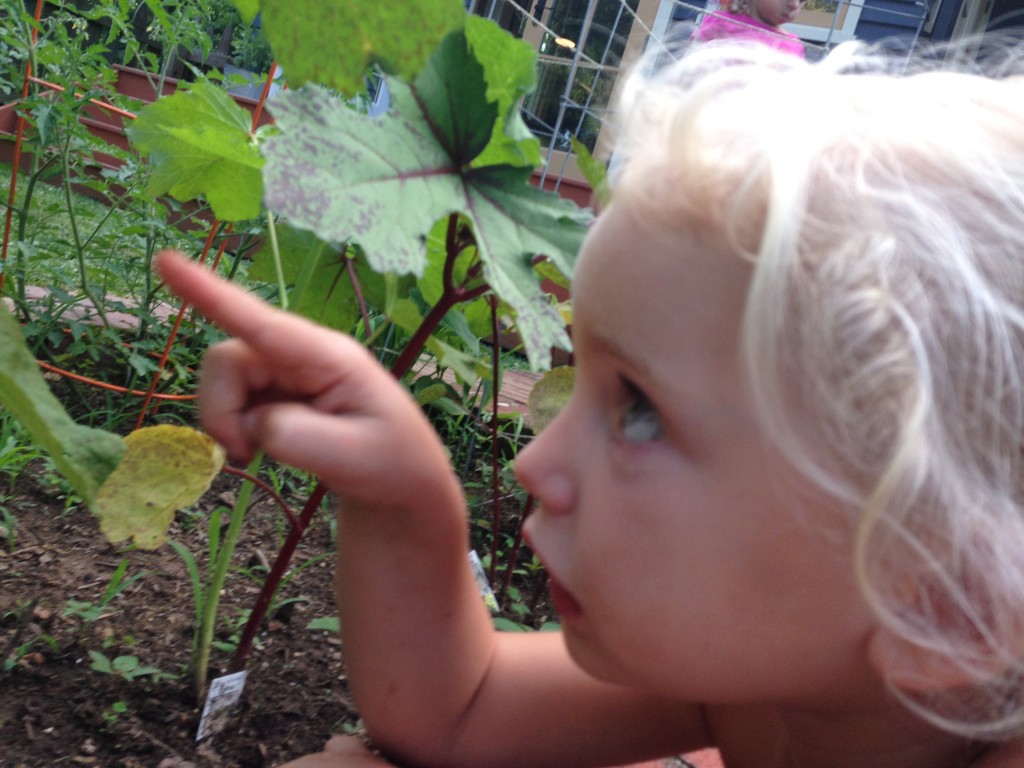 It was my middle girl's request to put "lots" of cherry tomatoes where she can pick them when she wants, opposed to our garden and herb space that is outside the fence of our backyard.  We have that space agin this year too. And our blueberries are doing ok (just ok) this year.
Aside from eating, I love sending my girls out to pick fresh flowers and arrange them in vases. Zinnias were in order for that. I planted enough seeds to line the whole back side of the garage with flowering zinnias. But sadly, I have to say our dog did some digging and we were left with half the sunflowers and zinnias that I planted. But what's here is coming in beautifully.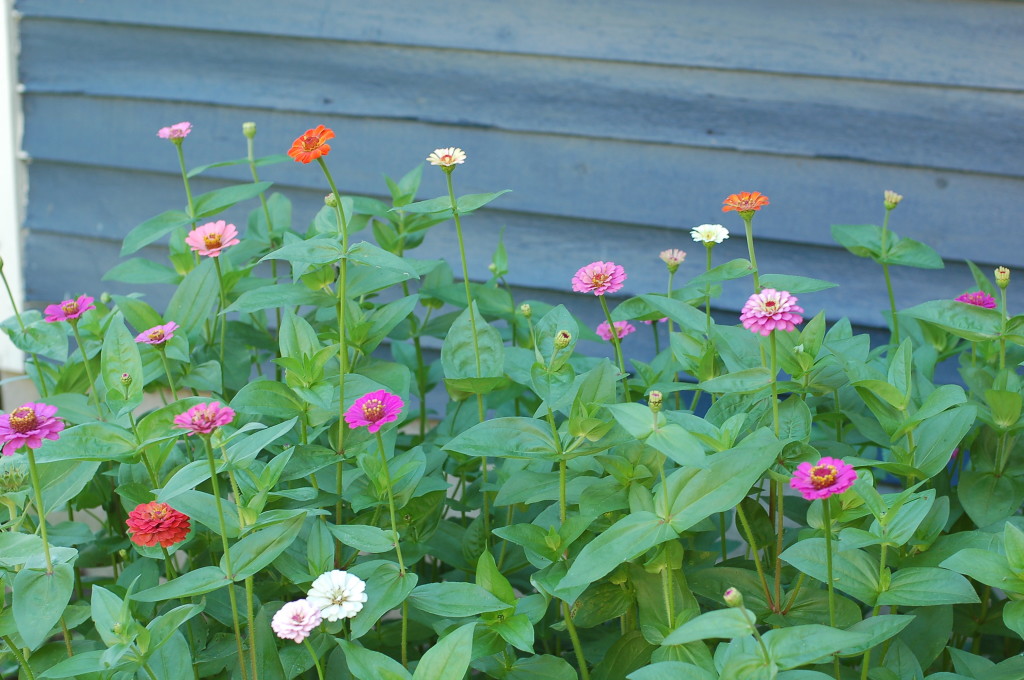 The sunflowers are yet to pop. But look how tall they are! The cat sun bathing is an added dose of summertime smiles.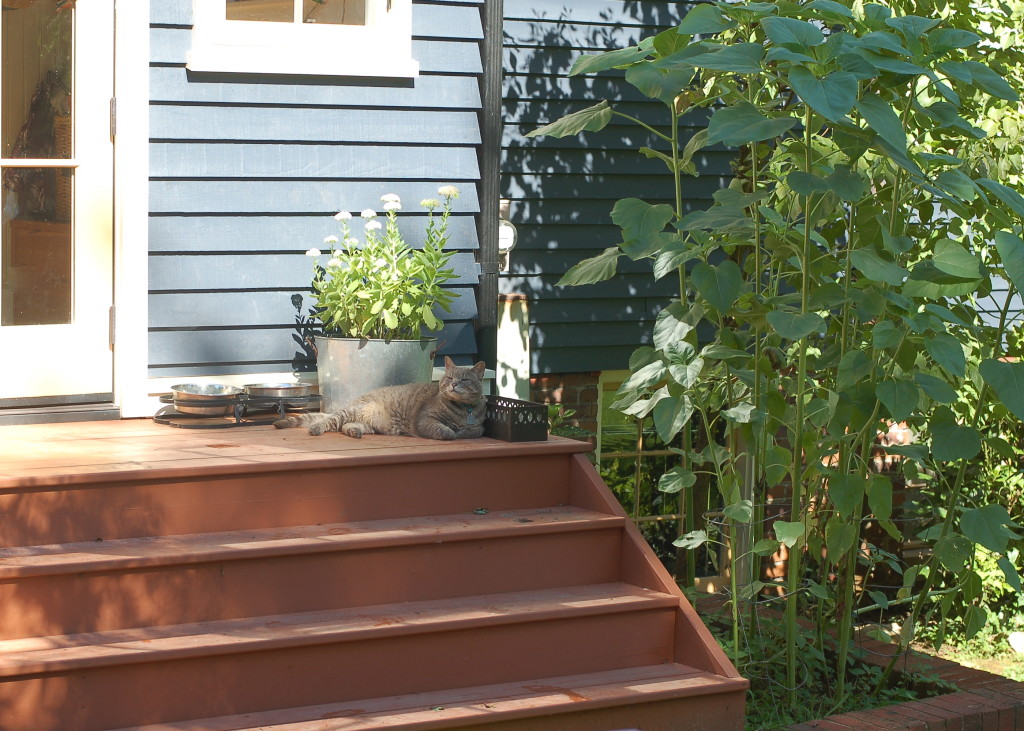 There would have been more sunflowers. Good thing she is so cute, this luny Lulu dog of ours who leaves the grass in her dust on every running trail she creates along the backyard fence. Good thing she is 3 and finally calming down – just a bit. Good thing she uses her crazy barking ways to our advantage – because she is the BEST backyard guard dog for the kids. EVER. No one is coming in that yard without the whole neighborhood hearing about it. Even if she does dig up the flowers.