My girls love having lemonade stands. The key to their success  is having them during our Wednesday CSA deliveries, where our home serves as a drop point for members. Bless all those members and neighbors who continue to find the charm in these lemonade stands! Without them it wouldn't be the same.
This lemonade stand was instigated by my oldest girl. She was going to a story telling festival with school and heard about the awesome candy store they would get to visit. She planned the lemonade stand to raise money so she could have her own candy money. Which really meant, she would get to take with her how ever much money she made.
I had no idea it would end up being $15 – from lemonade and muffins! But due to her entrepreneurial spirt and her sweet offerings to bring back her assistants plenty of candy – how could I say no?
AND – did you notice the red envelopes in the second photo? Each customer got a hand written thank you note. Swoon. Love a lemonade stand!
The lemonade stand was a success. And then off she went to the candy store with her $15! That poor mother who drove home those six kids, on the two hour-drive after a total 12-hour day supervising them, while they gorged themselves with all the candy they could buy for themselves and their friends. The sweet mom that drove my girl and her two best buds, has three sons. I hear she got a dose of the non-stop talking world with three girls! I'm sure the sugar was only an added bonus.
And I have to add….
Now being nine-years-old, with fashion designer style, our kids Patagonia day pack didn't meet her standards. Frustrated that we didn't have something cooler, she decorated this backpack that she took to the story telling festival which came home stuffed with candy. But you know what – I think she deserved it. Sometimes a natural mom's got give a kid a break.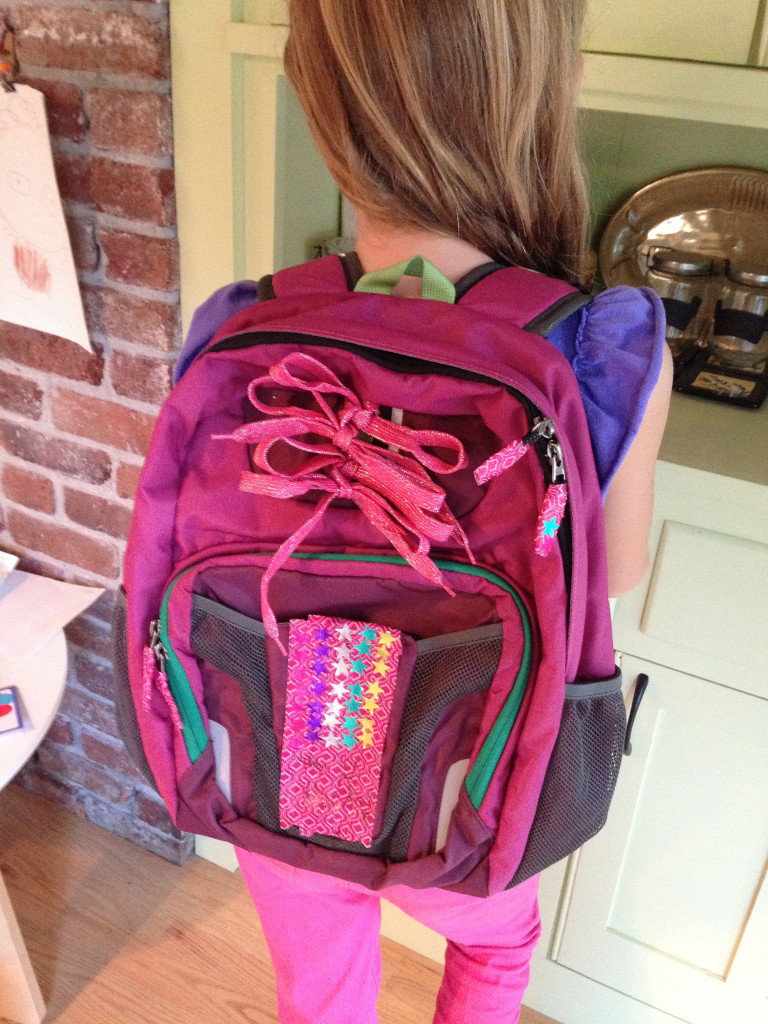 The talk is…next up is an Apple Cider stand. The ideas these kids come with to make their own money!