The kitchen has been a busy place this January. After the holidays, it's the time for a detox of things extravagant and out-of-the-ordary treats. It's been a time to get back to baking, and making no processed foods a priority. As much as we can at least. In the later part of last year, I was lured too often by the convenience of crackers, snack bars, boxes (and boxes) of mac-and-cheese, frozen pizza and too many chicken nuggets for the kids. It's time to get back on the bandwagon of real food.
I've jumped full throttle into getting my kitchen back to normal this month. The urge to get cooking again was jump-strarted by holiday cooking, and yummy black-eyed peas and collards on New Year's Day. Since then I've been trying to cook a more variety of beans, and expose my children to better vegetarian foods.
On this night (where we finally lit the last of those beeswax candles) we had red split lentils, roasted cauliflower, broiled asparagus, sweet potato fries, fried okra and a pork loin for the meat eaters that was baked with apple sauce we canned this fall.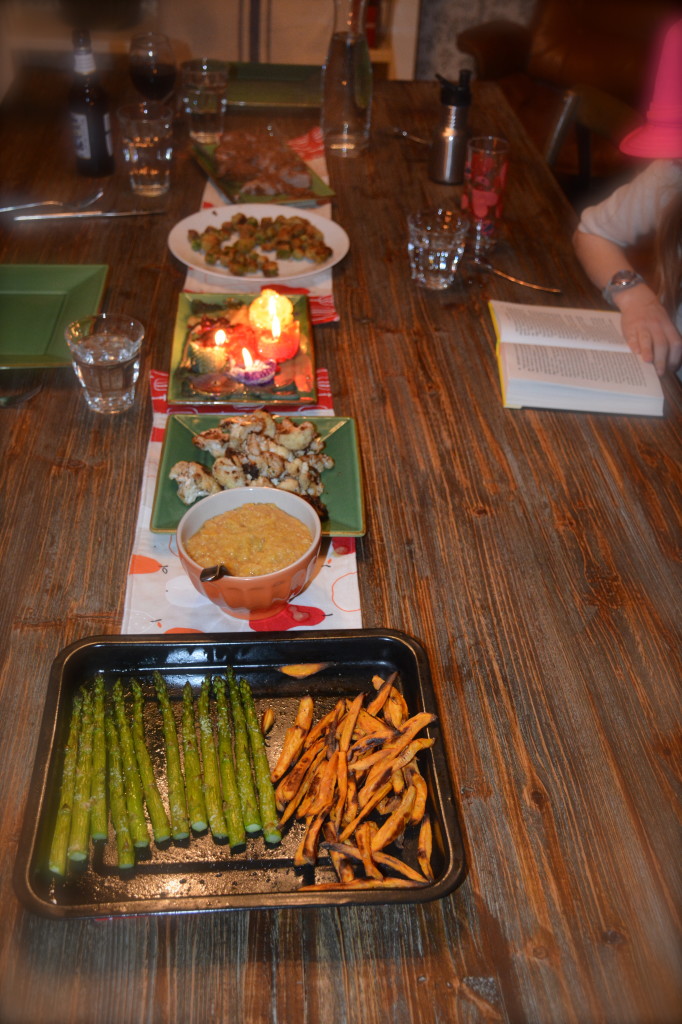 Soup season also fuels my urge to cook – because I LOVE soup in these cold months. There has been a lot "soup recycling," as my husband calls it. The leftover red split lentils and cauliflower went into a broth and water combo the next day with kale, red peppers, mushrooms, garlic and spices (cumin, colander, parsley and dill). I wasn't sure about it at first – but it made a tasty soup when my husband made a surprise visit home for lunch.
I got a new cookbook that I am loving. It's Simply in Season and I've made nearly half the winter section already. One night was an apple, sweet potato lentil salad, which got made into a soup for lunch the next day with a helping of greens, onions and spices.
Last night was curry carrot soup – to make: sauté onions, curry, garlic, salt and pepper in olive oil. Chop two pounds of carrots and add to mix. Add two cups of broth and heat on high till carrots are soft. Add water to amounts depending how much broth cooked down. And puree either in blender ( I have an immersion blender).
On soup night we also have grill cheese, or bread with sides of cheese, another vegetable like green beans and sometimes a side of meat.
On my radar from the Simply in Season cookbook for this weekend is a sweet potato soup and stuffed beets.
The sweet potato crescent rolls in the cookbook have been a hit with everyone here and good for school lunches. We've made them twice, with a double batch the second time so I could freeze half  – which is two dozen.
Another stand by snack here is these pumpkin muffins. The recipe is tried and true as you can see. It came from the famous "Mrs. Linda" who does story time at our downtown library. When my oldest was still an only child, we were regulars. It was before "Mrs. Linda" became a local celebrity with kids and the turn out was small. One day she baked pumpkin bread and handed out slices to the children along with copies of her handwritten recipe for the moms. I still keep it in my pantry next to my flour. Because it's an all time favorite (along with those memories of story time days).
Instead of two loafs of bread we make muffins. Which are perfect for snacks and lunches.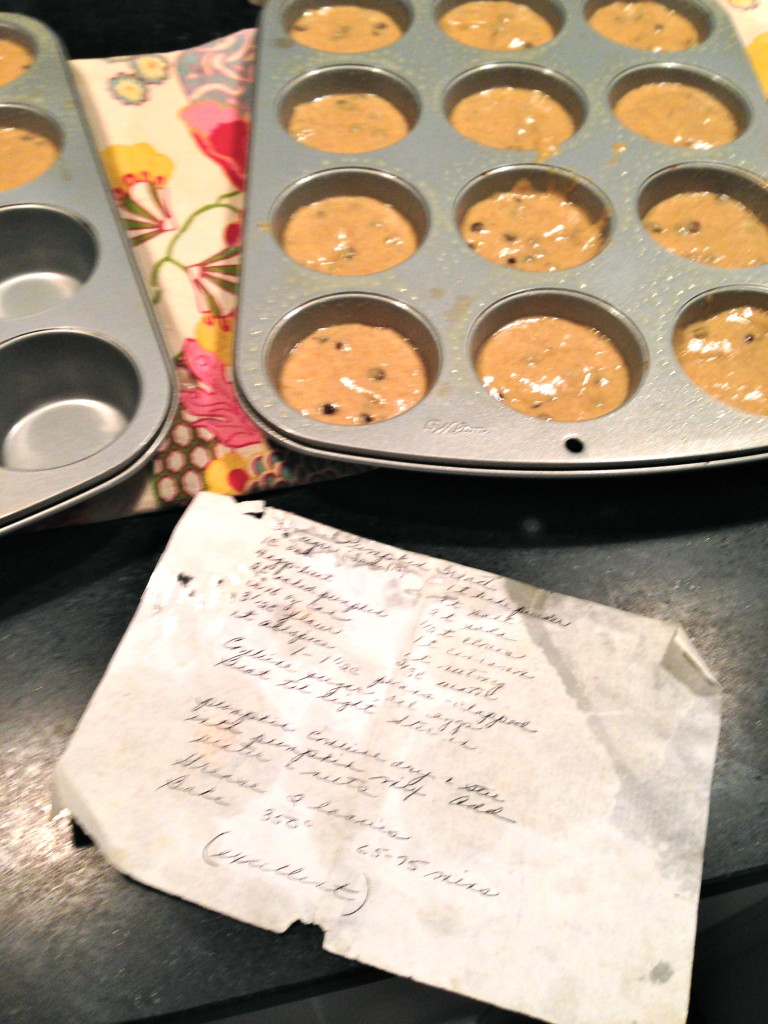 Mrs. Linda's Pumpkin Bread Recipe
1 cup of sugar
1 cup oil (I use olive oil)
2 cups cooked pumpkin or a 16 oz can
3 1/2 cups flour (I use half white half whole wheat)
1 teaspoon baking powder
2 teaspoons salt
2 teaspoons baking soda
1 teaspoon allspice
1/2 teaspoon cloves
1 teaspoon cinnamon
1 teaspoon nutmeg
2/3 cup water
Combine sugar, oil, eggs and bit till light. Stir in pumpkin. Combine dry ingredients and stir into pumpkin mix, adding water as needed. Add nuts if desired. We add mini carob chips for a treat. Grease two loaf pans and bake at 350 for 65-70 minutes. Or Grease muffin pans and bake at 350 for about 15-20 minutes. Less if you use mini muffins.
A new thing happening in our kitchen is older children wanting to bake by themselves – with their friends!!!! I really love this. It happened with one friend who found interest in pursuing my shelf of cookbooks. And again with a older family friend who seemed a little bored after dinner at our house. I knew he really enjoyed the cooking classes he had in school last year (while living in Norway) so I suggested they make desert together. It was perfect and a great lesson for me – when pre-teen kids are bored – let them bake.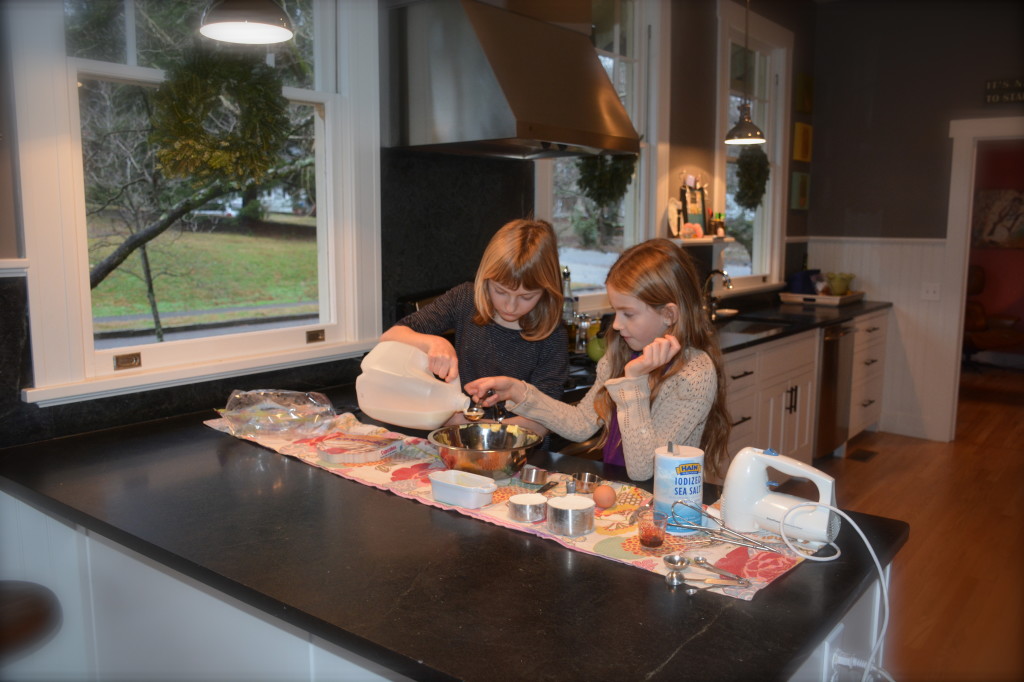 With the first friend they wanted to make a cake. But we were missing ingredients. They settled on making "Animal Snackers," a recipe from the March/April issue of American Girl magazine. They made letters instead of animals.  Since I couldn't find it online  and it's become a tried and true kid recipe here – I'll share.
Animal Snackers
6 tablespoons butter, softened
1/4 cup granulated sugar
1/4 cup brown sugar
1 tablespoon dried milk (we substitute real milk)
1/4 teaspoon salt
1 teaspoon vanilla
1 egg
1 1/2 cups flour
In a medium bowl, cream together the butter, sugars, milk and salt. Add the vanilla, egg and half the flour. Stir until combined. Add remaining flour and mix again. You may need to mix the dough with clean hands. Roll out dough and use mini cookie cutters for shapes or letters. Place the shapes on a cookie sheet and bake at 350 fro 8-10 minutes.
They made this, for the new year.  Which is perfect for my quest for better eating in the new year.