We don't have so many Montessori things at home to show as we used to when my youngest was a toddler. She is on to such big things now! At age five, she still loves practical life lessons, helping with laundry and cooking. But these days she so is super proud of her big work she does at school, as well as some really cool artwork.
It's the first thing I see on Friday's when all her work comes home in her bag. She gets picked up 30 minutes before my older girls and she doesn't waste a second showing me her work after she steps into my car from the pickup line.
If you have every wondered what the end result of what Montessori work looks like at age five, before they reach the traditional kindergarten age – here's a few snapshots. It's pretty amazing what kids can do at young ages when given these tools to learn.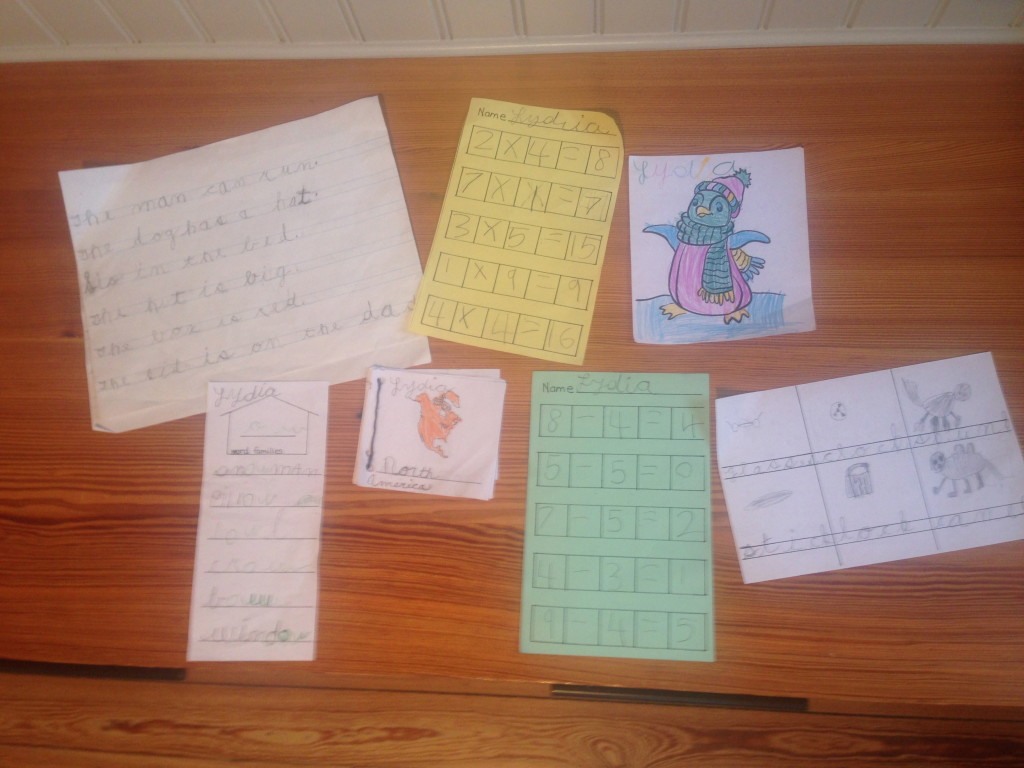 This is a portion of her work she brought home on Friday.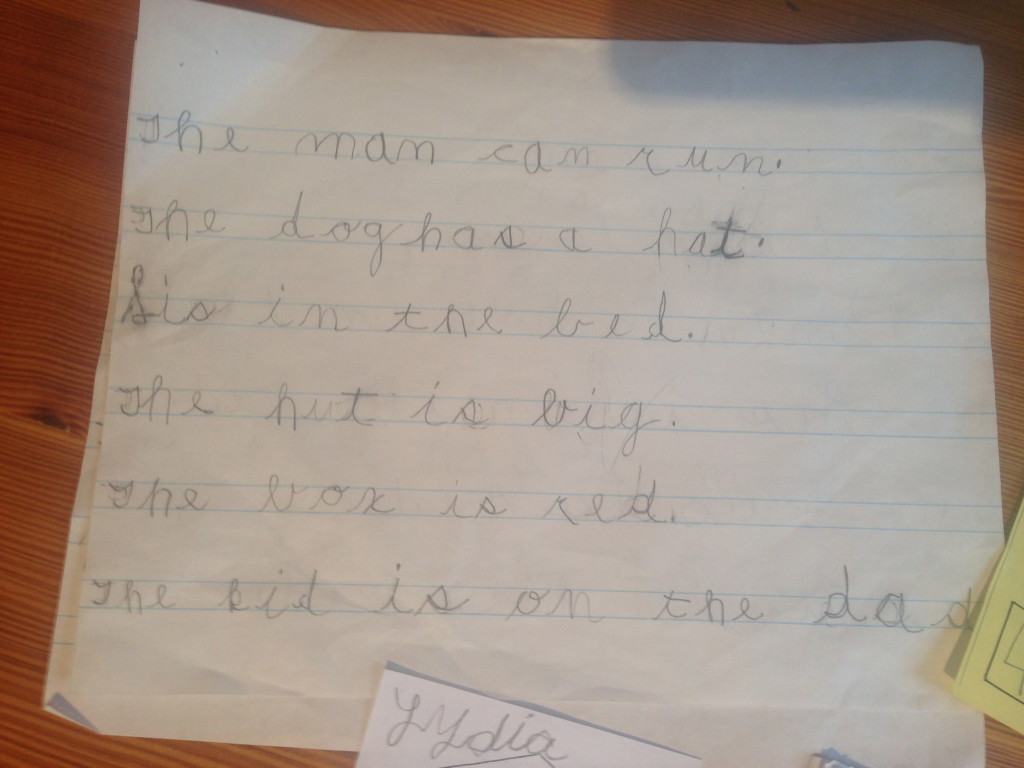 This is learning to write sentences. From day one of learning to hold a pencil in Montessori school, the children learn to write in cursive.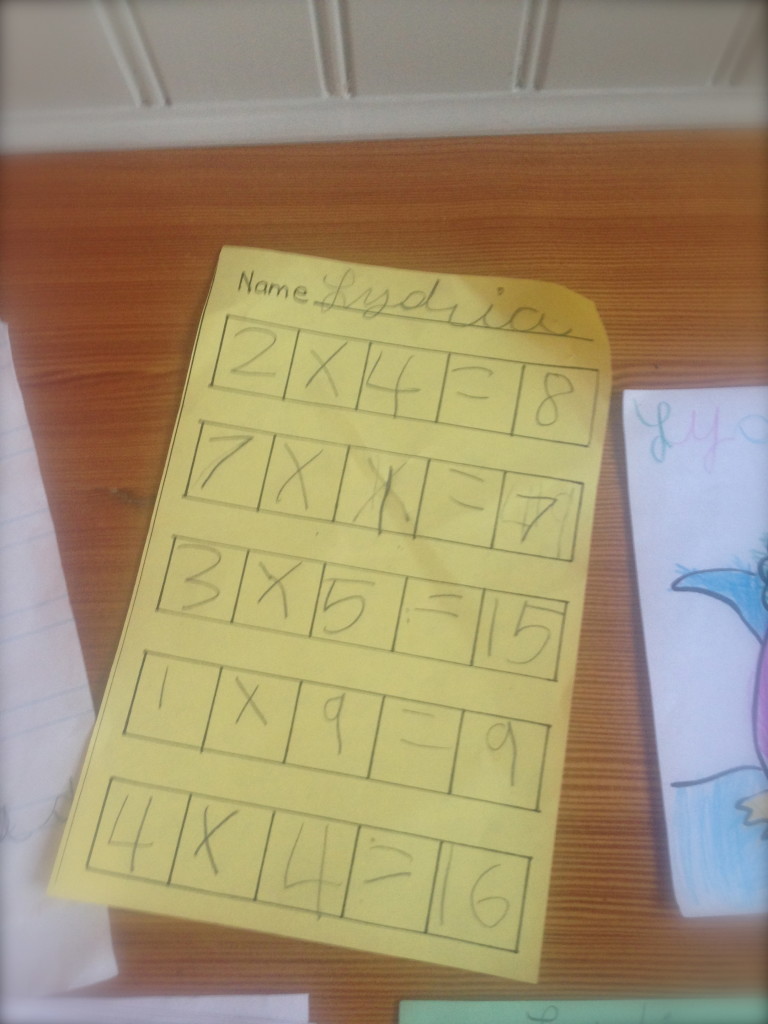 This is some VERY big math she has been working on! There are manipulates in the class from that teach this lesson. If you ask her what 2 times 4 is, I'm not sure she can rattle off the answer just yet. But it is definitely introducing them to the concept of multiplication.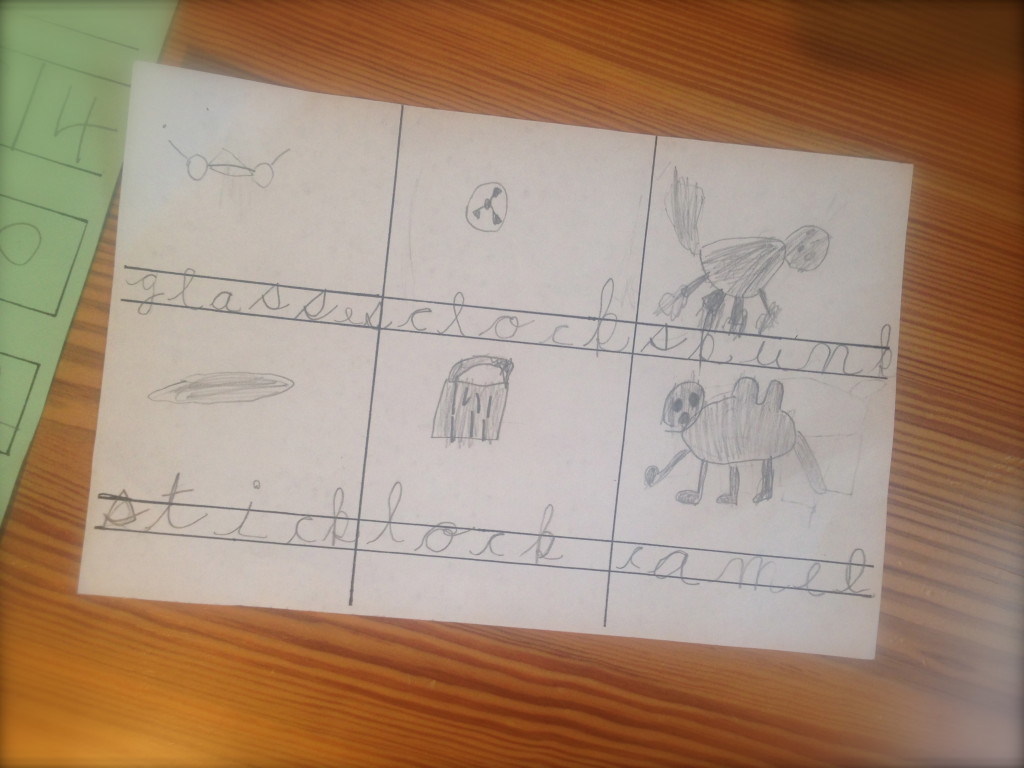 For this lesson the children are given an object, then they get the wooden letters out of a box to spell the objects by laying out the wooden letters on a large lined piece of fabric on the floor, then they write and draw the object on their paper. A lot of time before this was spent on learning sounds, writing letters and doing lessons to build up to this one.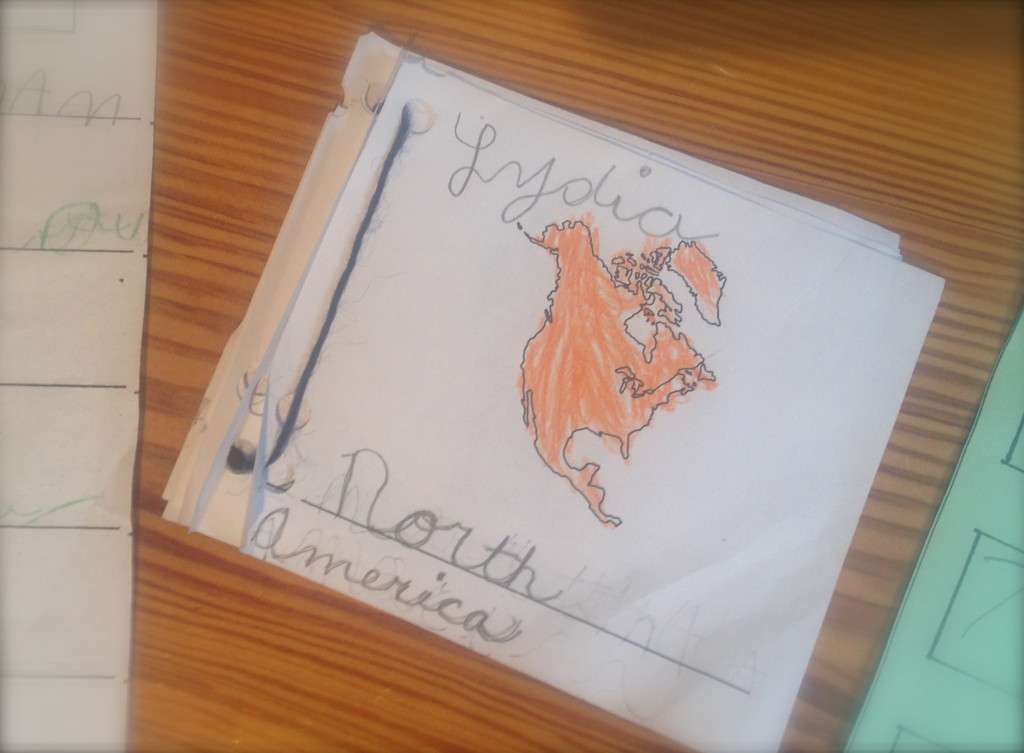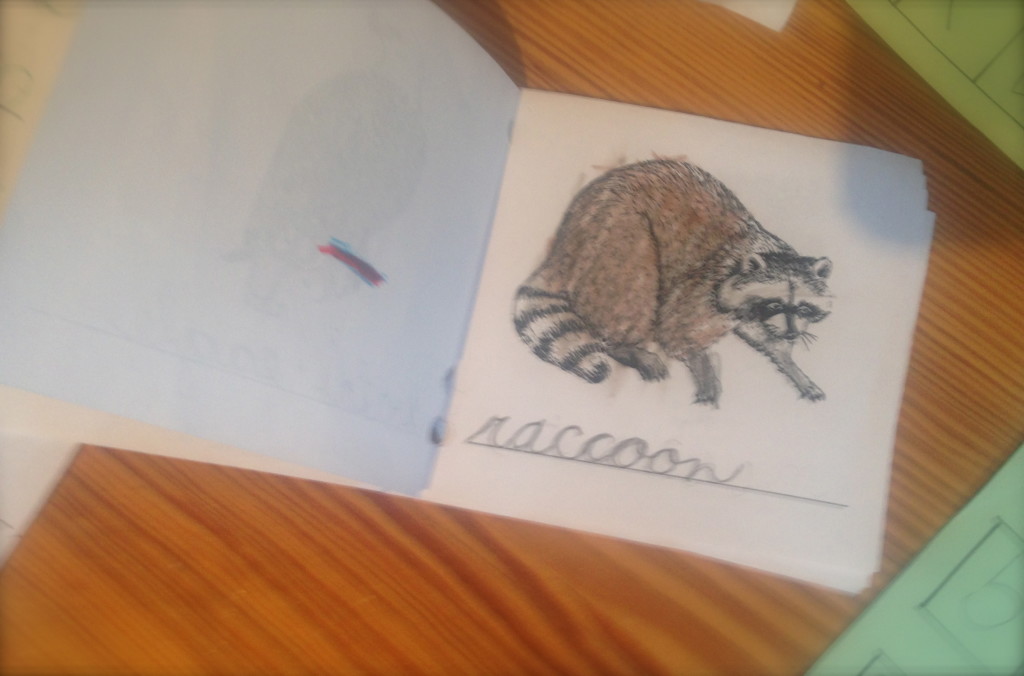 This is a booklet on and animals of North America. When the children more up to the elementary class they call these "Field Notebooks," which continue to teach them about land and animals from cultures around the world.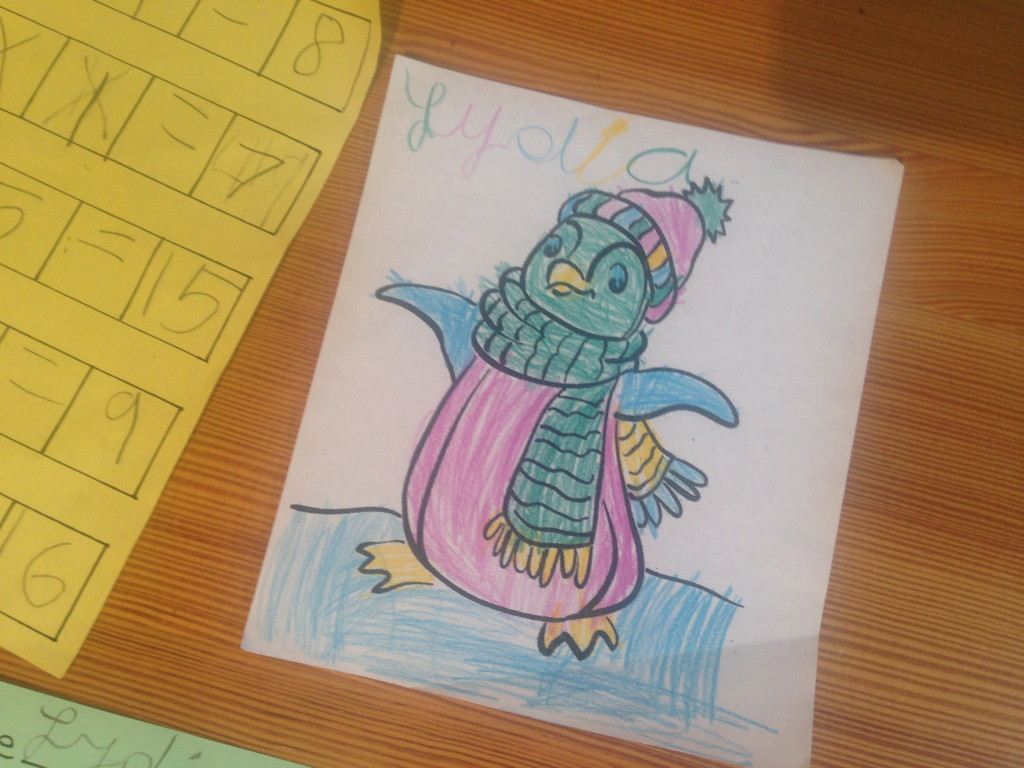 After the big work of the day is done, she still enjoys a simple coloring sheet.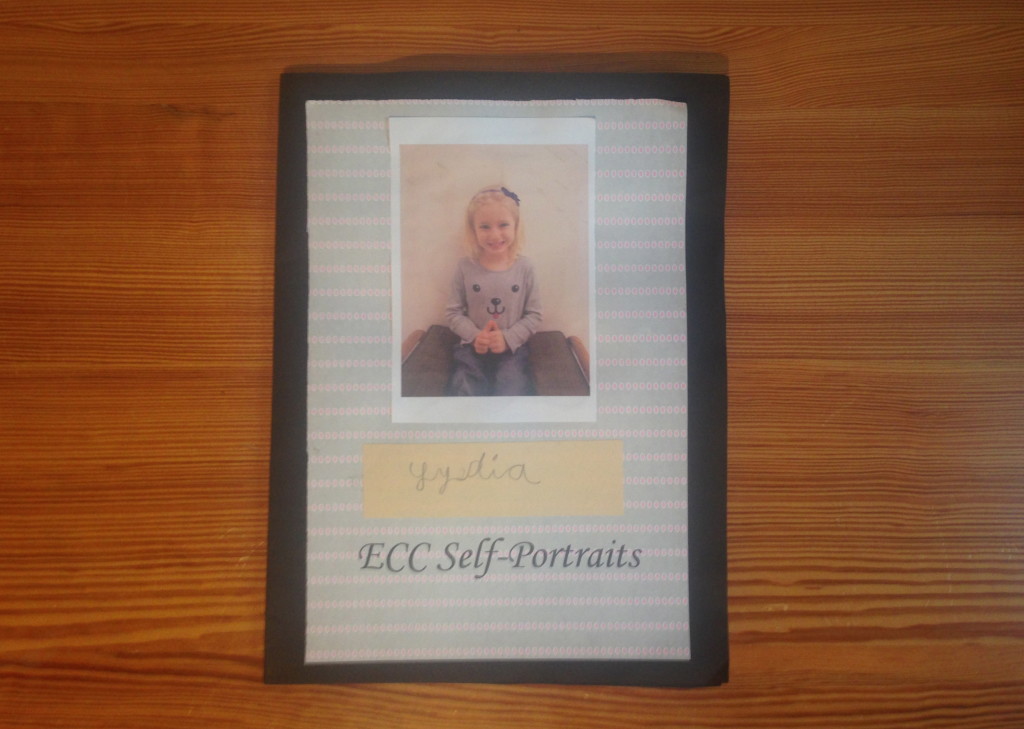 She called this her Grand Finale on Friday! Once we had looked and talked about all the other work she pulled out this. We didn't take a picture in the car that day, because we just in the moment of then.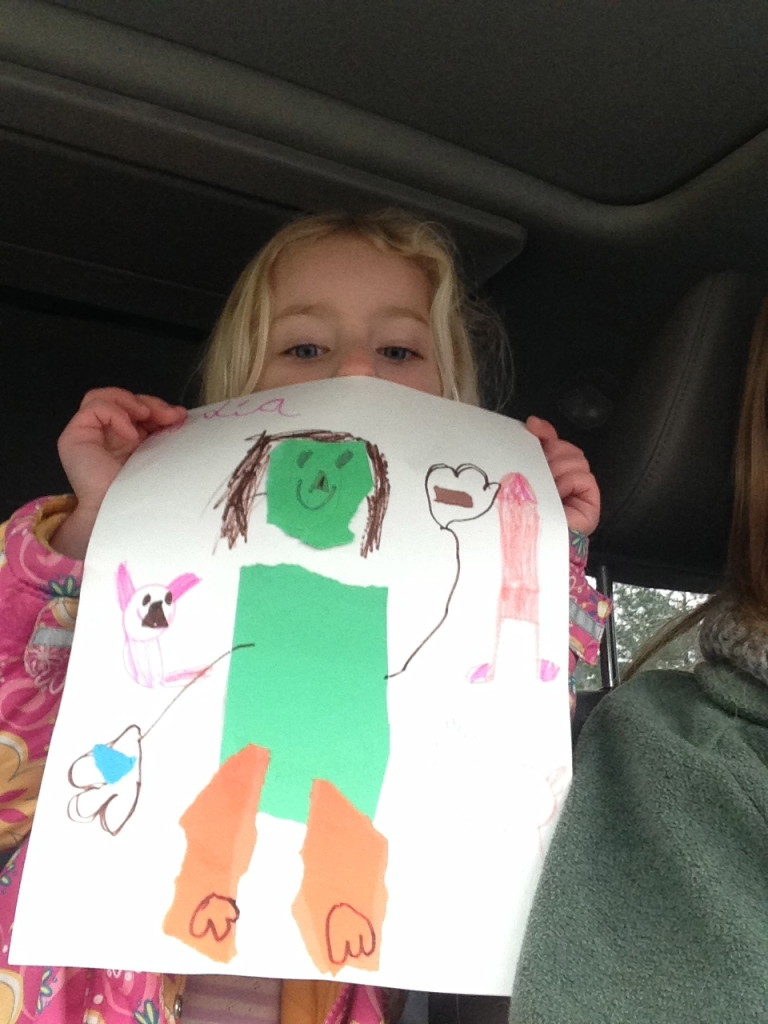 But this day…we did a little selfie of her artwork while we sat in the car for our 30 minute wait time for sisters. Thirty minutes may seem like a lot, but I love this little one-on-one time we get together everyday. I hear ALL about her day. And when it's nice weather, we play on the playground, tree house and forts.