Summer in East Tennessee seems to be lingering. I'm not complaining. I like fall. But my baby girl was a summertime baby and I'm lingering in her birth season before ALL my other babies celebrate fall birthdays. I do love a kid party. And with my kids plus my three best friends' kids, it's easy to have a houseful in a moment's notice. Bring on the merry.
At the beach we visit there is an amazing island shop called the Shiny Fish Emporium. I've made friends with the owner Rebecca and worked my way into a job there as soon as I move to my favorite place on earth. Ok I'm fantasizing. But ONE day I will own a house there even if it's a tiny fishing shack.
My girls enjoy painting sand dollars there and having ice cream bubbles at the Shiny Fish. Every summer we go out on an ecological tour boat, with Captain Sondra Fox from Moat Marine Labarotry and Aquarium. She's a marine biologist and shows the girls amazingly cool things. She gets them in the water, walking in sea grass and picking up all kinds of sea critters. This year she knew we were coming. She had recently been out somewhere and found a bank (literally) of dead sand dollars. She bleached them and gave us a box to take home. It was super sweet of her! I saved them for this experience.
We made our own Shiny Fish painting table in our living room, savoring a piece of the beach.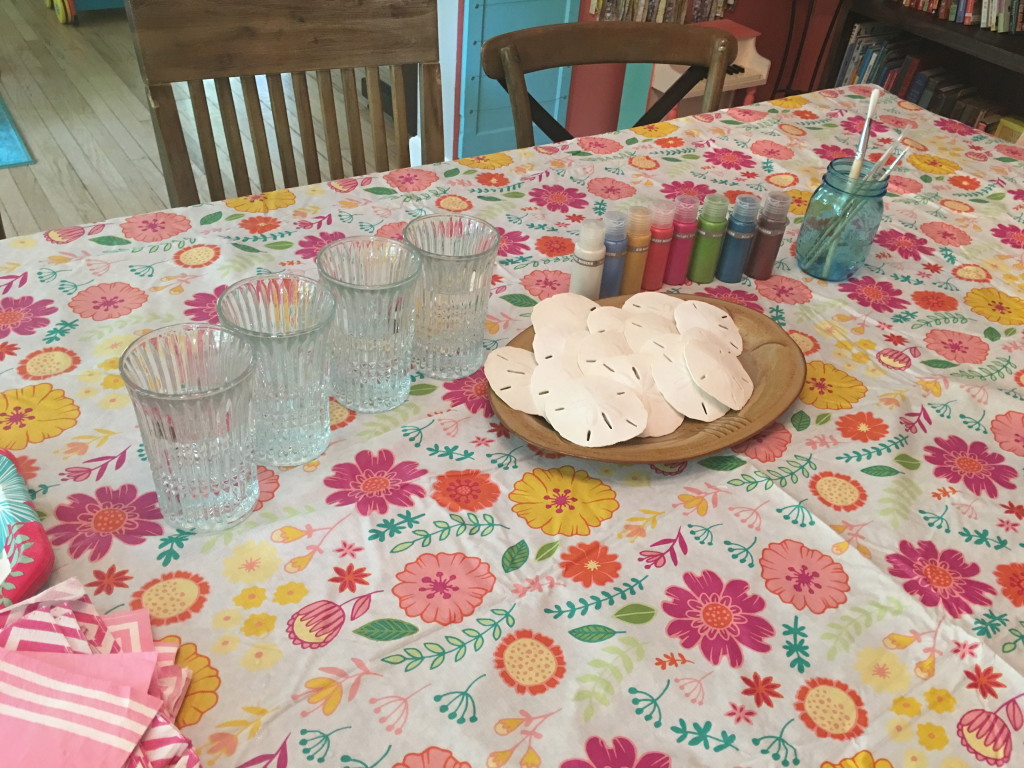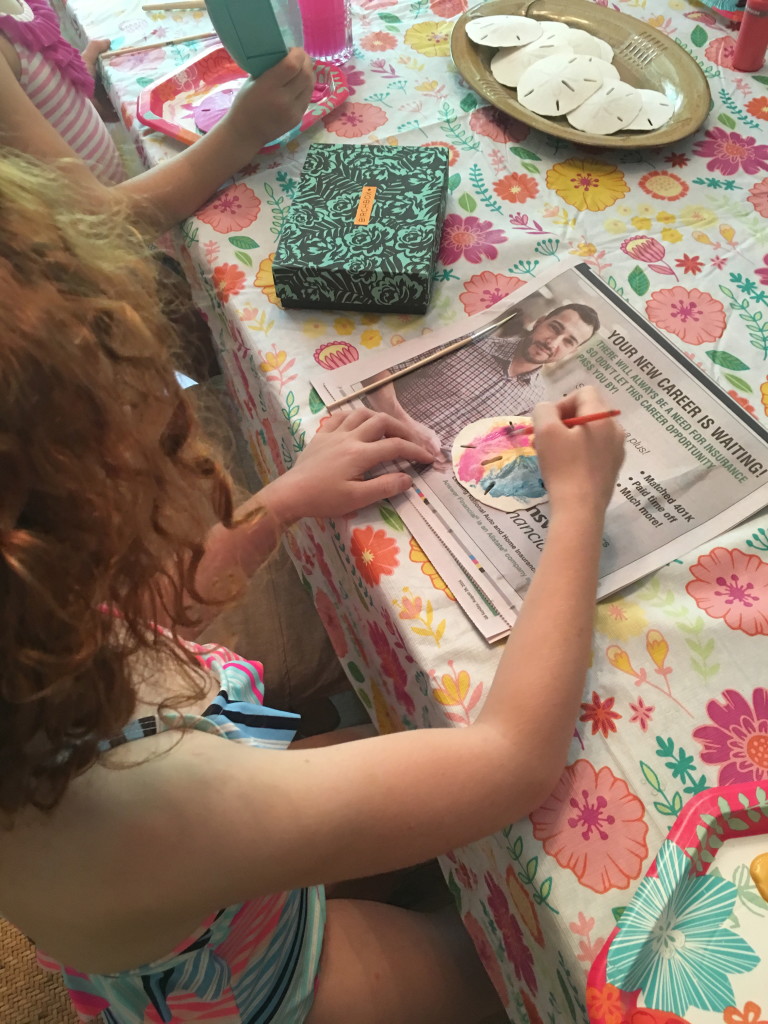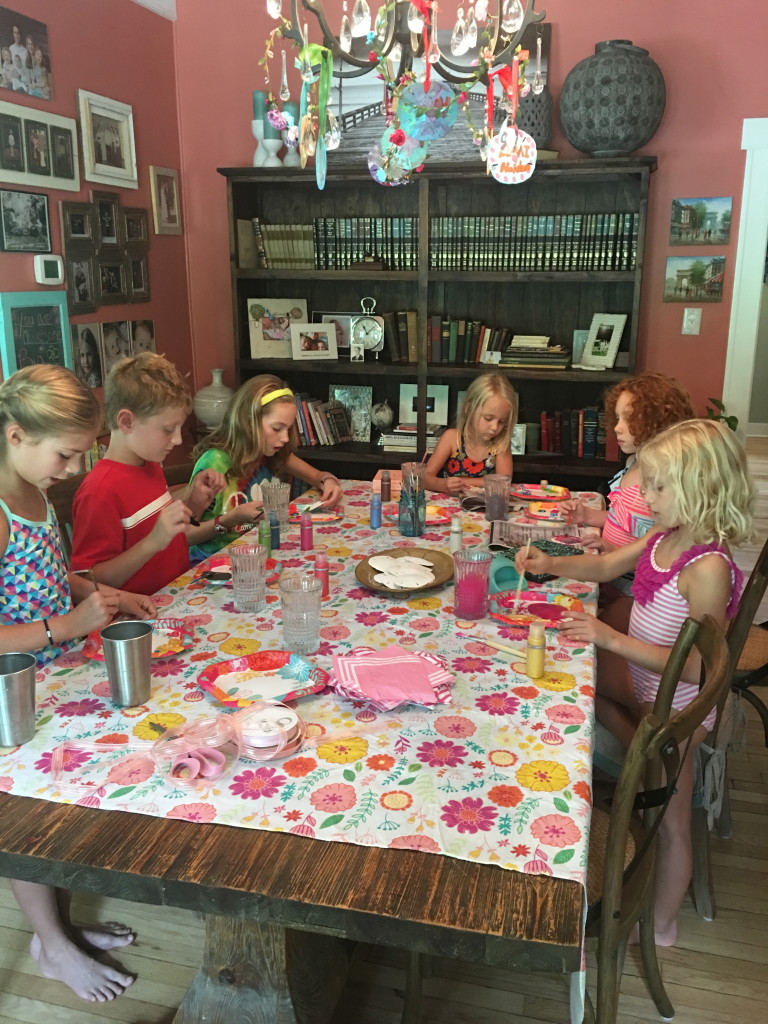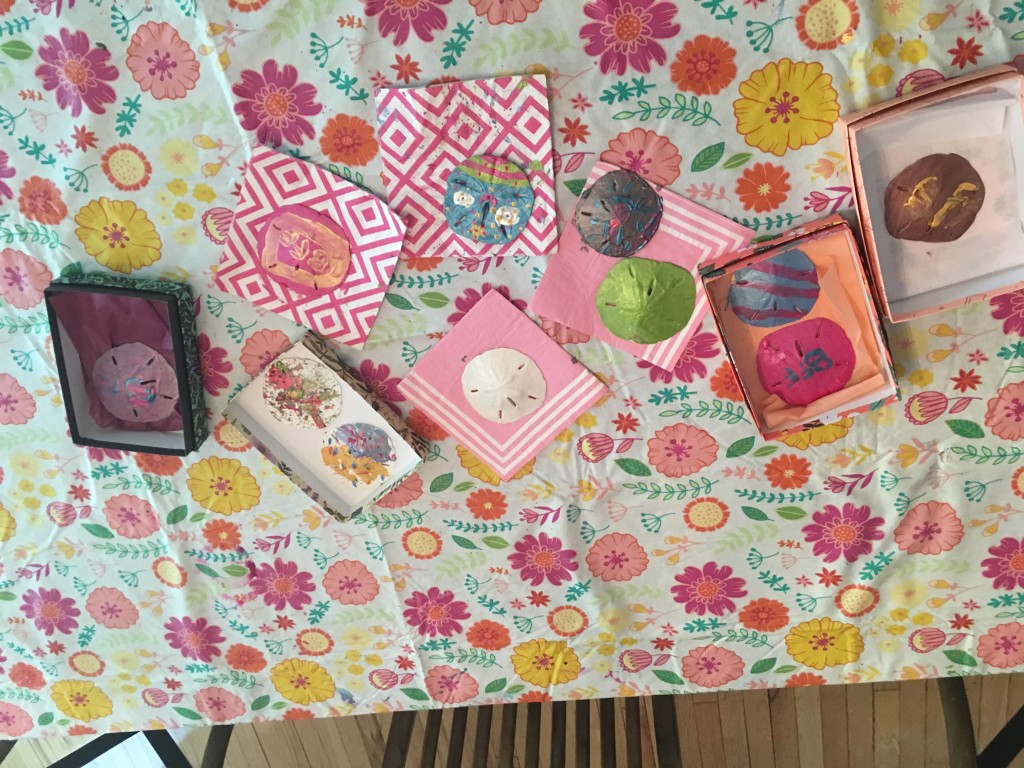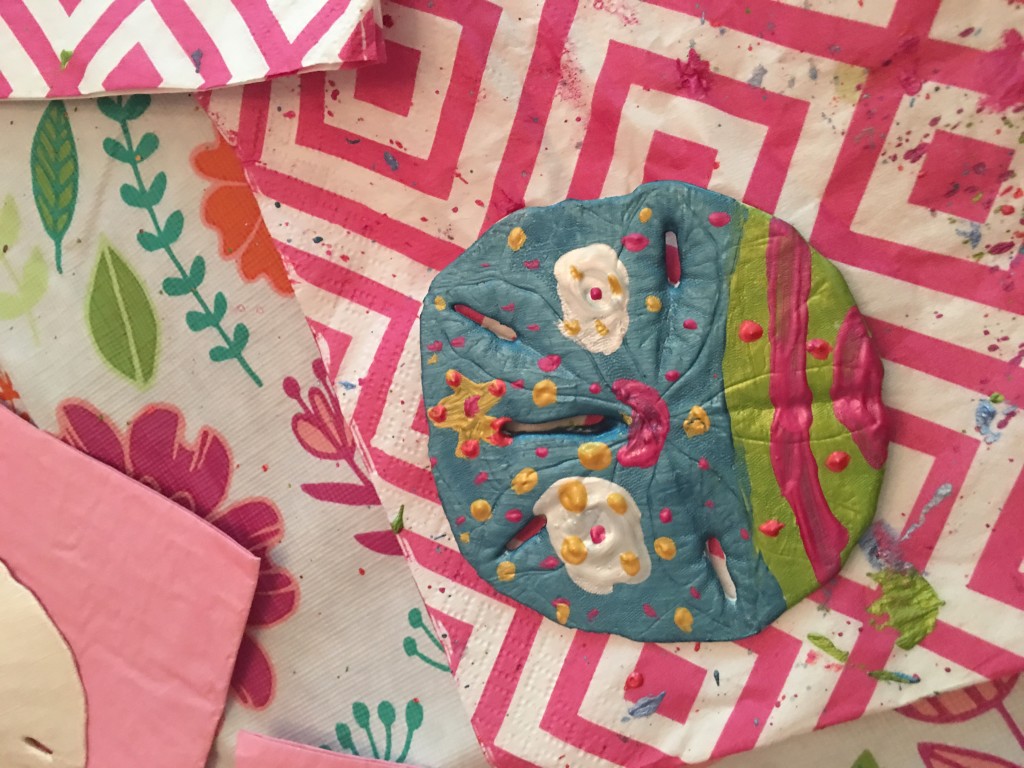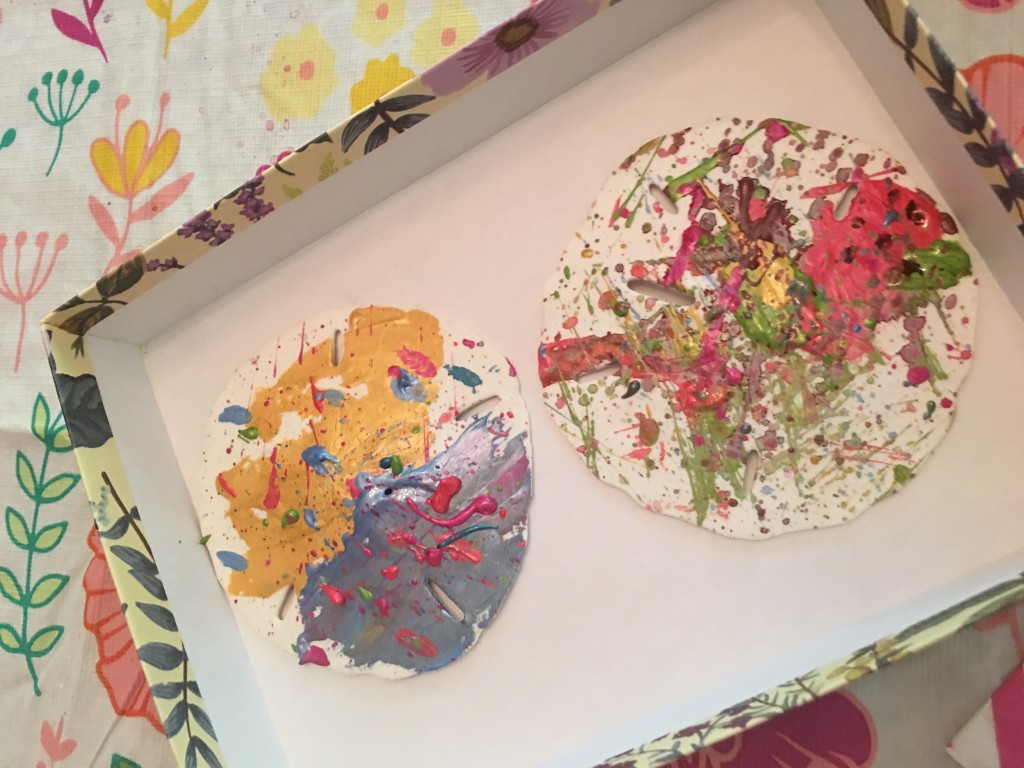 Still holding on to summer…my chandelier looks like this.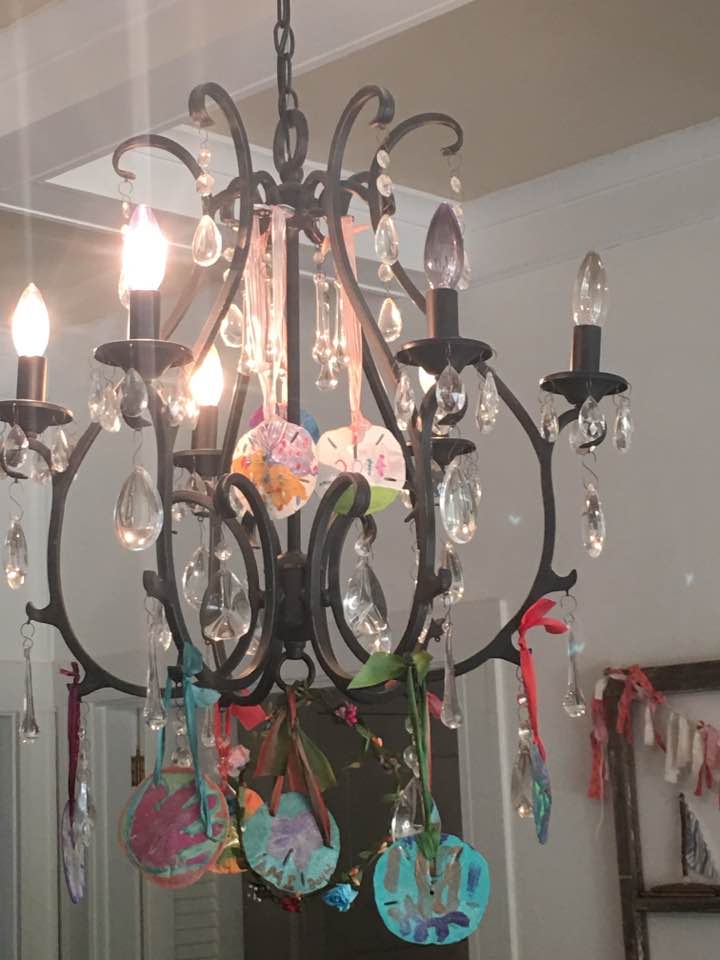 Next as part of the party we got out all the water toys and blow up water slide in the backyard. I don't have any photos. I must admit, I skipped out on that part to have my picture taken with baby girl. My awesome husband held down the fort with the nine kids I left him in charge of. This is why I keep having babies with him. But wait. I have to stop. So I savored this chance for a waterfall photo and had my own sweet little summer party with just baby, while the bigs got rowdy.
I'll share more of these amazing photos later in a mothering essay I hope to write soon. Here's a sneak peak from Break the Mold photo.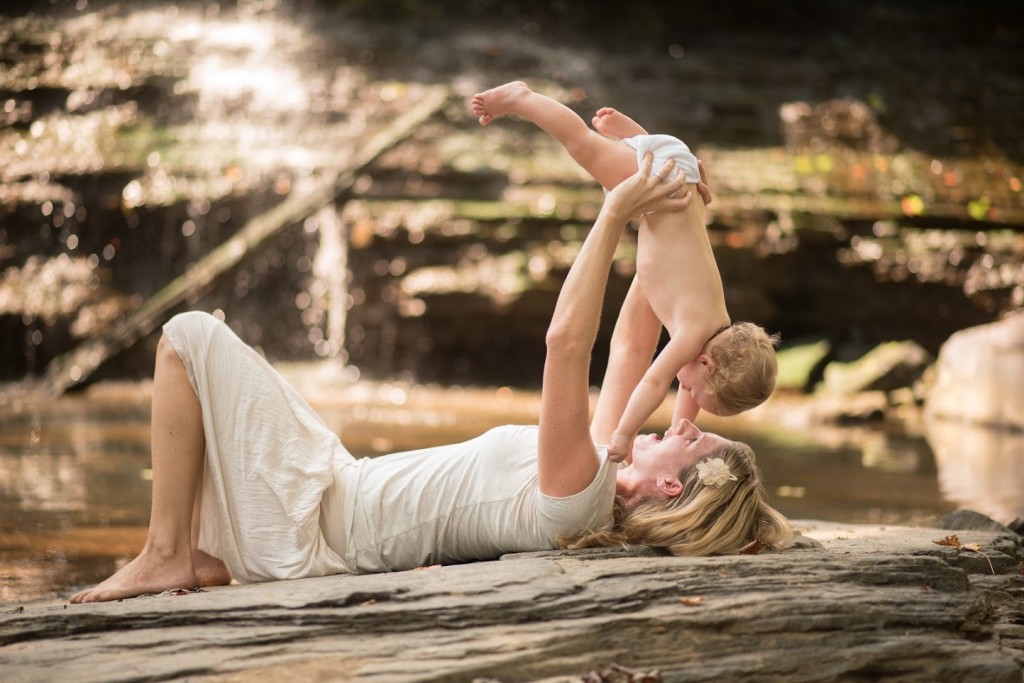 When I got home there were still some kids left. And I had one more thing on my party agenda: busting open coconuts. Did you know that you can not shake a coconut out of a tree? That just happens in movies. After I failed my uncle took a saw and went walking in pursuit to find a tree someone didn't mind him cutting a few coconuts off of it. We brought them back to Tennessee and planned this experiment to thank our neighbors for watching over our house and animals while were gone this summer. They traveled through three states so we could have fresh coconuts in late August.
Yes I cut out all the coconut, saved it in the coconut water and have been munching off it from my fridge. It is yummy!
And it wouldn't be a party without a show, dress up, and putting a baby on a scooter. It's how we roll. That all really happened!