I love to celebrate birthdays with my girls. With each year passing for each child, I feel like it's my birthday too. I made it around the sun another year with them. I was there the day it all started, the moment they were born. So crafting a special day for them is something I really do love. Perhaps it's my way of celebrating another year of motherhood. This is how I show my love. By merry making and them waking up to a dinning room decorated in birthday surprises.
In August my baby girl turned 2. As I decided to post some pictures of the traditons we do at home to celebrate, I pulled up a post from my third daughter turning 2, It tells a few of of our Birthday Traditions and a photo of the year I sewed the same chair cover my baby girl used this birthday.  We've added to the rituals since then. But our chair covers have stuck around. Each girl using their own unique birthday cake stand on their birthday is still a favorite. And they still hear the story of the day they were born when I tuck them in on the night of their birthday. They really look forward to it. My oldest turned 13 this month. (I know, HELLO 13. There's more to come on that later.) Even at 13, she was anxiously waiting her turn that night in bed for me to cuddle up and tell her about the moment I met her for the first time.
Things we've added to the mix include decorating the vintage photo frame that hangs in our dinning room: with photos, banners and cards. It was inspired from having extra photos laying around after making the girls Walk Around The Sun boards for school. It's is a Montessori ritual where they walk around the sun for each year of their life while the parents share photos and memories of the child. My older two opt out of this now but they still enjoy doing a variation of it at home, sharing photo books and favorite memories of each individual child on their special day. I try to sew something new each year for them. We have a birthday bin in our storage area and when we get ready to decorate for a birthday most of the decorations come from past homemade items in the bin. Including the chair covers. A couple years ago I started a birthday ring for my then middle girl, aiming to have something different just for her since her birthday falls only one week after her oldest sister. But they all love the birthday ring. And since they look so great on the cake stands for longer than a cake, we now have that tradition too.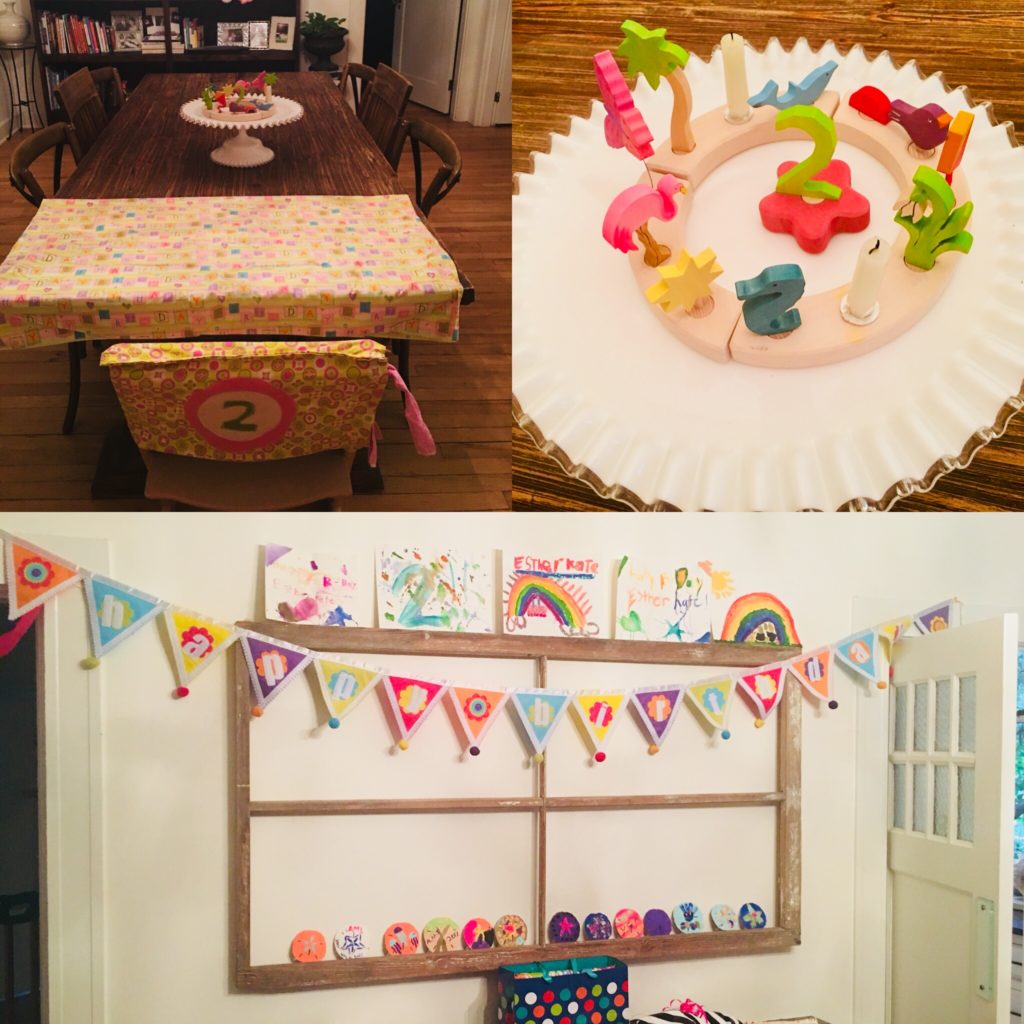 This second photo collage was for the girl who insisted she wake up at home, in her own bed, and sit in her own chair at her table, with her chair cover… for her birthday this year. We had two birthday's straddling a week off for Fall Break. It was so hard for me not to fill it up with travel time. But this girl said no. And since I love birthdays at home….well, okay. We got home late the night before her birthday, with the all decor up still from my 13 year-old's birthday, seven days before that. The bigs helped decorate after the littles were fast asleep while a sewed a chair cover because we were missing an 8.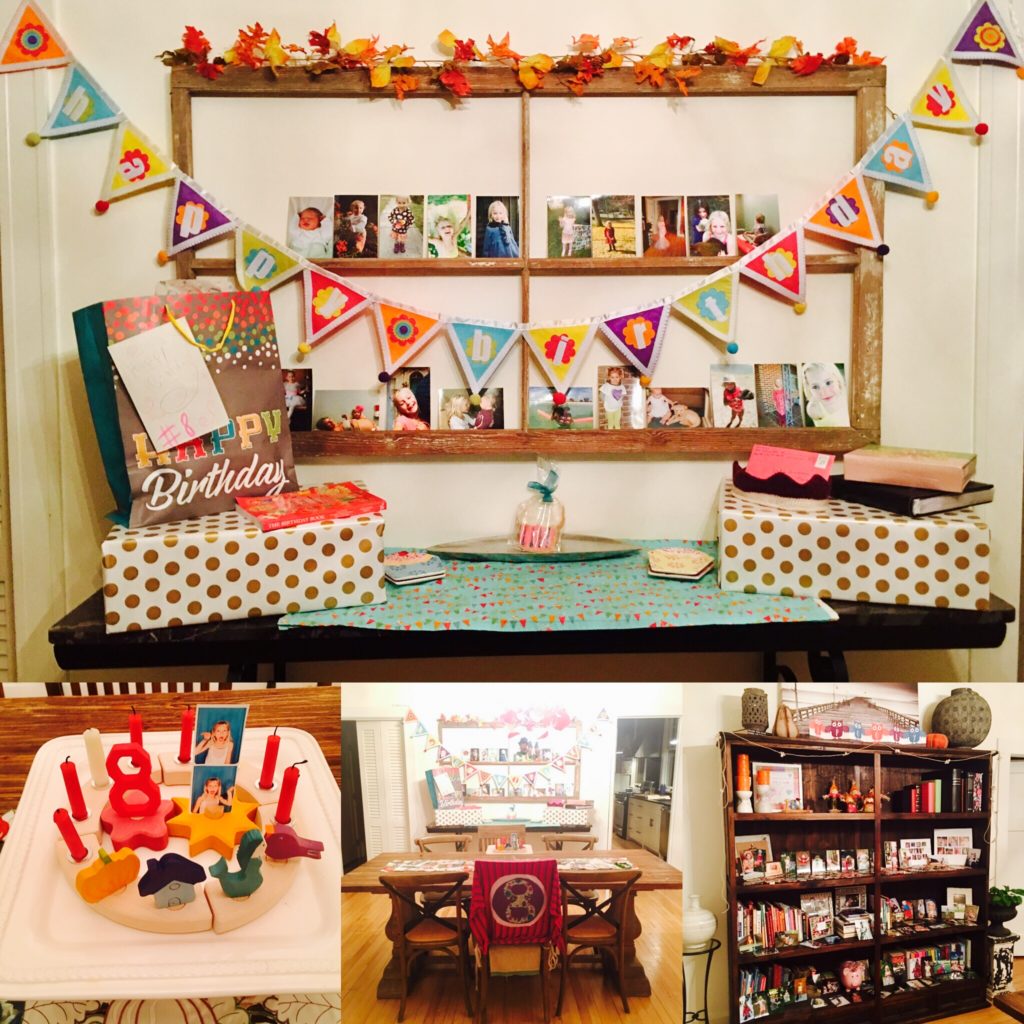 For 13 year this year, I tried to get a little more sophisticated. I'll admit it was hard take this down.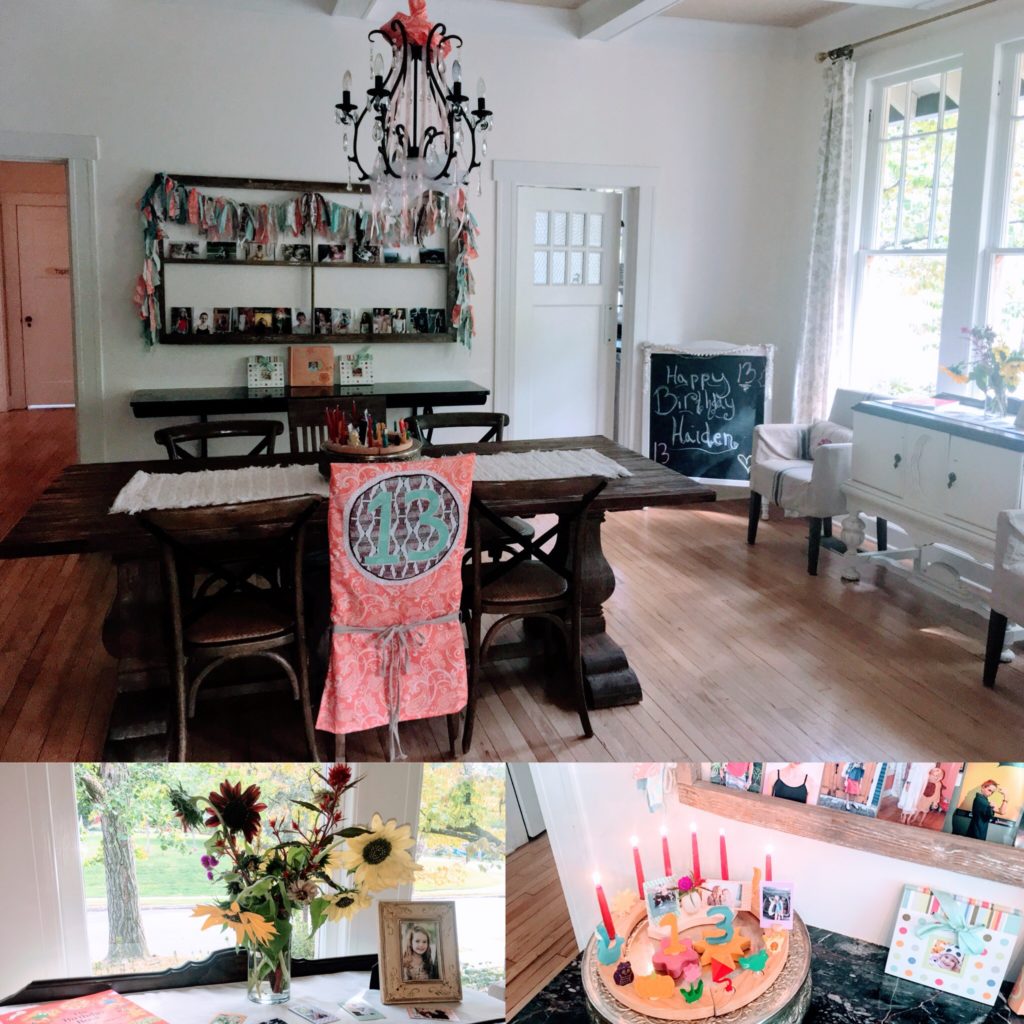 We had some fun birthday parties this year. Still semi simple but fun. More about that next up. Because I love a party too.