For about a year I've been experimenting with Gluten Free and Paleo baking. However I am not super committed to the no grains aspect of Paleo because ruling out rice flour is tough. I like using nut, bean and coconut flours when it works. Sometimes I make up my own flour mix. Sometimes I use Bob's Red Mill gluten free flour because it's easy and it always works as well as a regular flour substitute. Thankfully we don't have any real, life altering allergies. But I have one daughter who is now gluten free as her own choice, to help increase her ability to focus. I'm doing everything I can to support this decision. Therefore I've been adapting some of our seasonal favorites to be gluten free goodies.
The first is Pumpkin Bread, from this recipe that has been our favorite since it was shared at a library story time when my 13 year old was 1! This is the same paper Mrs. Linda passed out that fall day in the story well with her homemade snack for the children. Those were the good old days of library story time.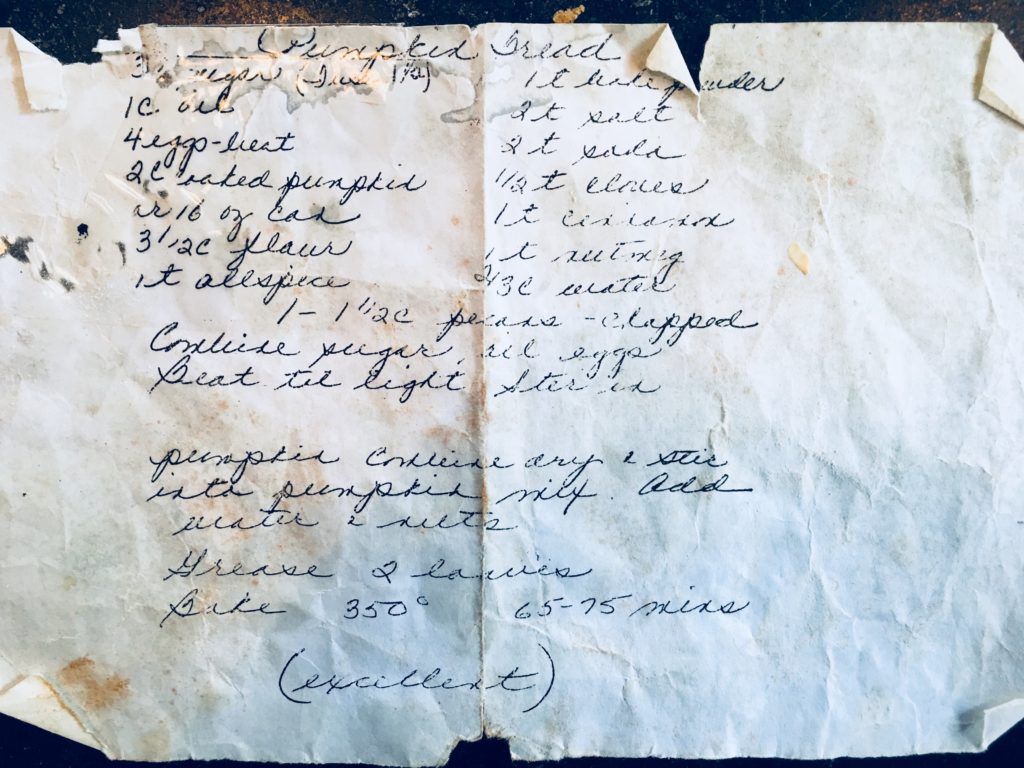 Gluten Free Pumpkin Bread
Using the original recipe as a guide, I've altered it to make it less sweet, more nutritious with fresh pumpkin and gluten free by using Bob's Red Mill gluten free flour. I use water as needed.
For this batch I had a spaghetti pumpkin already scooped out and had ready in my fridge. Sometimes I roast the pumpkin, puree it and keep it frozen. This time I put three cups of raw spaghetti pumpkin in my Vitamix with coconut milk to blend. Then I added the eggs, 1 cup of sugar and oil. You can also use honey or maple syrup as a sugar substitute. In a separate bowl I mixed all the dry ingredients then poured it into the blender adding water as necessary to blend. You can use a mixer too, but since I was already using my blender I decided to not dirty another kitchen device.
Put a generous amount of oil in bottom of the loaf pans to cover the sides really good. Pour in the mix. And sprinkle some Enjoy Life gluten free, mini chocolate chips for an added bonus for kids.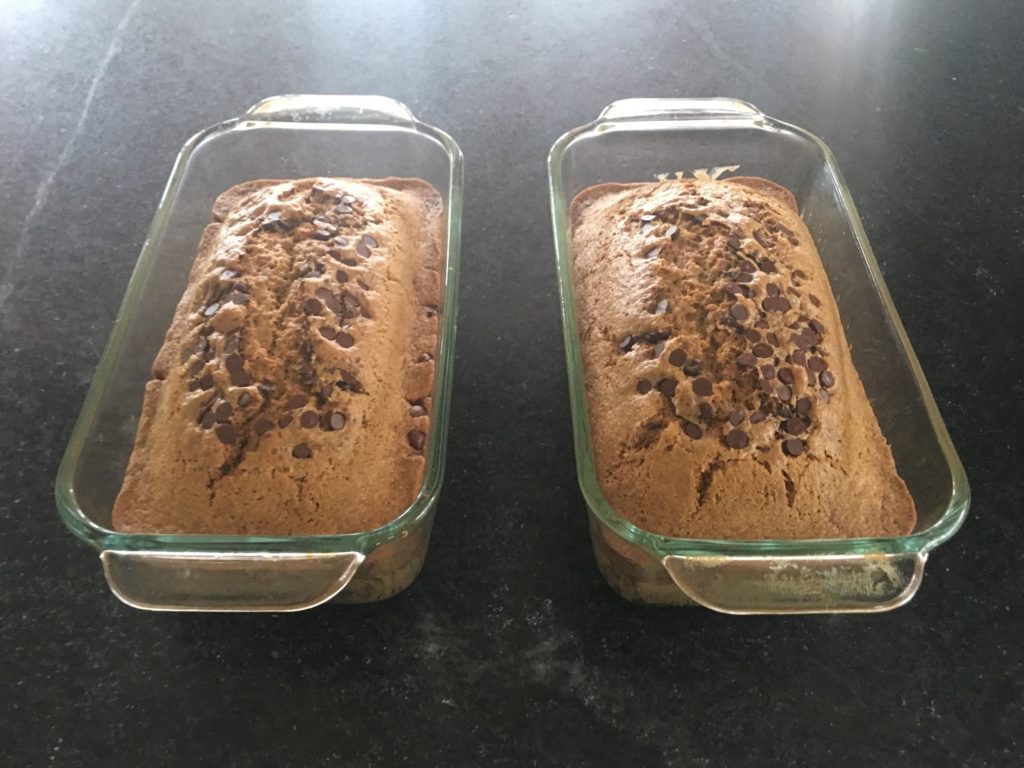 I have made six loafs of this bread in the last week and a half. It gets gobbled up. We also took some to a school function.
I have become known for rice crispy treats at school with the kids for these Thanksgiving functions. I think it's hilarious because it's so easy. But the teachers made a special request to my fifth grade daughter that I make "the yummy rice crispy treats." The key is butter. I use fancy marshmallows called Dandies that are gluten free and found at health stores. And opt for cereal that is not your average rice crispy brand. Melt half a stick of butter in the microwave with a bag of marshmallows, then stir in a box of cereal, put parchment paper on a backing sheet and flatten the gooey mix with clean butter covered fingers. It's so easy it feels funny telling someone else how to do it.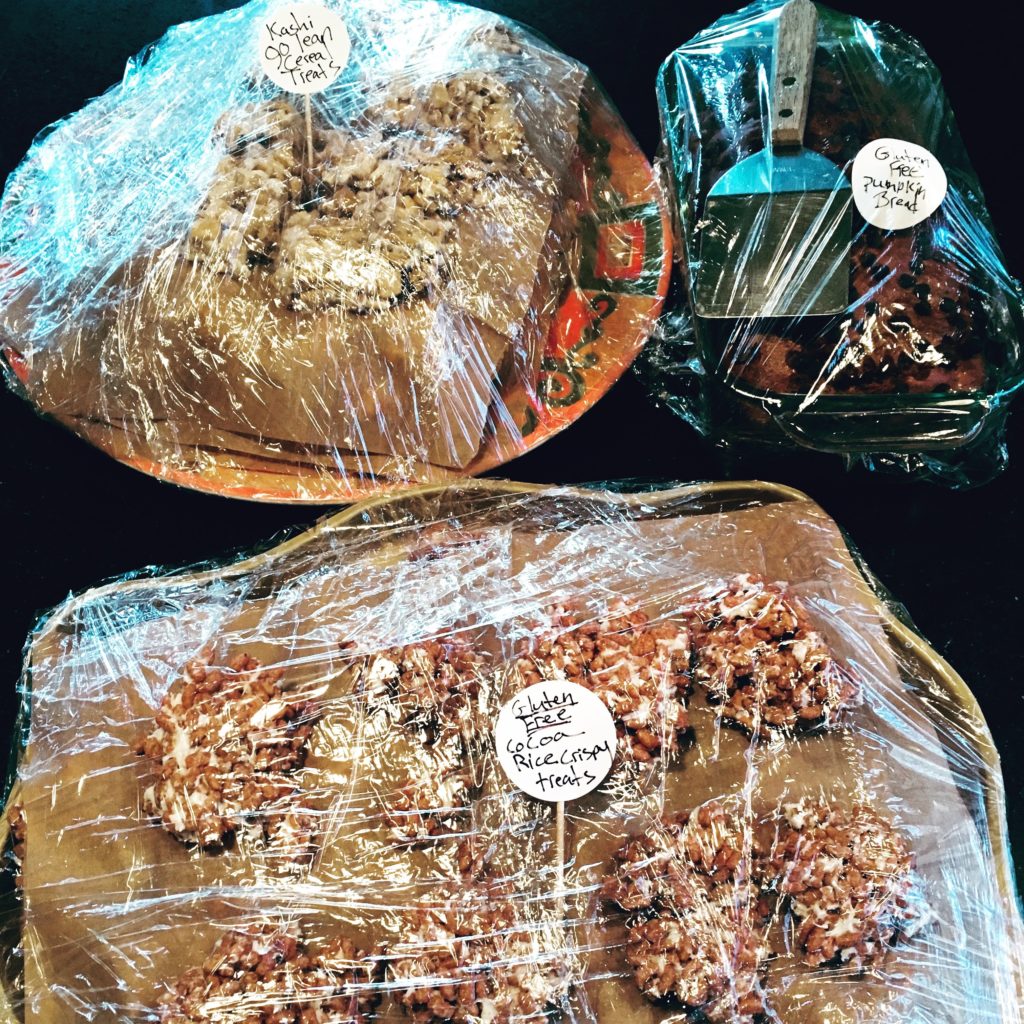 I asked all the girls what is the one thing they want to eat on Thanksgiving Day. My now gluten free girl said, "Corn bread!!!!!!!"
Since I had three cups of raw spaghetti pumpkin left in the fridge I decided to put it to use and make the cornbread more nutritous plus gluten free. I made up the recipe as I went along and when I made it Saturday it was a hit with all the children in my kitchen at that moment.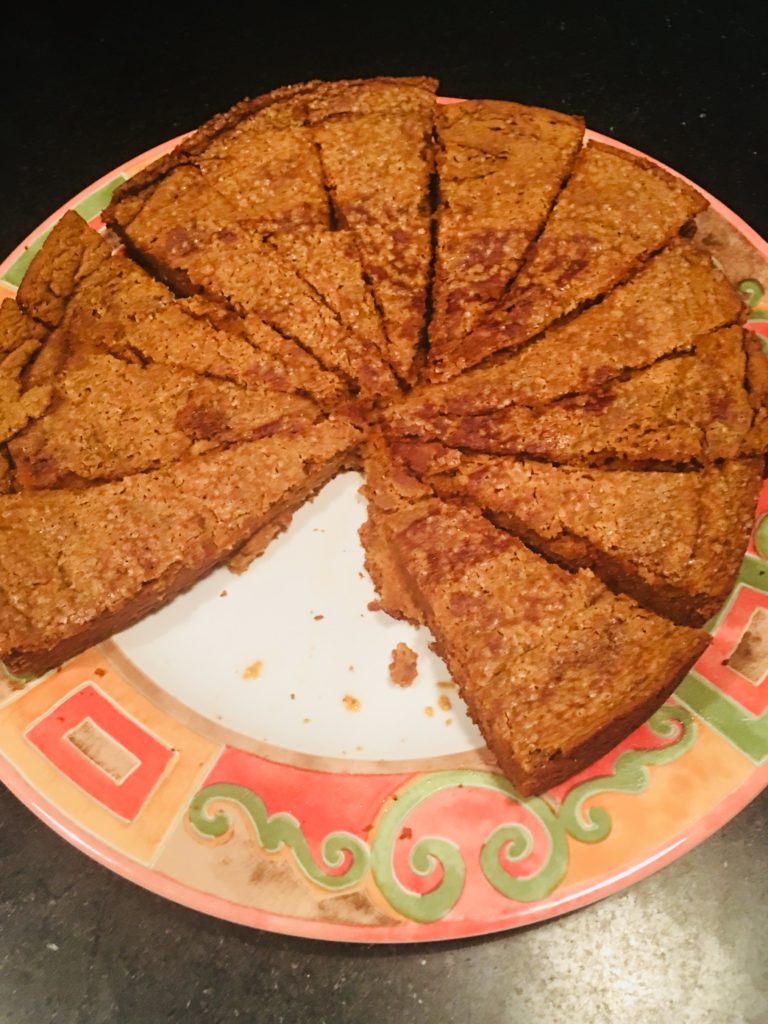 Gluten Free Pumpkin Corn Bread
Put three cups of raw pumpkin in blender with enough buttermilk for it to blend. Then add….
2 eggs
2 cups of fresh corn meal (ours came from CSA)
1 cup of Bob's Red Mill Paleo flour
1 tsp salt, 1 tsp baking powder, 1 tsp baking soda
1/4 cup (or less) of honey
2 tsp of pumpkin spice seasoning
The key to cornbread is a hot cast iron skillet filled with hot butter. I used half a stick of grassfed butter and melted it on the stovetop. Then pour in the mixture and let the edges get a tad cooked. Sprinkle about 2 tsp of turbinado sugar on the top for a sweet glaze, if desired. Then put the cast iron skillet in the oven at 350 for 45-60 minutes. I use convection oven for about 50 minutes.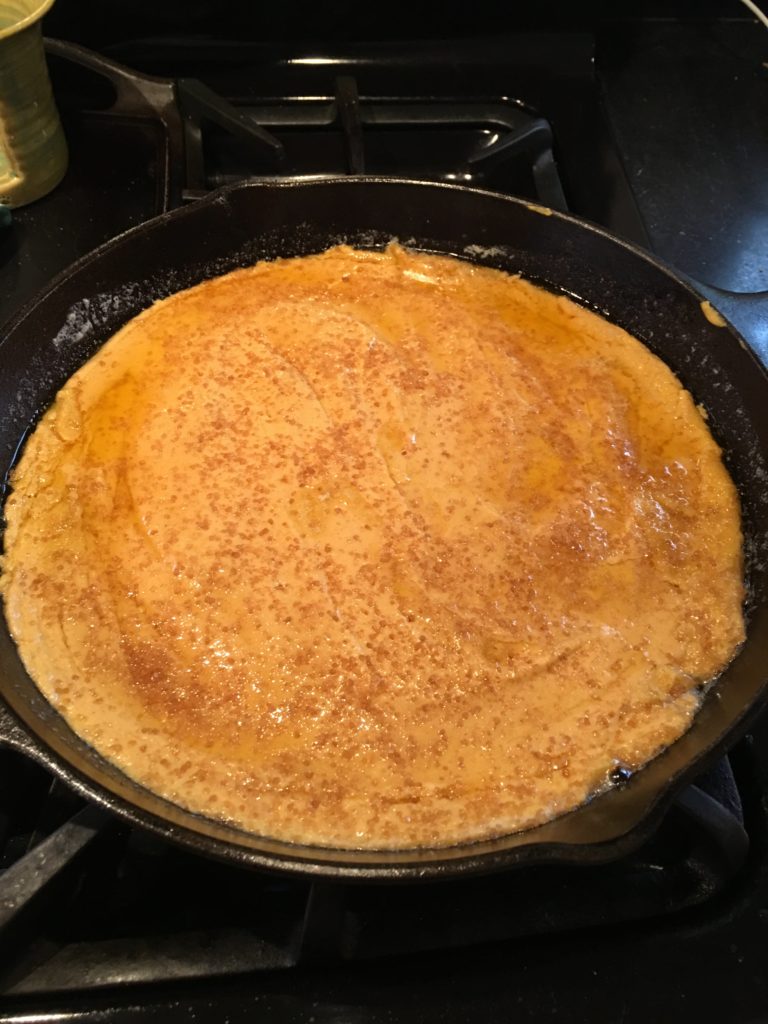 Another thing we made recently is these Flourless Peanut Butter Cookies from The Roasted Root. They are four simple ingredients and delicious.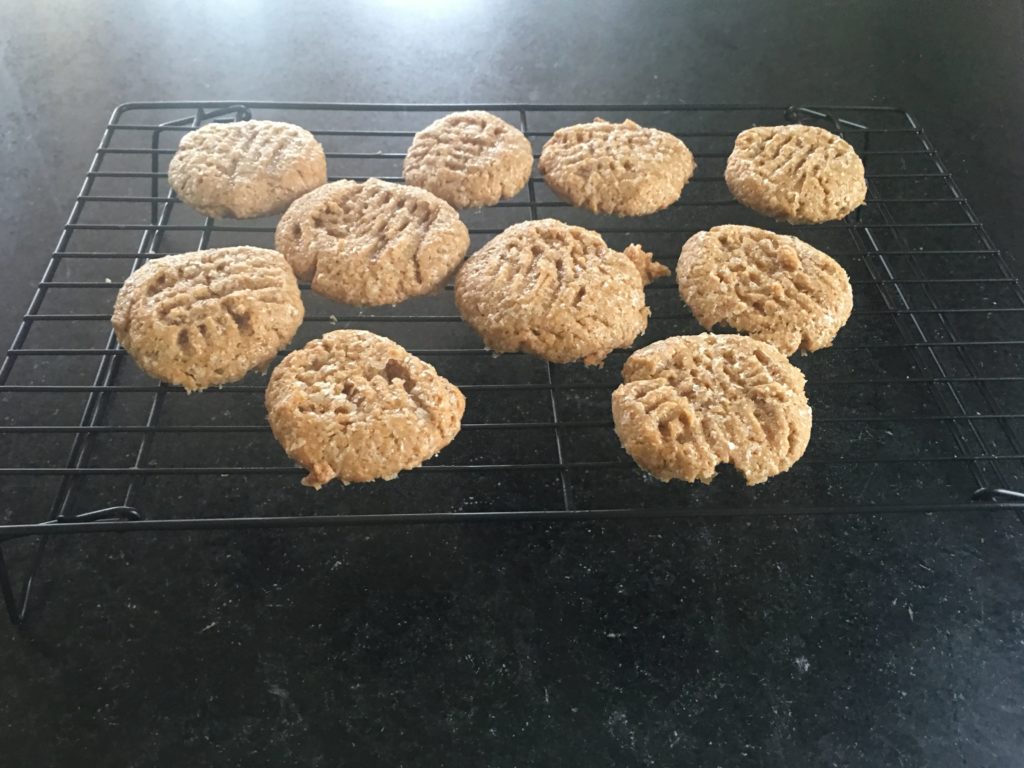 Next up for a Gluten Free switch up is these Apple Jack cookie recipe that came from school when my older children were in pre-school. My two-year-old loves to help in the kitchen right now and it's a great way to keep her entertained. So It's back to baking for us, after a long break in the kitchen.
My husband also makes biscuits with our toddler every Saturday morning. For years he's made white biscuits from scratch and even fresh ground whole wheat flour using our own home grinder. These days he has had good luck with the Red Mill's Gluten Free Biscuit mix. But the regular Red Mill's Gluten free flour mix works well too.  At least until we get a little more experienced with mixing millet four with garbanzo flour. I suppose this is still the beginning of our gluten free journey.