October is nearing an end. But I didn't want the story of how we spent October 1st to get lost in the shuffle of our days.
Our family has a five year running tradition of hiking to the top and spending the night at the LeConte Lodge. We go with family friends and it's not always the exact same group every year, based on weather, age of kids, someone getting sick, someone being born…etc. This was the first year all five Brace family members, all five Simmons family members, my dad and his friend Byron all made the trek up on the same year. The dads and the one boy in the group have made it five years in a row.
The night we stayed at LeConte, our party  of 14 had the youngest visiter and the oldest visiter at the dinner and breakfast table. The little girls were four (one now five) and Byron is 72.
We've taken them up younger – as two-year-olds. When mine was nearly three I hiked the five miles up  with her in an Ergo on my back (in which she fell asleep on the way down and peed all down my back – not so fun). This year she walked 95 percent of the trip! Thank goodness.
On the way down this year we passed a group of four men who were hinting to the top and down on one long day hike. The oldest was 78.
"Byron, we are going to have emulate that," said my dad (age 65) to his friend.
Some other really cute quotes from the trip were…
"Lets hike this thing like real women," Brace sister age 8. This is the girl who hiked in dangly earnings and snuck a lotion bottle into her four-year-old sister's pack because "you have to respect your skin."
"I remember this log last time. I fell and scuffed up my knee," said my middle girl about a steep log steps on the top half of the trail.
"Sometimes the best lessons are hard to learn," replied my Dad.
I'm sure there were more. But those are ones that still stick in my mind and that I want to remember.
The moral is, you can do anything with kids of all ages. And anything in older ages too!
People at the top for years have been in awe of the young kids, and the amount of kids, we take to the top of Mt. Leconte. They  kids really love it. And we love instilling a great sense of adventure in them. It's not always easy, and it's the dads that need credit for corralling everyone into this plan year after year and making it all happen.
Mt. Leconte is a magical place. It reminds me a bit of being at a youth hostel in the Swiss Alps that was only accessible by gondola. It's a hard hike to the top but SO worth it.
Here's a few snap pics of trip this year.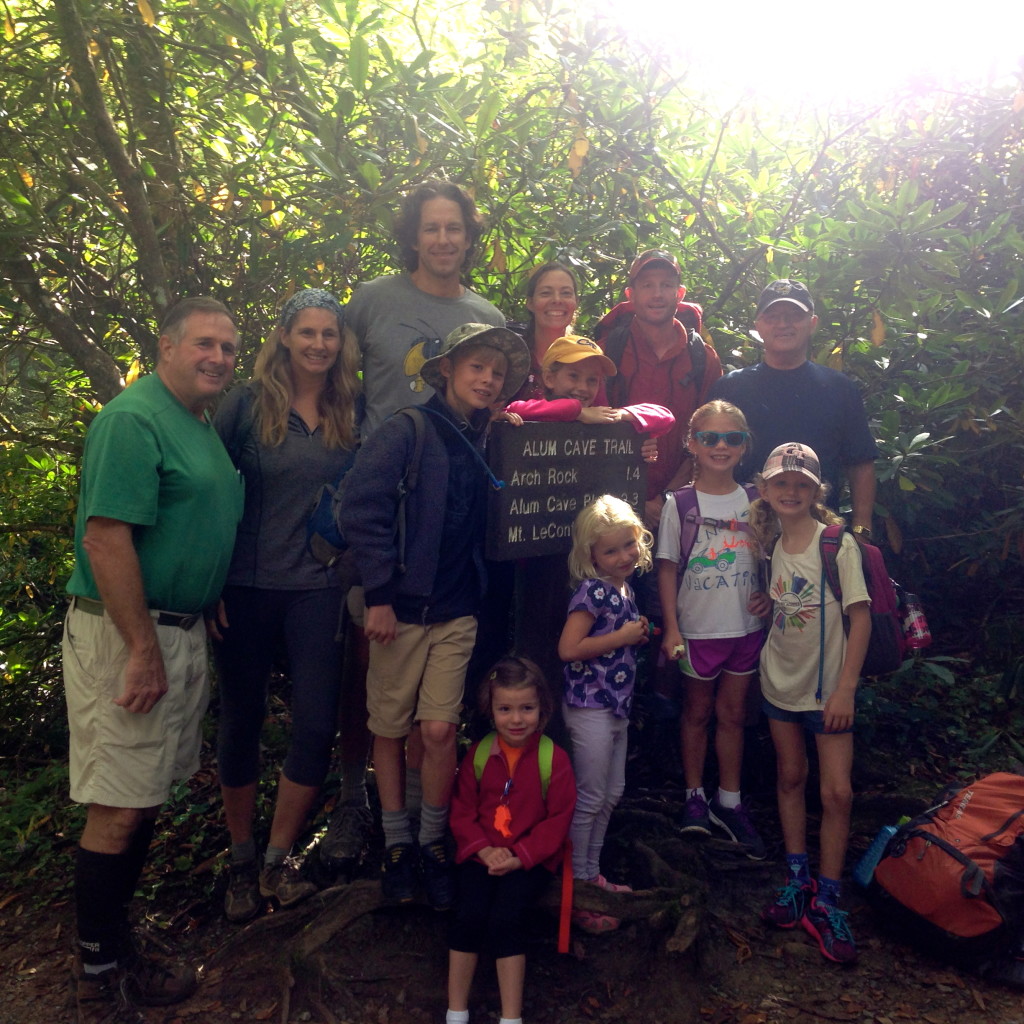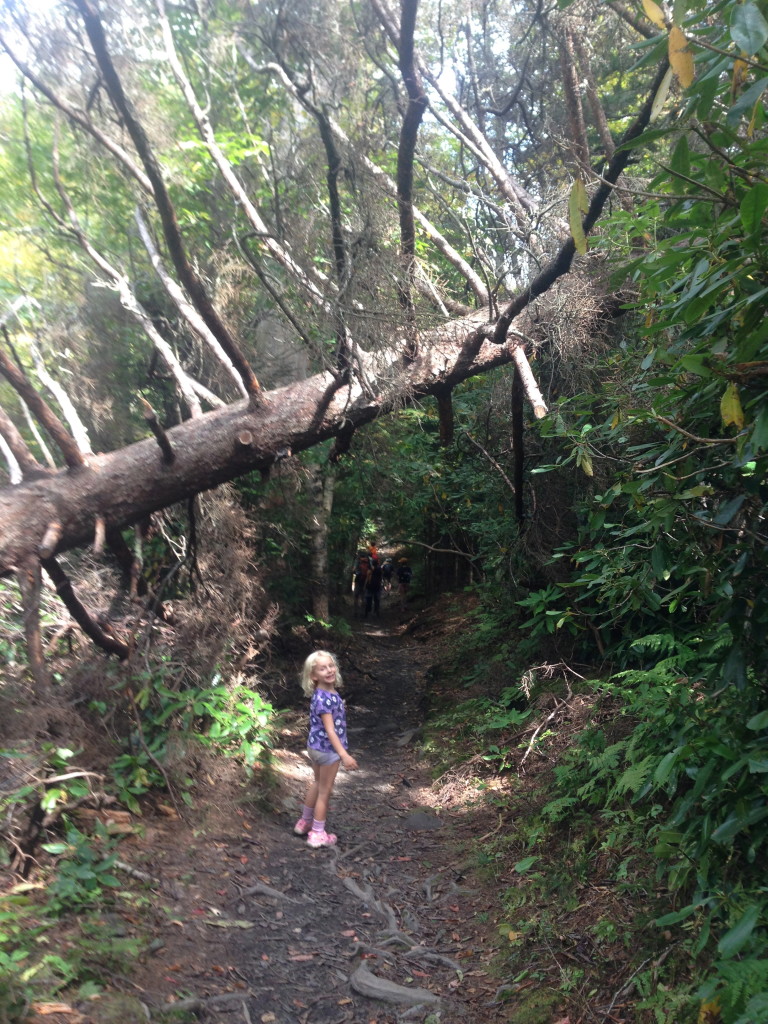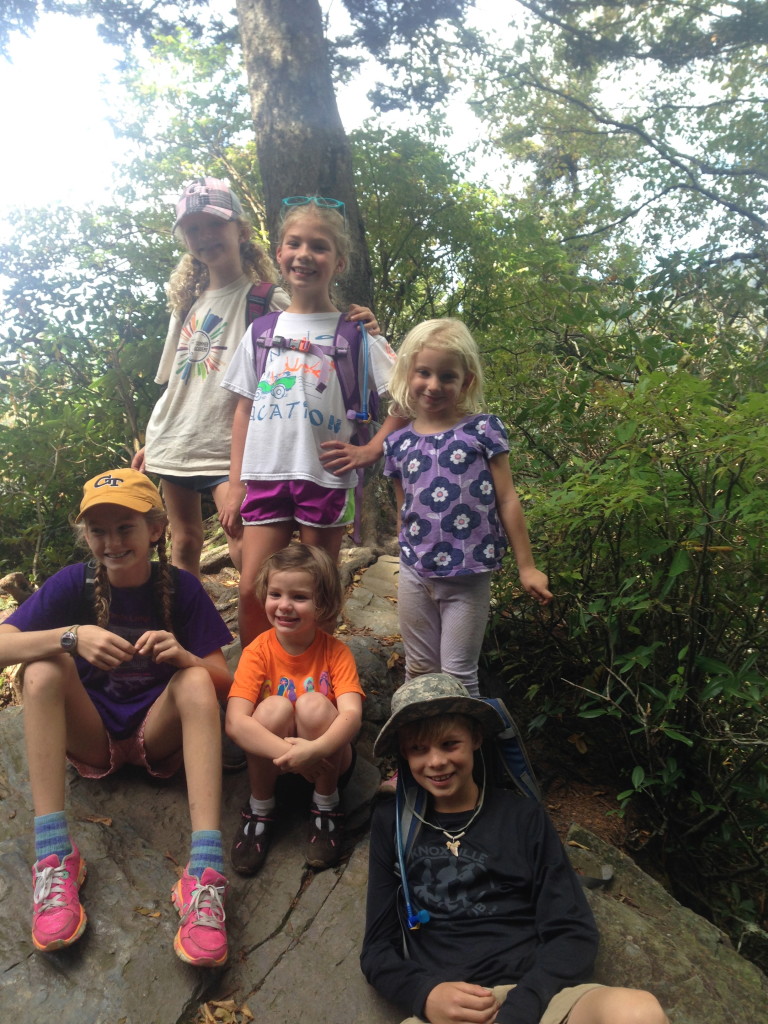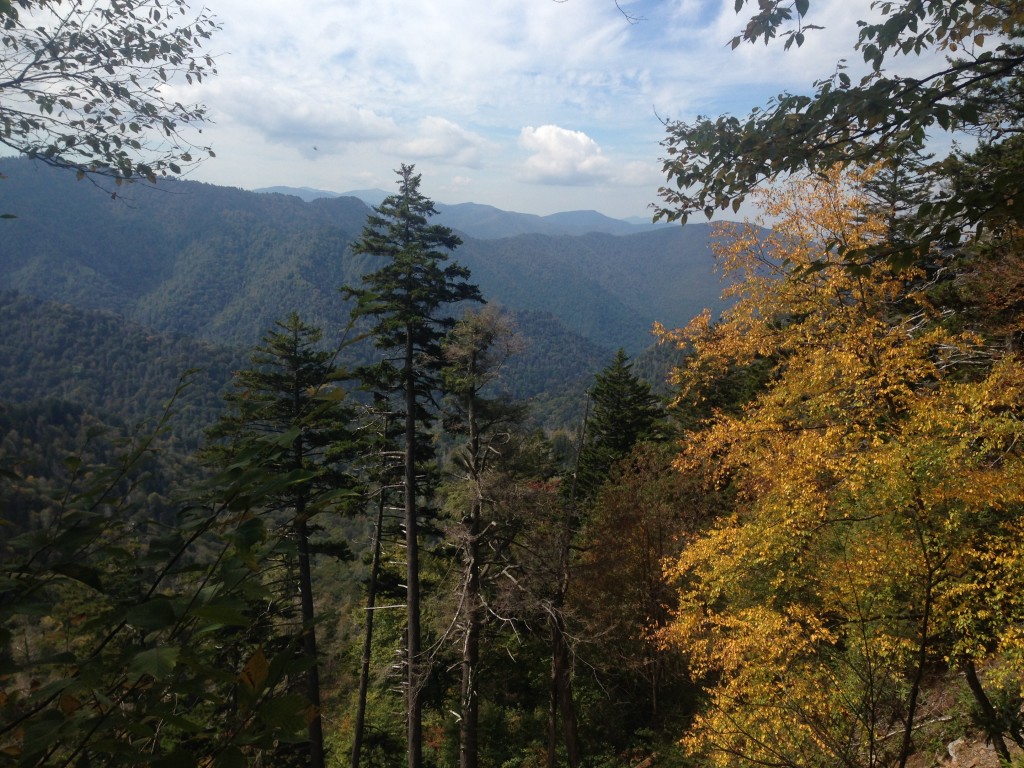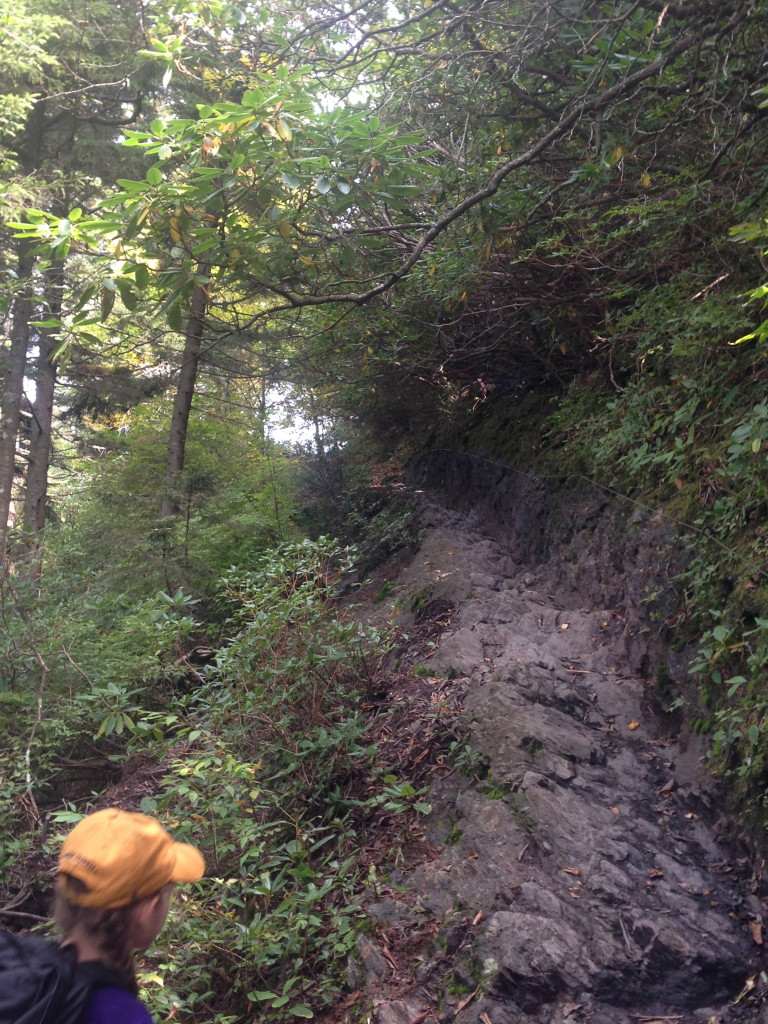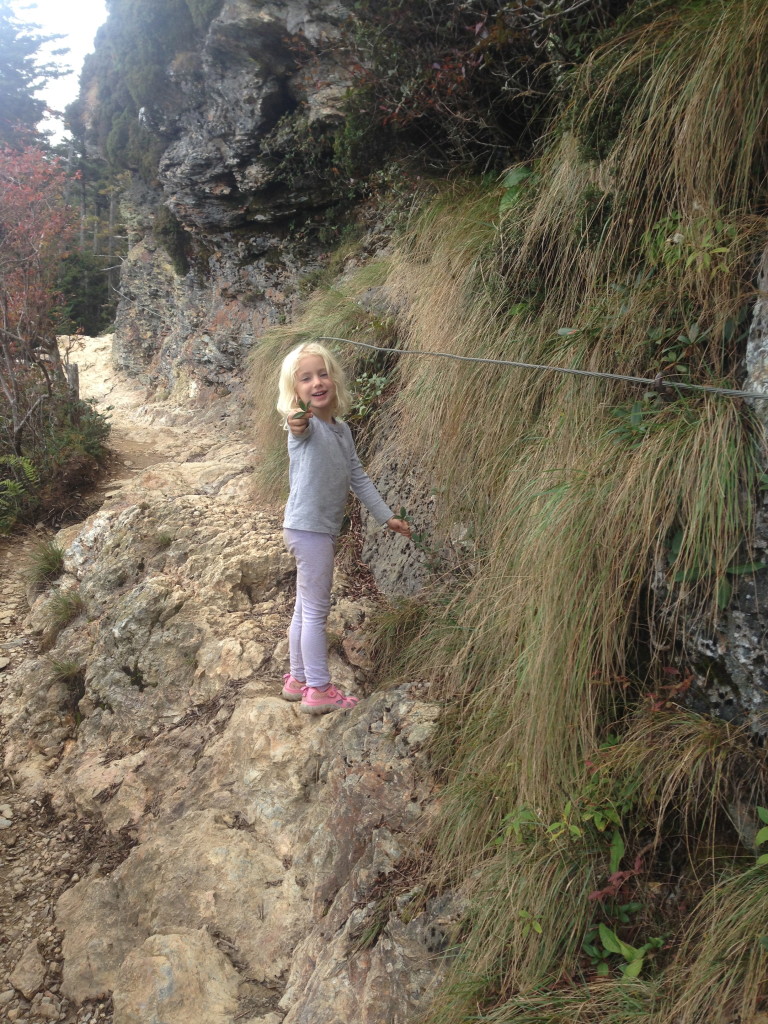 There is a few spots with kids on the trail that makes me really nervous. This is one! I was just a step away to grab her. This was the view on the other side.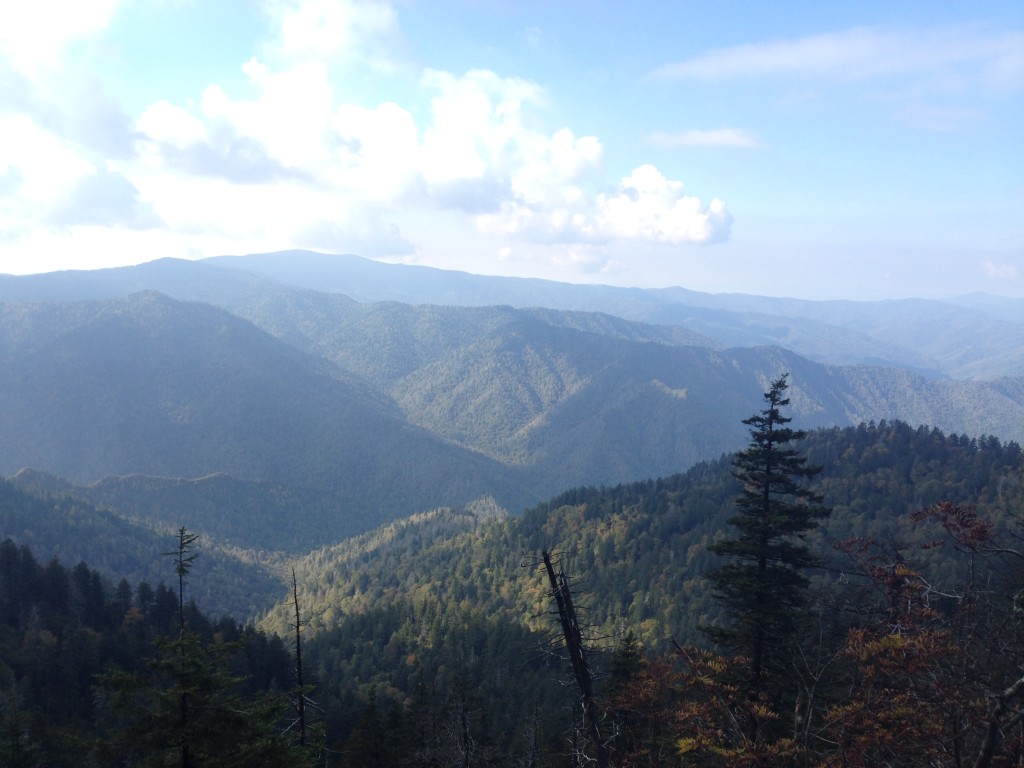 On the top!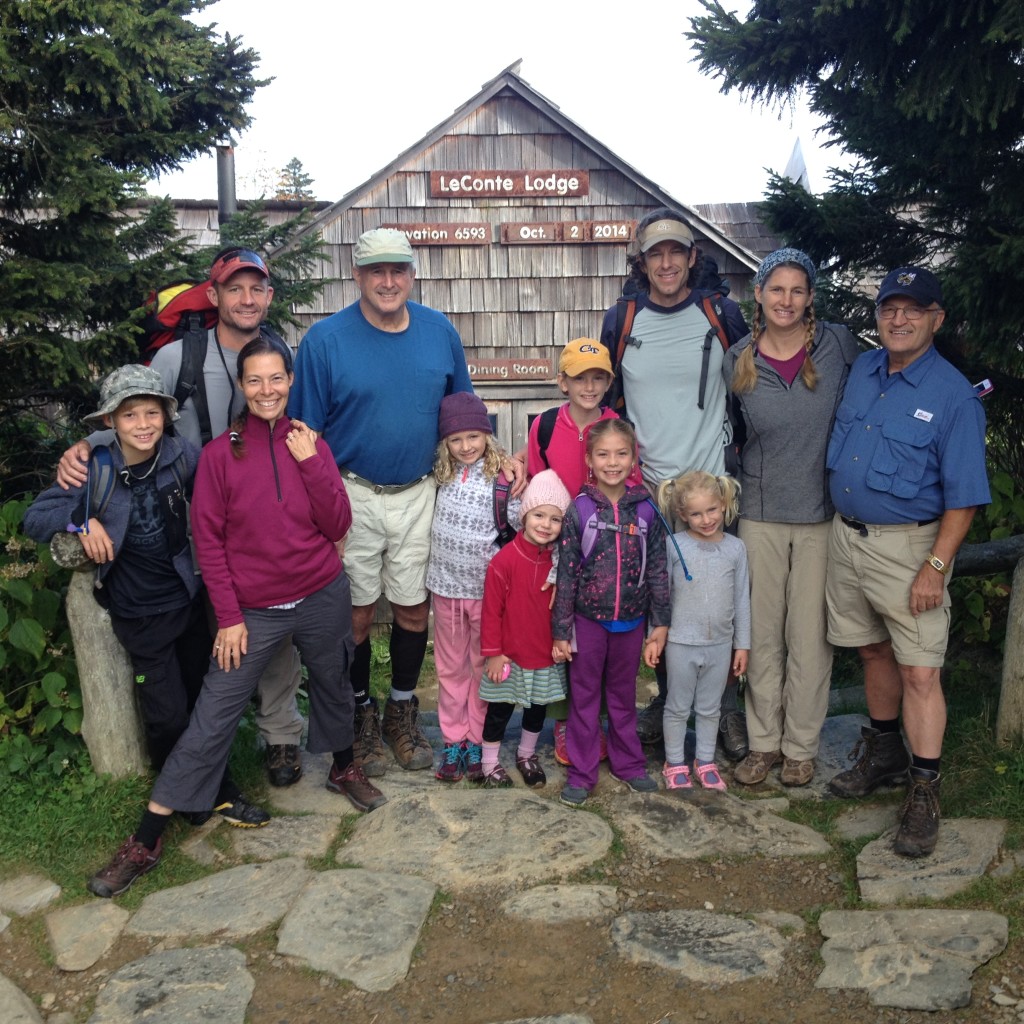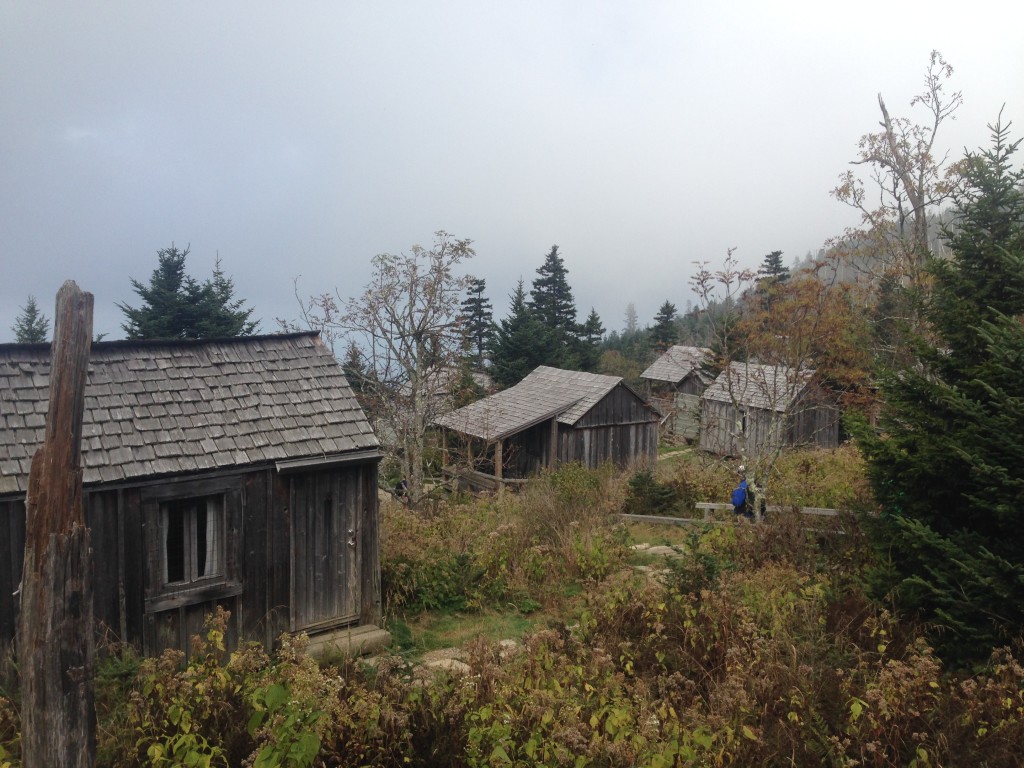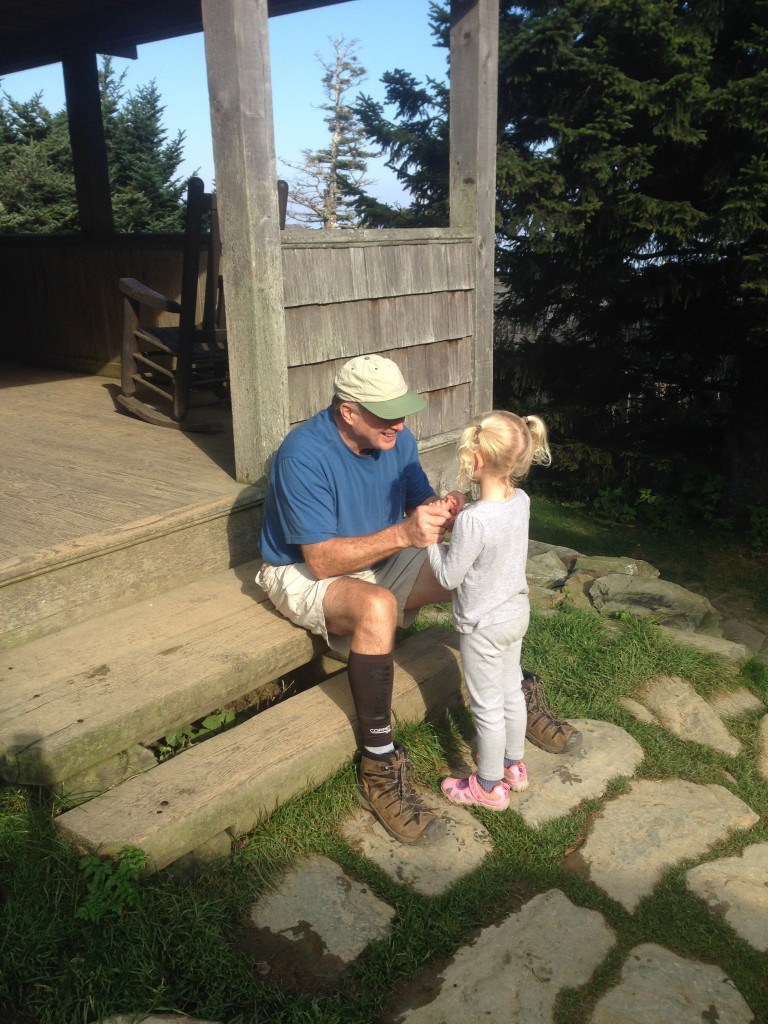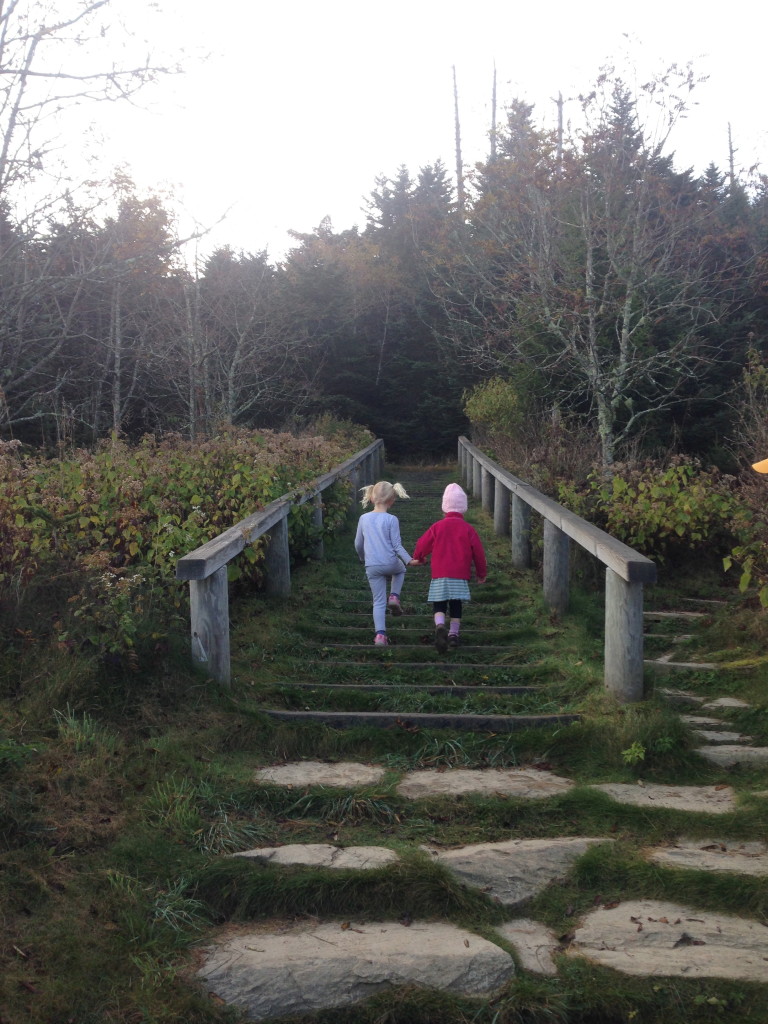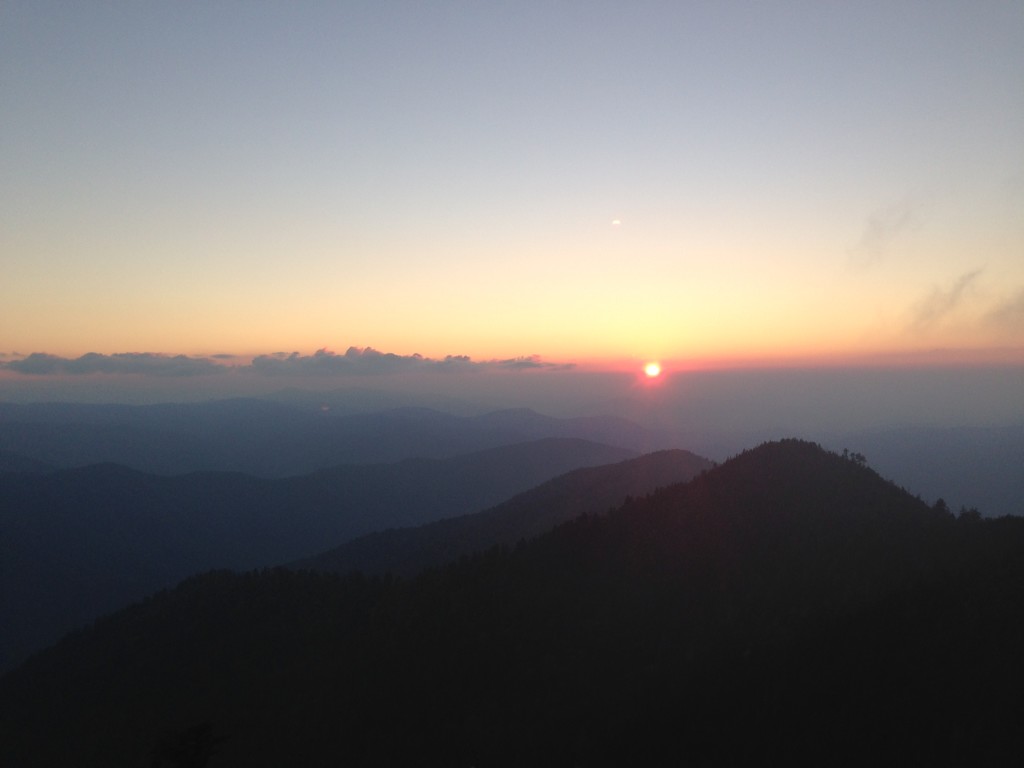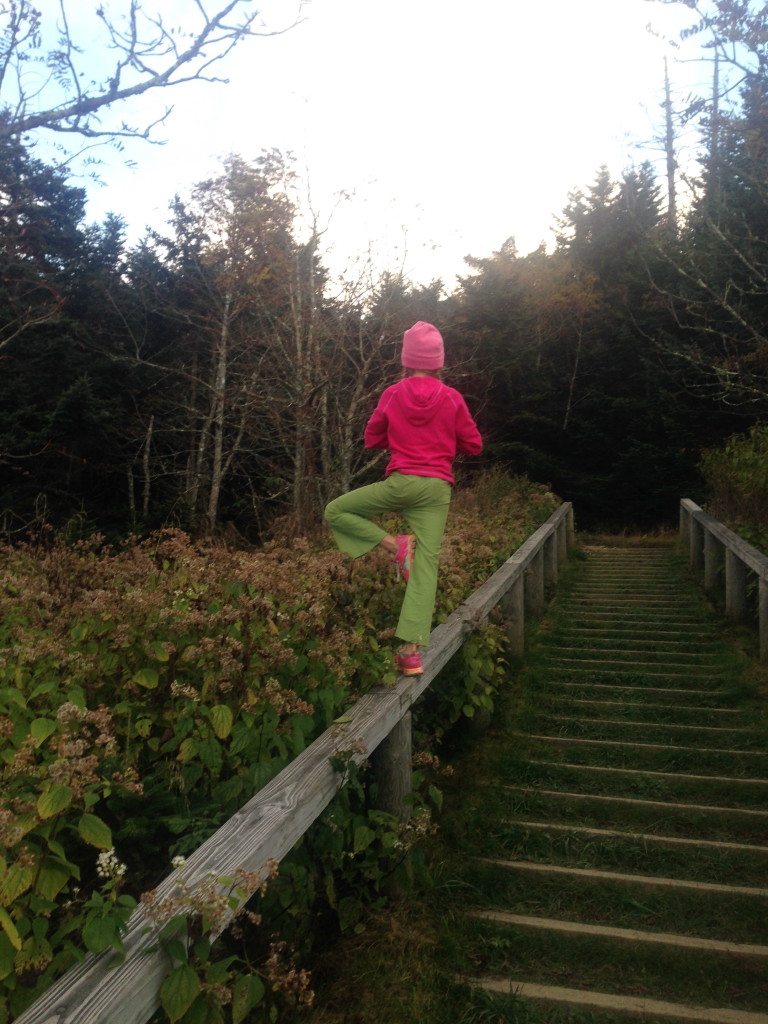 And back down. These kids are not afriad to take on a challenge and are not afraid to pick up salamanders. We are so proud of them.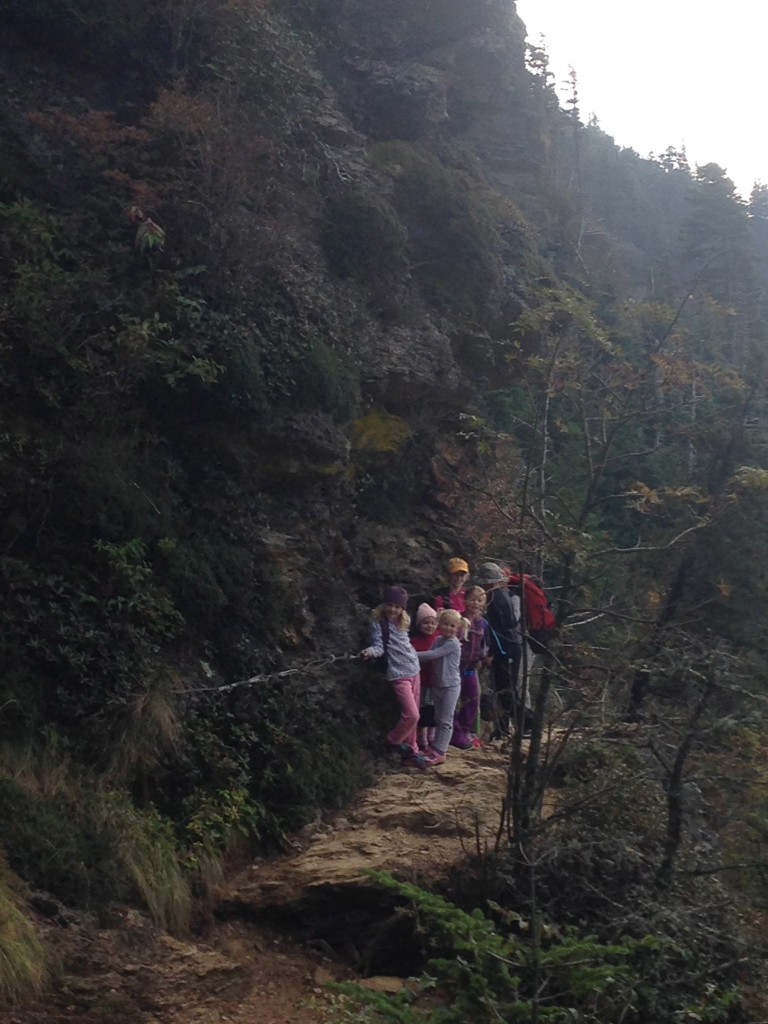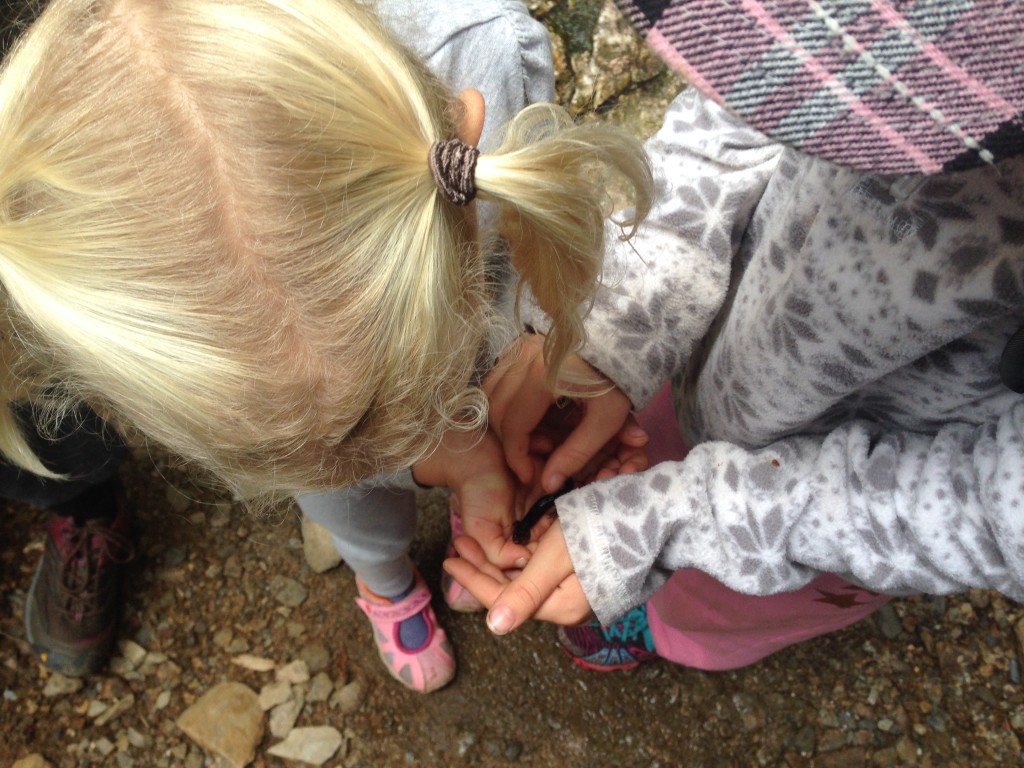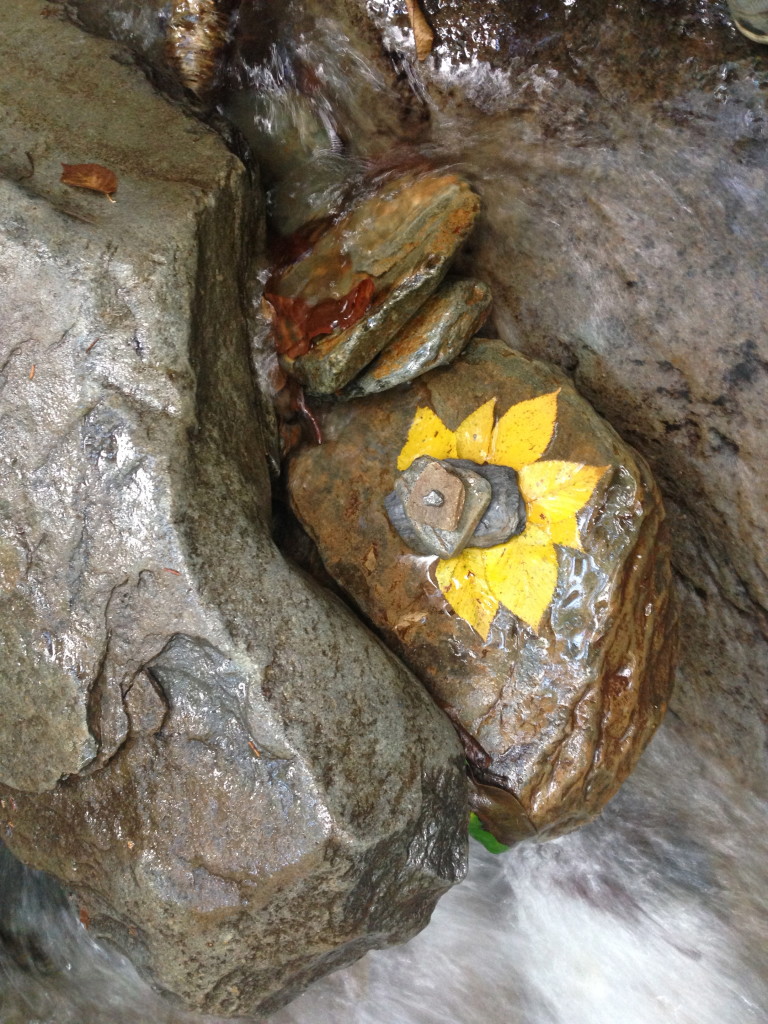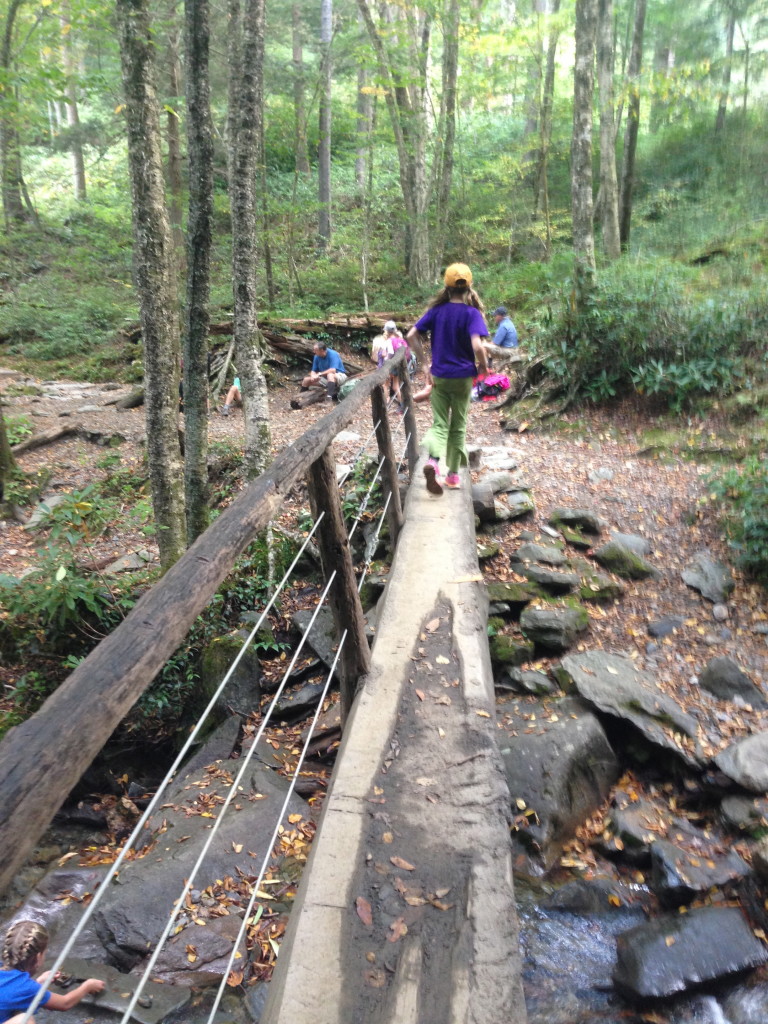 Here's to strong mountain kids (standing in mountain pose) and the dads who are willing do what it takes for their kids – the 40 year old ones, the 65 year-old ones and 72. And to doing with great friends. Who remind me carrying a baby doll to the top of Mt. Leconte for you kid is just something we ordinary we moms do. We are blessed.