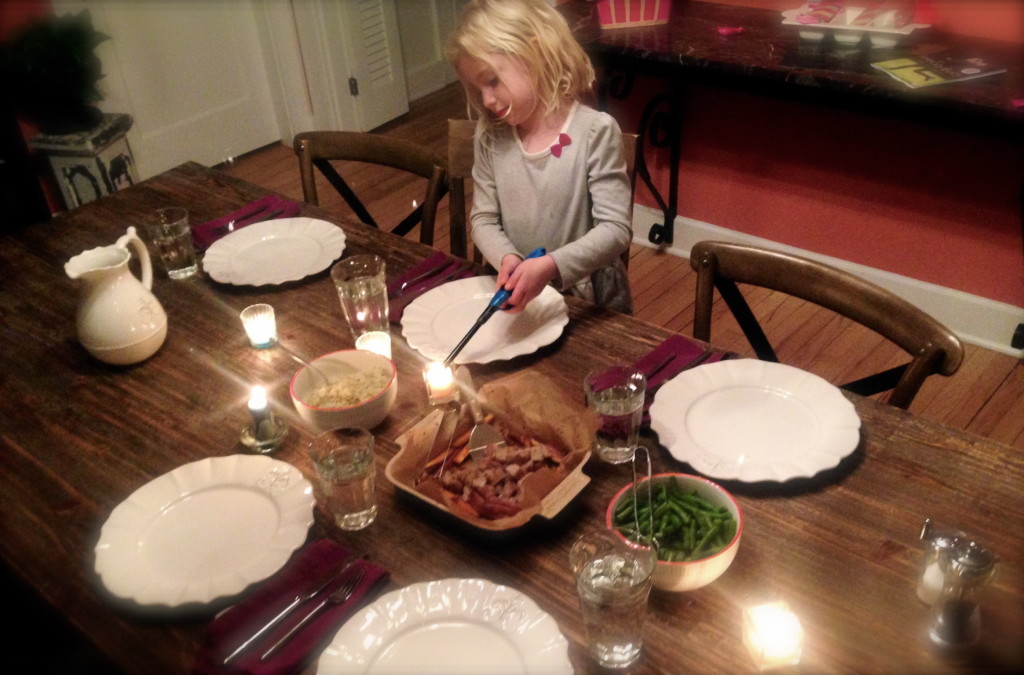 What's for dinner? Pork chops, baked sweet potato wedges, frozen green beans (from our summer CSA) and organic alfredo risotto. And it made everyone happy!
It's a lot of work to please everyone at dinner, with different tastes preferences. Some are meat eaters and some are (semi) vegetarians. Nearly every night I use every burner on the stove, dirtying lots of pots and bake ware.  I dream of making one-pot dinners that makes everyone happy.
I'm not a short order chef and there is nothing else to eat after dinner. If you don't like something on the table, oh well – Except I'm not really that tough. So I always put out a block of cheese, beans and enough vegetables that I know someone will eat something that came from a plant, and something with protein in it.
Then I realized the kids only choose what's familiar and they are are less willing to try new foods. I was making two dinners – entrees for the adults with things mixed together, and a buffet for the kids ala carte.
Yesterday I went French on the kids and said no snacking when we got home from school (they had snack in the car). At 5:00 one was whining for a banana. When one got home at 6:00 she was "starving." Without snacks sometimes my kids act as if they really could starve to death. Snacking is the American way. In France there is no snacking. And kids eat a proper French meal.
To my pleasant surprise, when we sat down to dinner at 7:00, they all ate pork chops, baked sweet potato wedges, frozen green beans (from our summer CSA) and organic alfredo risotto.
After nearly 20 years of being a vegetarian, I've started eating a little meat.  I feel okay eating meat is small amounts when it's from local farms, using organic practices.  I only buy meat from our food co-op which supports farms with humane standards. It's the same farmers selling at the farmer's markets that I know my carnivore friends trust.
I don't like that my oldest uses being a vegetarian as an excuse to be picky.  So I feel something had to change. She at least tried the pork chops with a decent attitude. Which is the most I can ask.
To make dinner….
*Pork Chops – line a baking dish with unbleached parchment paper and set pork chops in it. Pour over a few tablespoons of olive oil and soy sauce. Sprinkle with a basic seasoning salt. Drizzle with honey and fresh lemon juice. Chop 1-2 fresh garlic cloves and place on top.
*Sweet potatoes – cut into wedges and line the sides of the baking dish with pork chops. Drizzle with olive oil and dash with salt and pepper. – Bake dish for 30-45 minutes depending on size of pork chops.
*Fresh (frozen) Green Beans from our summer CSA – place in boiling water with two tablespoons of butter and a generous amount of salt. Cook on medium-high until soft.
*Organic Alfredo Risotto – was from Lundberg, out of a box. But next time I'll research making my own because one box was barely enough.
I started making dinner at 6:00. We all sat down to eat at 7:00 and there were only one dish and two pots to clean. Everyone happily ate.
In my book that was a success. Therefore I wanted to share it with you, hoping it can provide some relief at dinner for your family too.
As a reward for good attitudes and willingness to try everything (where they actually ate it) they had their favorite raw carrots and cheese as desert.
Tonight's dinner is the weekly favorite:  taco night.
Feel free to share a link and tell us what you had for dinner. We can all use fresh, new ideas!