I embrace birthday time and love throwing my kids special birthday parties at home, in just the style they are requesting. And it starts with the invitation. My oldest daughter really enjoys art, craftiness and taking full ownership of her ideas. So making her own invitations fits right into her style, where she values her friends and is proud to give them her handmade work.
We've had Madeline parties, art parties, puppet show parties, Frosty the Snowman movie parties and now, it's an American Girl pizza party. It's a big kid only "drop off" party where the activities have been planned out by the birthday girl herself. The second name on the invitation is the name of the friend's doll, which was the inspiration for making her own cards this time.
Below is the inside of the card, with her name and our address blurred out for the sake of our family's privacy.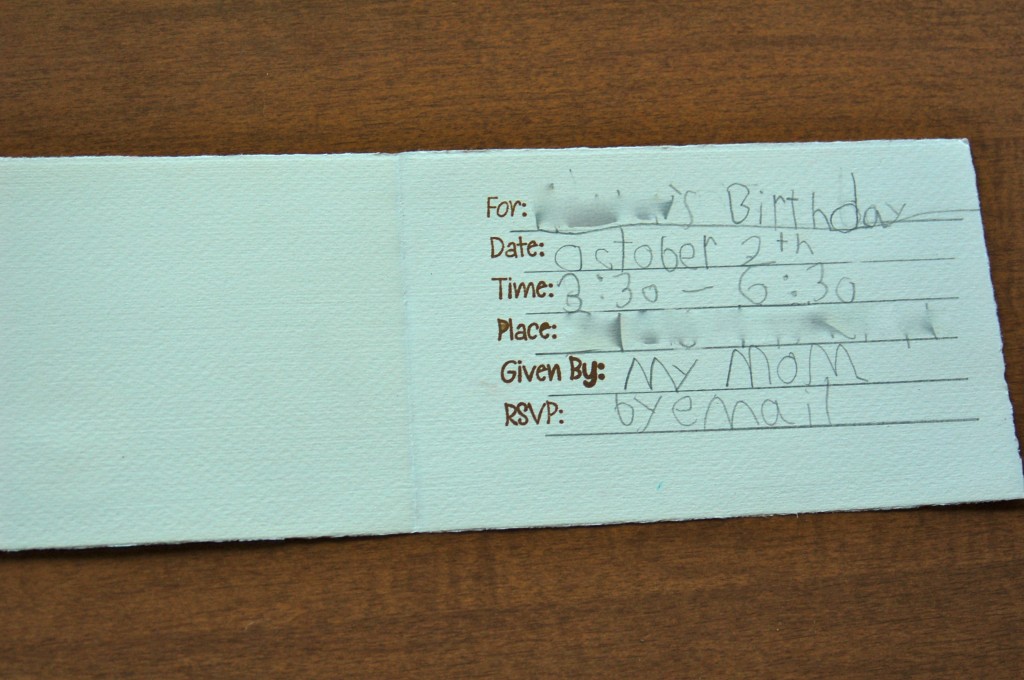 The key to making our invitations has been stamps. Which can be bought at big box craft stores. But down't go without a coupon! Stamps can be expensive. Out of all the big craft places, I like Jo Ann's and Michaels the best because they have a phone app you can download, and pull up current coupons right in the store with no need to print. Here's a link to the Michaels app, and the Jo Ann's app.
As you can see by our invitations, our stamps get used year after year. They are a good investment and a handy, fun thing to keep around. Once your supply is stocked, they can be used for endless things, eliminating the need to buy cards.
The other thing that helps in making invitations, and home parties in general, is keeping the numbers low so that small details honoring the child are kept to at a manageable, enjoyable level. That includes the number of invitations you have make! Children don't like mass producing. So build in lots of time to make invitations, doing a little bit one day and then some more the next – when the inspiration strikes again.
Below, is the invitation my oldest daughter and I made together for her fifth birthday. I used a large sponge to cut out a teacup shape that she stamped onto the card and I outlined it with marker for her. She did the other stamps too. For the inside, I did  more of the work on this one because she was only five years-old.  This year, at age seven, it was a completely different situation. She took her ideas and made them happen. Again, I blurred out are the details of her name and where we live.