My oldest daughter celebrated her seventh birthday on Sunday, with a homemade American Girl birthday party. Celebrating with her, were five of her very closest friends that she has known almost her whole entire life, plus her two sisters.
Most all of her birthday celebrations have been at home. Except for last year, when she wanted to visit the American Girl doll store in Atlanta. We don't live there, but our family does. So we had lunch there with the grandparents, aunts and the one girl cousin we have living there. It was fun, but my daughter missed celebrating with her friends. It wasn't the same.
One birthday later, she is still an American Girl lover through and through. So this year we decided to do our American Girl party at home, just the way we like it. While waiting for her party guests to arrive, my daughter looked around and warmly said, "I love homemade birthdays."
That, for a mom, made it all worth it.
We sent out personalized, homemade invitations that included each friend's name plus the name of her American Girl doll.
It was a drop off party where the parents didn't stay, which was a request by the birthday girl. And I have to tell you, it's my new favorite way to throw a party! I didn't worry about the mess, or the dishes in the sink or if the laundry had been put away. We just focused on the girl that matters and the fun that a seven-year-old's party is all about. And as you'll see by the goodness that follows – we had a lot of fun!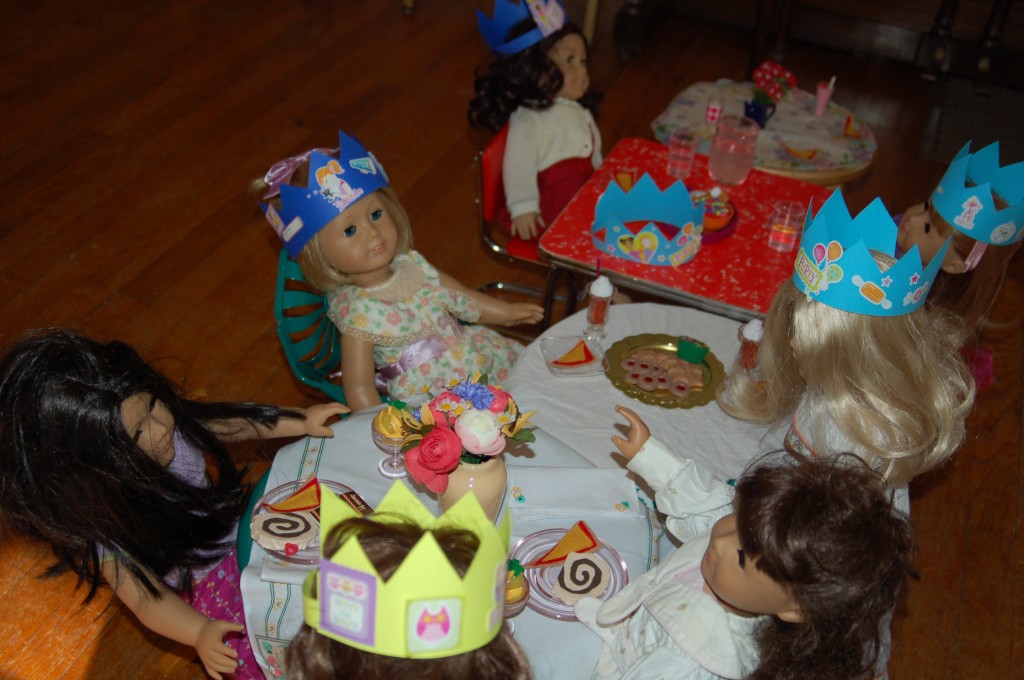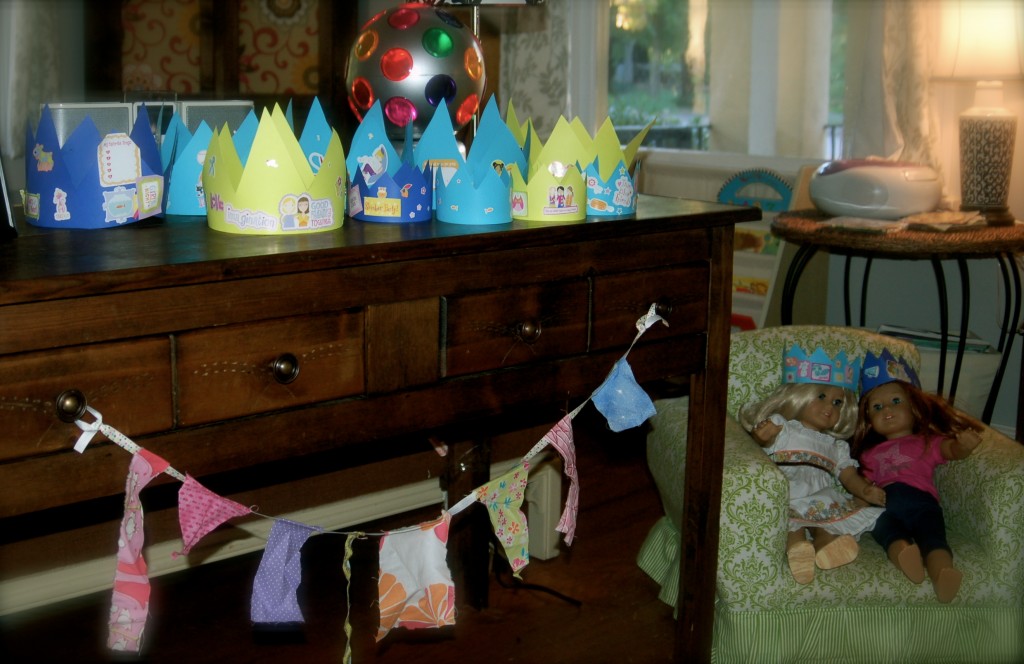 My daughter prepared the party table arrangements for the dolls, using the two sets of tables and chairs we have, plus two wooden child-size footstools. On one of them she used a vintage handkerchief as a tablecloth. Then she set the tables, preparing for the special guests and making sure each doll had at least a plate and a cup. Pizza was on the menu. So I sewed a piece of pizza for each doll, using three layers of felt – brown, then red, then yellow for cheese. For a no sew method: fabric glue would have worked fine too.
I found this tiny plastic Mozaik appetizer set at the grocery store, which we used for plates and utensils for the dolls. I used them inside the guests' takeaway treat bags too.
At the party we made birthday crowns using colored card stock (that I cut out in advance) and decorated them with American Girl stickers. Each girl made one for herself and one for her doll. I made a doll size banner using scraps of fabric, hot glued to a ribbon. I thought the girls might be interested in doing this as a craft at the party, so I planned on using fast drying glue.  But it turned out, taking the dolls into the backyard for trips down our zip line was way more fun – and understandably so.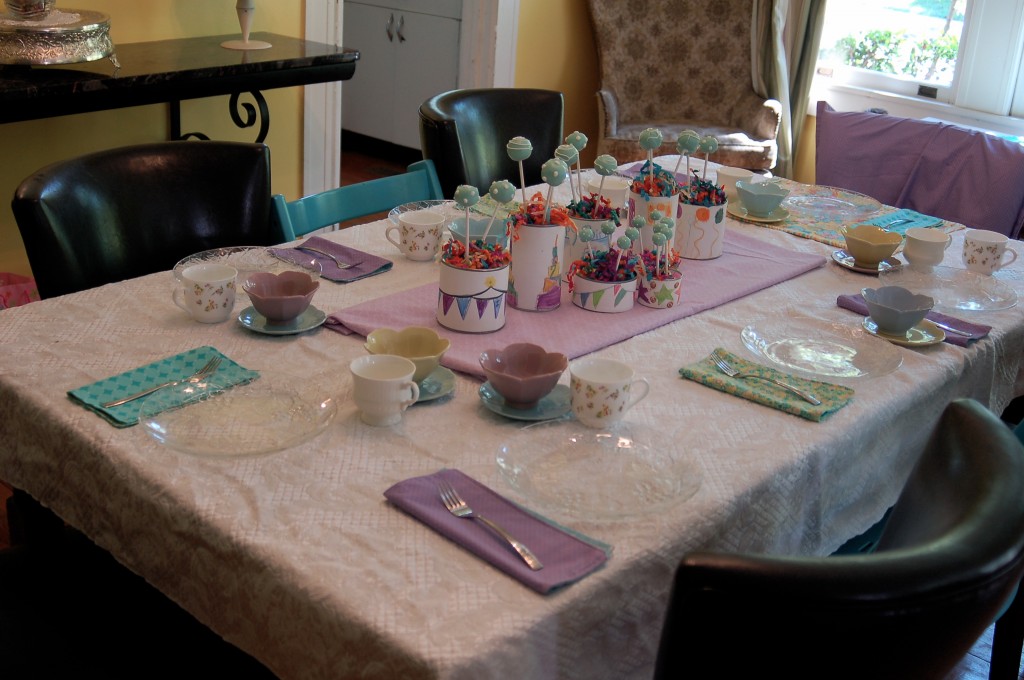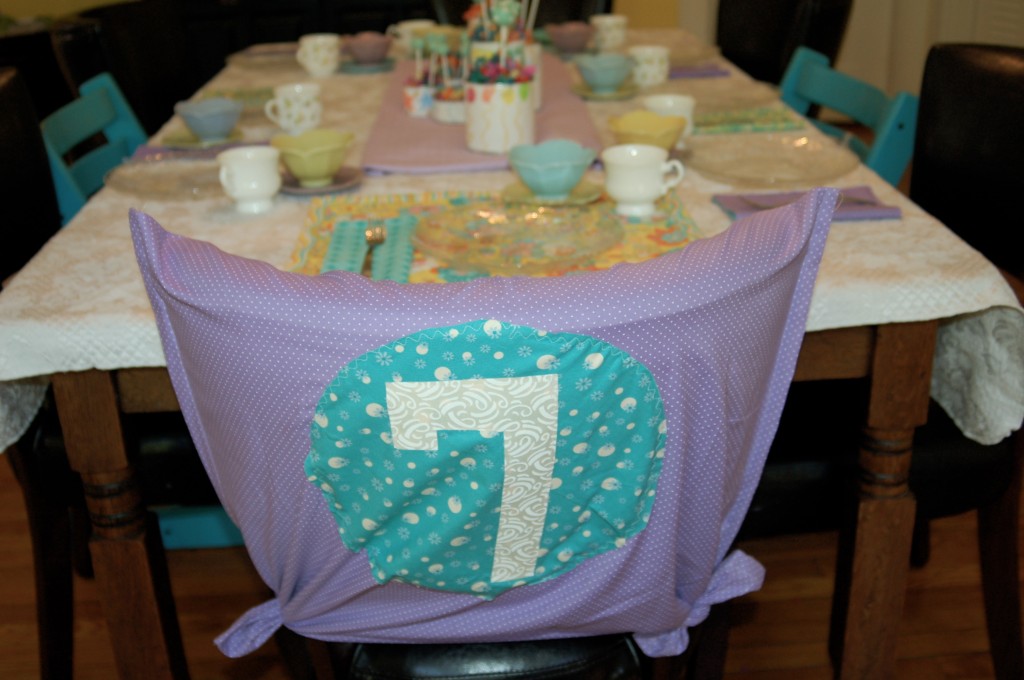 For the children's table, I love to make them special for birthdays! I sewed new cloth napkins and one special placemat for the birthday girl. And after that, at about 12:30 am, came the idea for my newest favorite birthday tradition – a chair cover with the new birthday number on it – in this case it was seven. For a no sew version of the table set up: cutting fabric with pinking shears will work, at least for a couple washings before the fabric will unravel and need to be recut. Heat N'Bond iron on adhesive would hold the number in place on the chair cover. And you could just tie some fabric around a chair, eliminating the need for sewing. 
The plates, cups and fruit bowls were a major score at Goodwill from two years ago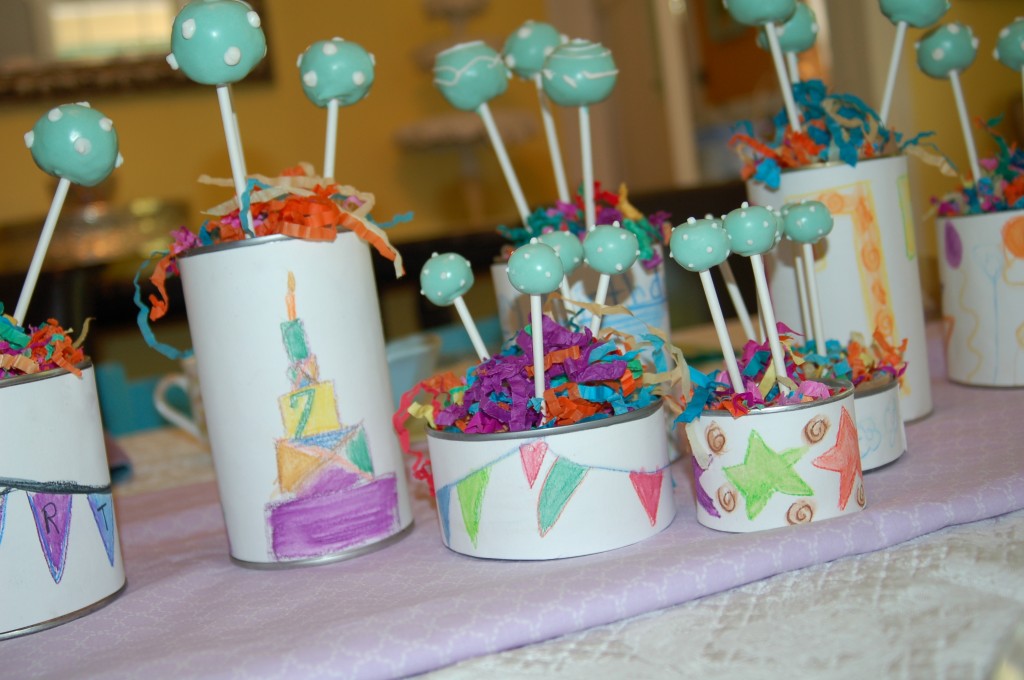 A mom friend of mine who runs a catering business out of her house helped me out by baking the cake pops. If you don't have a mom friend with a catering business: Starbucks sells pink perservative-free cake pops. And they'll sell them to you for a discount if you ask to buy lots of them straight from the freezer. That was my  back up plan.
My daughter and I spent some special one-on-one time together drawing on watercolor paper with watercolor pencils, which we used to decorate the cans holding the cake pops. They were repurposed cans that otherwise would have gone from my kitchen to the recycling bin. The mini cake pops were for the dolls. But after the the dolls pretended to eat them, the girls enjoyed them the most. Of course.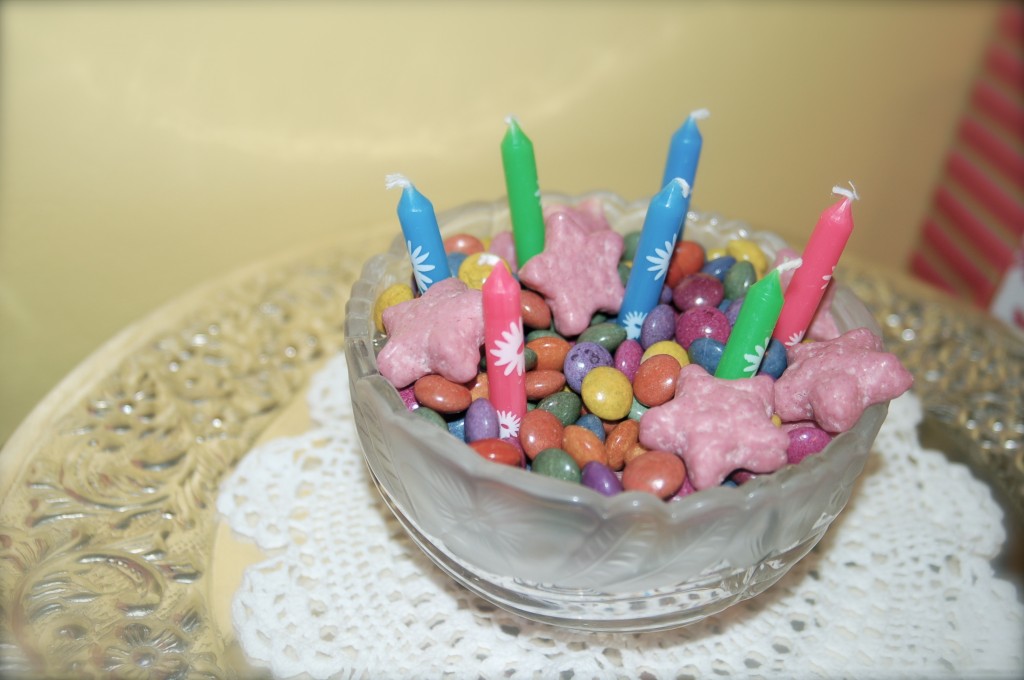 When I was at the grocery store buying strawberries for the fruit cups, it dawned on me – what will I put the candles in if we have cake pops? The m&ms and pink stars were the solution.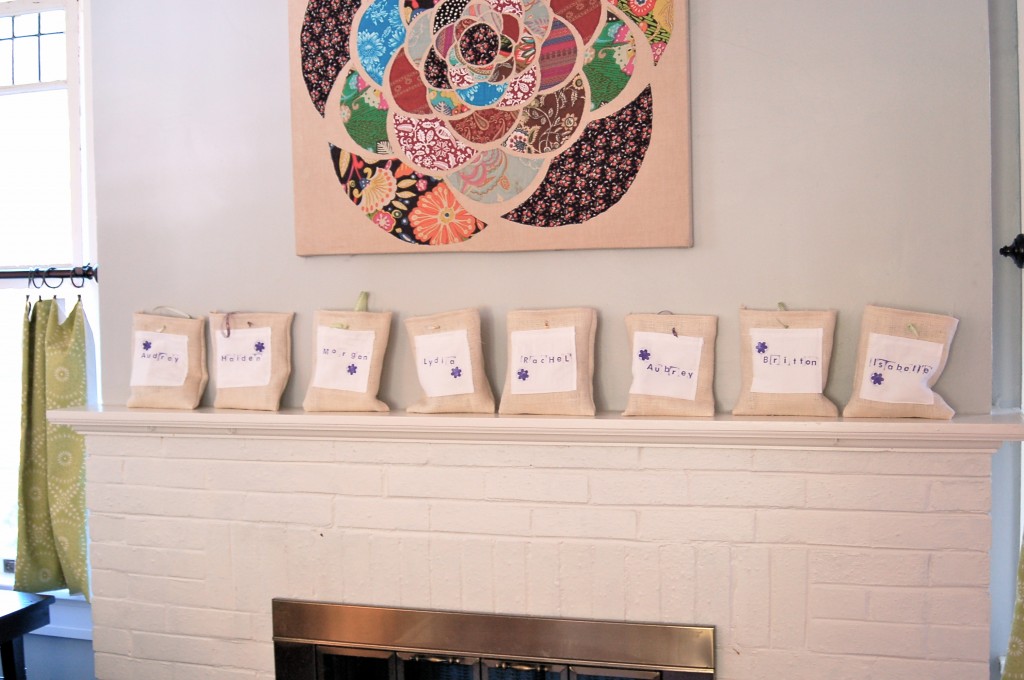 The fireplace mantle seemed like the most lovely place to display the treat bags, and it made me love homemade birthday parties even more.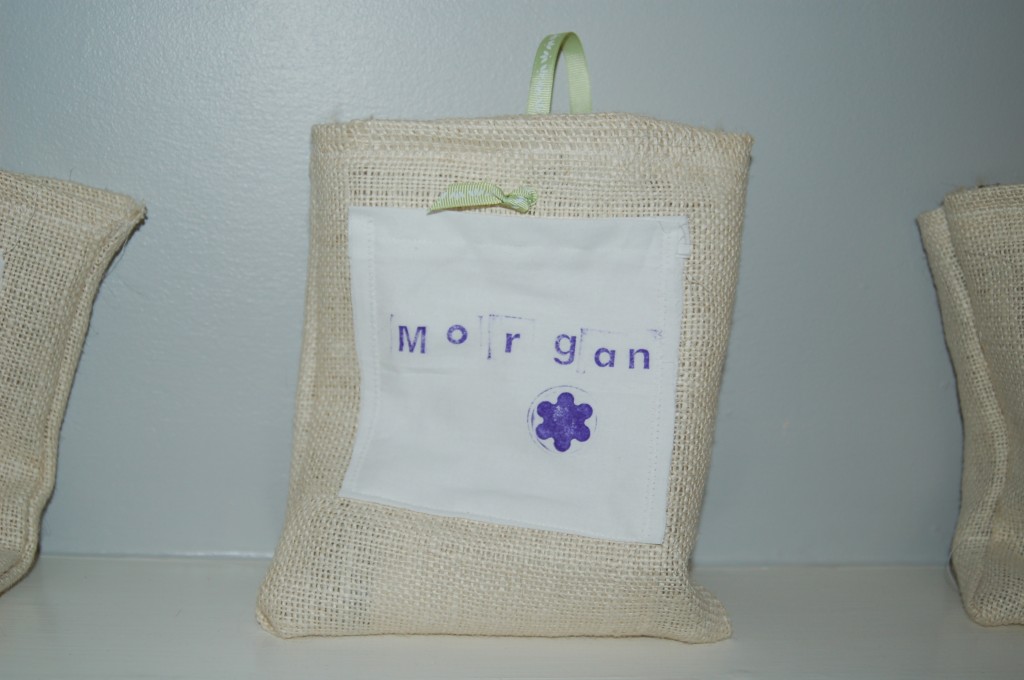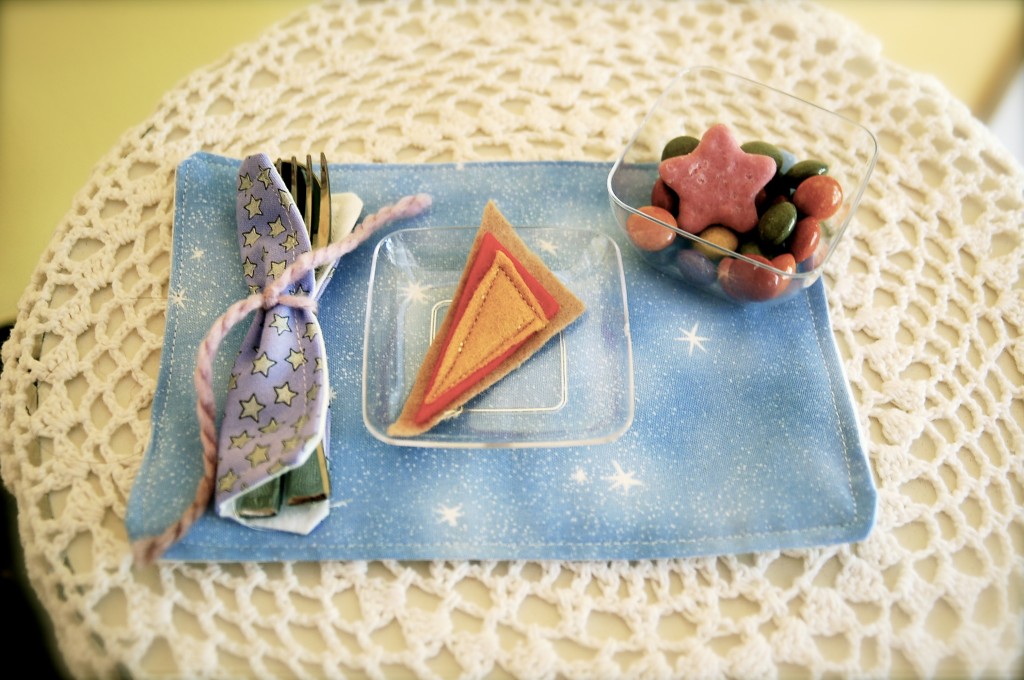 The treat bags were sewn by me, and stuffed with what you see above – all for the dolls. For a no sew version of these placemats and napkins: pinking shears, again, would work to at least get the fun appeal. For a no sew version of the bags: stamps on a paper bag would have worked fine too. But don't forget the ribbon – it's the best part!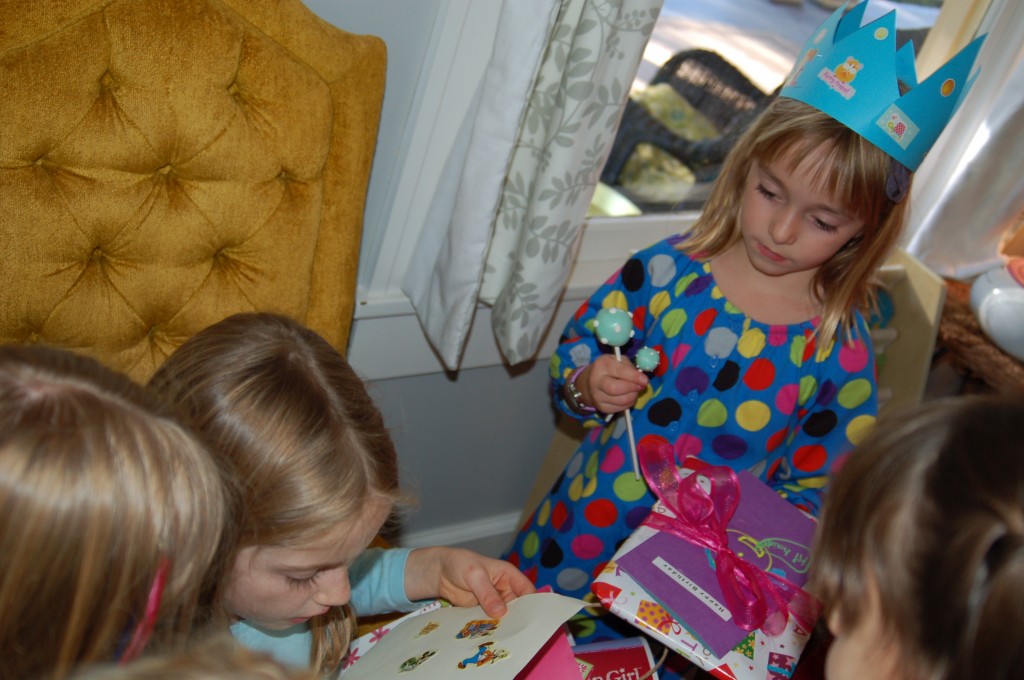 In the end, it was a beautiful birthday celebration. Wonderful friends, who shared in the birthday excitement, surrounded the birthday girl. They brought amazingly thoughtful gifts, with sweet handmade cards in which they were all proud to give to their birthday friend. We are so blessed to live within a circle of friends and fellow natural mamas, who are all so dear to us.