Flowers are popping out in unusual ways during these oddly warm winter days we are having in East Tennessee. It makes me sad a bit. The sleds didn't get used one day this year. Not one single snow day was had. Barely any paper snowflakes were made.
Nonetheless, our neighborhood groundhog is back, popping his out in full motion sending all my girls curiously looking out the windows to see if they spot him playing this little game of his. And so, with the early arrival of spring, comes the desire to plant, get muddy and dream up simple ideas for backyard fun.
Our favorite backyard play is mud, good old fashioned mud. Maybe mixed with a little homemade play dough. This is not by my choice. But when you throw out some old pots and pans from goodwill, wooden spoons that were eaten by the garbage disposal, a child size wheelbarrow, garden gloves and a watering can – you get a hours worth of fun in the mud. Then comes an early bath, hot chocolate and little girls who are happy to be inside.
The simplicity of all this will wear off as we approach spring for real. I know it will. So I'm happily arming myself with some more earthy idea from Pinterest for backyard play. I popped on there last night and found some very fun things and lots of inspiration. You can follow me on Pinterest, and find my boards labeled Creative Backyard Fun and Gardening with Kids.
Here's a glimpse at a couple of the ideas I found.
Organizing all those mud pie making tools into one place is a great idea. This is super cute from Squiggle Mum.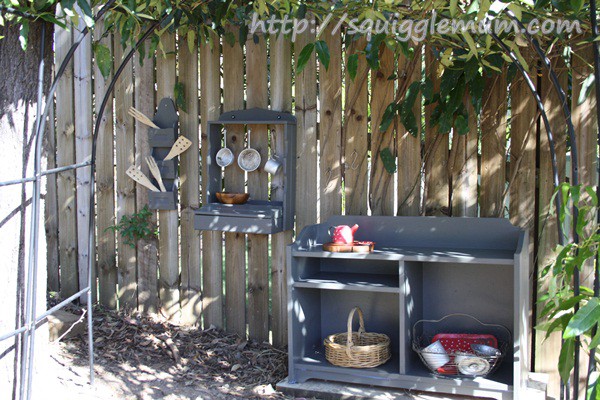 We've hung pots and pans in the backyard to make banging bands, but this xylophone hanging in the trees is way cool. Here is the tutorial from Instructables.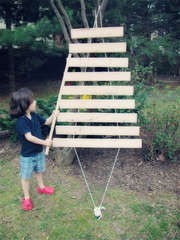 What kid wouldn't love a brightly colored bowling ally in their backyard? It's from Parent's magazine featured in a birthday piece. But I say any day is a good day for a bowling party! I'd just have to put out the call to my neighbors for 2 litter bottles living in their recycle bins.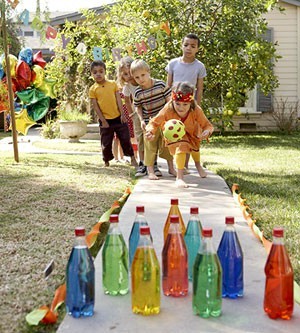 I think this brightly colored chalkboard is really something that I am going to do, and attach it to the back side of our house by our basement door that no one ever sees. How fun! It's from the Creative Crate.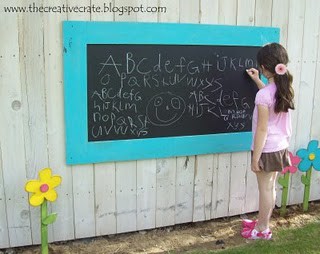 Now moving into gardening. Because no mater what the outcome, big or small, yummy or rotten – spring planting with kids is a must. And since I've been dreaming about getting some spring chickens to go along with our gardening, I'll start with this one – a chicken coop with a garden on the top. Brilliant! It's from Sunset magazine.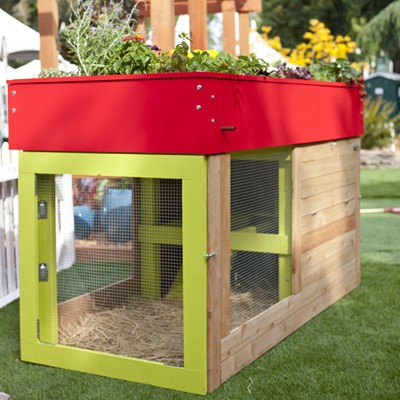 I love this idea especially because I have a box of cans in our basement waiting for a good idea. We will be doing this one. They would make good end of the year teacher gifts. It's from Dos Family.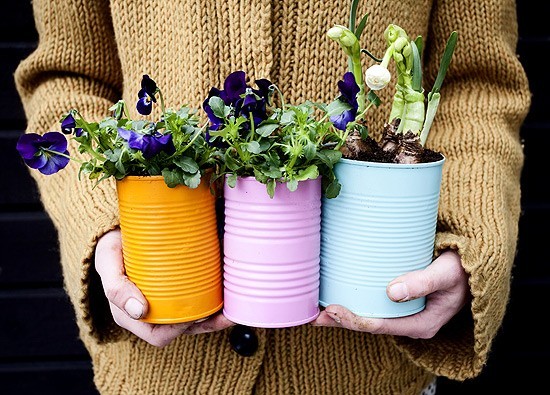 Now since I've seen this I'll be requesting all the old rain boots from my daughter's school, where they are required to keep a pair all year long. We have a few. But the colorful the better. I'm going to be setting up a kids garden space in my yard along the fence shown in the photo up top. This is a must. It's pinned from A Few of My Favorite Things.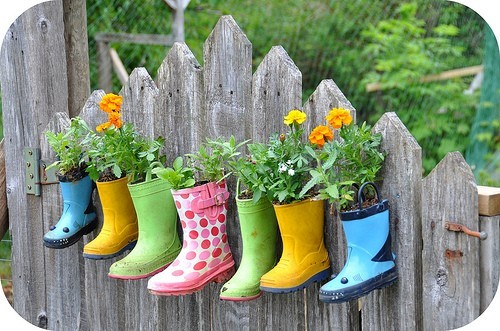 Lastly, this might – might – be the year we finally make a fairy garden. And since I have an old galvanized bin exactly like this one, it might provide the motivation I've been waiting for all this time. It was pinned from Burgh Baby.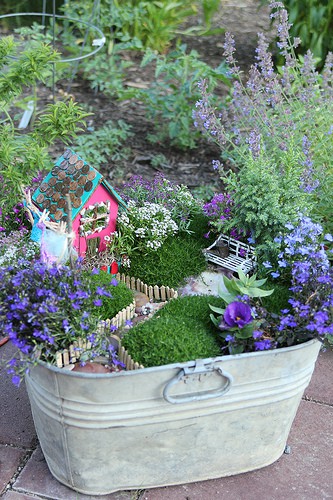 I'm filled up with ideas now. You probably are too. If not, take a visit to Pinterest. It's a fun, dangerous place to visit that will keep you up way past your bedtime.