In this house we like to find reasons to celebrate, to bake something special and put up some decorations. We have celebrated half-birthdays, birthdays for dogs, adopting a cat, BIRTH day parties when friends have new babies, snow days and the first days of summer. And now, our latest reason to throw a party is to honor our baby girl who decided wearing purple polka dot panties was way more fun than bulky cloth diapers.
This potty party marks the milestone, that minus a short three month period while I was pregnant with baby number three, it is the first time in seven-and-a-half years that we will be a diaper free house! Take a pause. Seven-and-a-half years of changing diapers. Done.
I bought some Seventh Generation pull-ups for night time and washed my last load of cloth diapers, which I've been doing since 2007.
So…..in honor of my newly potty trained toddler, we celebrated!
Last week while my girls were home on spring break, we used all that free time to create things for the party. Then Monday after school we had a few neighborhood friends over as our potty party guests.
Keeping ourselves busy before the party, we took leftover magnetic boards we made from this project and converted them, with chalkboard paint, into chalkboard signs for the potty party (I blurred out my daughter's name on the one below). Written on one of the boards, "Diapers are not forever," is the theme of our party – borrowed  from the beloved book of the same name. Numerous times throughout the day my toddler says, "Diapers are not forever. Panties are forever!"
We also made the felt chains you see decorating the space. To make them we cleaned out our leftover felt bin, cutting 225, 8 inch pieces of felt in every color we had, and sewed them all together making one long decorating chain. It's like a paper chain but felt.
Both projects well get added to our stash of handmade decorations, that get reused for all our big celebrations. Oh, and those white and grey bird curtains you see in the background, they finally got sewn together after being on the top of my sewing list for nearly a year!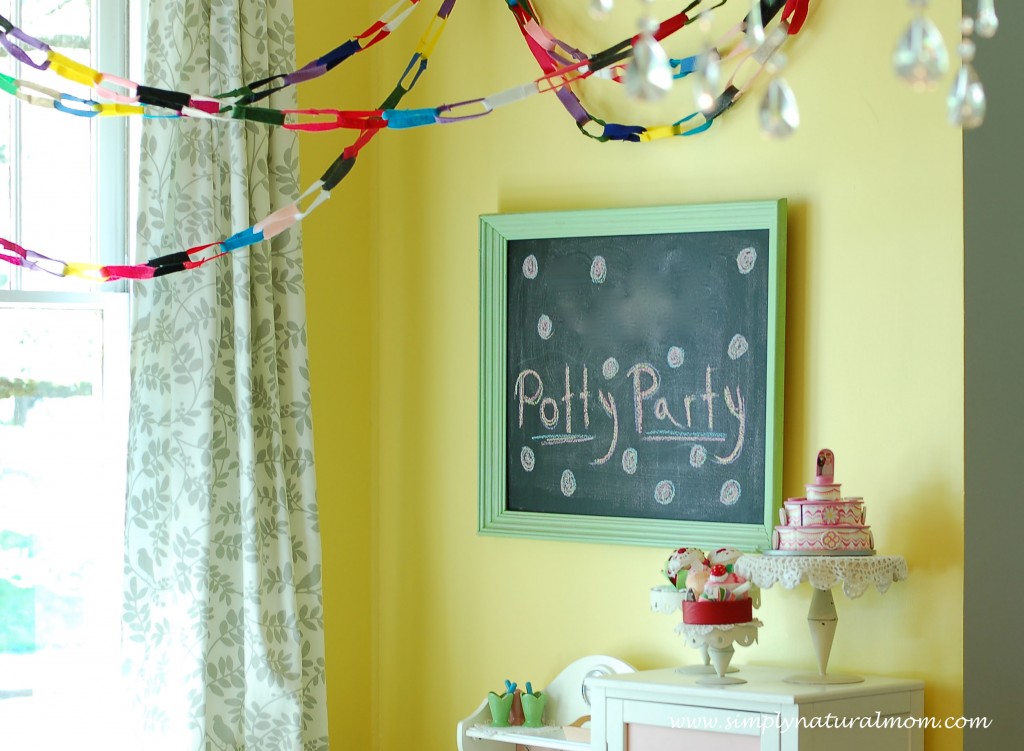 One of the games we played was "Pin the Panties on the Bear." Two big phrases in potty training and toddlers learning to dress themselves are, "Bow goes in the front," and "Tag goes in the back." On the back of our purple panties for the bear, there was a pink square that said "Tag."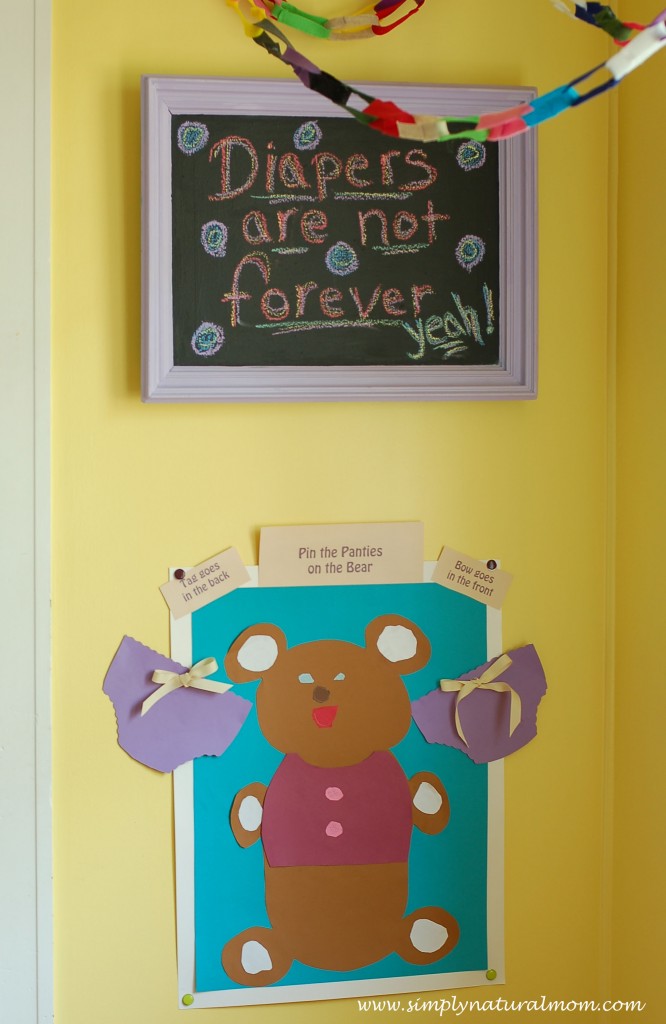 We also played "Donate the Diapers," where the kids tossed cloth diapers into a basket to later be given to a different diaper wearing baby. My toddler really got into this one! She was so ready to say goodbye to diapers. She was dunking them with a vengeance. We are so proud of her. But more importantly, she is so proud of herself!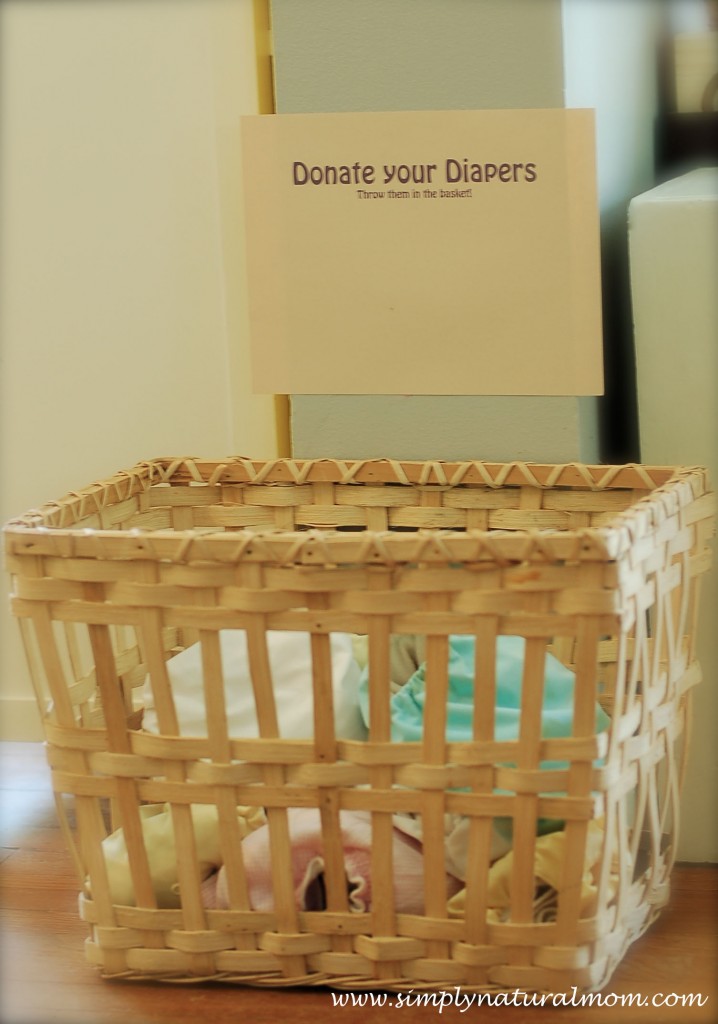 The third game was "Toss the Toilet Paper." The children had fun doing what they are usually not allowed to do – throw and unravel the toilet paper all over the floor. It provided lots of giggles from little girls. And so far it has not been reenacted in our bathroom! Thankfully.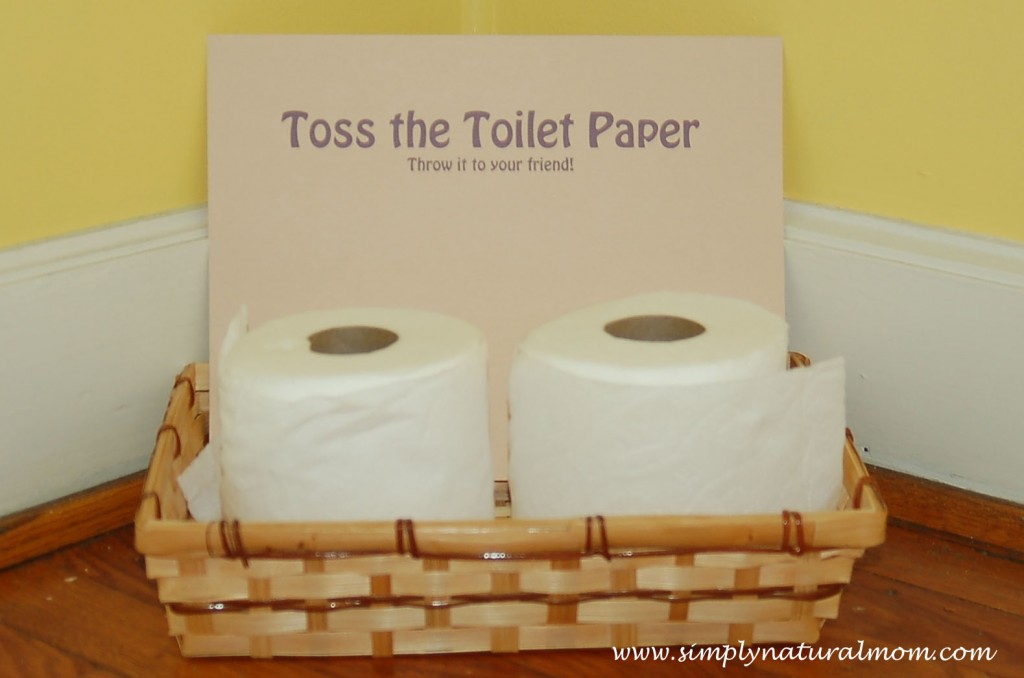 All the underwear our new potty girl was wearing were hand-me-downs from her sisters. So we surprised her with a few new pairs of her own. It was a joint sister effort distracting her in the store while I grabbed the right sizes and paid, while keeping it a surprise. It added to the fun!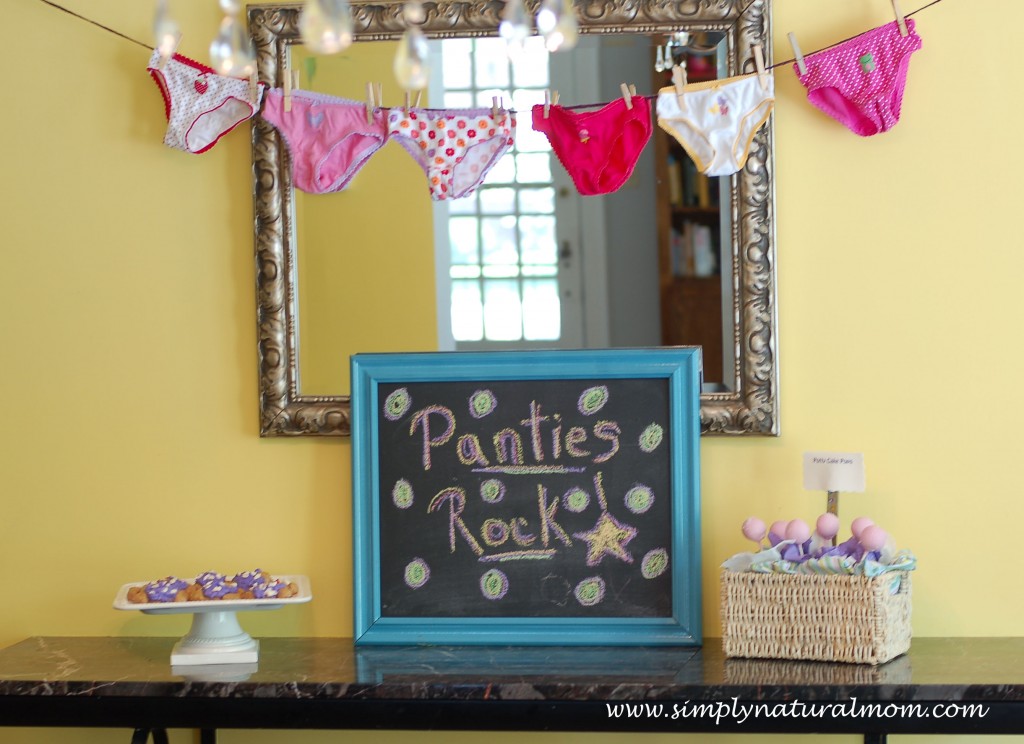 On the menu were "Potty Cake Pops," Cinnamon dough bears wearing purple polka dot panties (made from a cinnamon bread recipe, that were shaped and glued together with egg) and "Make me go milk." And yes, the cake pops were from Starbucks – because it was um, simple. My toddler and I had fun baking the bears together, and decorating them with frosting.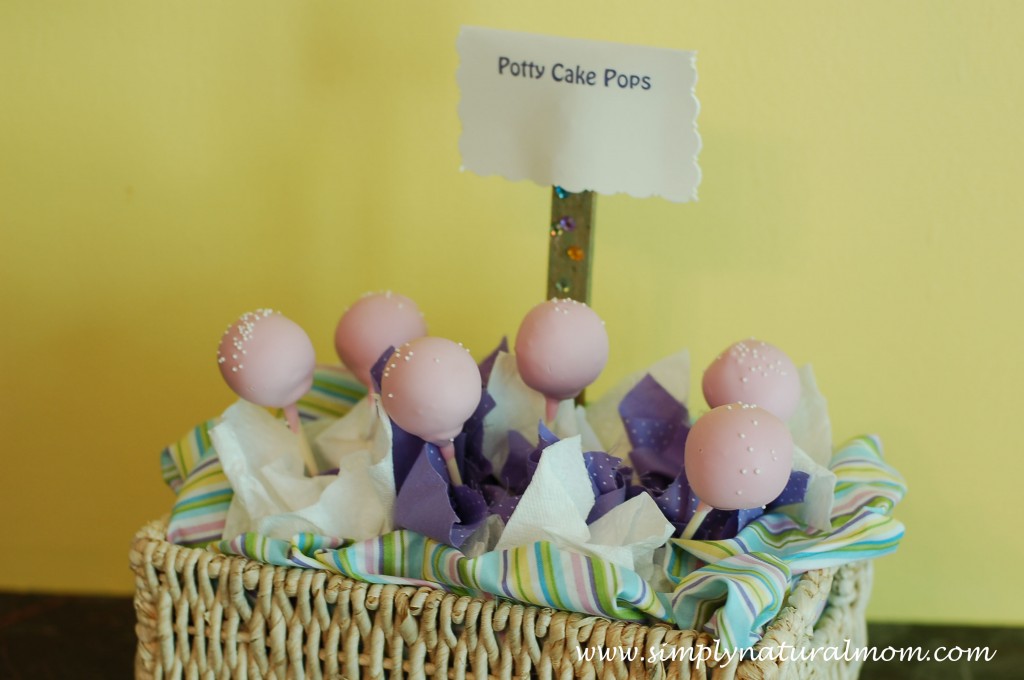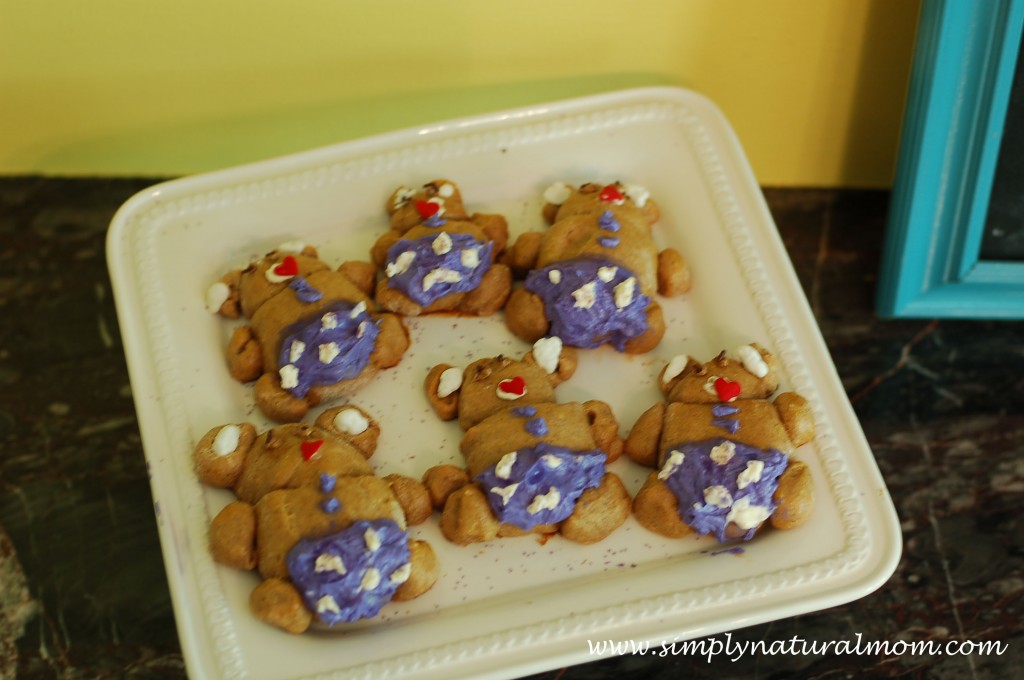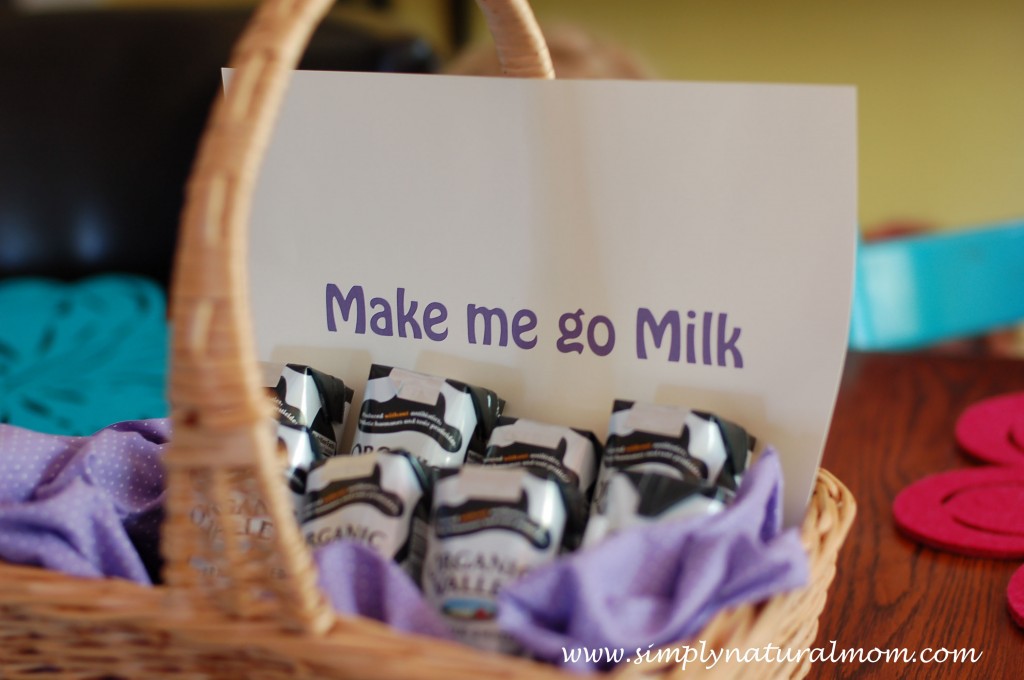 Lastly, here are a few pictures of the party girl. She had such a great time, from waiting for her friends to arrive – to playing with toilet paper. I truly believe she felt honored and proud of herself for reaching this milestone.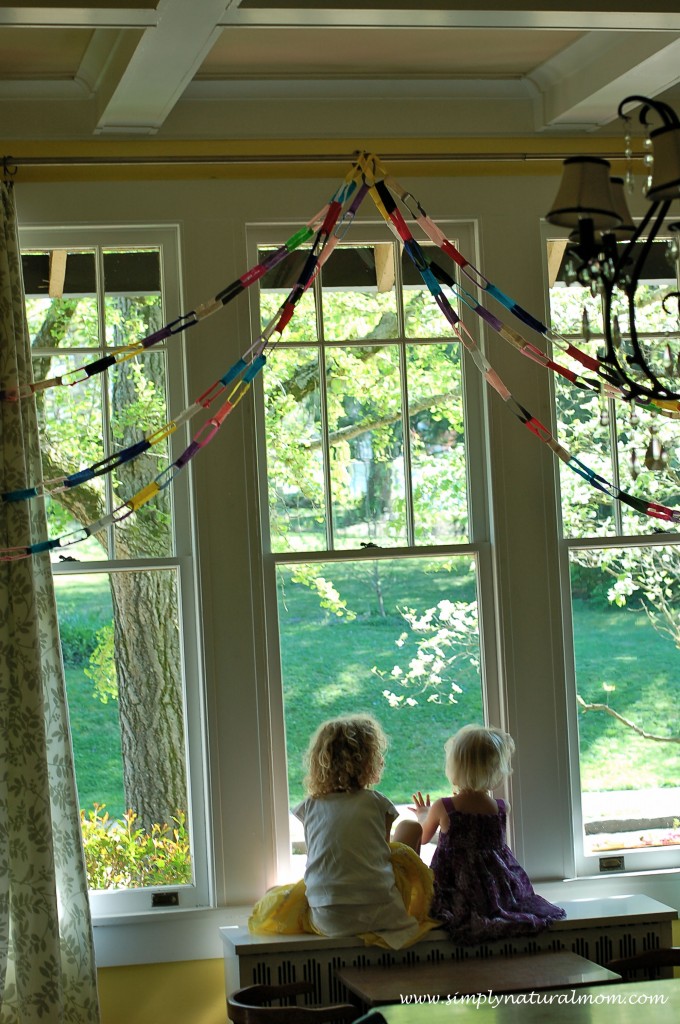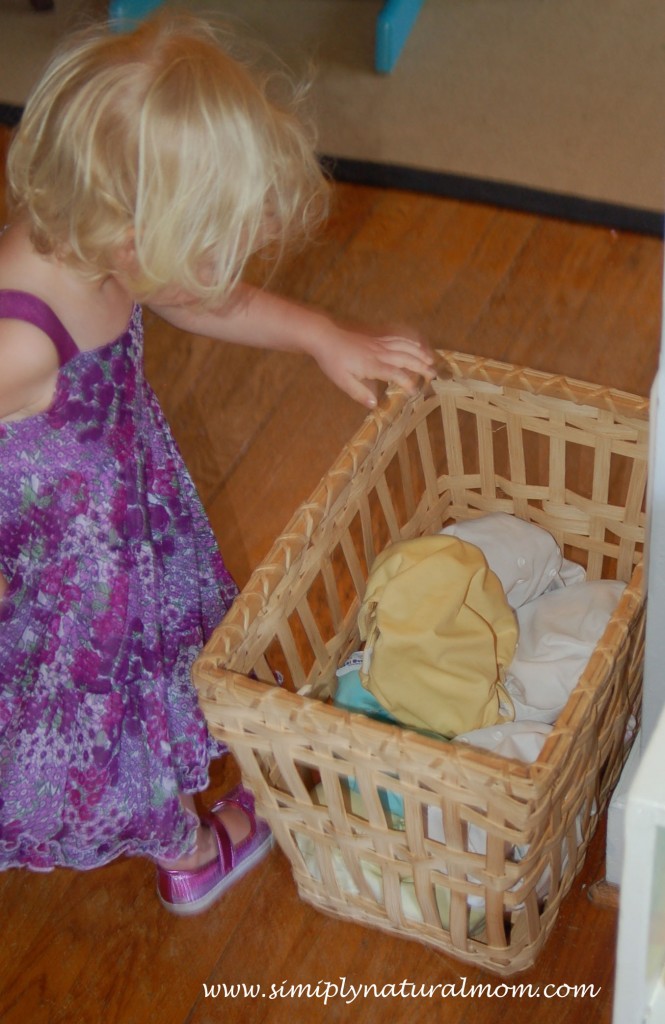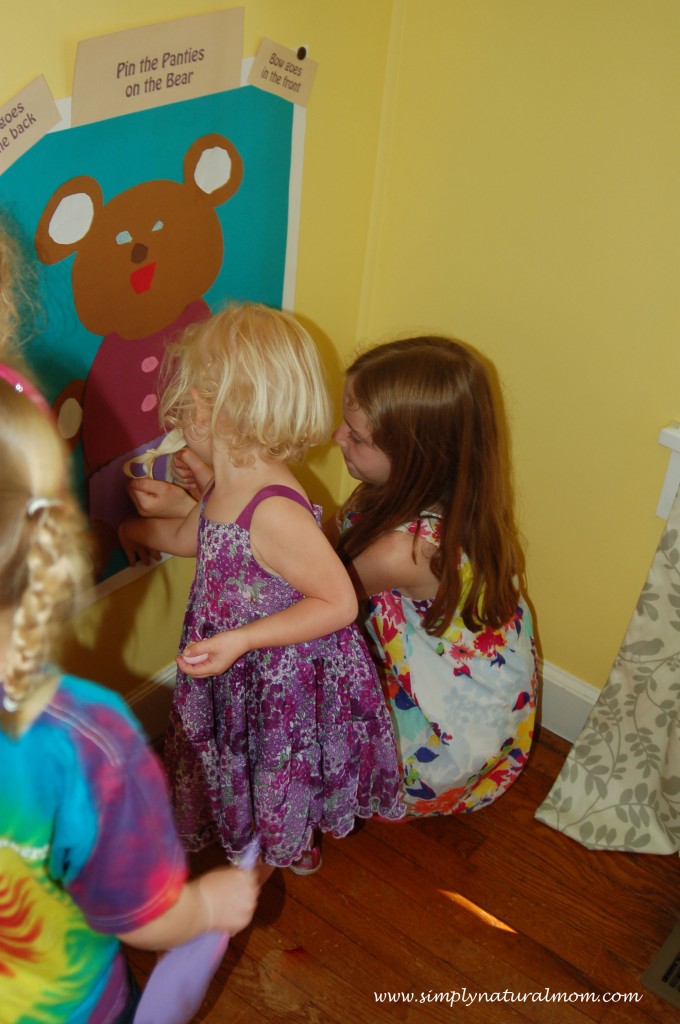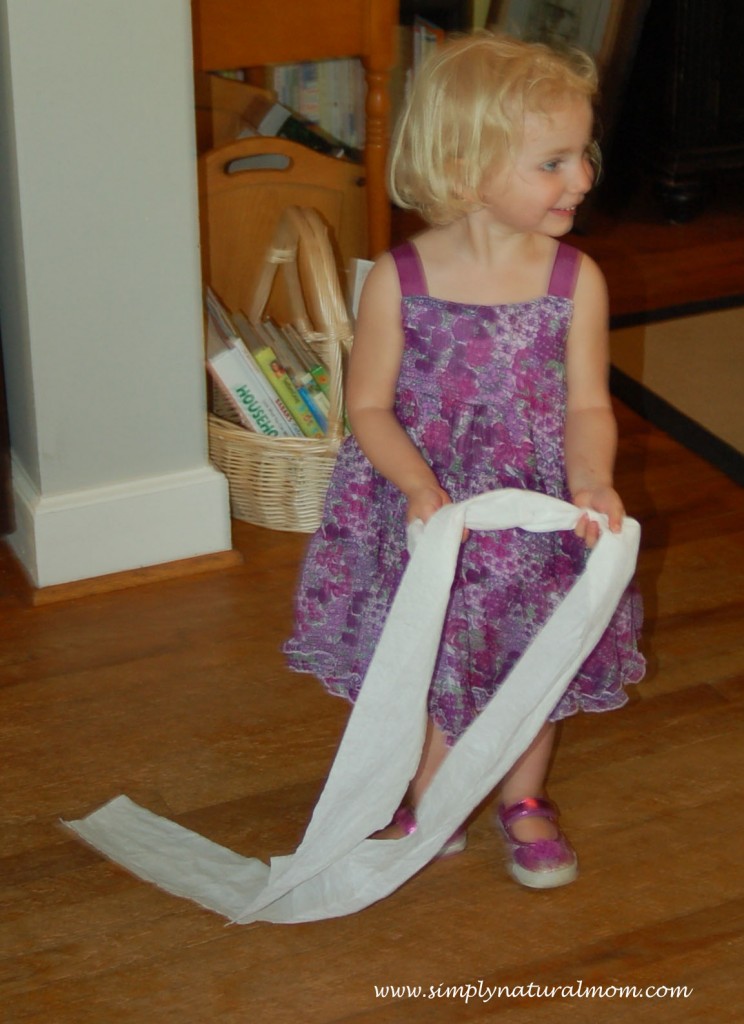 So long diapers!