Wednesday night was a fun evening of playing restaurant at our house – Mom's Restaurant. The girls were bummed because we were not going out to dinner after piano lessons, like we usually do. Being part of the 10 Day Real Food Challenge inspired me to go home a cook. They whined a bit a lot on the way home.
I want them to think this challenge is fun, understand why we are doing it, and not resent the food I so badly want them to eat (or not eat). So I offered Mom's Restaurant. There was instant YEAHS coming from the backseat. My oldest daughter asked me to make a menu and take their orders.
"Sounds fun to me," I said. So I put on my vintage style frilly apron and went to work.
My oldest daughter put on a child size apron and became my assistant, filling glasses and serving up plates for her sisters. After dinner they understood why we were not having sugar for desert and wholeheartedly thanked me for having the option of fruit. It filled the void of wanting something sweet after a fun night that felt like a celebration.
Below is the menu I created, while dinner was cooking.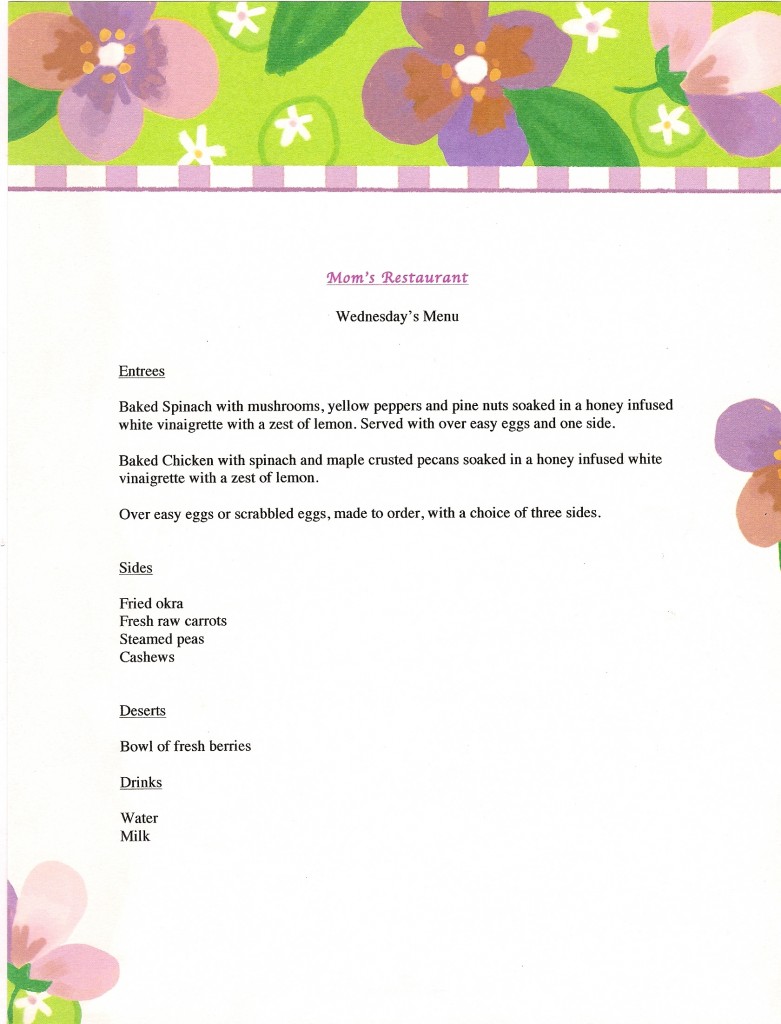 The baked spinach dishes were a simple way to take one recipe, and alter it to please the meat eaters and the vegetarians who share the roof here.  And it is so easy! Fill a baking dish with raw spinach. I did two separate dishes. Put plain raw chicken on top of spinach, or veggies if you are going that route. Pour a basic vinaigrette over the top and bake for 30 minutes on 350 degrees. My husband and two youngest girls loved the chicken.
For the vinaigrette I used olive oil and white wine vinegar, with two parts olive oil to one part vinegar. I added dried mustard, half a teaspoon of honey, two minced garlic cloves, lemon juice and salt and pepper.
In the end the girls made good choices, between choosing veggies, something green and something with protein. And it was so much fun they requested we do it everynight!
I said maybe every Wednesday.