We have a small shady tree area in our backyard that is covered in mulch and a few bushes. I was looking for a project to work on during the first week of summer break, to get us off to a good start.
Therefore I tossed out the idea that we do something fun with that space. My oldest daughter suggested we create an "Enchanted Fairyland." Great! I was so excited.
I helped get them started by providing some bones for the space, gathering some unused items from the garage, art supplies and various nicknacks I thought they might like to use. After that, all the imaginative details have been created by my girls and their neighborhood friends who stop by often.
Sharing this project here is not so much about showing the amazing results, but about displaying the process along the way.
The space has become a play area for children to decorate and create things for the fairies –  like mini gardens, long strands of beads going from bush to bush that are zip lines, swings, beds, workshops with tools and so much more. The Enchanted Fairyland is keeping us busy this summer. It's keeping the TV turned off, the girls entertained, and us having fun together outside.
One of my favorite things about the Enchanted Fairyland is seeing the creative process evolve as different friends come and go, and work on the project with us. They all bring their own unique energy, leave their own mark, and open ideas for more inspiration to come.
I have a few more things I'd like to initiate for the the space, like a treasure chest, homemade tie died fabrics and a banner for the entrance. The space sits across the yard from our Mud Pie Cafe and right behind our Easy Rope Tree Swing. Everything in it is reused, up-cycled or things we had on hand.
Here is a glimpse into what it looks like so far. I'll do more posts on it as more bursts of creativity occur.
The space started with the path we created using sawed off pieces of wood from a fallen tree in one of my neighbor's yards. I had a friend help me with this, who used his chain saw to cut the wood. However the girls did help carry and place the pieces of wood leading the areas they wanted to create.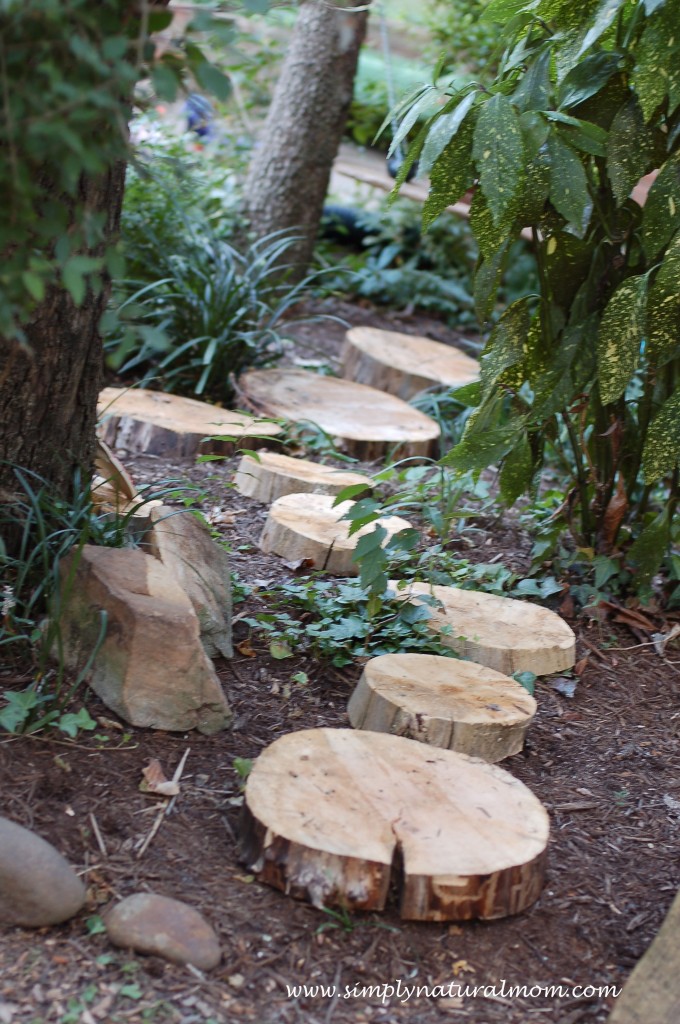 The next photo looks like a tangled mess. But it's really an old garden stake that was left in the garage by the previous owners of our house. I spray painted it and stuck it in the bushes thinking the girls might need somewhere to hang things they were making, since the low hanging branches in the space are too weak to hold much.
It worked out well. They use it to hang shinny and pretty things to "attract the fairies." The purple hanging beads is a "swing for the fairies." I had some old ring clips that were once used on a curtain rod to clip fabric. There are days when they use those and have the contraption covered in a special kind of hodgepodge they love.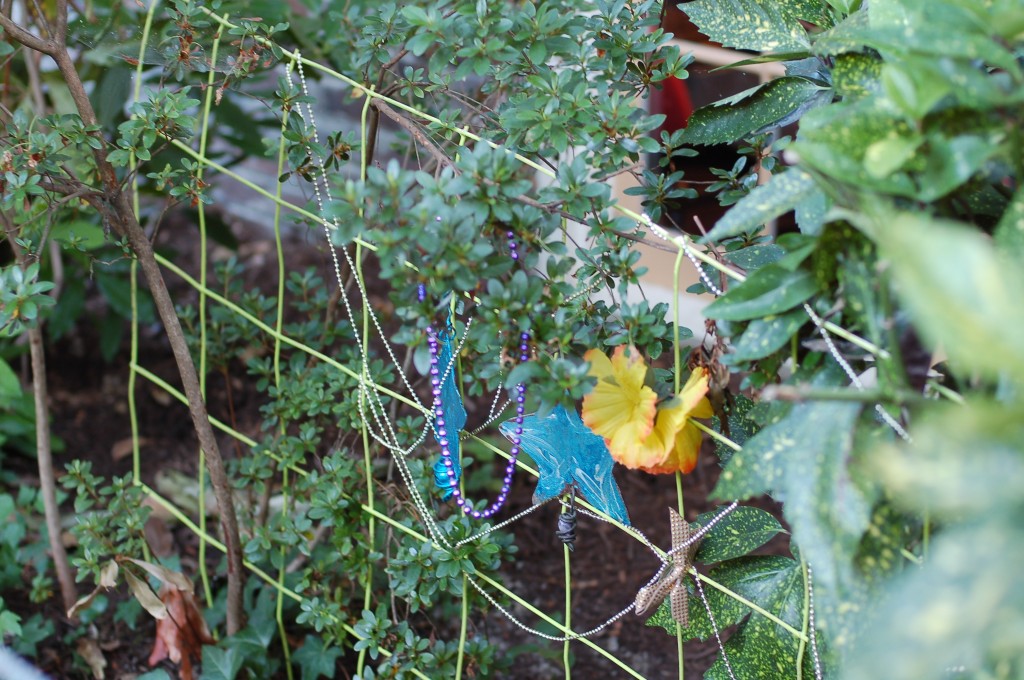 A cool swinging shelf was passed on to the project by my neighbor who is moving and cleaning out her house. The girls were quick to use it. The painted fairy house shown on the ground was one of the first creations for the Enchanted Fairyland. The "beds" for the fairies are actually broken boats once featured here as bath toys, and painted by my two-year-old. The shelf has held books, mirrors and food for the fairies. The open ended play of the space keeps on inspiring the girls with ideas – which I LOVE.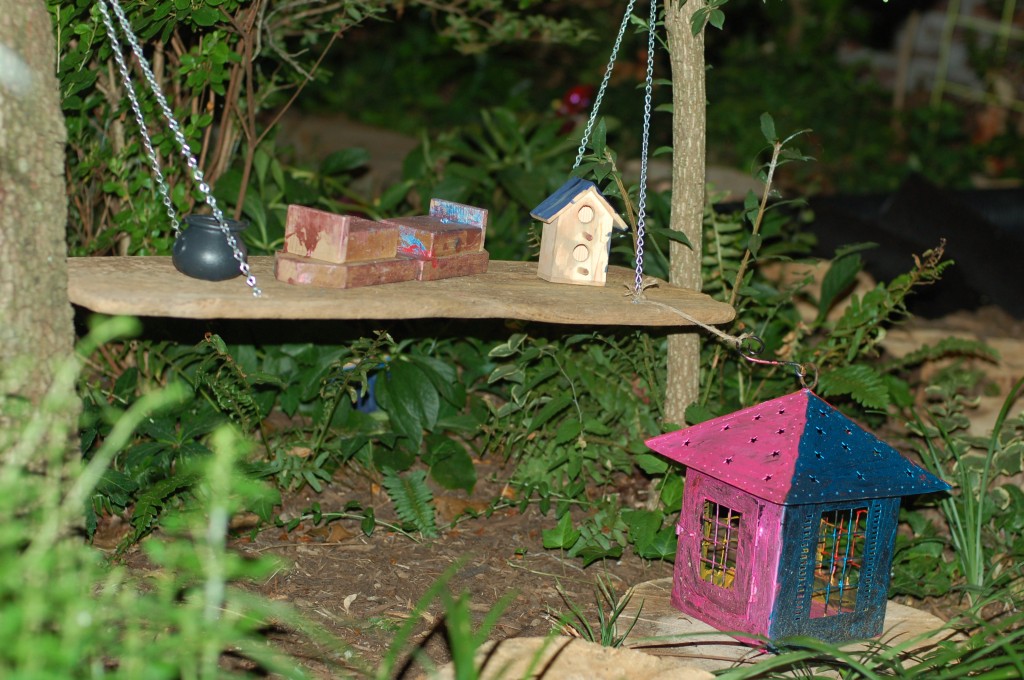 The "Wishing Well" is one of my favorite things in the fairyland. It was an old bird bath we inherited with the house we lived in before we moved to Knoxville. I liked it enough to move it three hours away, when we moved here from Atlanta. It never found a good garden spot here in our shaded yard and it ended up living in our garage.
I pulled it out, painted it with a can of spray paint to give it a smoother finish, and handed it over to the girls. My oldest daughter and one of her friends painted it together. Sometimes it has water and play coins in it. But I removed them for this photo, to show off the whimsical artwork the girls worked so hard on. The green writing says, "Make a wish."  It's so dang cute it deserves two photos. Which I went out in the dark and took because I didn't get a good one the first time. The shiny paint is Kid Made Modern (click here if you don't know about that) acrylic paint that you can buy at Target. I sprayed a coat of polyurethane on it so the paint won't come off in the weather.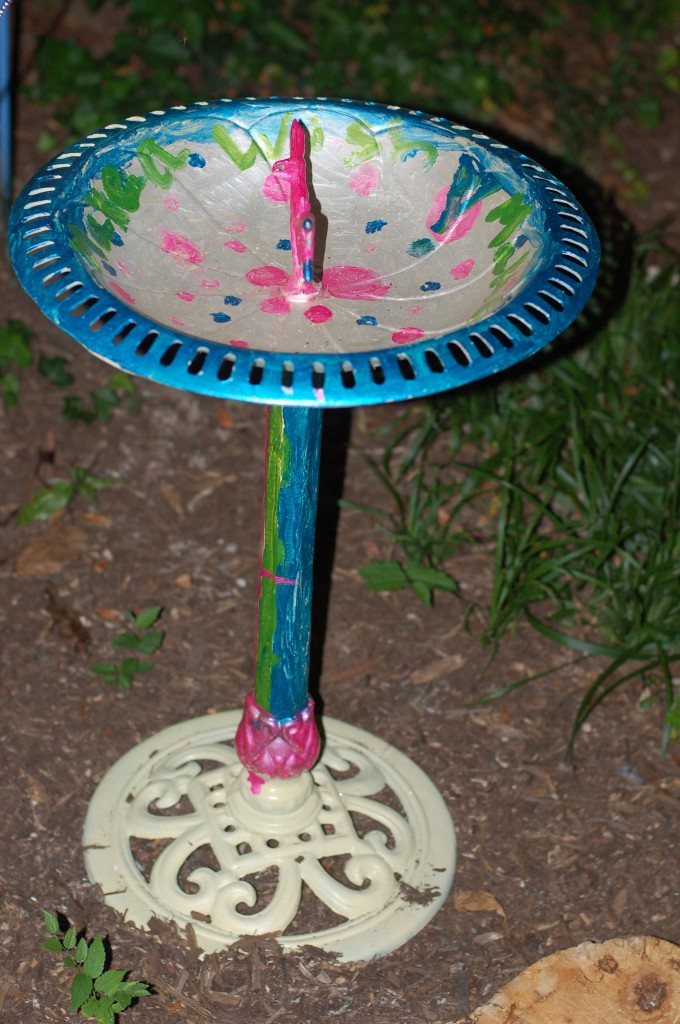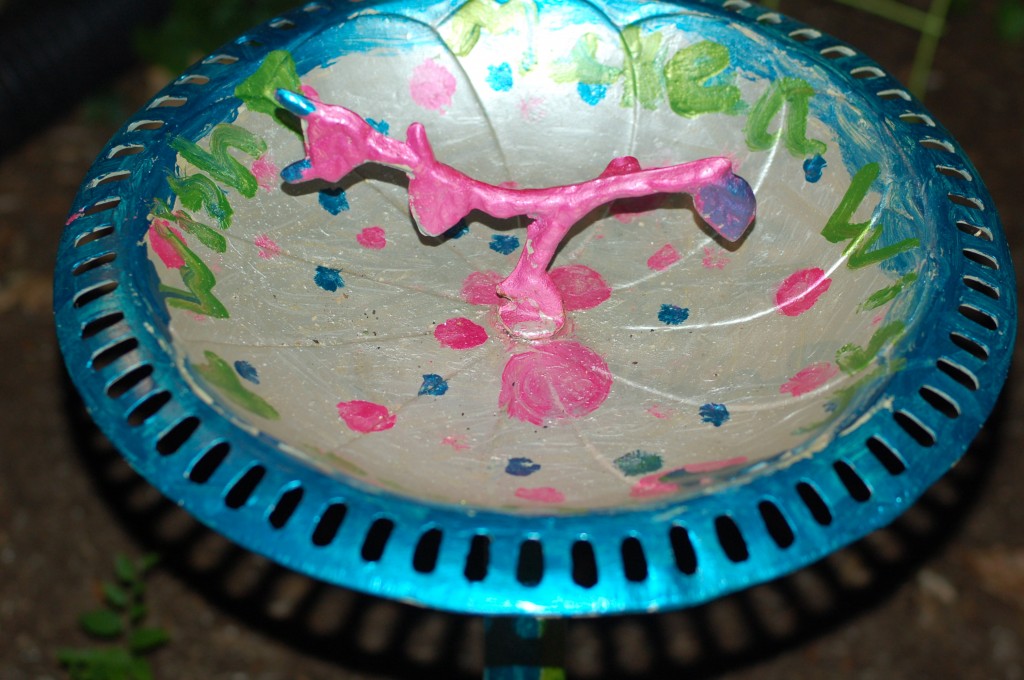 These chairs and table were in the Mud Pie Cafe. They were doctored up with a coat of paint by me. And the girls provided the details. They ran out of steam on the second chair. So I'm waiting for another friend to visit who wants to pick up a paint brush and give that one some pizzaz.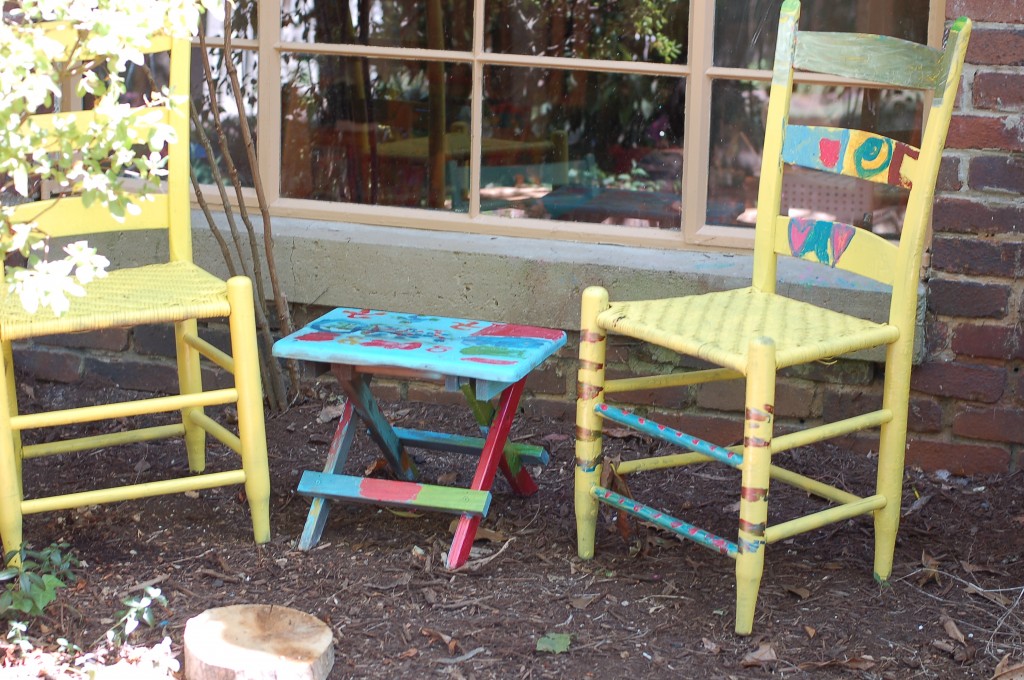 On a smaller scale, here's the "door bell" the girls made by sticking an old marker top into the hole of a tree at the fairyland entrance. Seriously, how creative is that?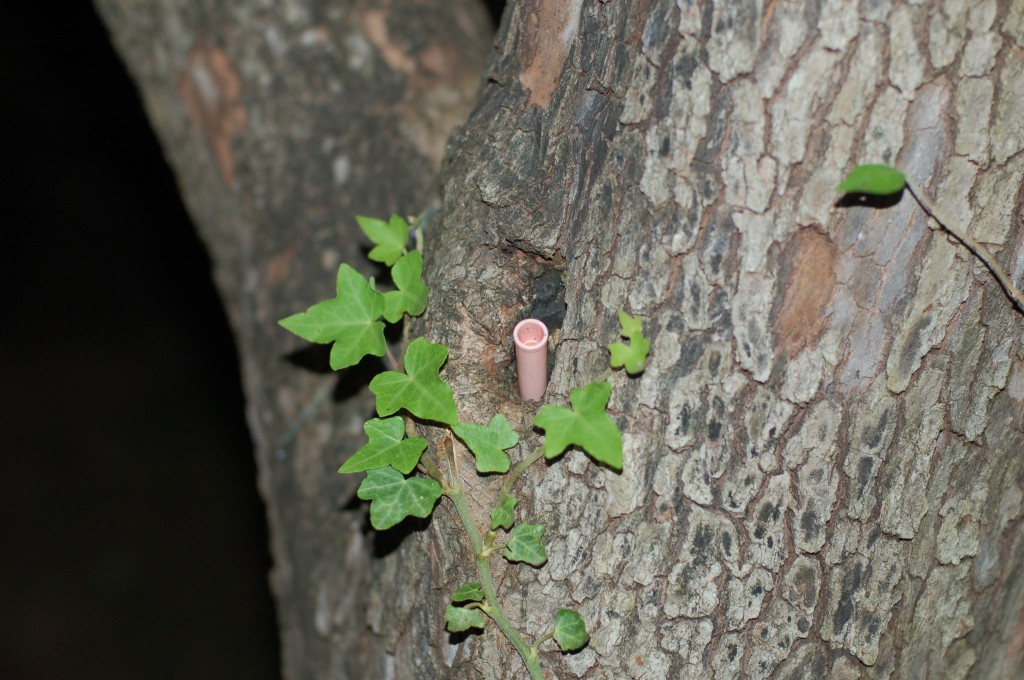 This is a mini garden they made for the fairies, that has one giant girl fairy foot excitedly running through it. The black tube is the gutter drainage pipe connected to the house.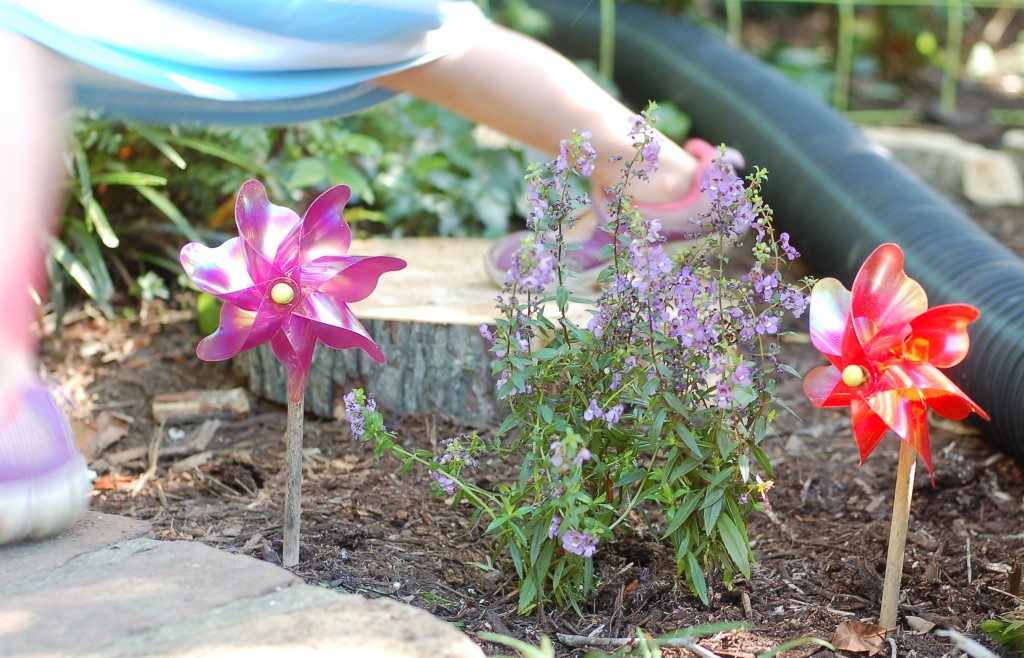 This is one of the decorations I painted with the girls, which was found in the garage – dusty, brown and dingy.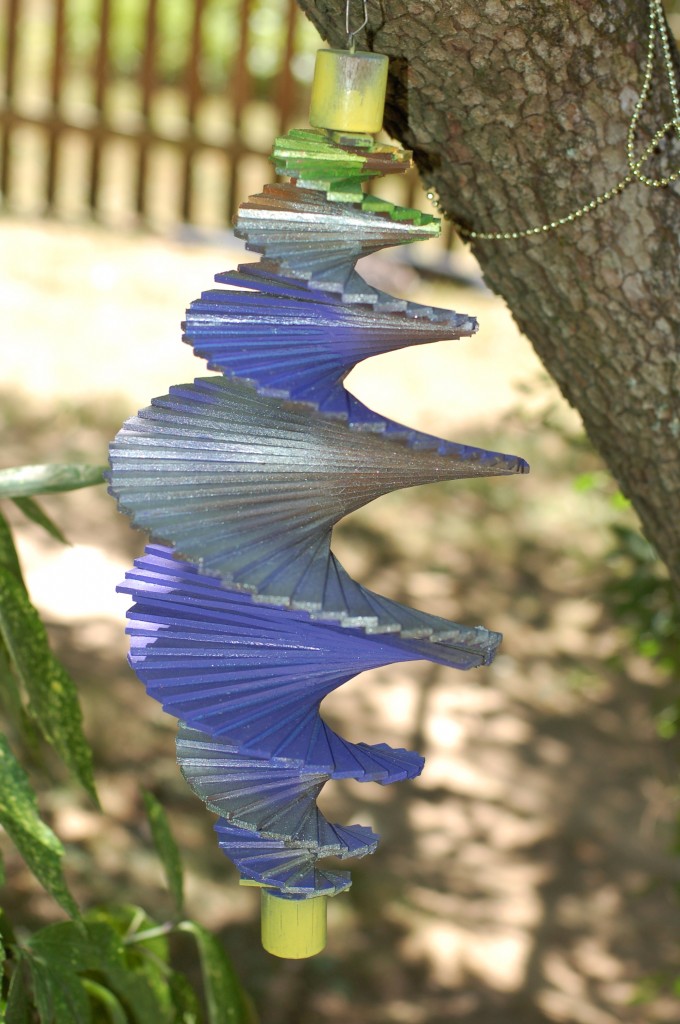 Most recently, after I found the girls setting up painting supplies in the paved area of our backyard, I gave them an old box of wooden crafty things that have been living in our craft supplies for too long. Some of them had been painted before, or drawn on with markers. These were the new additions that came of that, made by four girls ranging from ages two-seven, who where left to their own devices with A LOT watercolor paints.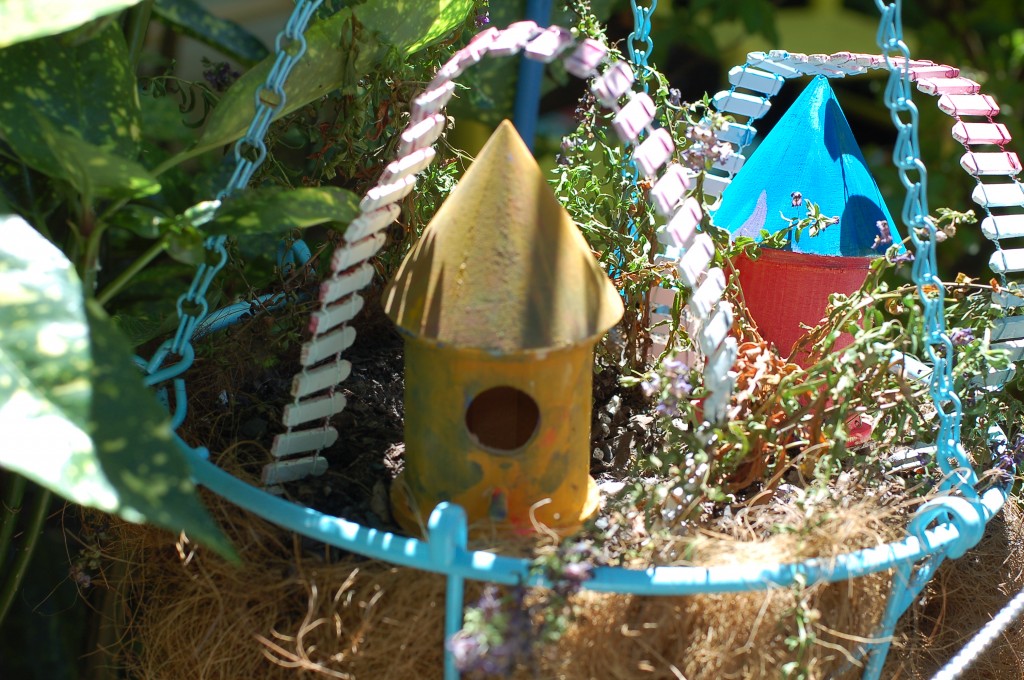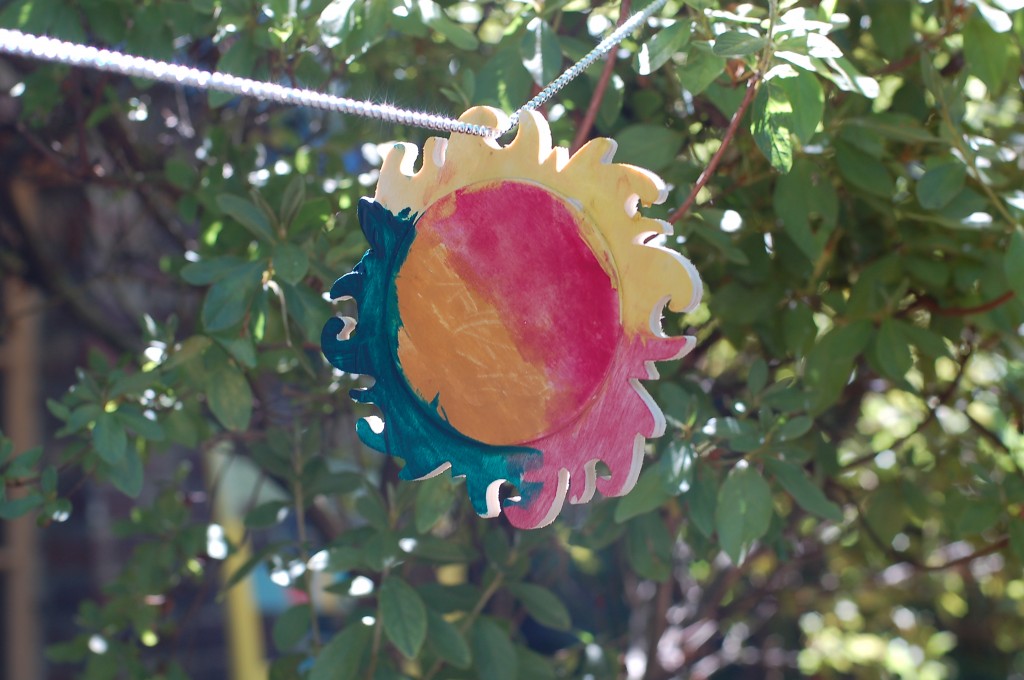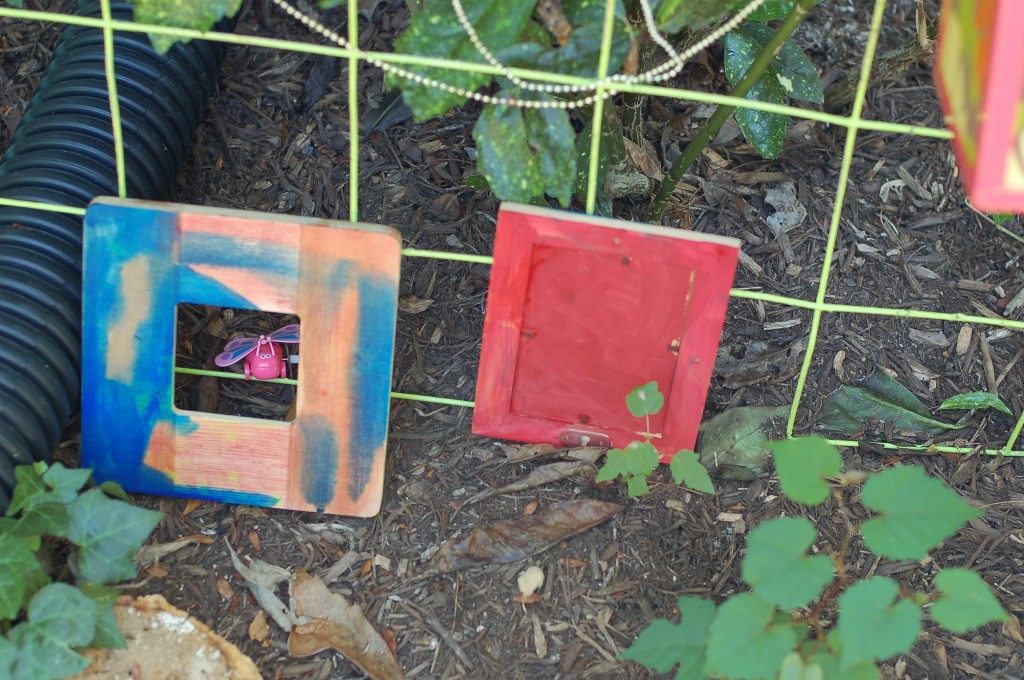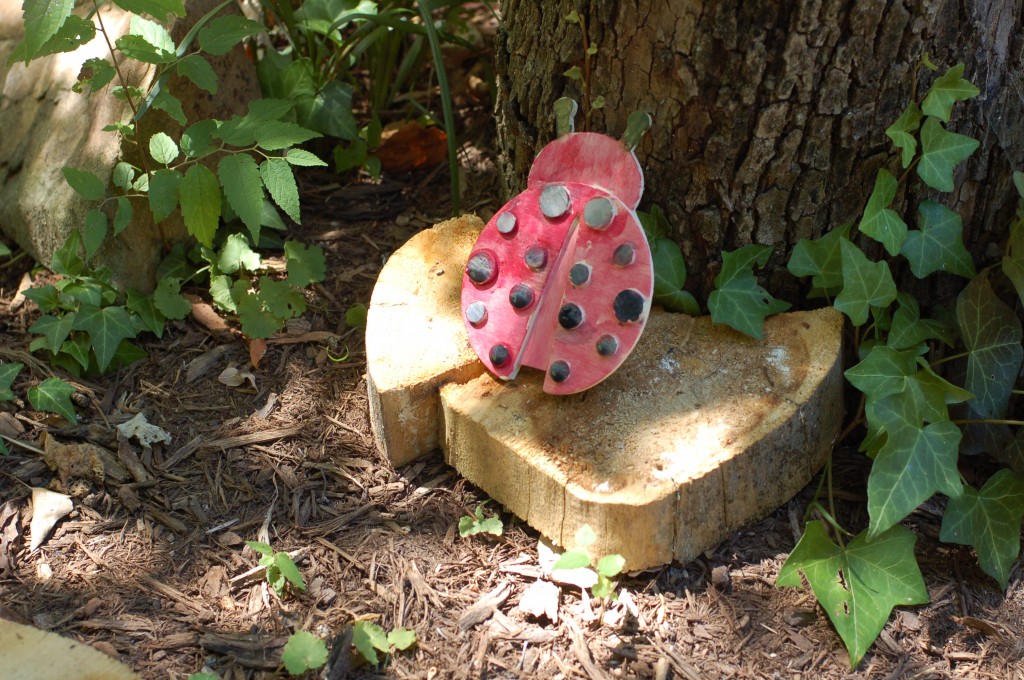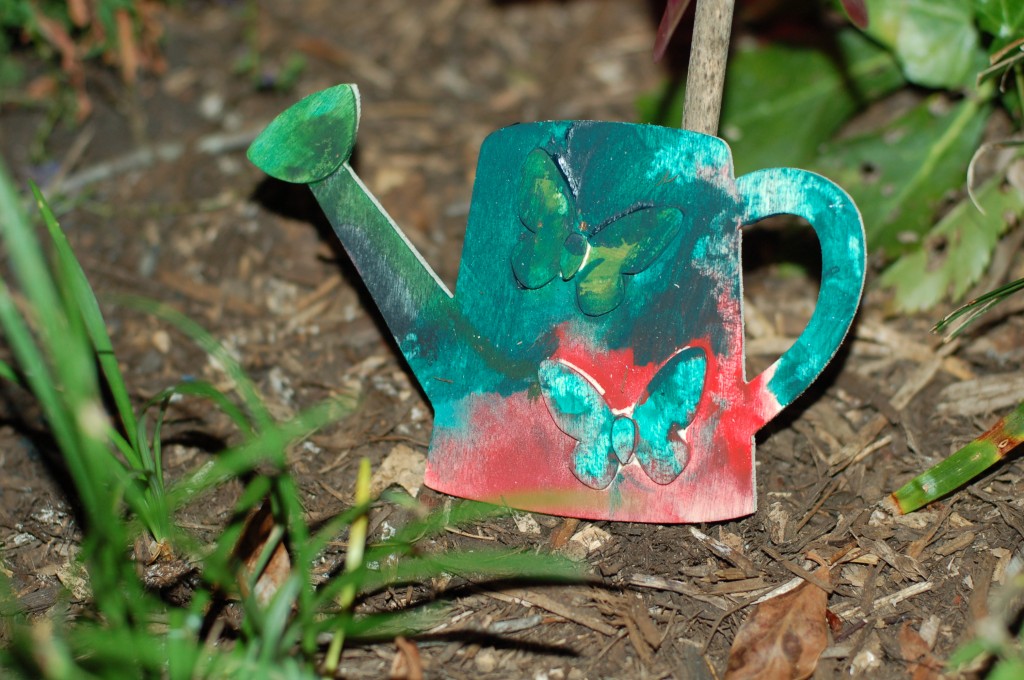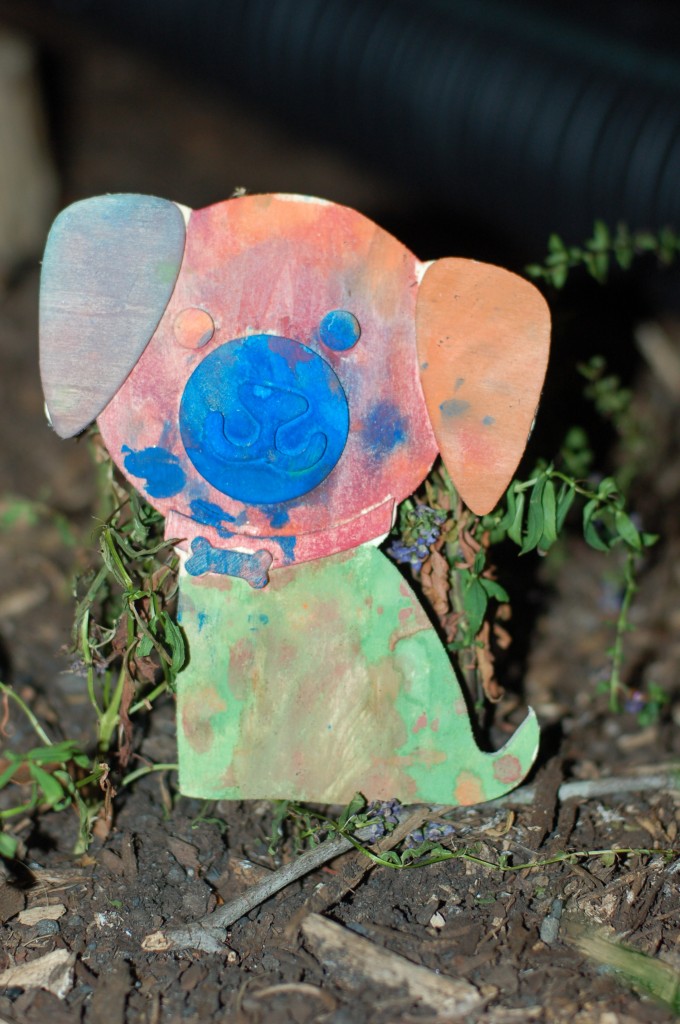 And just to show some things are totally nature driven, here is the "workshop" my oldest daughter created. Somewhere in there are "tools to build stuff." The mushroom is a table for them to eat lunch, and the old fabric placemat borrowed from the Mud Pie Cafe is a "decoration." It's wonderfully simple and creative, I think.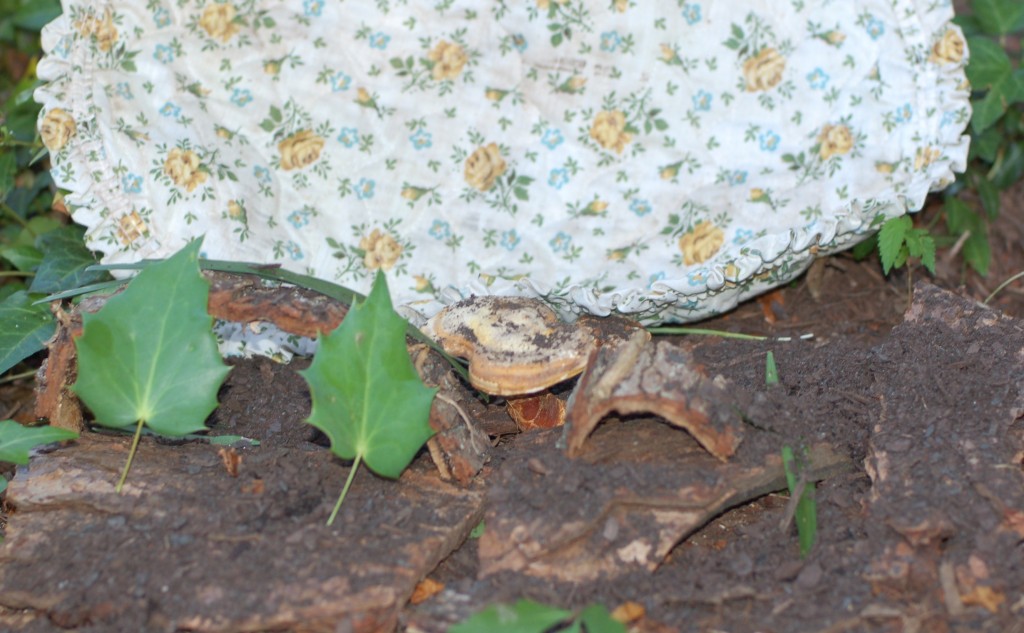 If you stand back and look at the Enchanted Fairyland it doesn't look so enchanting, from an adult's perspective. But inside there are lots of treasures. It's a nice lesson on seeing things the way a child does. Sometimes it can be a fresh look we all need. Or you can just look our cat Fruit Punch, who seems to like the Enchanted Fairyland too. He's the resident fairy cat.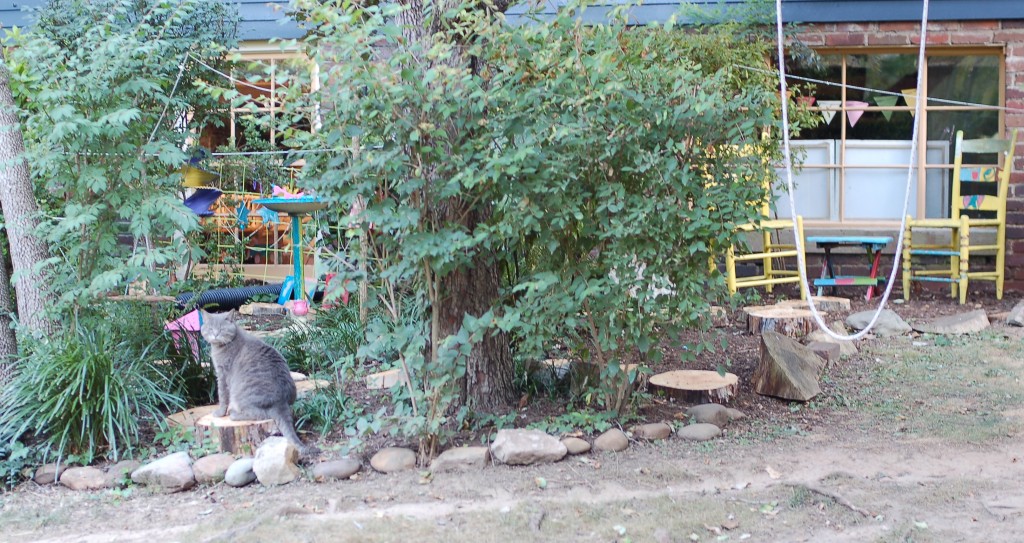 Don't want to miss what we make next in the Enchanted Fairyland? Be sure to subscribe to Simply Natural Mom – by Facebook, Twitter, email or RSS feed.
Also, check out the sidebar on this blog titled Creative Backyard Ideas for more great stuff you can easily do in your backyard this summer.