I have never been the mom to make the Pinterest-style lunches with celery sticks decorated like a caterpillars, crackers toped with cheese cut like ladybugs or a sandwich wearing a smile face. I think those lunches are adorable. I'm just more of a grab the fruit and go mom. Using a heart shaped cookie cutter for bread is about as decorative as I get when packing lunches.
While talking to a friend recently she asked me to do a lunch post showing what I pack my girls for lunch, as a bit of a reality check on what good old regular moms likes us are packing their kiddos for lunch. I thought it was a great idea! Especially since moms are always looking for new ideas for lunch? I know I always am.
I do, however, wish my girls would accept more variation in what they eat for lunch. But overall it's fresh, usually organic, sometimes homemade and the lunch boxes usually return home empty.
The Montessori school where my girls attend encourages waste-free lunches and pre-packaged items are discouraged. So we have that in our favor, as I think the children they are sitting next to have similar fresh food lunches.
My girls don't like all the same things and I understand that. So each girls' lunch is not entirely the same everyday. They also balk at dinner leftovers showing up in their lunch, and I kind of side with them on that. I'm not big on leftovers either.
Here is what I packed for lunch this week. Friday is pizza day and the children have the choice of buying pizza brought in from a local pizzeria near the school. I gladly take a break from packing lunches that day!
Monday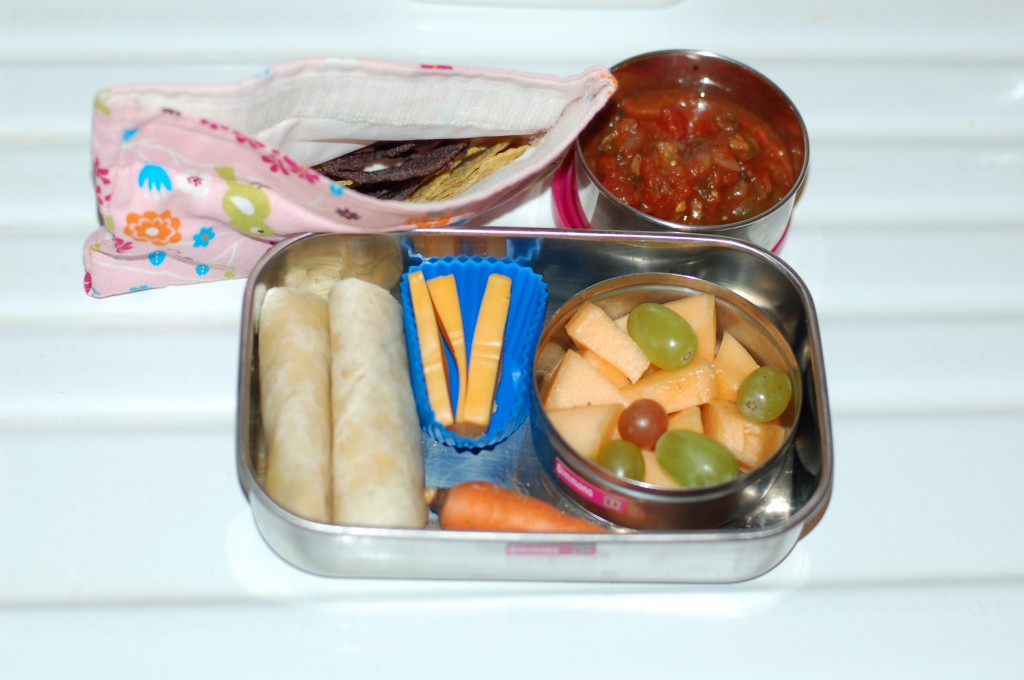 My oldest daughter had hummus wraps, cheese, fruit, a raw carrot, corn chips and salsa.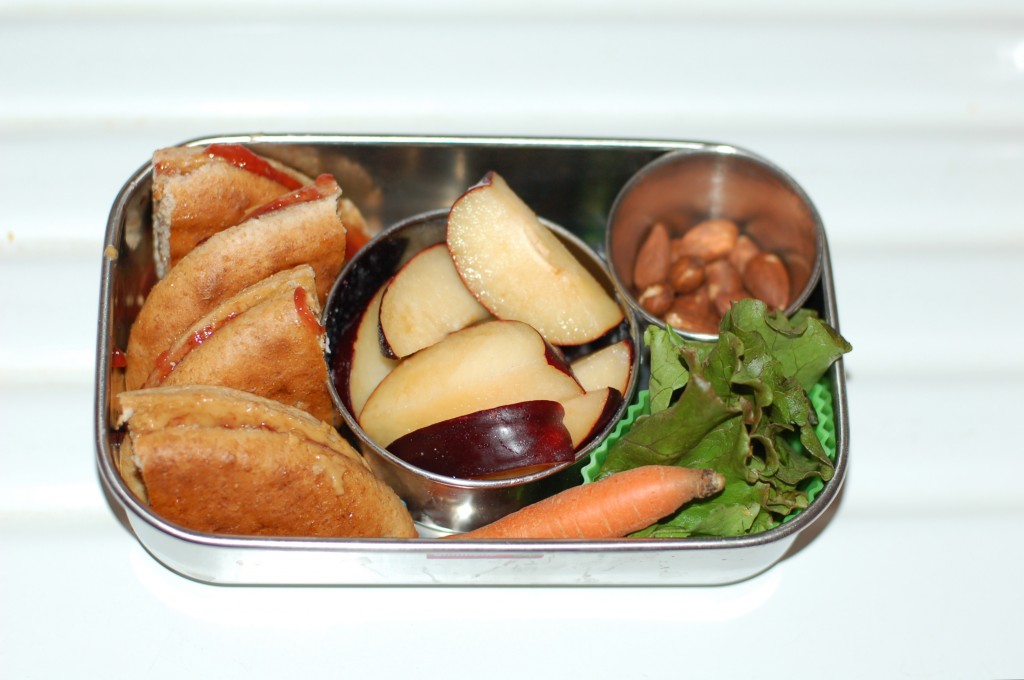 My middle girl had peanut and butter jam on a whole wheat flat bagels (the Rudy's brand), plums, carrot, almonds and plain lettuce she calls "salad."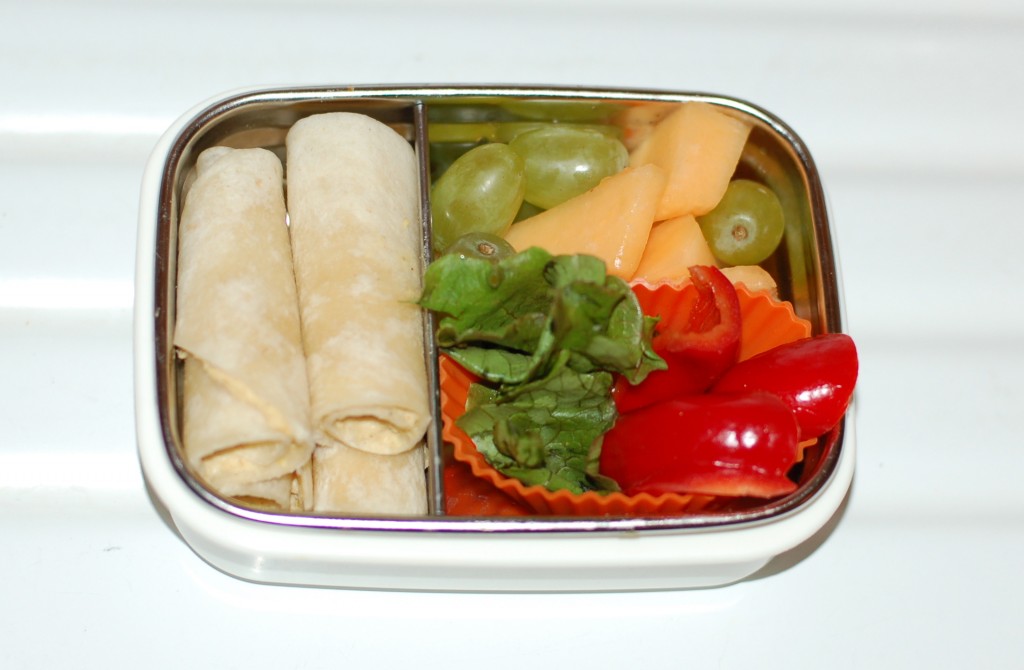 My toddler had "baby humus wraps" cut in four quarters and made the right size for her mouth, fruit, "salad" and red peppers.
Tuesday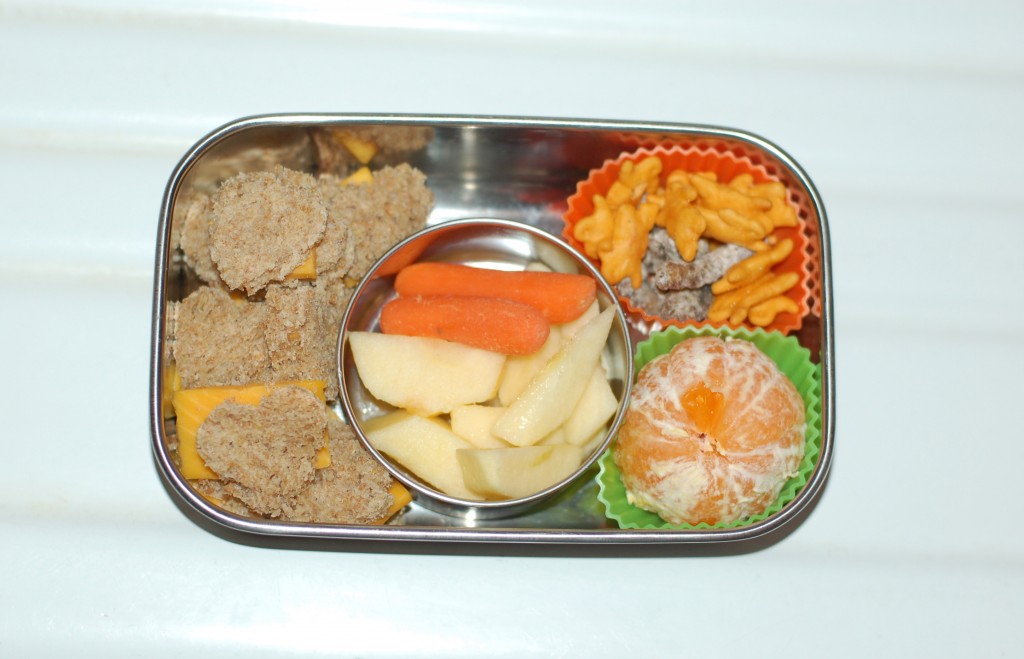 My oldest girl had mini heart cheese sandwiches on homemade bread (from the Knoxville Bread Co-op),  apples and carrots, dried rolled dates, cheddar bunny crackers and a tangerine. The mini sandwich cutter is from Montessori Services and works better with store bought bread that tends to hold its shape better and be less crumby.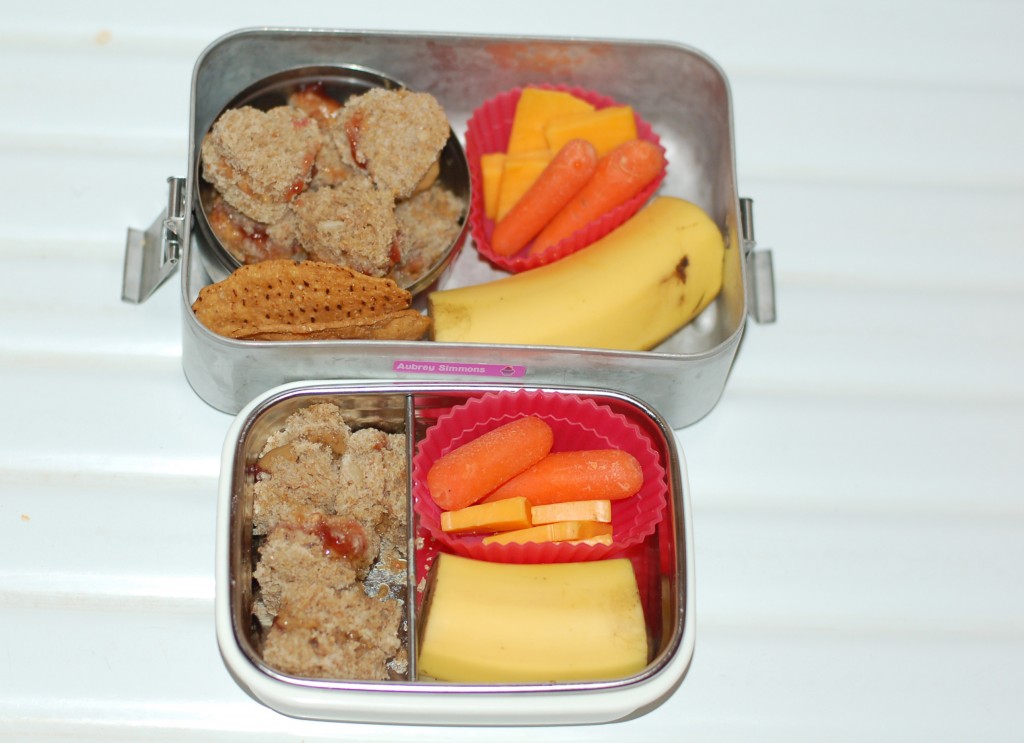 The two little girls had mini peanut butter and jam heart sandwiches, carrots, cheese and a banana that works great cut like this and left in the peel. My middle girl also had a few sweet potato chips.
Wednesday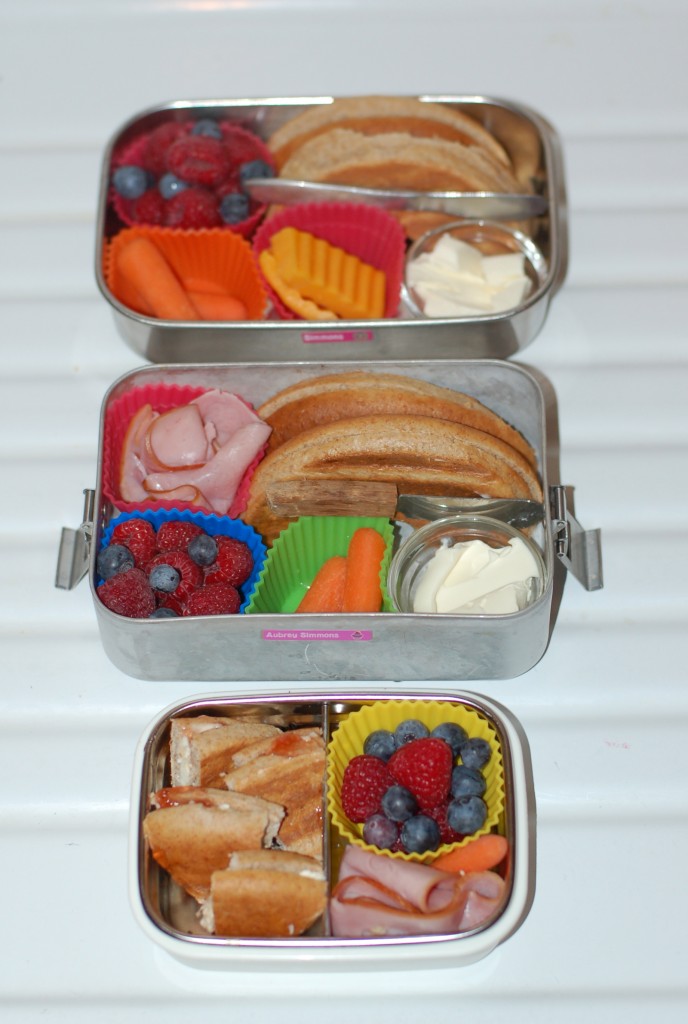 The top two lunches are Rudy's whole wheat flat bagels with a small glass container of cream cheese for spreading. I packed my toddler's preassembled, with a dab of jam to help hold them together. My oldest girl doesn't eat meat so she had cheese and the little girls had ham. I try to get a veggie in their lunch everyday. Carrots are the go to on that and packed almost daily.
Thursday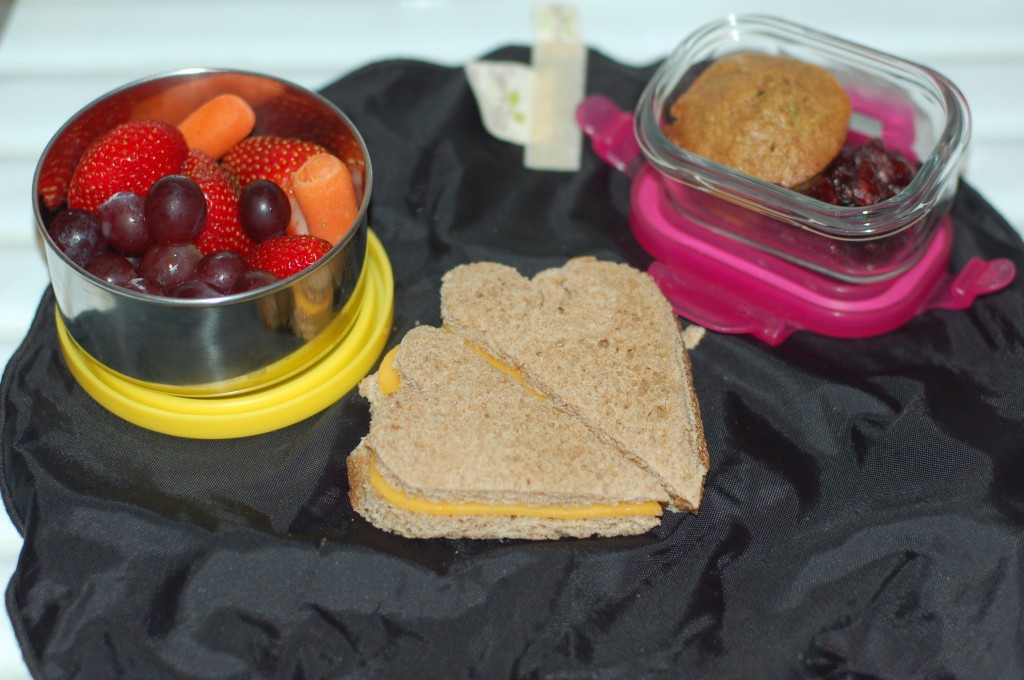 My oldest daughter had a cheese sandwich, fruit, a zucchini muffin (from this recipe) and dried cranberries. The black fabric is the sandwich wrap that the sandwich gets packed in. This very plain sandwich is just the way she likes it.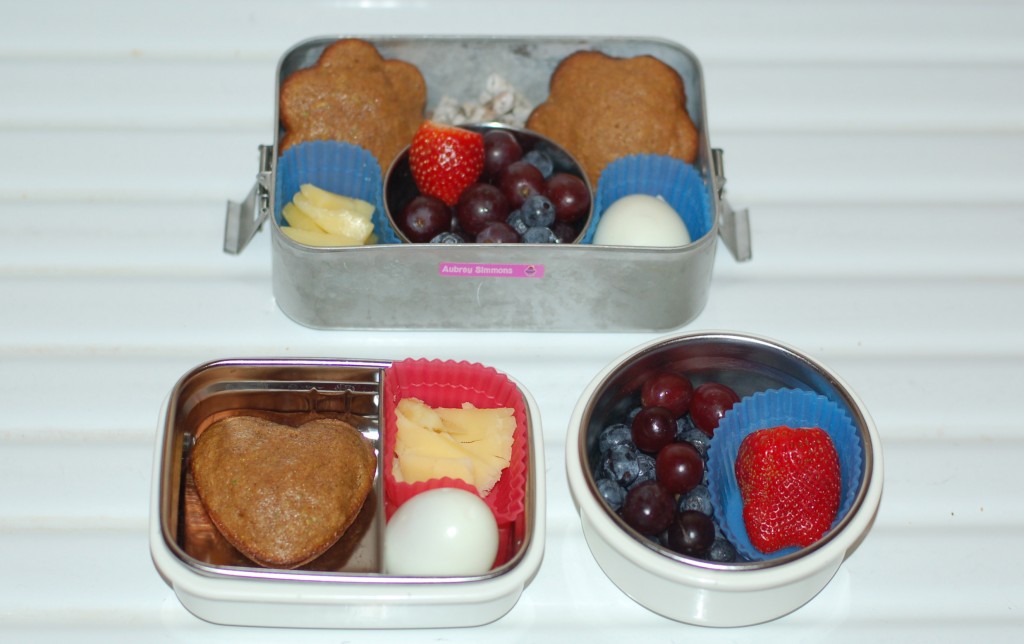 The two little girls had the same lunch, with fun shaped zucchini muffins, boiled eggs, cheese and grapes with berries. These are their preferred containers because they are easy to open.
For more info on these lunch containers, see my post Plastic free lunch packing containers and systems. To read more about our waste-free lunches, I wrote about it here.
Snack Day!
Wednesday was also snack day for my toddler and middle girl. At their school students rotate turns bringing snack for the entire class. It was a coinsidence that two of my girls were scheduled for the same day. For snack my toddler brought cheese and berries. My middle girl requested peanut butter pretzels, apples and bananas (non shown). In the 3-6 age room the students prepare the snack and cut the food, so we just send in a bag of organic apples.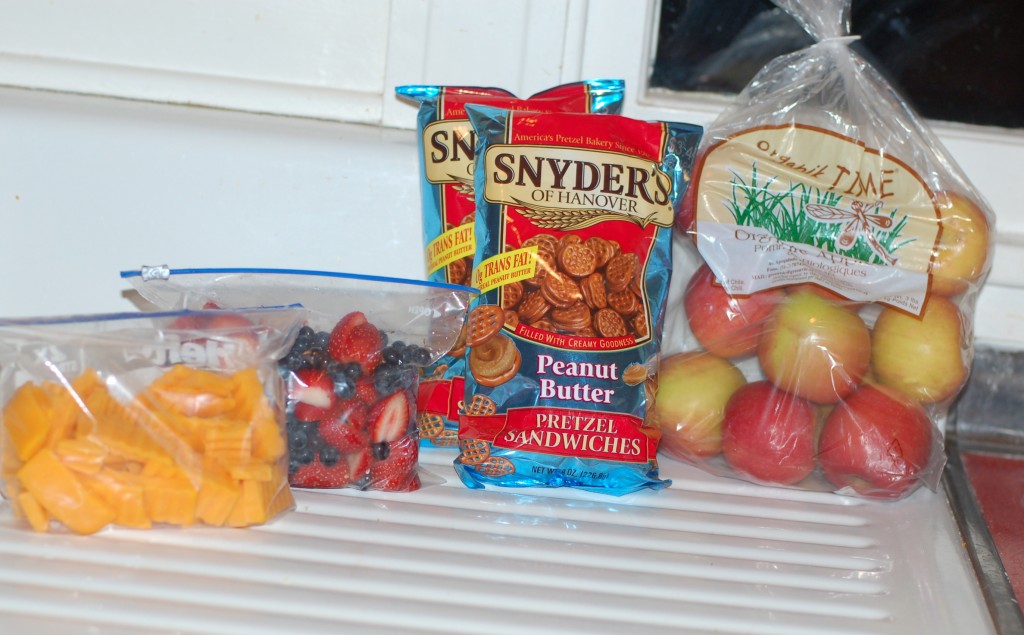 What do your children like to see packed in their lunches? I could use more hot food lunch options. I'd love to hear what you pack for lunch!