Age 8 is sounding very big to me today. Maybe because it is. Maybe because she is my first baby and she will always be the first to do things in this family of girls. Maybe because I'm still getting used to the idea of having a child around here blaring her own music, hiding out in her new room, and asking to be around friends every single day.
This weekend was our first big kid birthday party – for our girl who is now 8!!! The music selection was big – all hand selected by her and songs that she knows every word of the lyrics. We are entering the days of boy bands and pop music at our house. It will be a long road, with three girls who will one day be 13, 16 and 18 all at the same time.
However this weekend we certainly had fun with it.
My daughter got the idea to have a backyard movie party from her cousin. I was not planning on having a party for her this year. She has had a party every year since she was born. My toddler girl will be 3 next week and I wanted to put my efforts into finally having a party for my baby girl. Not to mention our kitchen is being renovated and I have no way of making food for a party right now.
But I said yes. Because it was a fun idea. And I love creating birthday parties for kids.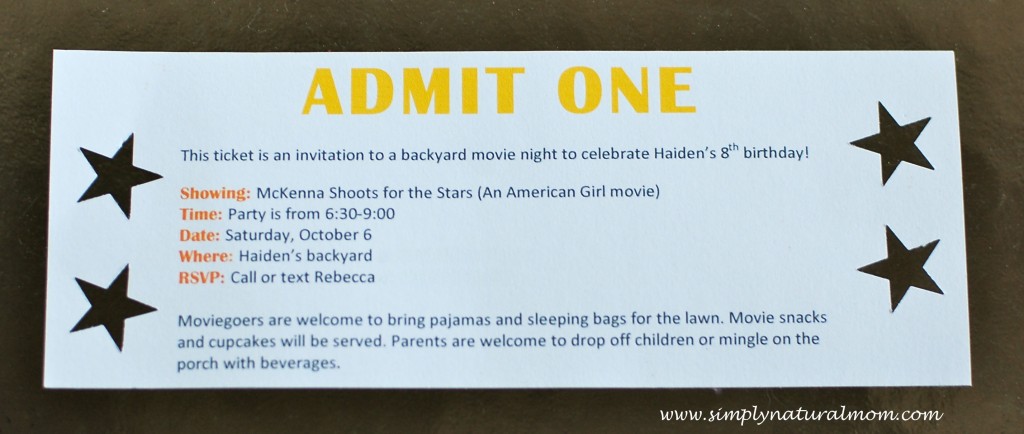 I made the invitations in a Word document printed on white card stock. The stars are punched with a scrapbooking hole punch. We mailed them using regular 4″x8″ envelopes. Doing it this way was simple, cheep and it only took about an hour.
For our purposes here, I removed our phone number and address from invitation for security reasons. I left my daughter's name, which I usually keep private in this space. Her and her friend made such cute party signs featured in all the decorations, that I didn't want to alter those images. Since a name can not be Googled from an image, I'm making an exception to my rule in this post.
This is the first time I have planned an outdoor party because I always feared the chance of rain. I thew caution to the wind this year and hopped for the best. It rained that morning, the ground was still damp at party time, it was cloudy and on the cold side. But it didn't slow us down from having fun! And now I'm a BIG fan of backyard parities.
Since the ground was a bit damp we took our outdoor rugs from our front porch and laid them in the grass for the movie. I put out stacks of blankets for them to snuggle up with, kid's camping chairs and bales of hay to lie against. Some of the children brought sleeping bags. My daughters brought out the beanbag and red kid chairs. As well as a mini trampoline they saw as a perfect seat! But what the heck? It was their party!
From my side, this party was put together on the fly and on the cheep.
The projector is an old work projector a friend had from doing Power Point presentations in 2004. I borrowed a receiver and speakers from another friend who lives up the street. I asked several people if they knew anyone who had an old pull-down screen, like the ones schools used to use with an overhead projector for math class (yep, I'm old). A friend of mine's church had one, which happened to be in our neighborhood too.
We hooked up our old portable car DVD player to the receiver and ran it all through the 2004 projector. It worked fabulously! I felt so amazingly resourceful. And I was incredibaly thankful for my husband who made sure it all worked, and was in charge of setting it up.
This is the first birthday party I have ever held where I didn't make anything. Nothing! I didn't sew anything. I didn't craft anything. And I didn't bake anything. What I did do – was make use of all the things we have used in the past.
Our Picket Fence Chalkboard provided an awesome board for announcing the movie and showtime.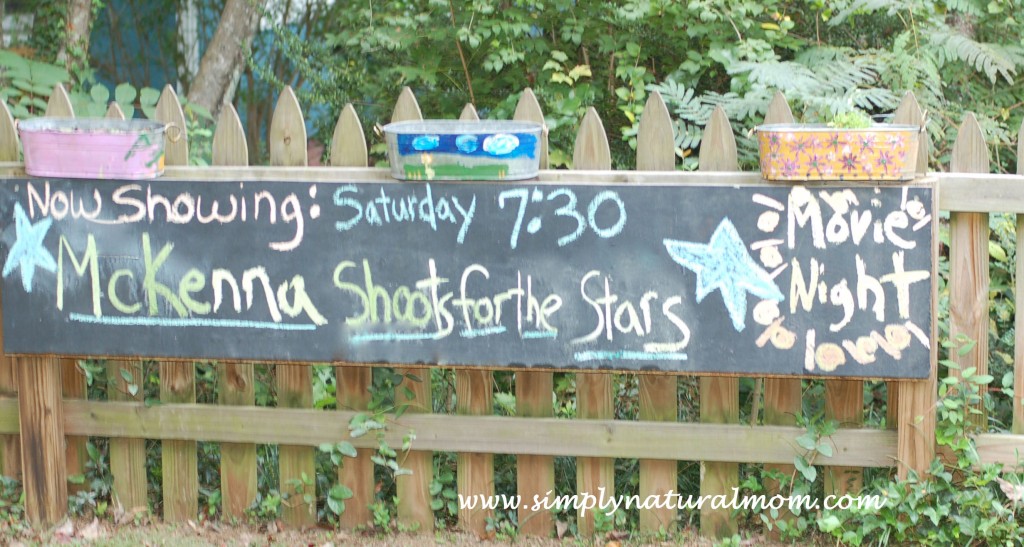 The gazebo was decorated with these fabric chains I sewed together for my toddler's Potty Party. The felt Happy Birthday banner was purchased from Chinaberry about five years ago. Hanging it is a tradition for all our birthdays. The small lanturn lights were a touch added by the kids, which were hanging in the basement. The birthday girl borrowed the disco from a friend.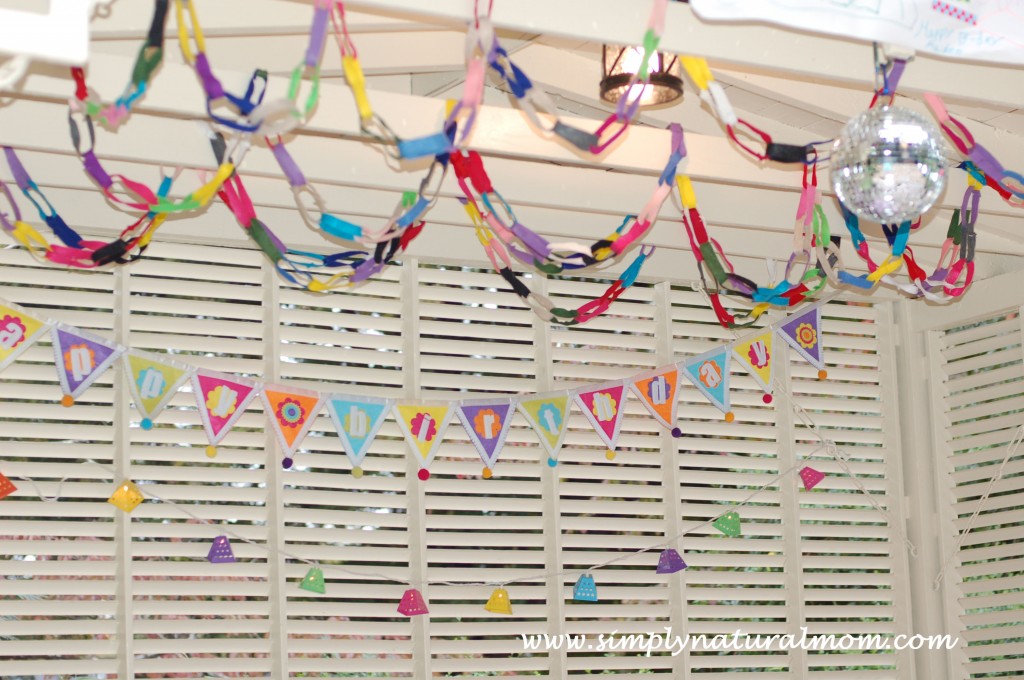 My daughter had a friend over the day of the party to help decorate. They really took ownership over this task and had a great time. They made many happy birthday signs. A few of them used our chalkboard signs I made using old frames, boards and chalkboard paint. Again, they were made for my toddler's Potty Party, knowing I would reuse them for occasions like this.
I LOVE that the kids made the signs this time. This really was a kid party, by kids and for kids. 
Most all the decor is in low lying areas, and on a child's eye level. Some of that reason is because they put it there. The other reason is that when I'm looking for a table to put something on it seems all I can find are kid-sized tables. I suppose that's just our way.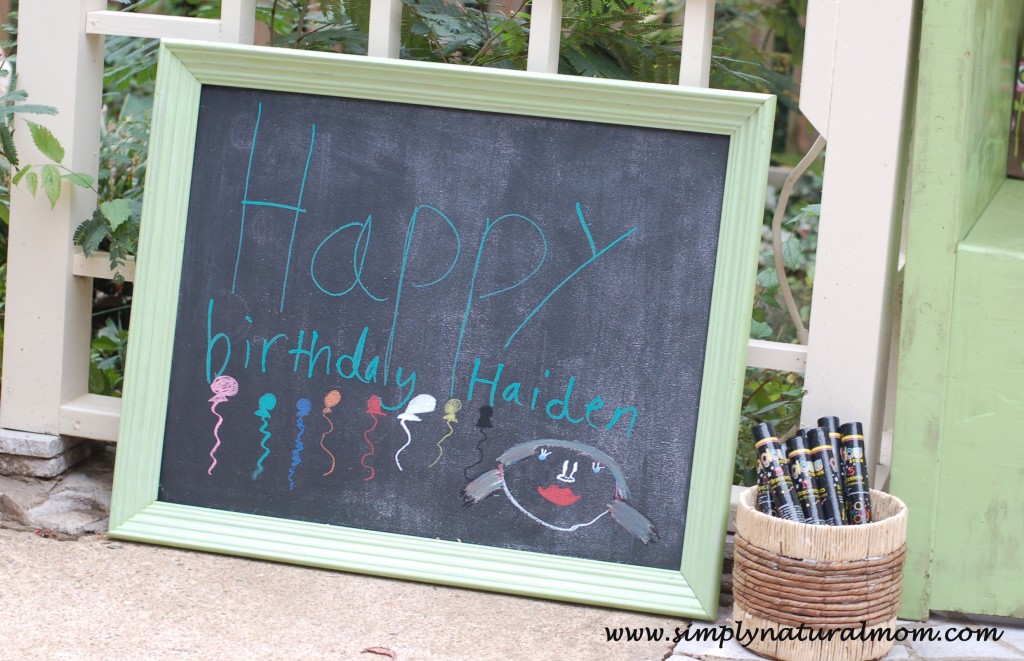 The basket of glow sticks (from the dollar isle at Target) and battery operated flicker tea candles (left over from Halloween last year) were a huge hit after the sun went down.
The girls also decorated our backyard Fairyland with signs and leftover decor from other uses, like the fabric chains I made for a toddler busy bag swap.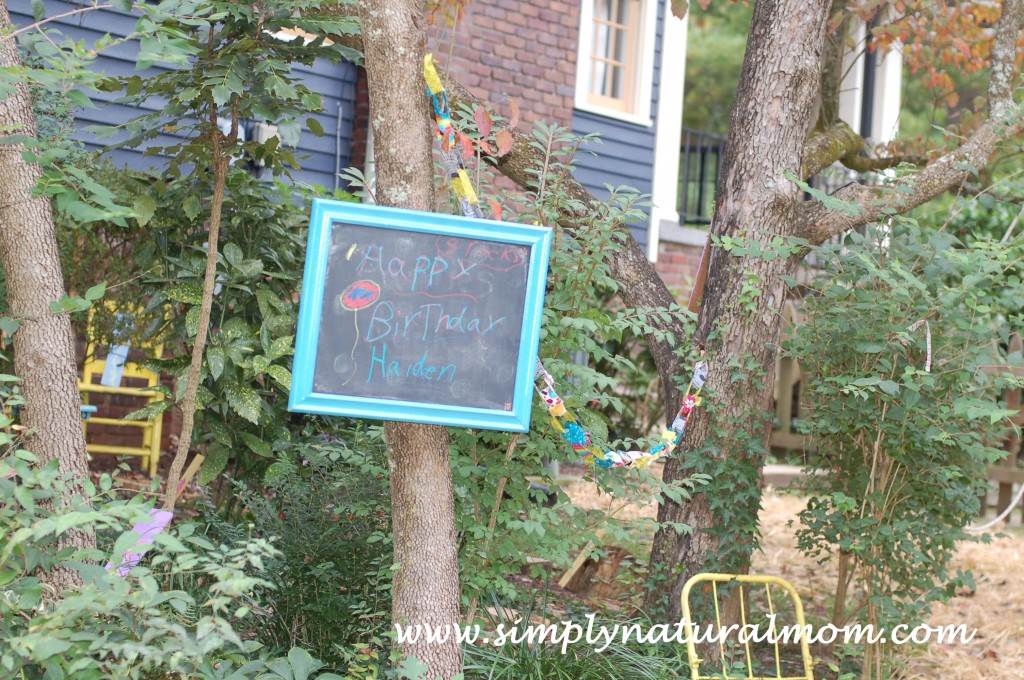 My favorite thing the girls came up with, was how to set up the movie concession stand. I had big grown up ideas of how to make it cute using a festive green table I was going to haul over from the neighbor's basement. But the kids had their own ideas. They saw the railing of the gazebo as a perfect spot where friends could stand and "order."
My middle girl said she would run the concession stand, and put a chair behind the table with three pillows stacked on it for her to be tall enough to reach the customers. She never actually sat still long enough to do so. Which was fine.
This is what they came up with, enlisting a little grown up help hanging the signs and gathering supplies. I made the drink bucket ahead of time, using Chalk Ink – which is what the kids used to make their chalk signs too.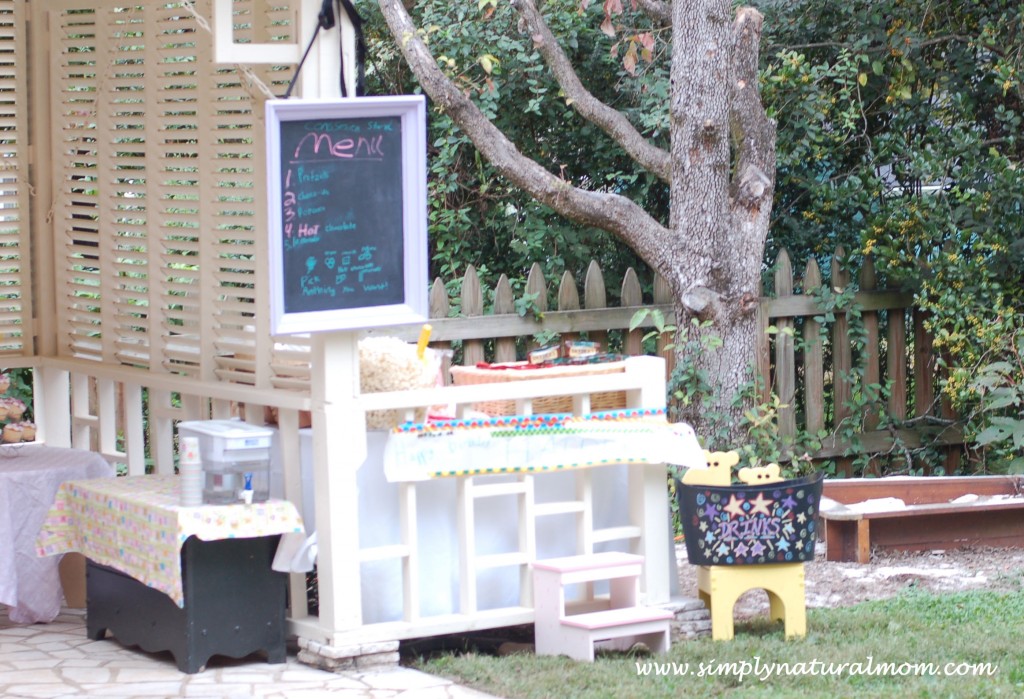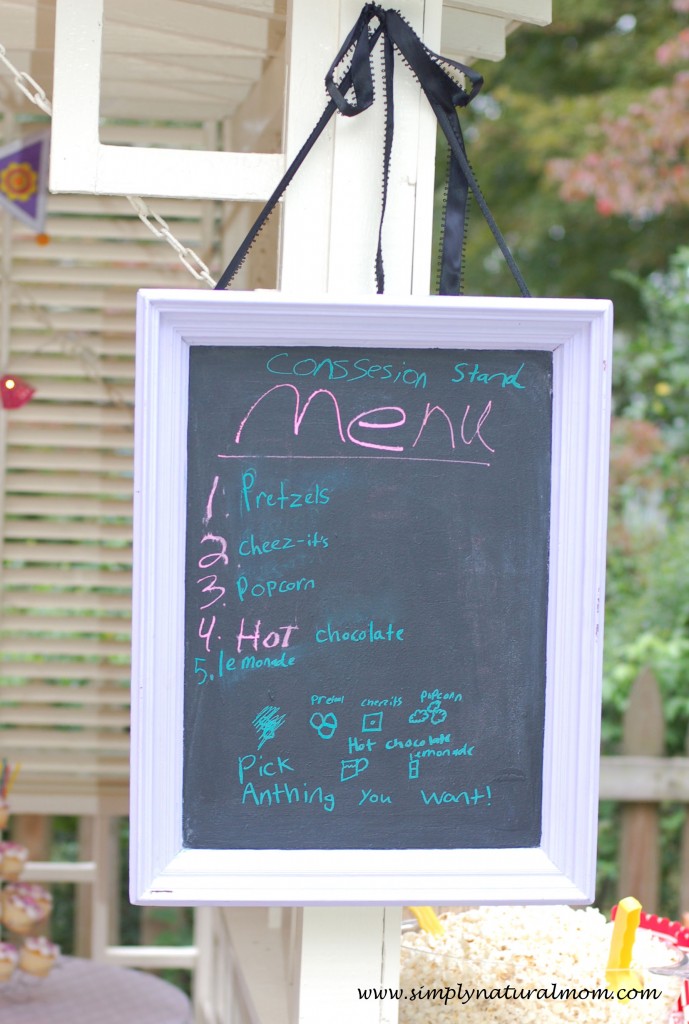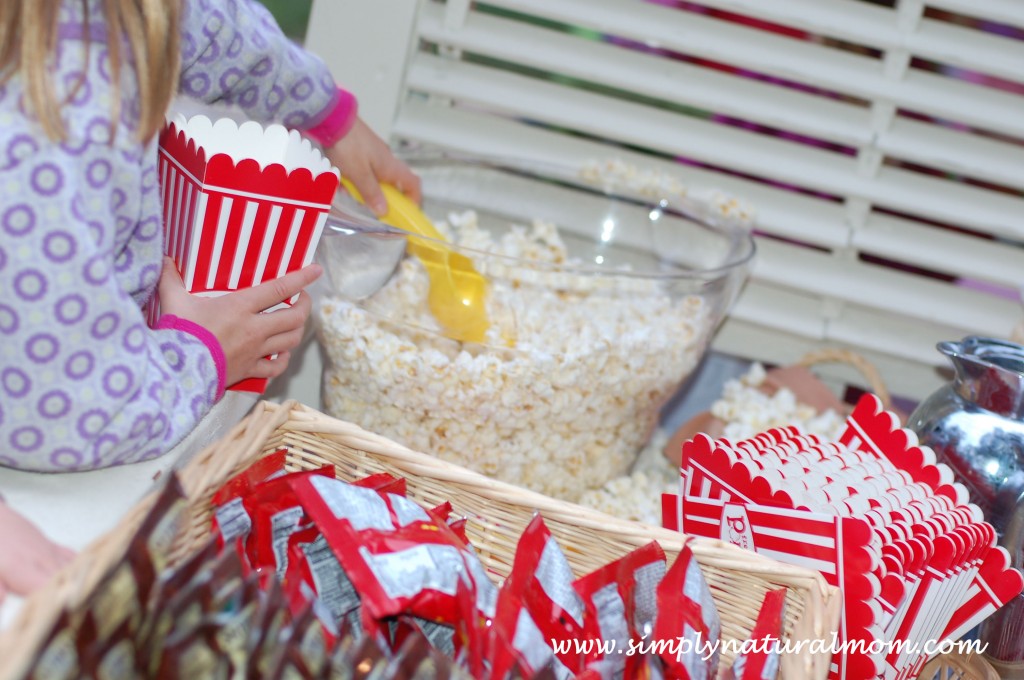 It seems my spirt of reusing things is getting passed down to my daughters. They decided they wanted games at the party. So they went searching for cans and containers for a ball toss game. The bunch even includes one with a 7 on it, from last year's party.
They made up rules, drew chalk on the ground for a tossing line, found ping pong balls for throwing and gathered old things from their rooms to use as "prizes." This game was a huge hit! My daughter went running through the house three more times during the party to restock the prizes. I loved that!!!
Since I didn't have the option of baking a cake. I took a hybrid approach and ordered vanilla cupcakes with white icing (no colored food dies) and had the girls decorate them at home. I still can not believe their were 8 candles on that cupcake!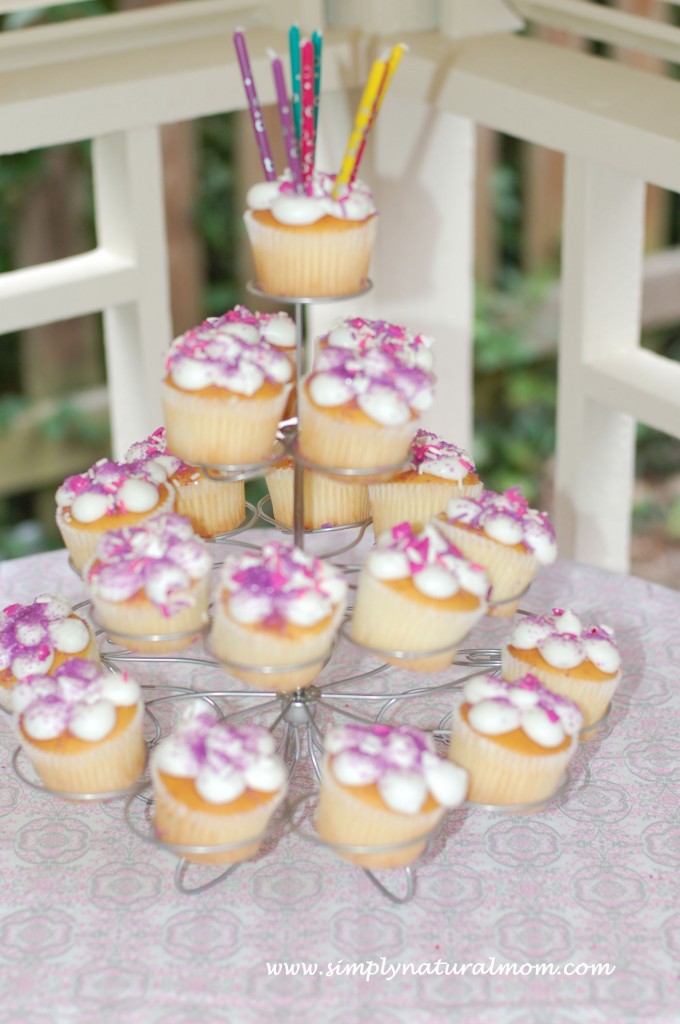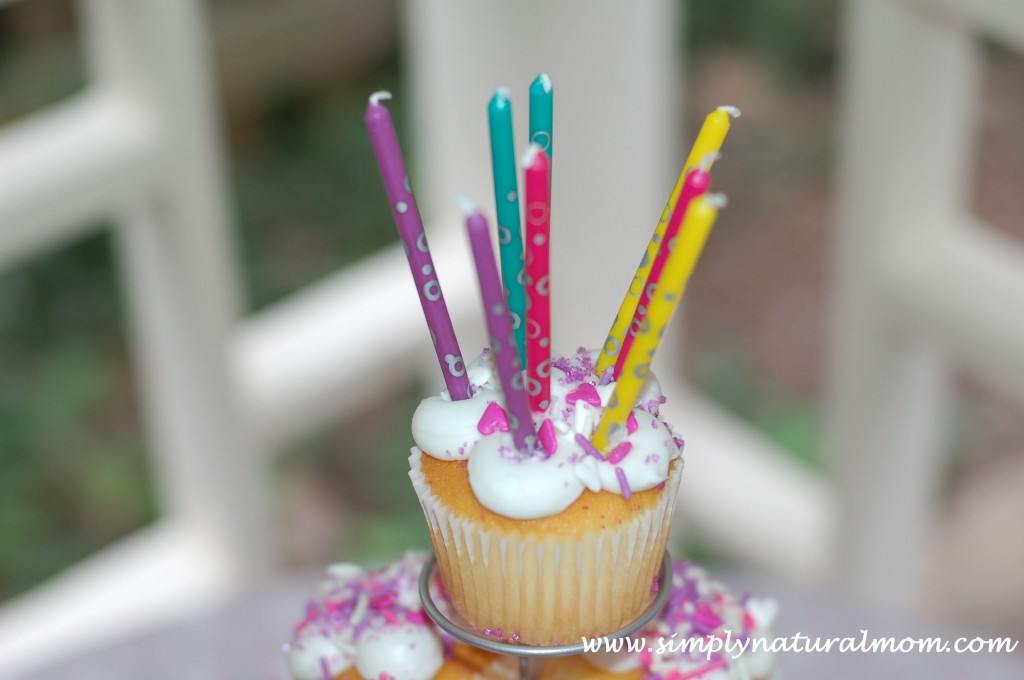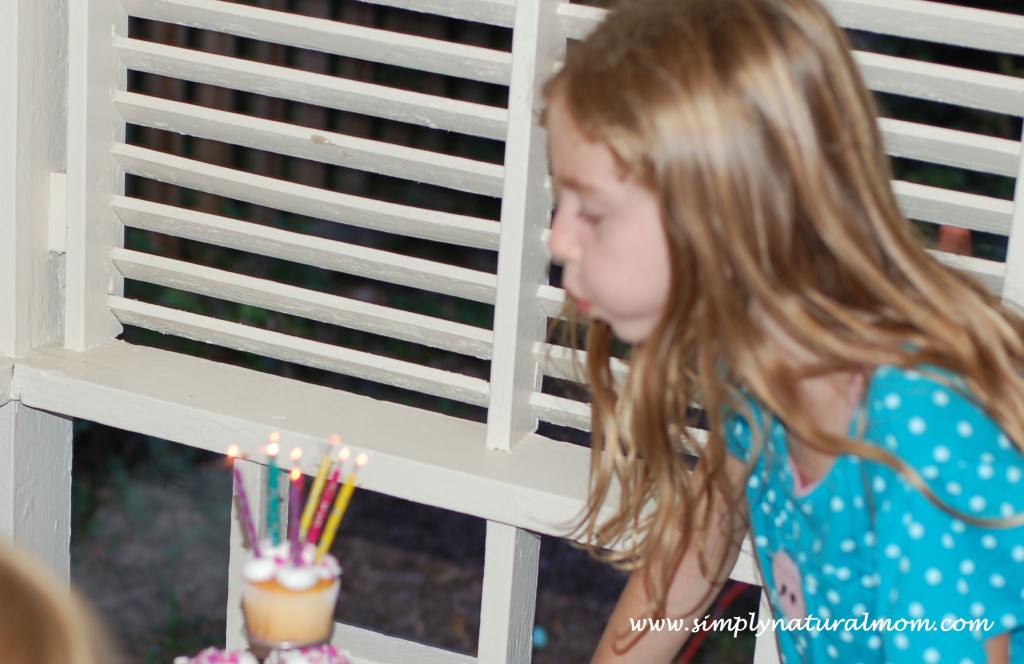 And finally, once it got dark —- came the main attraction!!! It was showtime. It was SOOOOOOO fun.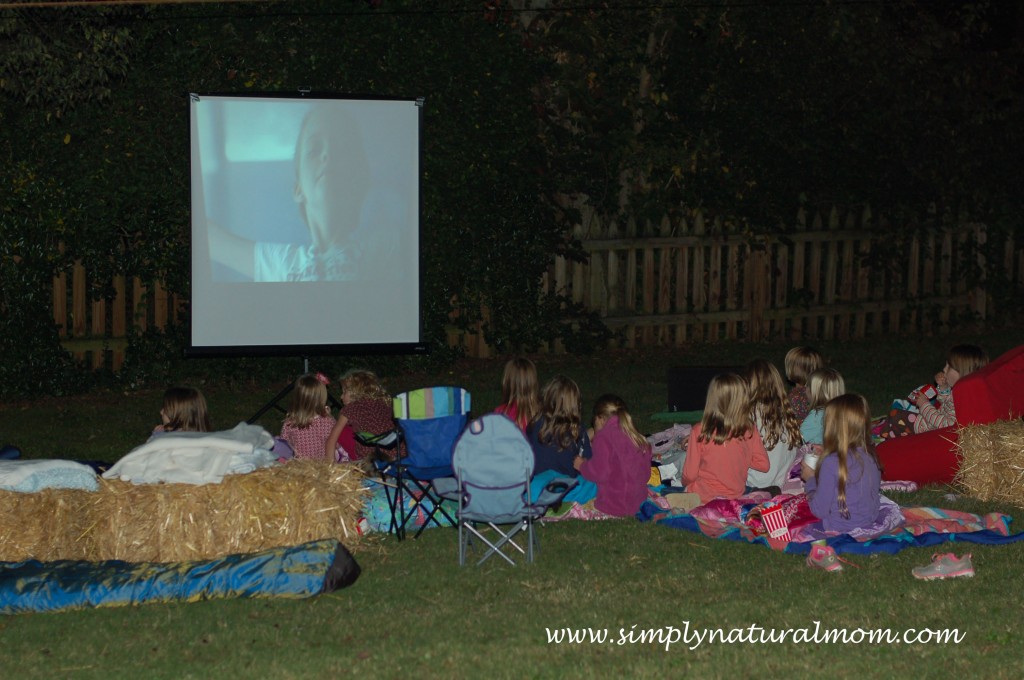 After the movie the children were picked up by their parents. For a takeaway gift we did movies I found on the discount isle at Target. They were all $5 each. We had 16 children there, including my three. I wanted to have enough movies for children to choose from, and for our friends with three siblings to not have to get the same movie. I'll return the leftovers. I loved this idea, given to me by a mom friend. It was simple. It wasn't wasteful, and I didn't send kids home with more sugary snacks than they already consumed at the party.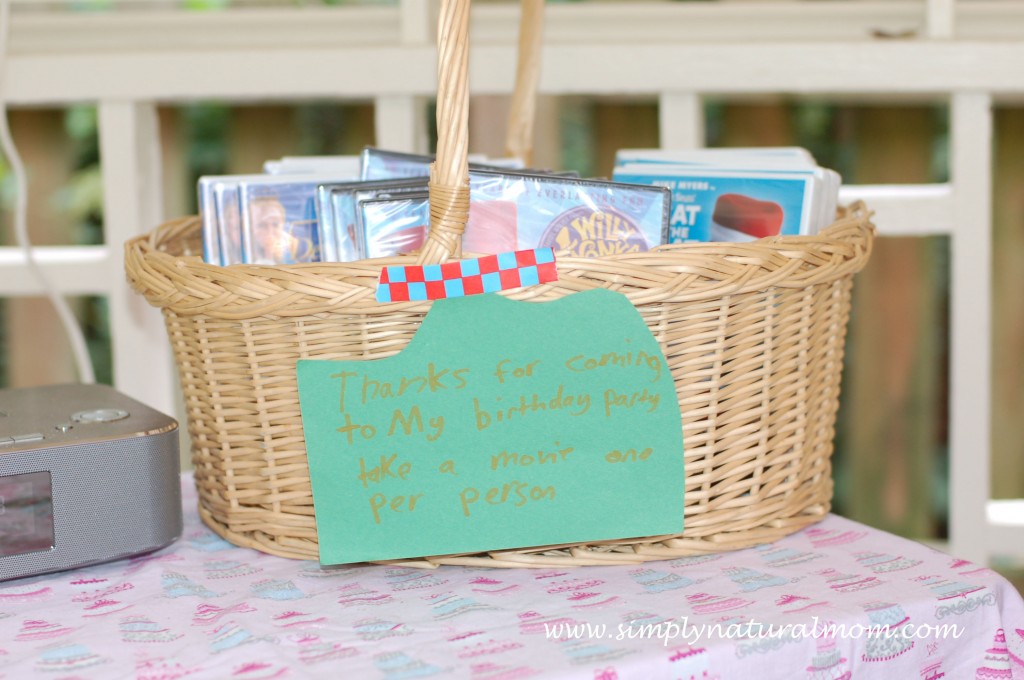 Present opening was a blast. My daughter has a really great group of friends, from our neighborhood and from school –  most of which she has known since we moved here when she was one, or when she started school at age two.  She had a friend give her a box of cheese crackers because she always takes hers at lunch. I thought that was hilarious. The homemade cards from friends were precious and so meaningful.
When It comes to thank you cards, I'm the worst at making my kids sit down and write thank you notes. This year I took a group photo of all the kids at the party and will make an online photo card to send to the guests thanking them for coming to the party. I have the perfect picture! I can't share it here, but I wanted to share that great idea with you, passed along to me from a veteran mom friend who helped me out lots with this party. She tamed my visions of a big Pinterest style over-the-top event.
It was a perfect party for a perfect 8 year-old. And I was happy to help her host it.