My oldest daughter has always been my biggest challenge in feeding a health diet.  I was saved by having two easy kids willing to eat anything that came along after her, to relieve my worries that her picky habits was all my fault. The days of her refusing to eat a basic scrabbled egg are in the past now. But they are not forgotten.
That is why, while making the meal plan for the week, it was so incredibly rewarding when she said she was going to make kale. It is, mind you, a side for her homemade pizza. But still – KALE! I had never even tasted kale until we started getting it in our CSA bin. And my eight-year-old wants to make kale! 
I am hoping this new project of ours, having the girls each cook dinner one night a week, will inspire them to open up a cookbook, be more adventurous and try (maybe even like) some new things.
Last week I had a friend call me for advice on getting her kids to eat a wider variety of foods. While I think we are far from perfect eaters, I have learned a few things along the way.
These small successes of kids requesting kale and liking spinach come after years of hard nosed effort on my part, visits to farms to teach kids where food comes from, and continued education about why it's important to eat a variety of healthy, whole foods. I do cook a few different things every night to make each family member happy – vegetarians and non-vegetarians. But we have a rule that you have to eat a vegetable and a protein, and that no one is allowed say anything rude about the food at the table. When one kid says "ewww" to something, it's a sure guarantee that the rest won't eat it either.
We eat dinner together every night, family style with the food on the table. The girls – even my three-year-old – serve themselves and help pass the food around the table. I always make sure there is at least one thing everyone will like, even if it's just sweet potato french fries. Everyone has to put something green on their plate.
And that is dinner – with nothing more to eat after dinner. It probably sounds harsh to some. But if a child is hungry at 7:30 my response is, "You should have eaten more dinner. You can have a big breakfast in the morning." We never eat before 6:30 and they are in bed by 8:30. So I really don't think it's too much to ask to not eat again until breakfast. 
There have been trying times, and kids crying at the table times, everyone whining about what I made times and plenty of mom drinking wine times. But now our dinnertime ways have become part of our family culture. And finally – FINALLY – I believe it's starting to stick, with more and more small successes along the way.
So for other moms out there like my friend struggling to find a dinnertime grove. I say stick with it! Be strong, and once in a while cut yourself a little slack.
Like last week when I was supposed to make the Spinach Frisbees. But after a hectic Thursday afternoon I bailed. I turned on the TV for the kids, put in a frozen pizza and called my sweet husband to bring home the pad thai noodles I was craving.
My middle girl made the Spinach Frisbees last night for dinner.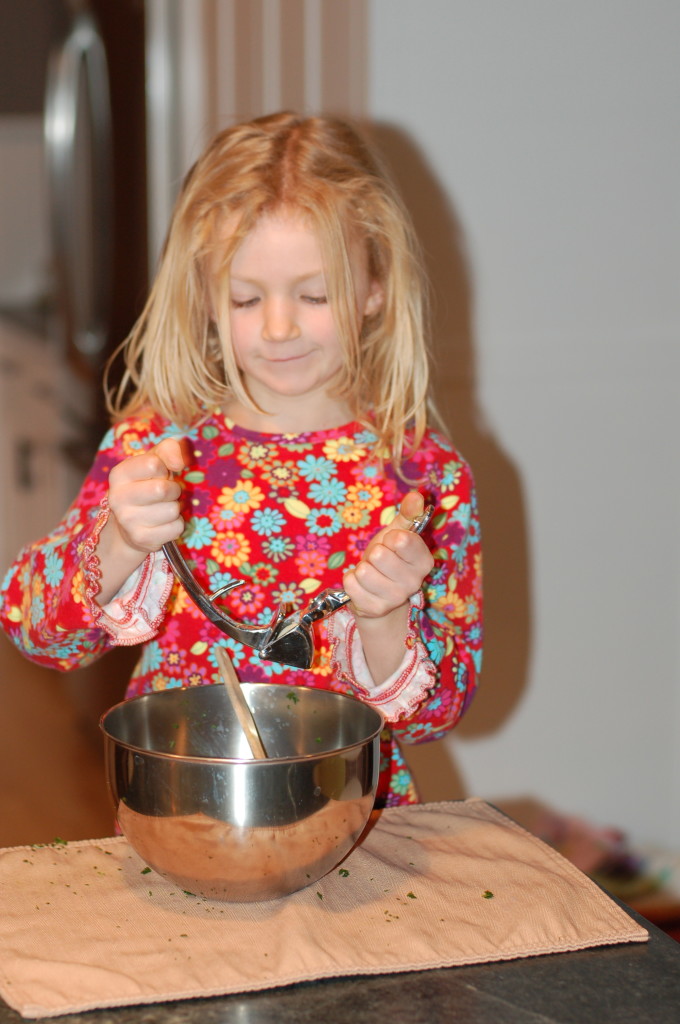 We were low on spinach this week so they ended up being chard frisbees, and they were more like nuggets than frisbees. As they were quickly cooking (some burning) I thought there was no way anyone is going to eat these. Much to my surprise they were a hit! And my picky girl volunteered her approval for us to make them again. She ate seven of them!
The recipe is from the book One Bite Won't Kill You: More than 200 Recipes to Temp Even the Pickiest Kids on Earth. When I saw it in the Chinaberry catalogue at Christmas I had to buy it, just for the name. Santa left it Christmas morning. My picky girl who knows the Santa secret said, "Mom, really!?!" Turns out we have a few new favorite recipes from it already.
Recipes serve as inspiration and a starting place for me. I never follow them exactly and I always adapt things to better fit the pallets we are feeding, using what we have fresh and on hand. If you want the exact recipe for Spinach Frisbees, please buy the book, support the author, and Chinaberry.
Here's our adapted version of the Spinach Frisbees recipe, using fresh instead of frozen greens, different cheeses,  and a food processor.
Put fresh spinach (or chard, or both) in the food processor. We used a few handfuls of spinach and about seven large leaves of chard with the stems cut off. Pulse until very small but still resembling small leaves.
Add two-three minced garlic cloves, two-three eggs (depending on egg size and mixture consistancy), 1/4- 1/2 cup bread crumbs or a mixture of crackers for a good kid friendly result (I did a little of both).
Add the cheese. The recipe calls for 1/4 cup parmesan cheese. I used 1/2 cup pre-shredded blend of pizza cheeses and a handful of feta cheese – because I have gotten the thumbs up making spinach pizzas this way before and that's what was in the fridge.
Blend it all together. Then in a pan put a thin layer of vegetable oil and turn the heat on medium-high. Form small frisbees or nuggets out of the mixture and lightly saute (okay, more like fry), flipping them as you go along. They cook fast! I suggest making the frisbees before, or you might not be able to make them as fast as they are cooking. When done, we put ours in the toaster oven on low to keep them warm while we cooked the rest. This made a lot. And I think I about tripled the original recipe. Which was good for our family of five.
We served them with marinara dipping sauce for the kids. I figure it's better than ketchup. They are eating chard after all. Which makes it all OK.
I must confess, my patience did come unravvled when my middle girl lost interest in cooking halfway through this time. But the peace was regained with the impromptu additions of edamame and her happily munching on plain lettuce like a little rabbit. It was a lesson for me that she wants to be able to do all the steps on her night to cook – not pushed out of the way when there is hot, splattering vegetable oil.
Since I'm helping one child cook, while home alone with three children – we have a rule for that. If you are not cooking that night stay out of the kitchen, unless you have been asked to help. The girls see this as special time, and want to approve who gets to help. Usually, helping is encouraged and it's not an issue. But if it is, like it was last night, the rule is go find something else to do.
If not helping or setting the table, the other girls may choose a craft, read a book, play a game, do a chore or go play upstairs. (Going upstairs rarely happens because no one strays far from the kitchen when they are hungry.)
This was the scene Monday night, as a game of ISpy was opened for the first time, and a biggest sister happily entertained the littlest sister. It was another sweet success.