My idea of crafting with children has become more and more simple. They enjoy creating best when they do it on their own terms, indpendently, and with proud results.
Since setting up our Montessori craft shelf, cards have been made for teachers and friends, we have found love notes hanging off the chandler, our bed frame wrapped in pipe cleaners, had sisters make necklaces and rings for each other and so much more.  There's been a whole lot of Valentine crafting happening here, in a very open-ended child-led way.
I stocked what used to be our lesson shelf, with inexpensive craft supplies. Some of the stuff we had on hand. Like silk flower petals for collages, leftover stickers from years past and a hodgepodge of stuff like beads and paper that I sorted out the pink, red and purple items. A few essentials are new.
The trays with crafts have already been rotated out a few times, using a few simple dollar isle crafts. We have options for the the older children, who are no longer entertained by simple stickers, collages and stamps. They include sewing pom pom strings, using stencils, sissors, staples, hole punches, and beads for jewerly making. And yes I keep a real sewing needle out and handy for them, even for my three-year-old. I also keep glue, paint brushes and small glass bowls handy from their collage work. As well as pencils and pens for card writing.
When little ones are trusted with open access to these types of materials I truly believe they learn to use them properly and respectfully.
Peeling and breaking the crayons to make melted heart crayons is my youngest's girls favorite gift to give her little valentine friends. She remembered doing it last year and as soon as I brought up the idea of Valentines she requested doing them again! This is a joint effort, and an ongoing one. But my oldest and I both agree there is something oddly satisfying about taking the paper off a crayon, and the reward of finding one where the paper comes of easily. It's silly, I know. Then again, maybe it was the time we spent doing it together that we both really enjoyed.
Here's what the lesson shelf was stocked with the day I photographed it. The girls really are great about restoring it, and keeping it tidy. And I expect them to do so, just like they would with Montessori lessons. Sometimes it takes a few reminders and me offering a little help in the process. But they always do most of the clean up work themselves.
These are two examples of dollar isle crafts that I made into lessons on the shelf.
Those heart doilies and pom pom's go a long way, and have been a favorite among all the girls who come and go through our doors so frequently.
I love the true open-ended crafting taking place daily here, from the hearts of the littles.
As for the big ones, my oldest girl made this big pile of loot and stashed it away to throw a Valentine party for her dolls which I think is pretty sweet.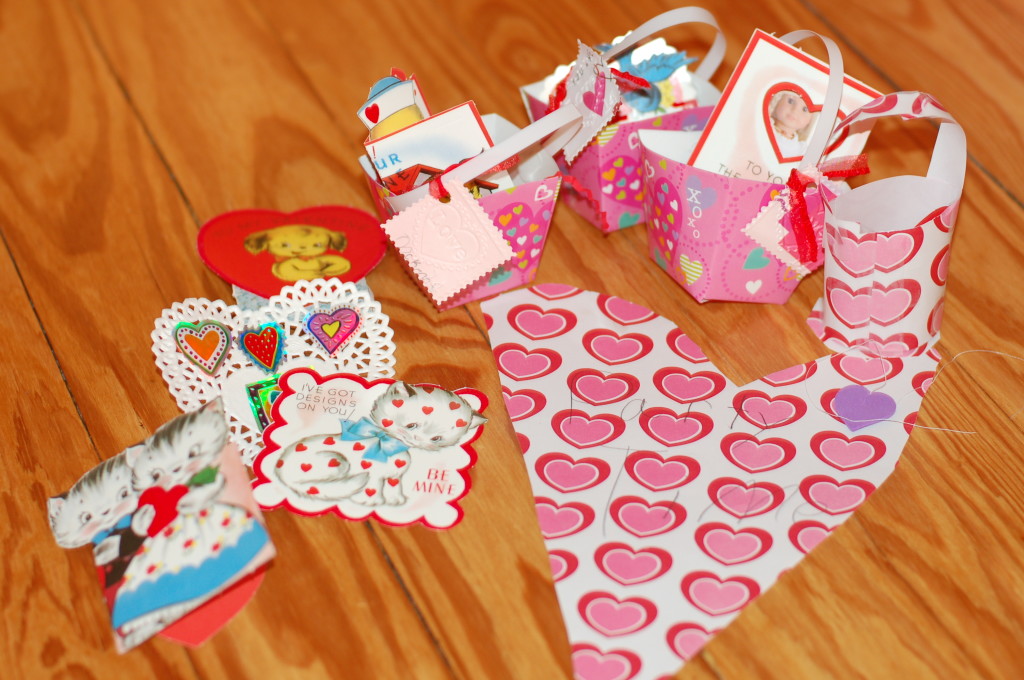 But the sweetest is them making simple things for each other.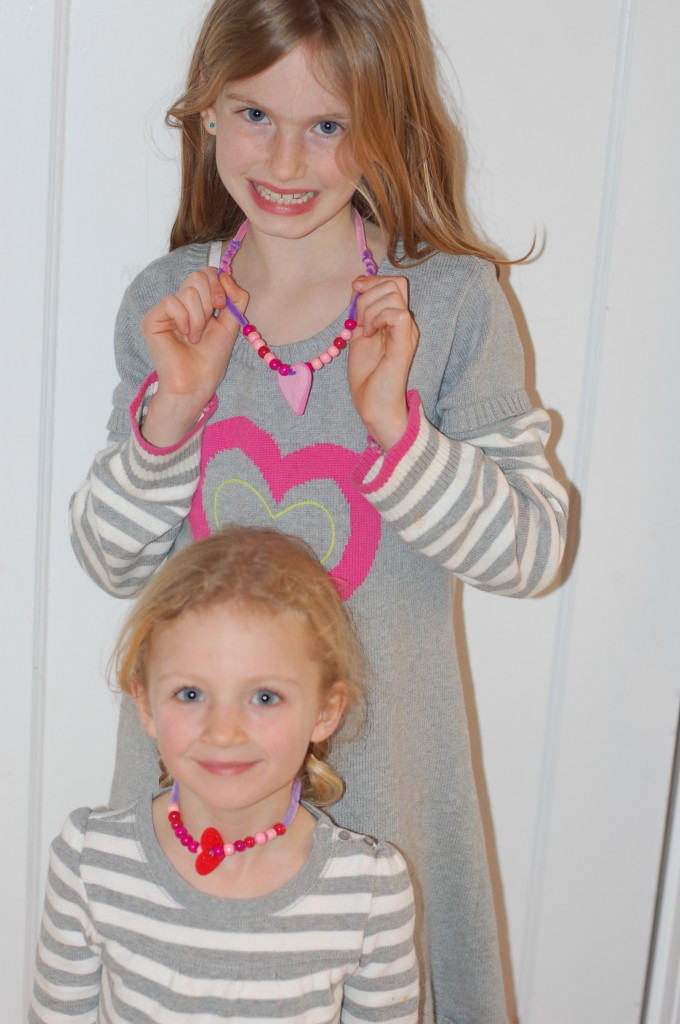 And of course finding love notes on my bed from them, with a headboard wrapped in pink pipe cleaners. That's pretty sweet too. I know one day I'll miss the days of my dinning room being covered in crafts and my chandilier having paper hearts hanging from it.
I think we'll go peel some more crayons……