This colored salt lesson using sidewalk chalk and an Asian mortar and pestle set reminds me of sand art in a bottle. Like the stuff you make at festivals or buy in craft kits. Only this one uses stuff you have at home.
This lesson was a hit with all my girls at their Montessori school in the toddler classroom, done on the deck the warmer months approaching summer. My three-year old suggested doing it home recently, along with the moon dough, which is a sensorial lesson.
The colored salt lesson addresses fine motar skills, hand eye cordination and makes something pretty. Which us girls always appreciate.
If you run out of salt (because I always do). I have discovered clean sand from our sandbox does the trick just as well as salt (with a little less luster).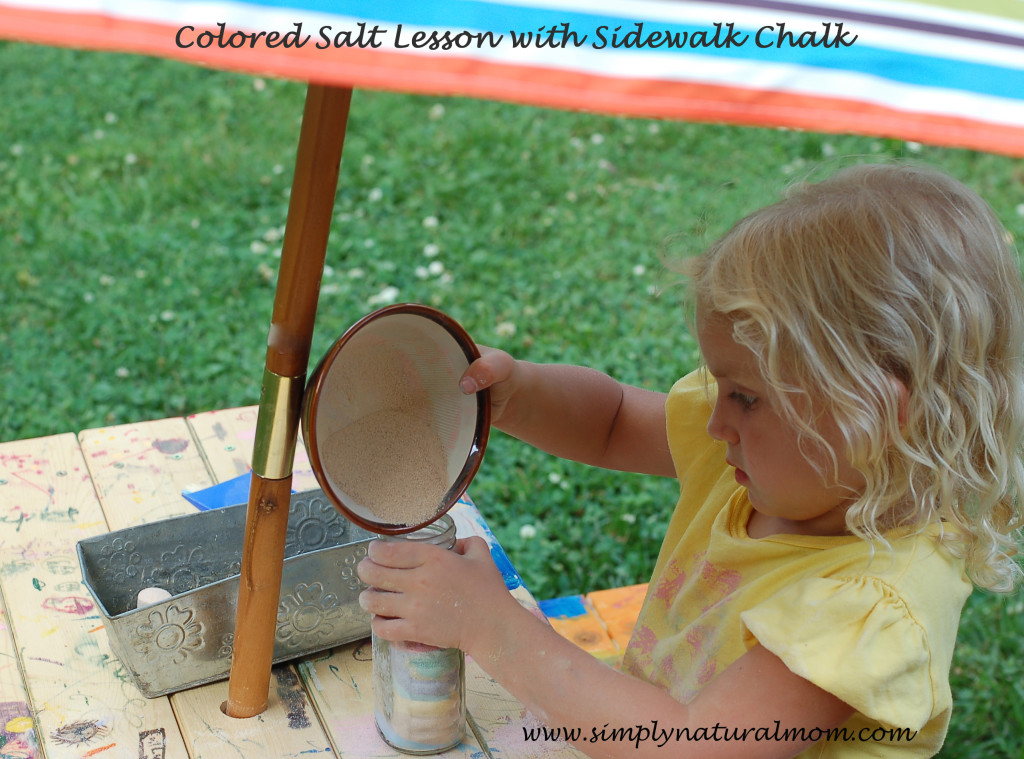 Needed:
An Asian mortar and pestle set. I got mine here. The ridges in the bowl are key to grinding the chalk.
Side walk chalk
Salt (or clean play sand)
A bottle to pour your colored salt (or sand)
Directions:
Pour about 3-4 tablespoons of salt (or clean play sand) into mortar and pestle
Choose a sidewalk chalk color and use that as the pestle, stirring the sand as the chalk grinds down and colors the sand
Pour color into jar and start again a new color
In the Montessori class, the supplies are set out on a tray and the students have a group jar they add their colors too – providing a colorful decoration for the class to enjoy.
 If you are wondering about the kids picnic table with the Children's drawings, it is a work in progress. I have one finial step to complete before I share the end result. Stay tuned.