My middle girl turned seven Saturday. With cold temperatures, winter birthday parties can be tricky. Backyard parties allow the most guests for home parties. But in the cold, kids want to stick the inside more. This year, my girl recalled the hot chocolate and Frosty the Snowman movie party she had when was four. We  played pin the nose on Frosty, scooped "snowballs" aka cotton balls and did fun little four-year old things. She asked for a party at home like that again, "but with bigger kid things because my friends don't like those kinds of things anymore." Of course, she is SEVEN now. But it was so sweet that she remembered that party so fondly, recognizes that she is growing up, and that she still likes the same kinds of things. And more than anything, she cherishes having a winter birthday.
And these days, I'll embrace any kind of little girl sweetness. Because I know, come eight, it might different. Still sweet. But much bigger. Here's what we did for seven.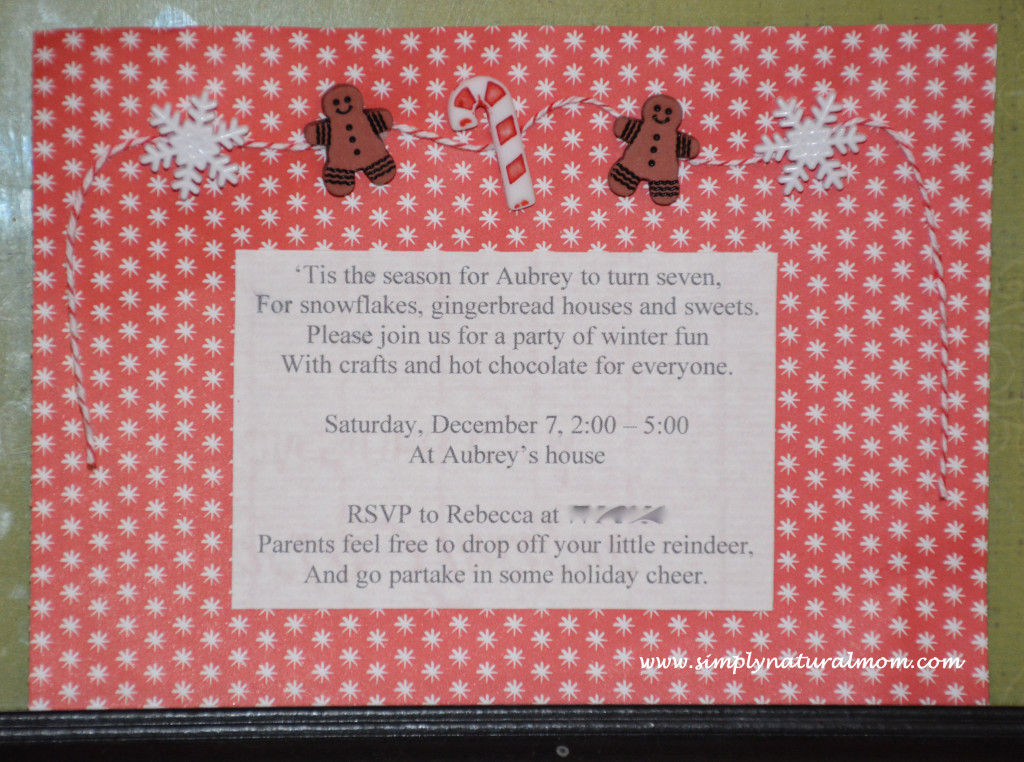 A little note: I LOVE parent drop off parties now. It's so nice to spend time with just the kids, and have the focus all on the children. I really had fun with the girls at this one!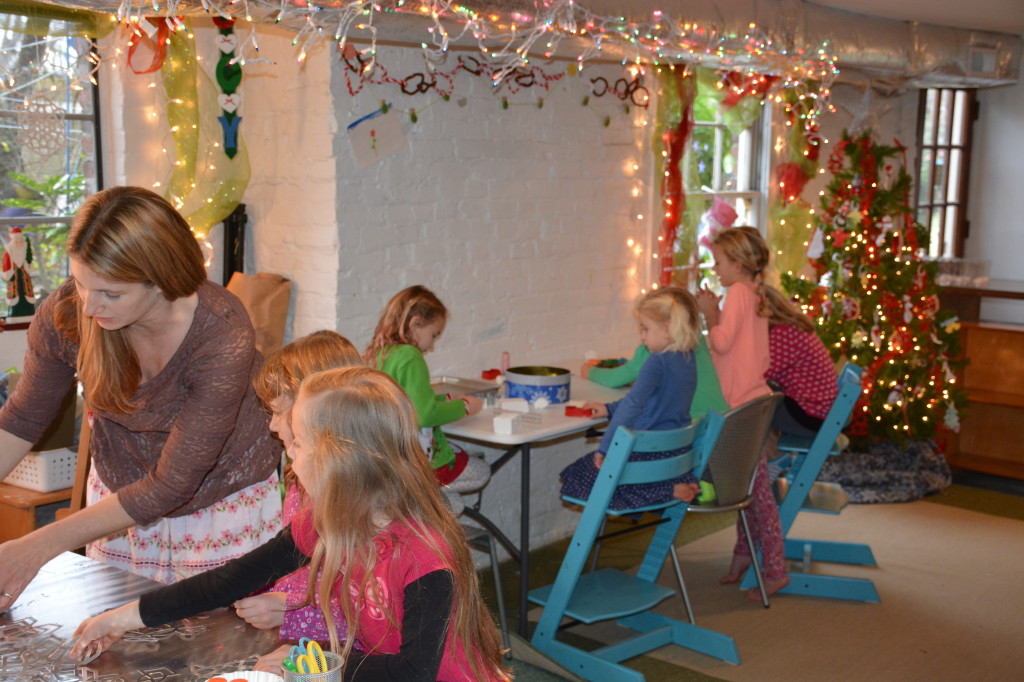 We turned the basement into the craft area. There we made beeswax candles (with kids from Hearthsong), clay snowmen and ornaments using polymer clay by Sculpey (available at big craft stores) and decorated snowflakes (from Hearthsong) with glitter. These are crafts my girls have loved and mastered through the holiday years at home. They naturally became teachers for their friends. Which really helped me while facilitating crafts with 10 girls at one time.
After the basement, they ran up to decorate the gingerbread houses.
I love, love, love these candles filling our home and lighting out dinner table during the winter months. These are the "demonstration candles" my girls made before the party and placed them on the candle table.  Next to them is a tin of assorted small Christmas cookie cutters they used to cut out designs for the candles.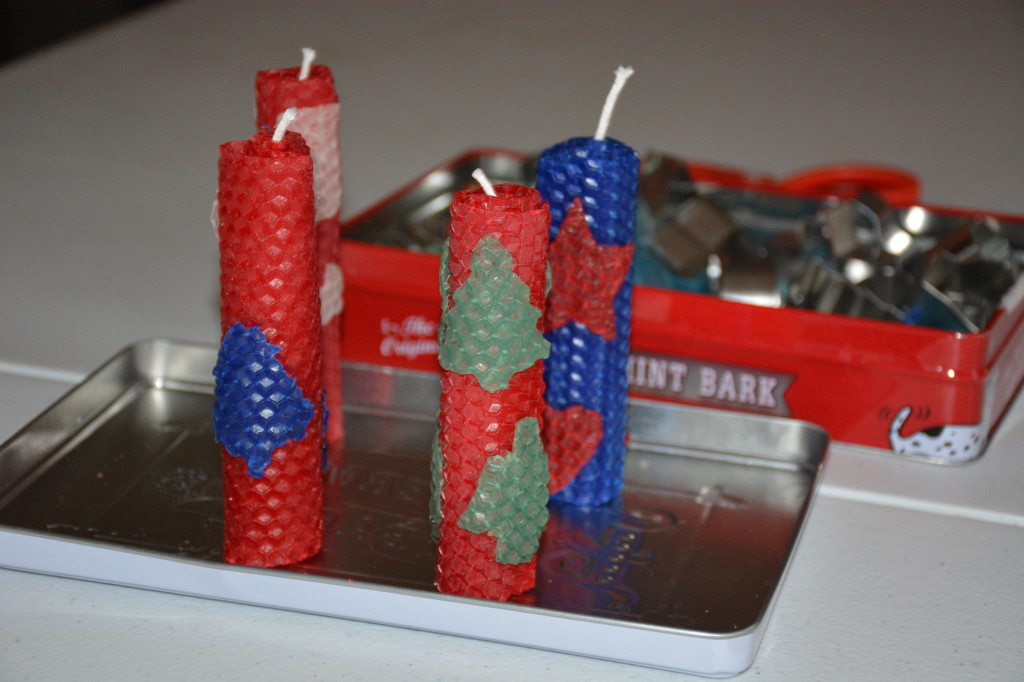 The clay pieces get baked at 275 degrees for 15 minutes. I think they turned out SO cute. They used cookie cutters for the patterns, flatting the clay out mostly by hand. Some found the need for rolling pins. In which I was thrilled that I (a hoarder of all things small and Montessori like) had seven child size rolling pins. Crazy! I know.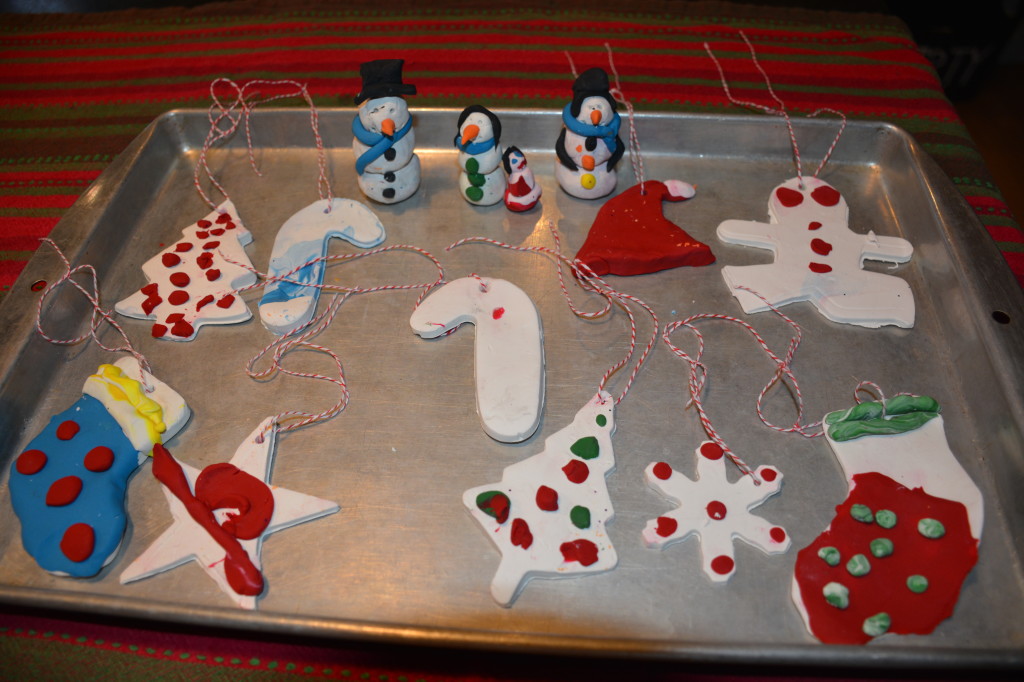 The first girl to make a glitter snowflake asked about the mess, "We just do it right here? What about all the glitter?" I loved responding don't worry – that's what the basement is for. It was a free pass to use lots of glitter! Our basement will forever be covered in glitter. But really, that is no different than it ever has been before. Because girls LOVE glitter. And I can't deny a girl of that. In all, they were very mindful Montessori (because most all the guests were school friends) crafters.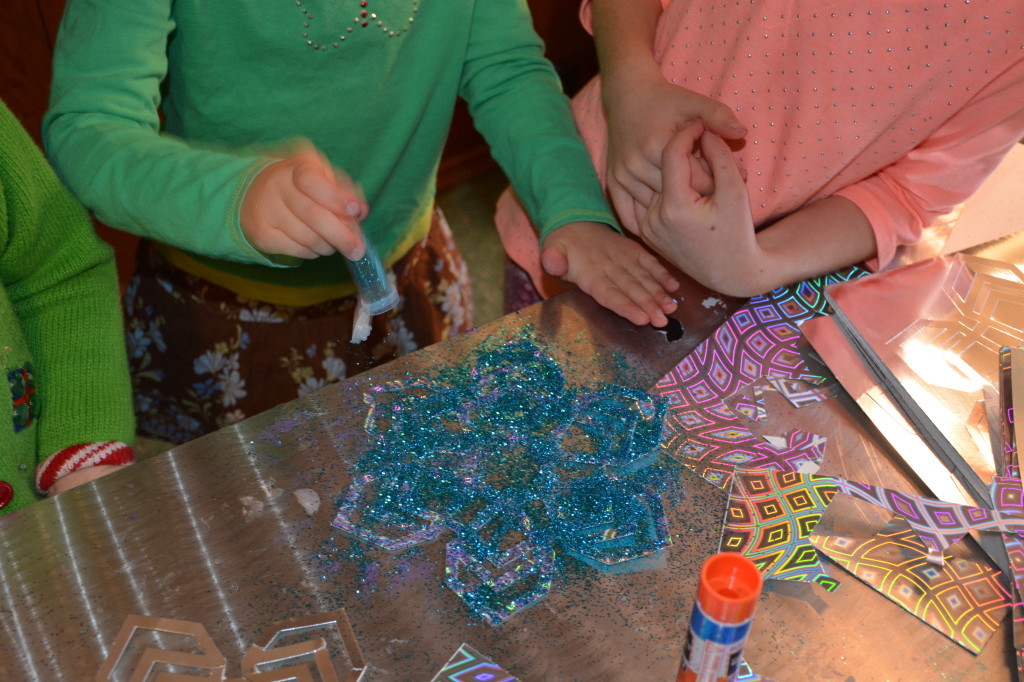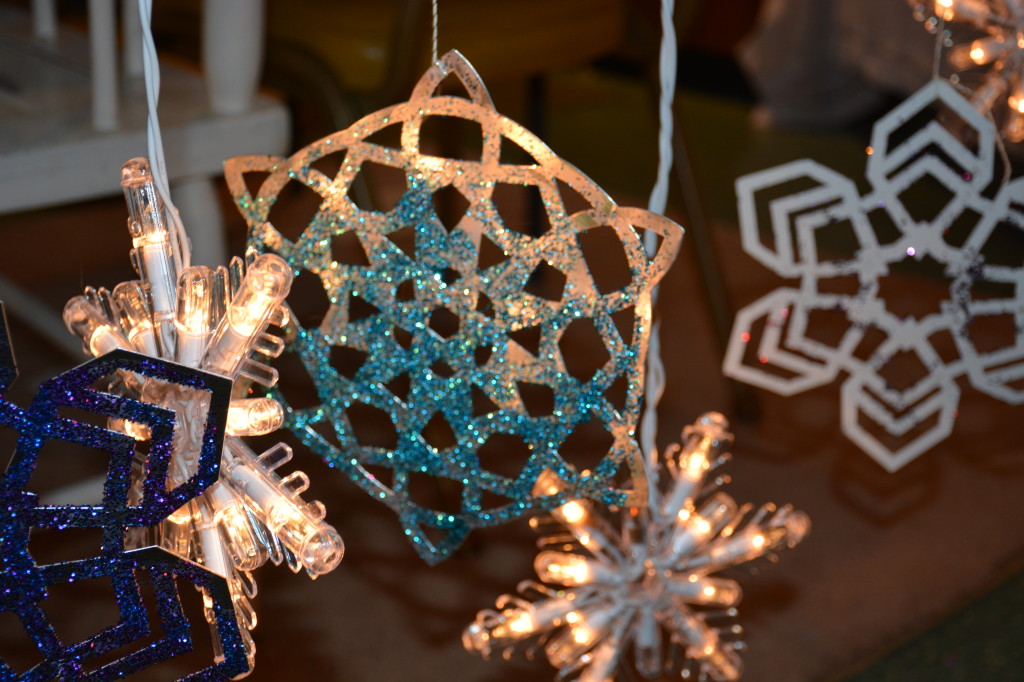 The birthday girl was a little worried about how I was going make the basement suitable for a party. It's our crash all, craft all, place of great fun –  but very practical, always full of laundry, and not fancy like a party. Twinkle lights and a real Christmas tree, cut down by the birthday girl, were the answer.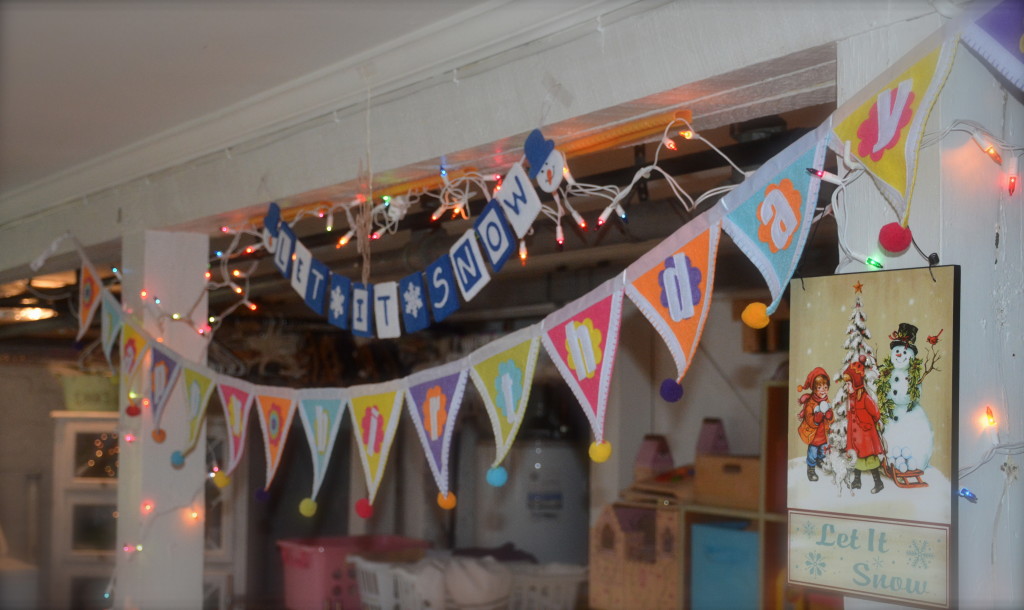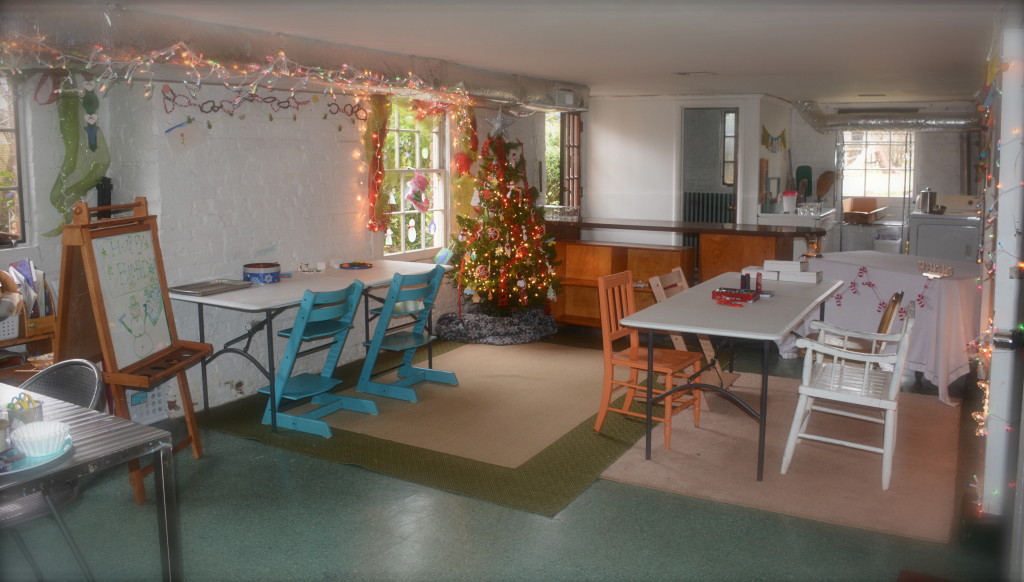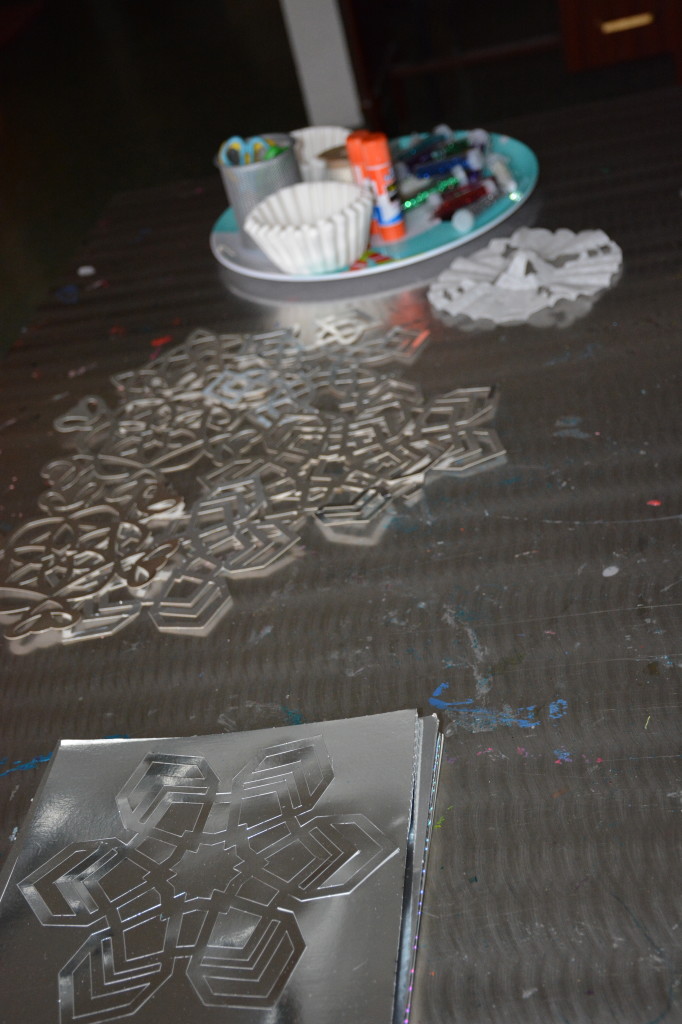 That all lasted about 45 minutes. Then they ran upstairs eager to decorate gingerbread houses.

I pre made the houses using graham crackers and frosting. A note if you do this –  get the good the crackers. I tried the Kroger brand first, only to find out they were half the size, and half broken. I used tubes of Betty Crocker frosting to make the houses, about one tube per two houses. It wasn't cheep, but it stuck like glue in comparison to the second batch I  made (after the party) using a tub of frosting that just doesn't harden enough to prevent the awful collapse that is followed by frustration and tears. So either make your own gingerbread house frosting (which I have done but was trying to take short cuts for making this many) or get the tubes. For the children to decorate them, they each had their own Betty Crocker bag of frosting with the built in cookie decorating tip – which is different than the hard to squeeze tubes which use the decorator tips you buy separately.
This was the prep…..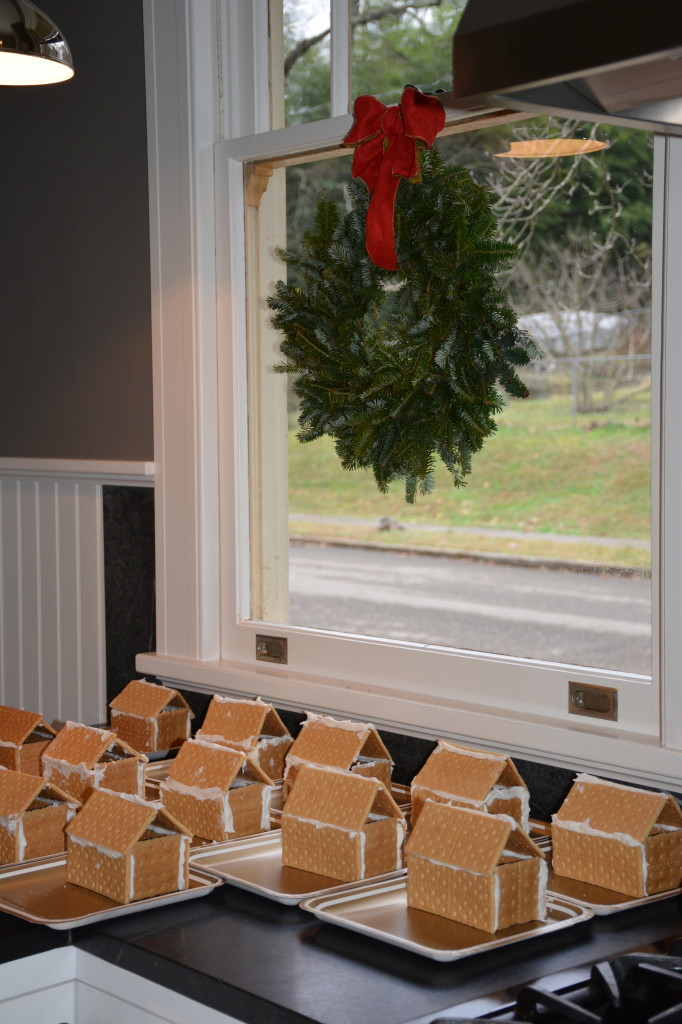 Here is the set up with the candy for decorating. Each girl got a small holder for her decorations, and then of course went back for more.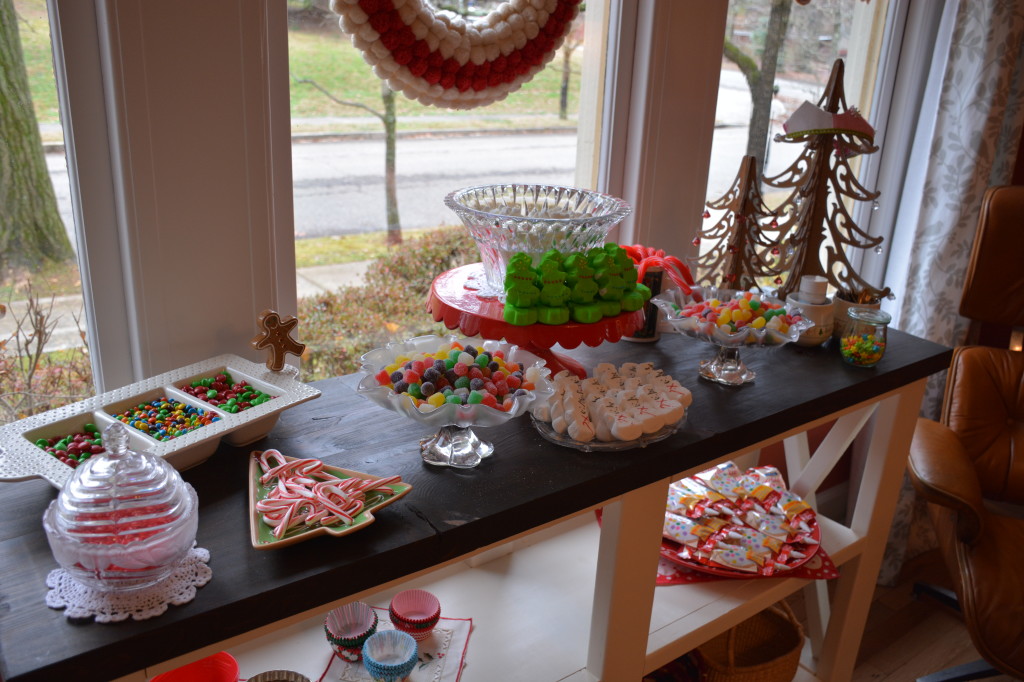 There is natural about this candy. I can not lie. Lots of cheery food coloring that we embrace this time of year for something like this. For ideas for a heather version, check out the real gingerbread houses we made two years ago using all candy from the health food store. This time, we were going for the birthday affect.
It was a cold day outside, bordering freezing temperatures. While driving to the birth center on the day my middle girl was born, it snowed. She was supposed to be have been born on Thanksgiving but she was 10 days late and became a Christmastime snow baby. It only seemed to right to make snow at her party!
I bought five jars of fake snow. It started out a controlled science experiment. And turned into the most perfect moment with the birthday girl throwing snow in the air. They ice skated on it, and had a blast. Coincidentally, Dean Martin's Let It Snow came on the player while it was all happening. It was a perfect birthday moment for mom. And when I really appreciated my husband who took whole heartily took on his task as Mr. Wizzard for this project.
The only rule was the snow had to stay on the concrete, so it could be swept up later. Because I read  on the Amazon reviews that it's a nightmare to get out of the grass.
For our first party ever, I bought a piñata. Because I was worried what I would do to keep 10 girls entertained inside for three hours. My plan that fake snow and a piñata would get them outside worked. And I learned a valuable mom lesson. When you deprive your children of  piñata for this many years, such a simple thing, they are REALLY excited. As my girls stuffed it full of candy – an amount of candy they have never before seen in this house – my oldest said in sheer amazement, "Mom I can not believe you bought this much candy!" Yes, sometimes I can surprise them. This face was worth the cost of the candy and the sugared up kids. We told them to eat two pieces and take the rest home. Sorry parents.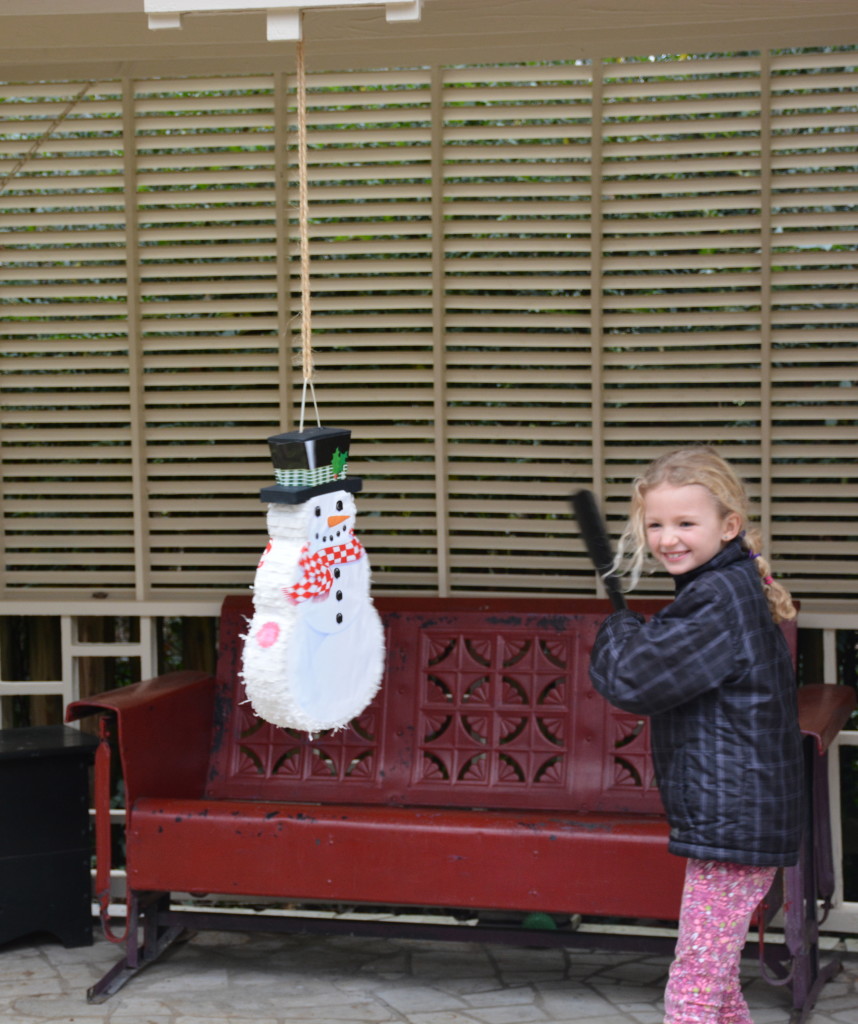 And the girl's dad who lives here was pretty darn excited to get out his Georgia Tech baseball bat for the occasion!
It was COLD. Hot chocolate and popcorn was welcome.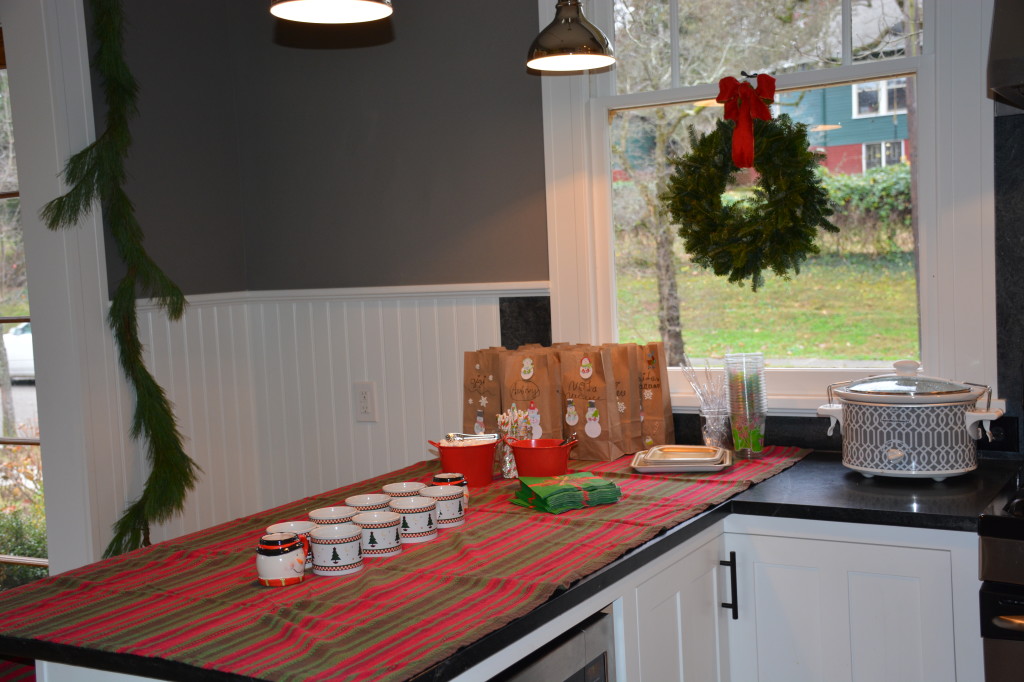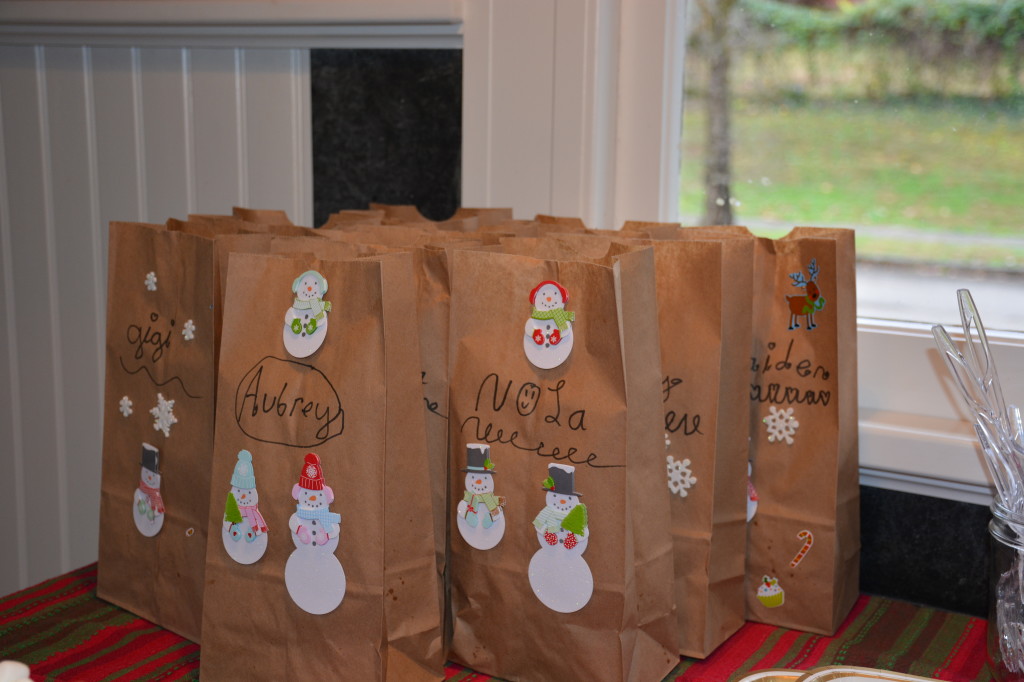 Part of the party fun is the preparations. For me and the girls. I love seeing them all get involved to wish a sister happy birthday.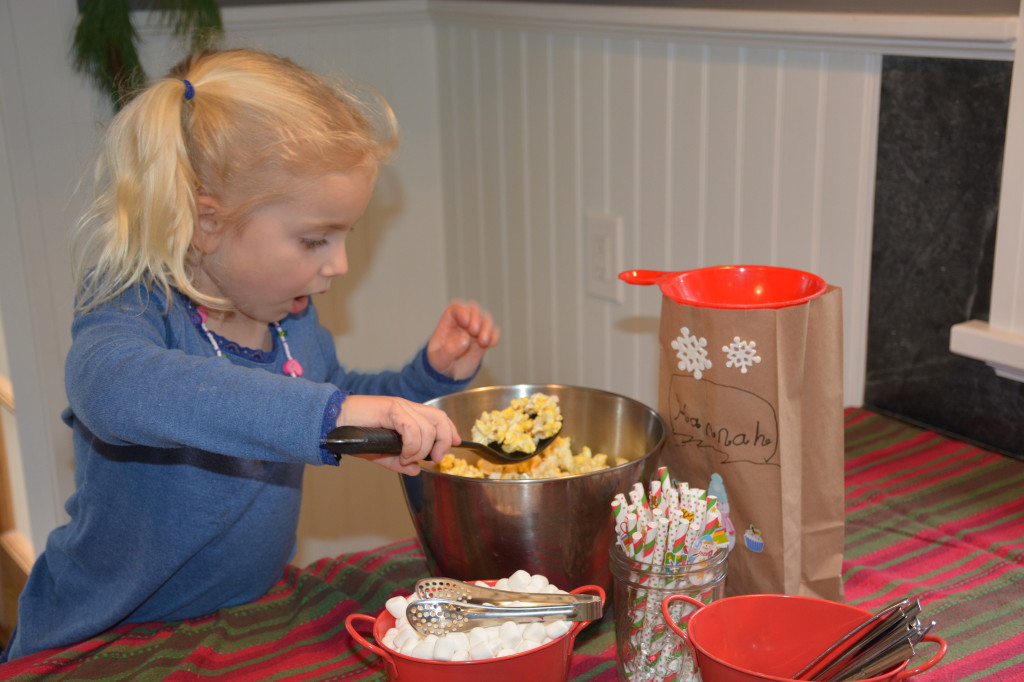 All that was left was cake, presents and watching Frosty the Snowman – which was a special request to relive the four-year-old party. Melt.My.Heart!!!
Happy seventh birthday my snow baby!