These are the few months where I don't have my vegetable CSA to rely on, which dictates what's for dinner. Therefore I have been enjoying trying new recipes and buying ingredients from the store to match a recipe I see in a magazine. I'm happy to be cooking. I really do love it, most days. Except the request for kid dinners gets really boring to me. I can only serve/eat so much pasta and cheese, pizza, hummus, black beans, steamed broccoli, raw carrots, chips and salsa and taco night.
Cooking for five is not easy here because all of us except my husband, have picky tendencies. Aside from him, my four-year-old is the most willing to try new things and eat about anything. I'll eat anything as long as it's not meat. Processed soy is a rare treat and better be worth it.
I'm still a vegetarian, but not as hard core. For example I might eat a soup that has chicken stock in it because in certain things, it just makes things taste better. I'd rather make my own bone broth for the real food health benefit. But the time I had good intentions of doing it with a leftover rotisserie chicken, I bailed, with a case of the hebejebes.  I cook a few meat dishes for my family because it seems like the best, less processed option on a whole foods scale. But it's always local, organic meat that I can slide from the package to the baking pan with little or no handling and hassle. It goes straight from oven to table, and I cut chicken in the pan with a pizza cutter to avoid putting on my cutting boards (truely).
Nine years into this kid gig, I'll be the first to say we've had our share of food battles. I have a "vegetarian" kid who won't eat nuts or beans (except hummus). Some battles we've overcome and some I've compromised on. I still ask that everyone tries things (my non-eater gets a pass at meat since I don't eat it either) at dinner, and we have a rule against saying negative comments about what others are choosing. I've come along way from taking tofurky and PETA literature to Thanksgiving dinner. But I still want my girls to understand where their food comes from.
I DO go to added lengths at dinner to make sure there is something everyone will like because I don't want anyone to leave the table hungry. BUT I will not be a short order cook. And if you don't like dinner, then you can have breakfast in the morning. There's no snacking later because you didn't like what I cooked.
Tonight was a perfect example of a dinner made for grown ups, with kids in mind.
We had stuffed peppers from the December Vegetarian Times magazine. I kept some of the arborio rice out separate and side of parmesan cheese because my girls are not keen (like most kids) on much of anything mixed all together. I wasn't either as a kid and have memories of hiding all kinds meat loafs and casseroles on a ledge under the table. 
For sides I made sautéed kale with shiitake mushrooms, onions, dill, coriander, garlic salt and sesame oil. It was so yummy mixed with the stuffed mushrooms. I also made a garbanzo bean salad with parmesan cheese, dill, lemon juice, olive oil, salt and pepper. I kept some plain garbanzo beans on the side the girls. And we had broiled asparagus because I love it and my "vegetarian" can eat her weight in it.
As a safe bet for all, I baked a pack of chicken tenders (not breaded) in a honey mustard sauce. My girls, all of them, will eat anything dipped in ketchup – sadly. A couple weeks ago I started giving them one serving of ketchup in a tablespoon size glass bowl. The ketchup  bottle stays in the kitchen while we eat. And everyone uses a lot less ketchup!
Everyone tried something new tonight but I had a backup of something they liked. No one left the table hungry. And mom and dad were happy to not be eating kid food.
I have to report, that after some hard, long years of getting kids to eat things other than chicken nuggets and pizza, it's paying off. They ask for kid dinners but don't expect them. They take turns helping in the kitchen and my middle girl surprised me by making us all lunch one day last week on winter break. It was a break through, a pay off moment. That same day I read a mom's Facebook status where she said food battles were wearing her out. She has four very young children. I reassured her being a food conscious mom will payoff. And to hang in there.
Here's what was for dinner, with many small bowls on the table that make passing and serving easier for children – especially my youngest.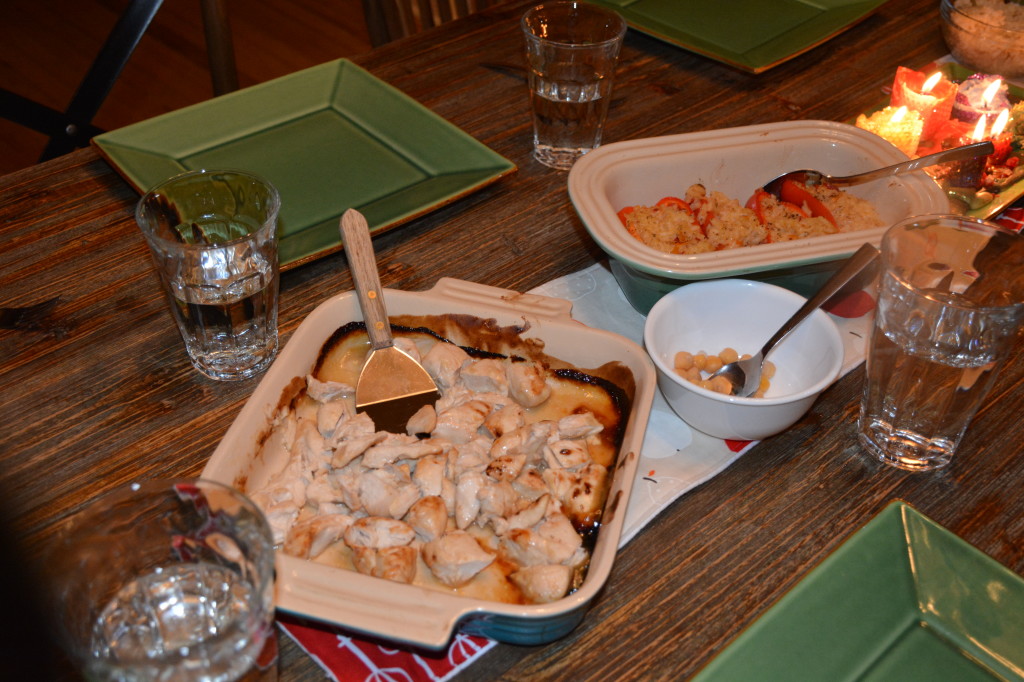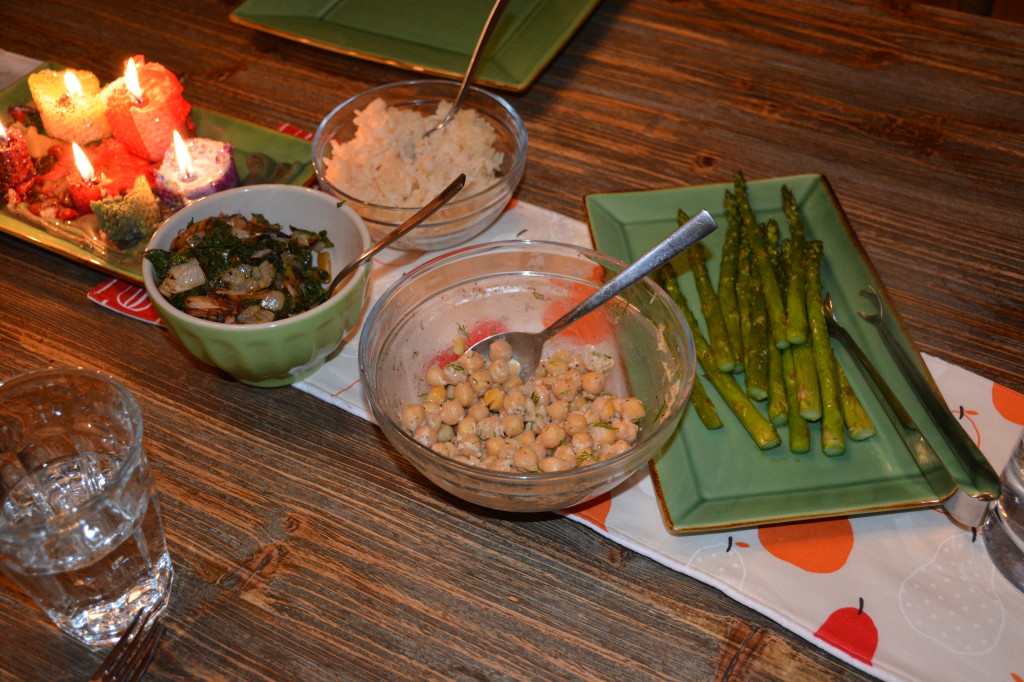 Another magazine I've been cooking several new things from is the December issue of Real Simple. They ran an article called 10 easy side dishes for the holidays.  The roasted mushrooms, braised carrots, roasted endive, beet and ricotta salata salad, and sweet potato wedges were great and will become regular things here. And it's easy ways to add something to the table to make a kid dinner feel grown up.
My hope in exposing my children to different foods is that one day, just maybe, when they are grown and out to dinner on a date they will choose NOT to order a grill cheese sandwich. I do have one who will eat plain lettuce and calls it "a salad." It's the little successes that gives a mom the power to keep going. And the sheer will to not eat any…more…kid…dinners.
If you are wanting to read more about cooking at the Simmons house, read about our 10 Day Real Food Challenge we did spring 2012. There were several more posts too – here, here, here,  and here covering everything from popsicles to homemade pizza, restaurant night at home, making yogurt and muffins for snack. 
Good luck. And hang in there mamas!