The popularity of babywearing has grown significantly since my last three girls were born.  Snazzy carriers fill up the crunchy mom stores. The market is huge. Moms collect them. Moms do everything in them from laundry to dancing to shopping to yoga.  So when our local Babywearing International of Knoxville chapter asked me to teach yoga at their annual open house, I jumped at the chance.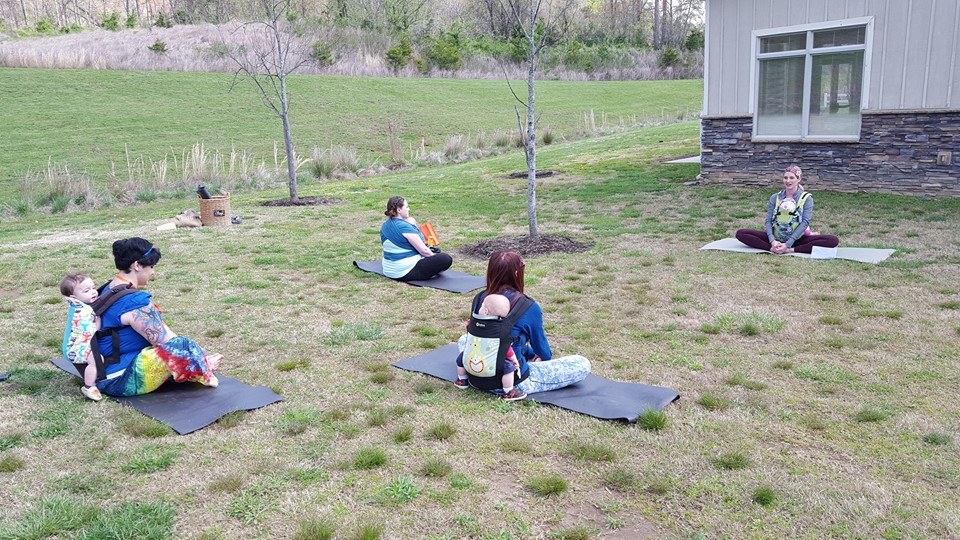 After that day a few moms asked me to post some ideas for doing yoga at home with their babies. A quick Google search can send you a flood of videos and sequences for moms. I'm not attempting to offer advice and a workout plan here. Instead I'm giving a little peek into the real life way I do yoga at home while babywearing. Nothing takes the place of a class with face-to-face instruction and inspiration. Therefore I recommend coming to a class to see how we use babywearing as a tool for creating peaceful movements with our babies while honoring where we are at mentally and physically as mothers.
I started teaching a weekly mom and baby yoga class at the Glowing Body yoga studio when my baby girl was 8 weeks old. For months she slept through most classes in a carrier. She takes all her naps in a carrier. She has logged many hours being worn. So yes, I have practiced a lot of yoga while babywearing. Because when practicing yoga everyday was my goal and she slept most of the day while my older girls were at school, what else was I going to do?
Now that she is 9 months old and crawling, I have discovered other fun ways of incorporating her into my practice that doesn't require as much babywearing. But in the early months it was a sweet bonding time for the two of us as I rediscovered my non-pregnant body and found peace and stillness in my new mom days.
Here I am doing a restorative child's pose in my living room, in February.  Baby girl was deep asleep. Restorative poses are wonderful for moms with newborns, during sleep deprived days and in the blur of everything being so new. I often turn to them when I just need to ground myself in my busy days with four children. Sharing that space with my sleeping baby connects us in a way where the peace is so much more profound. 
For moms with older babies and for those who are trying to regain muscle tone after being pregnant, there a many standing poses you can do while babywearing that do not require props. Plus doing them with a baby adds some extra weight to your workout challenge. I honestly do not think my legs have been this strong in a long time, since I spend countless hours a day wearing a now 20 pound baby.
Recently I got in a few standing poses while wearing her, before she woke up.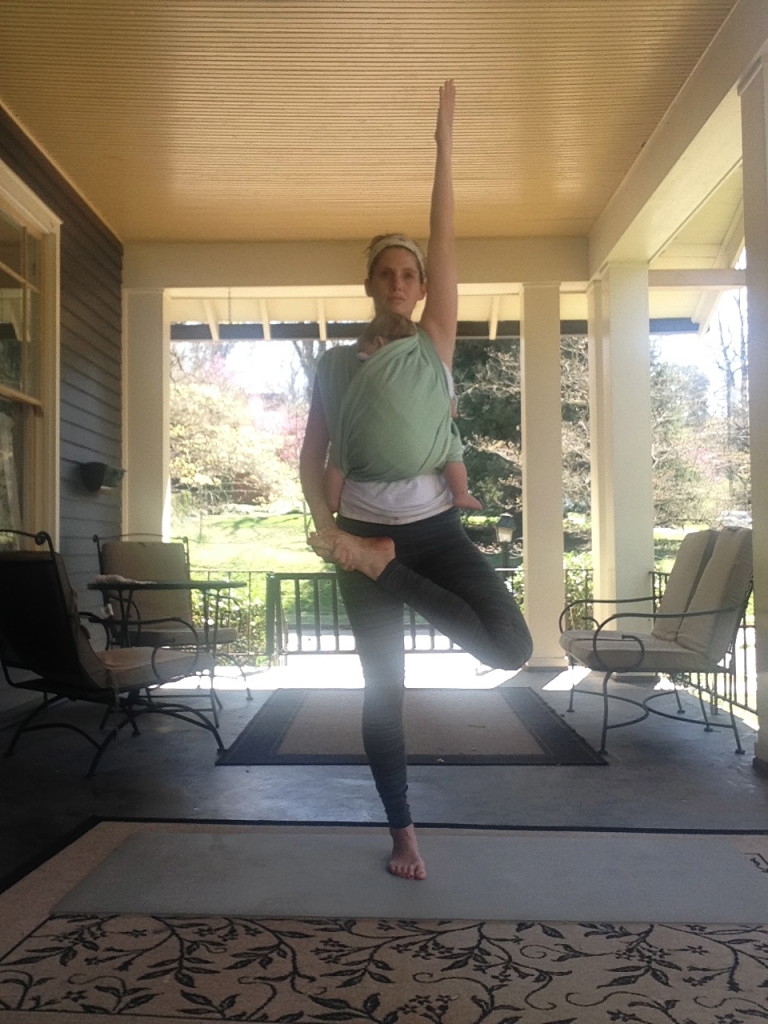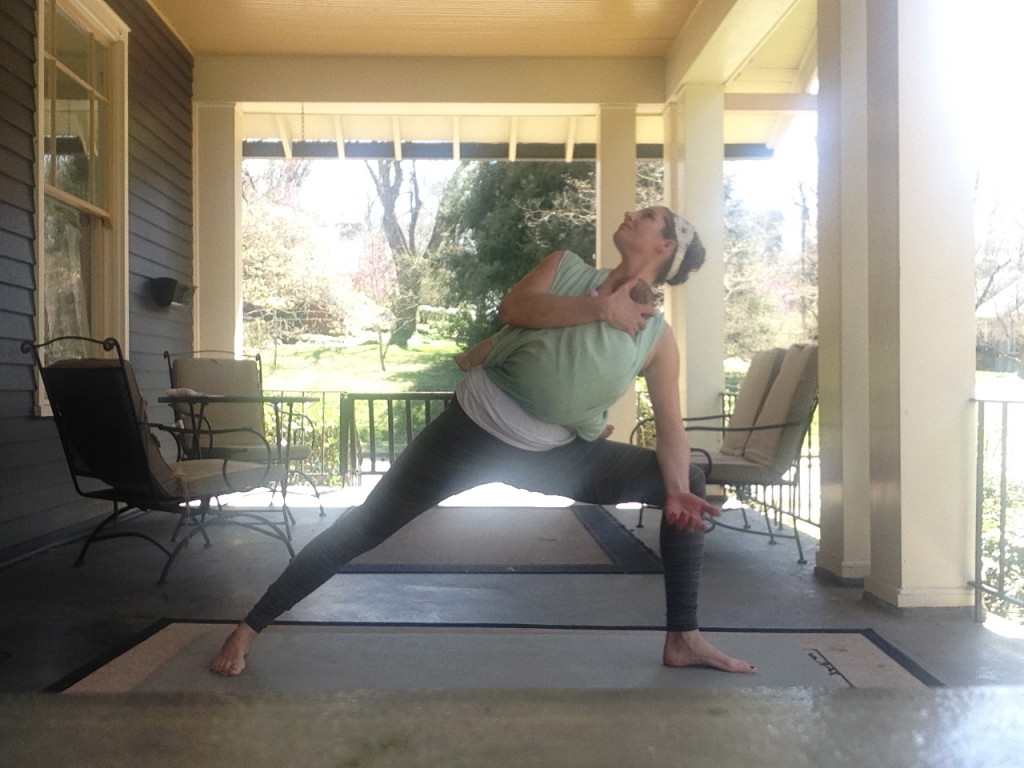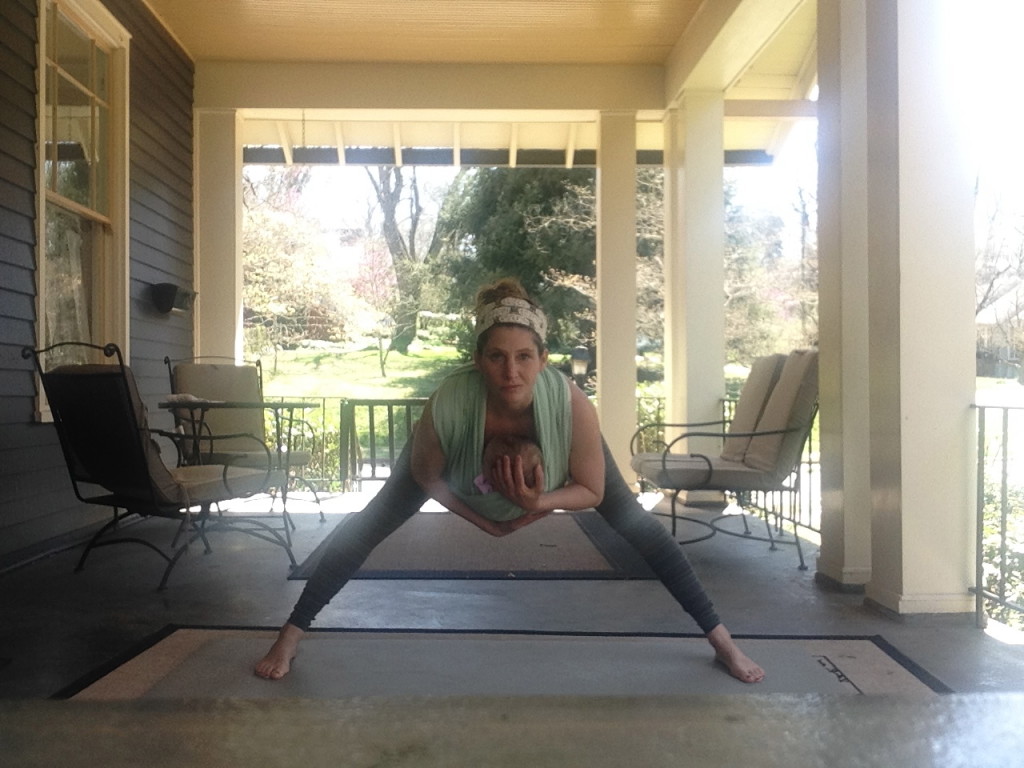 Another recent day my practice started out with her asleep, but not for long. We began  in tadasana with a standing meditation. Then we moved to a standing reverse namaste and some shoulder opening exercises to counteract all the babywearing strain on my shoulders. That movement woke her up. Therefore I flowed into what worked for us in that moment. The photos are taken from a video so the quality is not wonderful. But it gives you an idea and some possible motivation for the yoga you can do while babywearing.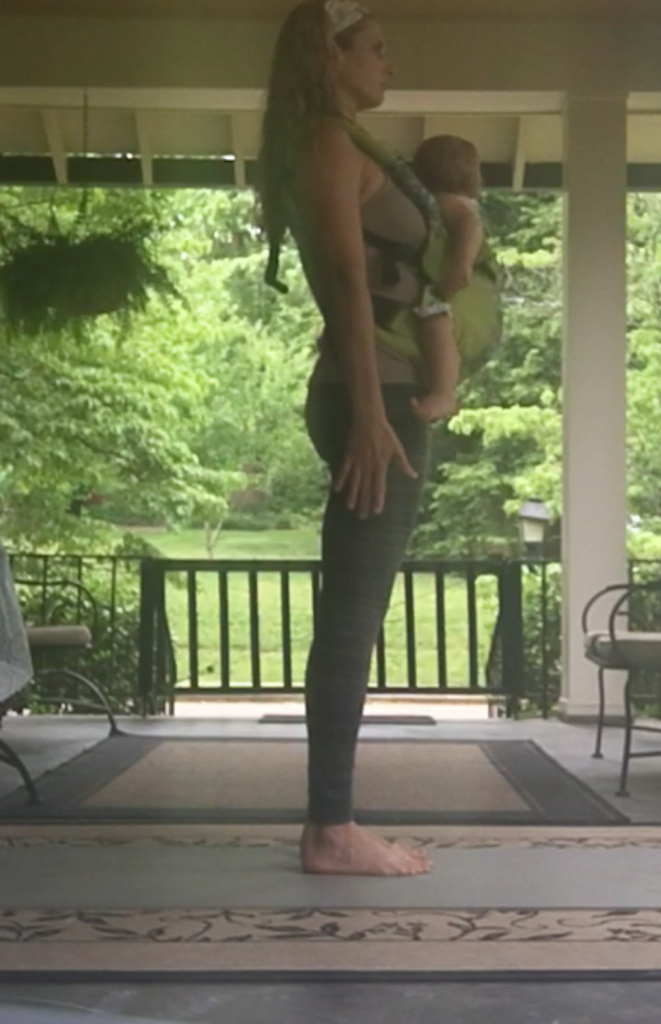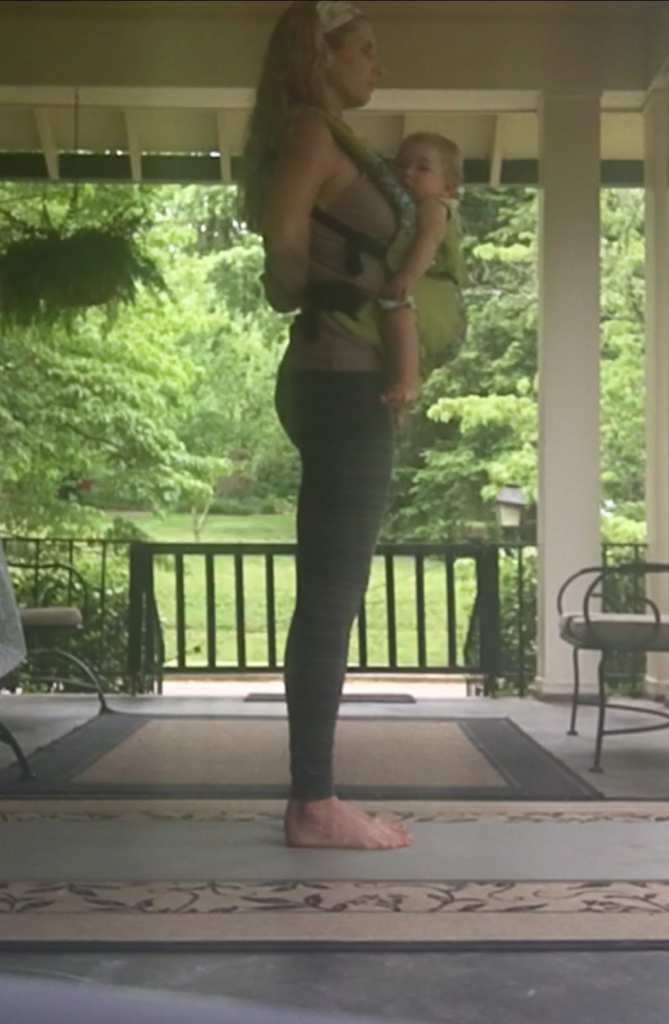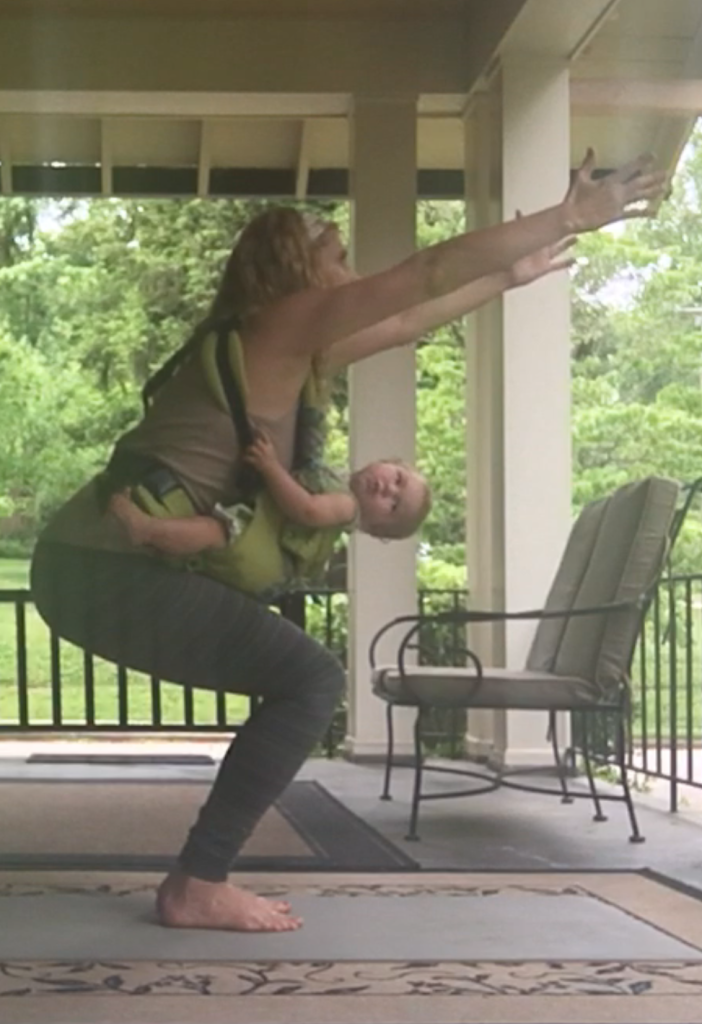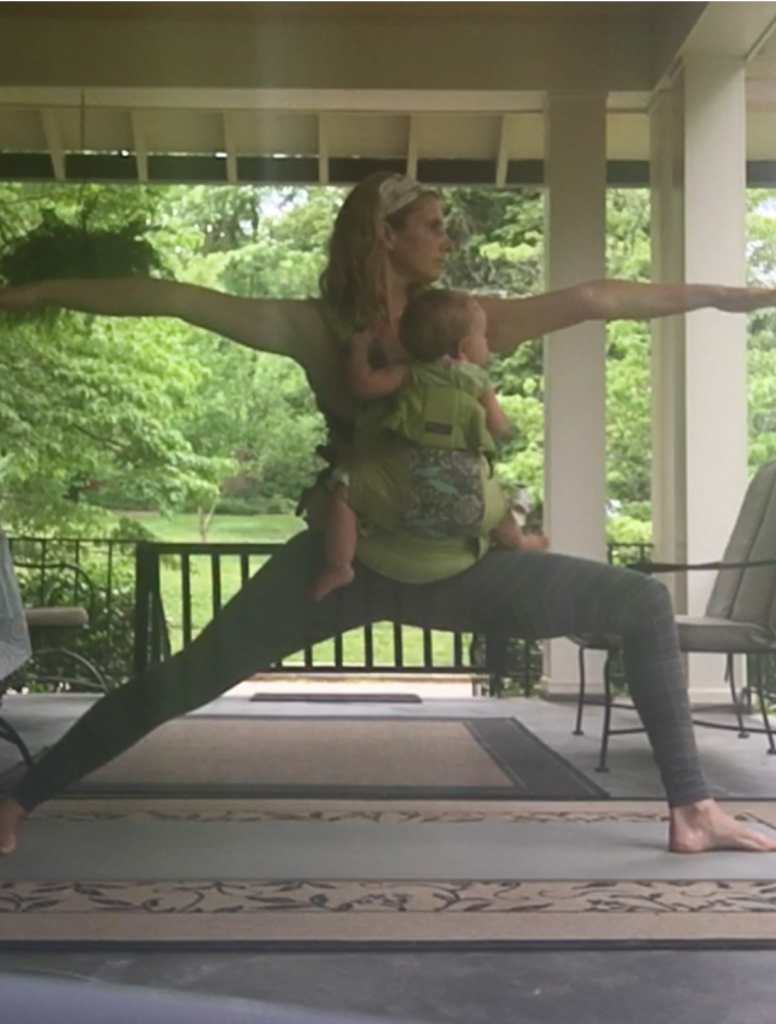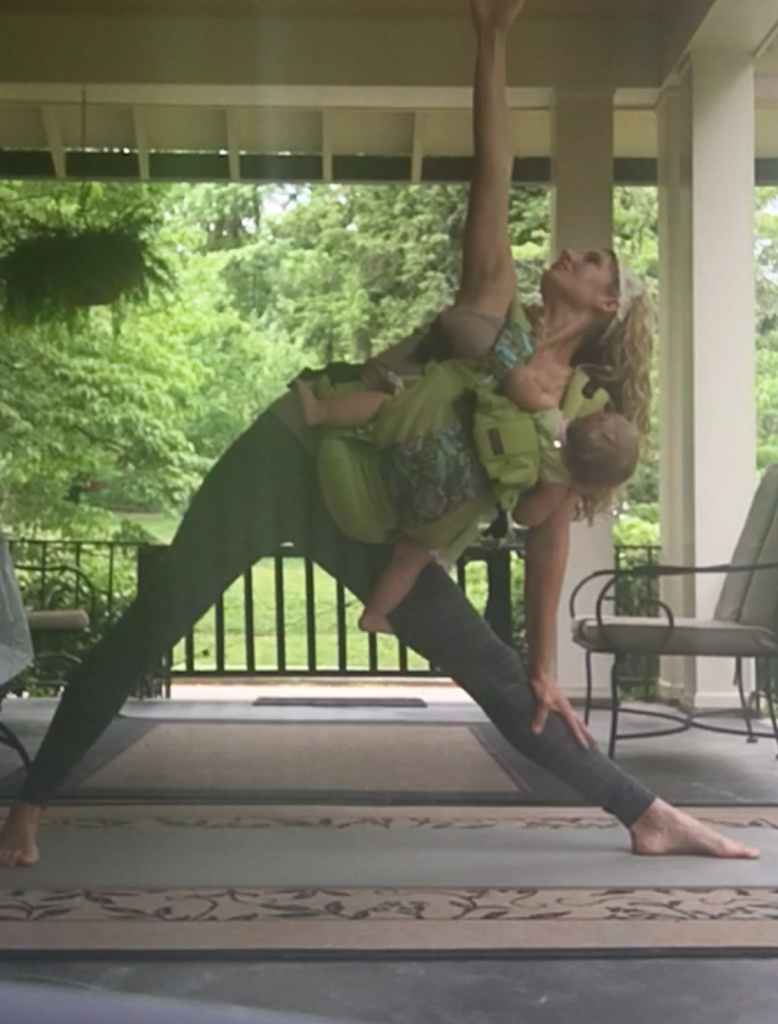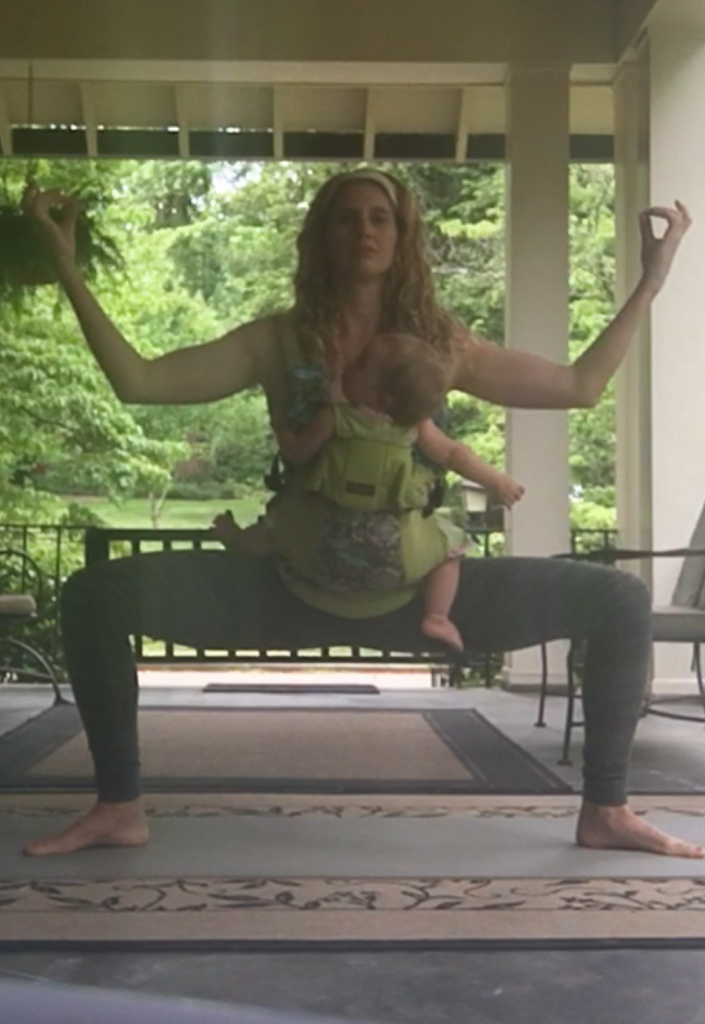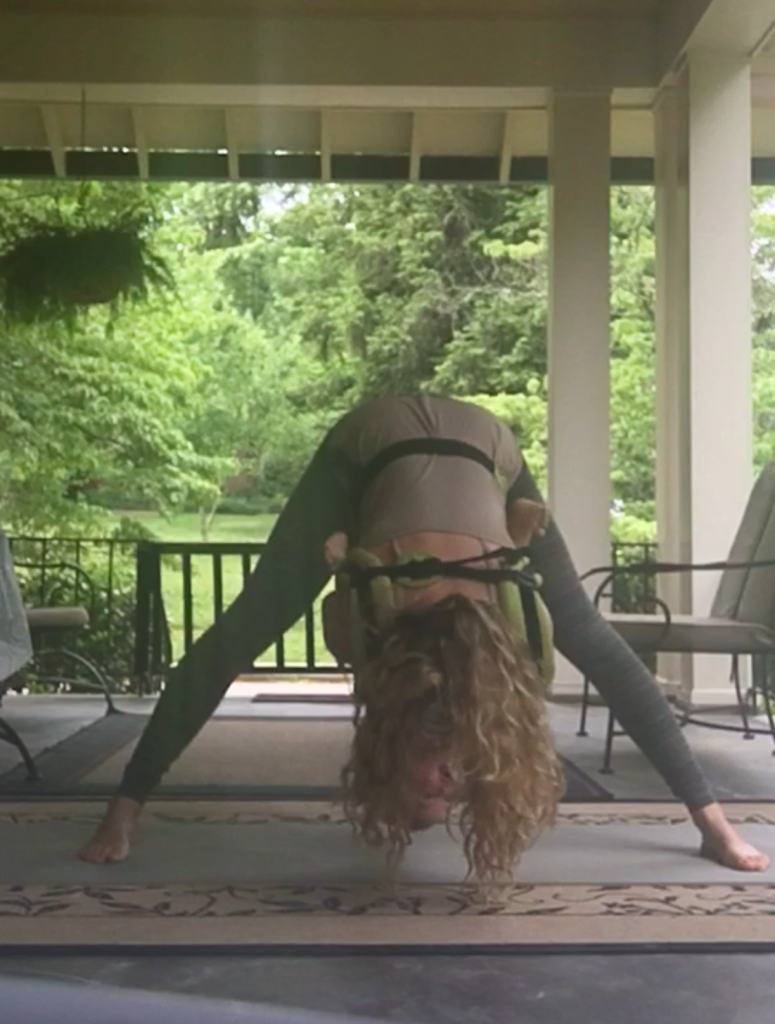 Like her mom, the girl likes to hang upside down. But after that she wanted out of that carrier and to crawl around. So I used that time to do my own yoga and get upside down myself. It was a win for both us.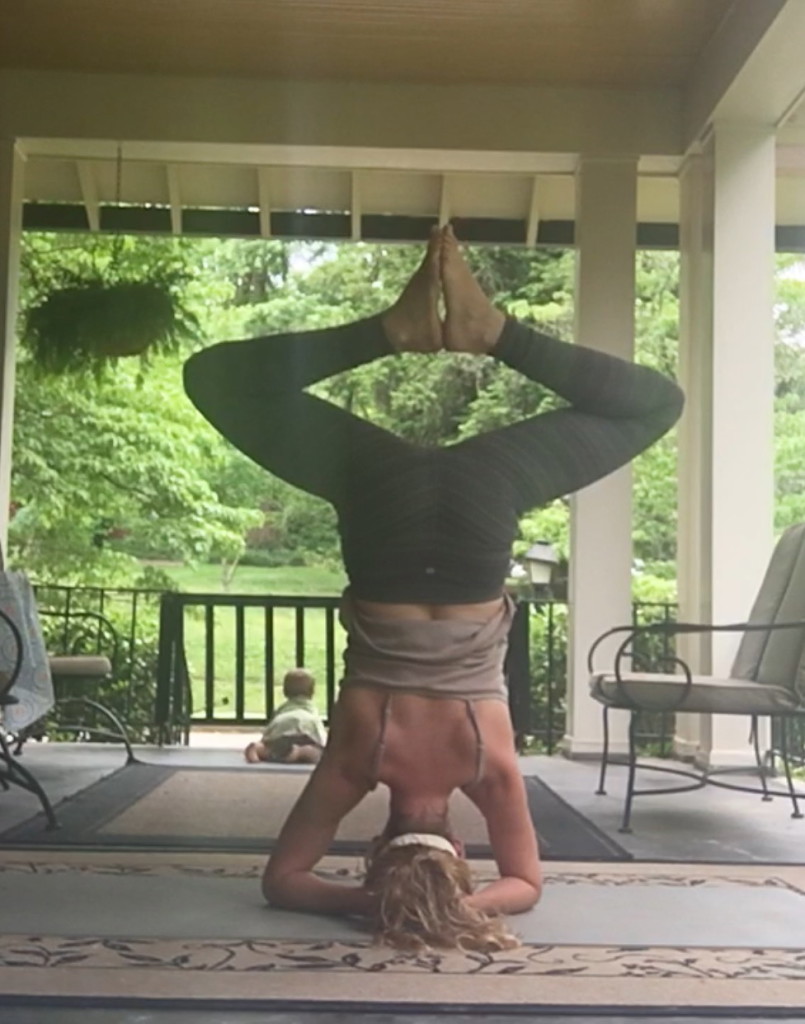 Doing yoga and teaching yoga with babies has taught me to be comfortable without a plan. We have to follow our baby's lead, while discovering what we need as mothers and creating a compromise to achieve both. It doesn't always work perfectly. However most times by end of the mom and baby classes I teach, the non-mobile babies are asleep in savasana on their mom's chest while the moms calmingly breath in a moment of peace and love with their sweetest little beings on earth.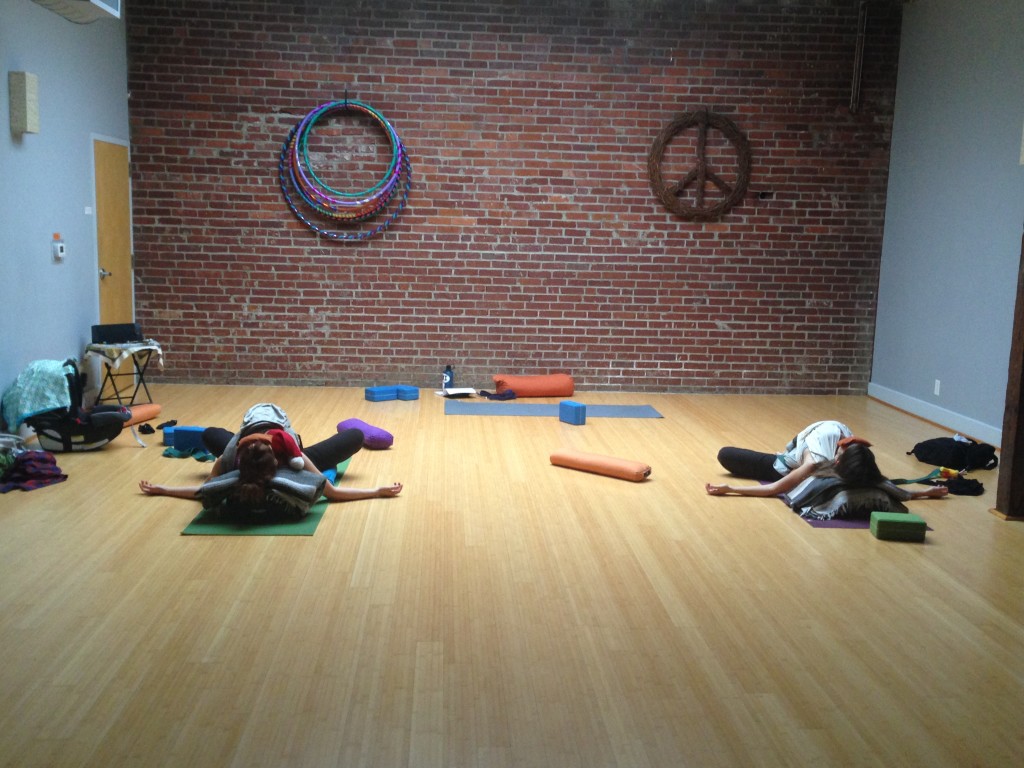 This summer I'll have my children with me while I teach my mom and baby classes, with my now mobile baby. Therefore siblings are welcome in class as well. My girls might have baby dolls in carriers and follow along with the class, or offer to read a yoga book to other siblings, or sit and color. I have become comfortable with not having a plan and trusting that it will all work out beautifully.
I'll be posting here about all our adventures doing yoga together while my girls are out of school this summer. If you are local and want to follow along I've created a new Facebook page for my yoga offerings, Yoga with Rebecca for moms, babies and kids. In addition to the mom and baby classes and prenatal classes I teach at Glowing Body on Wednesdays, I hope to offer some inexpensive pop classes in parks to get us all outside and offer options to play on and off the mat.
Namasta ya'll. Summertime is here. Let's all find the peace in it.