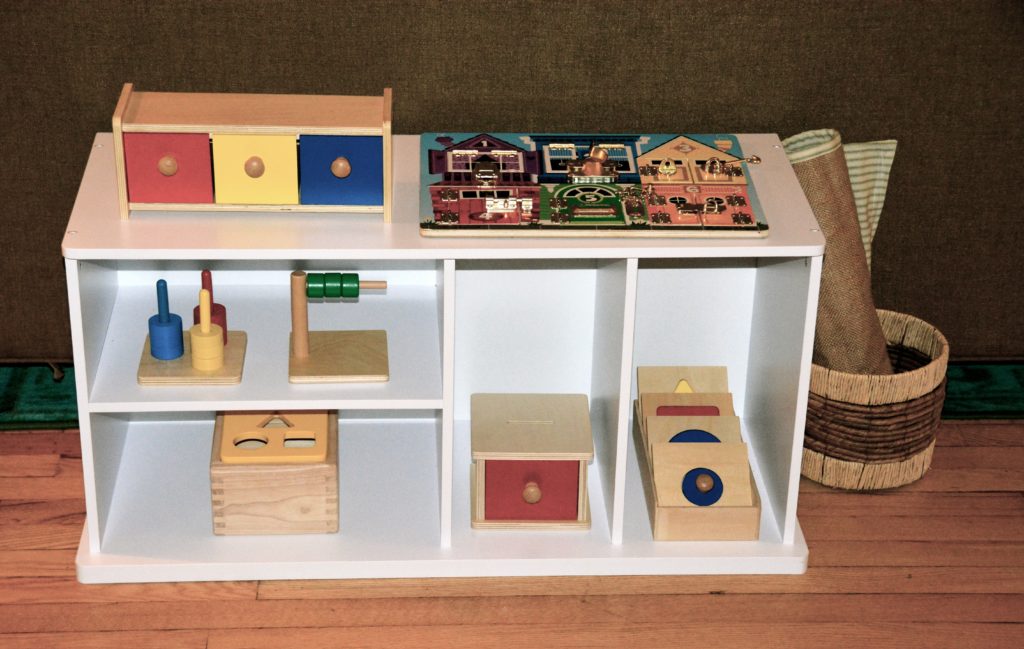 This is our current lesson shelf. This space is designated for lessons that my daughter must be invited to choose.
We choose lessons in the morning, when my older daughters are at school. We have adapted it as our "morning work time" after we have breakfast and get ready for the day. And without much effort or teaching…she just knows to only take things off the shelf after I ask her if she would like to choose lessons.
My daughter will be 20 months-old next week. I have been offering her toys in small shelves and areas, switching them out in small baskets since birth. That is how toys are made available to her.
Around 18 months-old I decided it was time we start introducing official lessons to her, in the true manner of "showing her a lesson." In a Montessori classroom students must be formally introduced to a lesson before they can choose it. When introduced to new work by a teacher, they are shown the proper way to take a lesson off the shelf, do the lesson and then restore the work.
I began introducing the work mat to my daughter two months ago. My first post on our lesson shelves was here. Since then I have simplified the choices and added new age appropriate lessons.
It sounds too good to be true. But I recently added four new lessons and she did not take them off the shelves until each one had been introduced to her. This really surprised me because children love things with drawers, and coins and slots and shapes to hold in their tiny little hands. It's all the fun stuff!
Since we've been teaching her in this manner since birth, she doesn't know about the world where children take baskets of things off a shelf and dump them on the ground. She has never been overwhelmed with a pile of toys or a messy playroom. What she learns here is that everything has a place, when to choose this work, how to put it back, and eventually to work independently with these materials presented on this shelf. It's teaching her a sense of order. The lessons are geared towards the fine motor skills she is learning at this age.
All these lessons are available on Amazon and easy to order. This shelf is by Kid Kraft and is just the right size for her.
My lesson here to readers is there is an important philosophy to shelves of cute little activities that all pop up on Pinterest when you search Montessori activities for toddlers. The ideas are awesome. I love Pinterest for that! But teaching young children how to do the lessons is a huge part of implementing Montessori philosophies at home.
The idea is to set the young child up for success, from start to finish. The beauty in this and the power of a lesson shelf is when it works! And right now this is really working for us.